Odyssey was given the opportunity from Insomniac Events to get media coverage on the 2017's Electric Daisy Carnival, also known as EDC. Sending one of their members, a Las Vegas resident with no high appeal of electronic dance music; an outsider. This was given an opportunity to experience and absorb the massive collective that occurs every year in the Nevada desert.
The general knowledge about EDC, it has been held at the Las Vegas Motor Speedway since 2011. Every year, people all over the world come to Las Vegas to attend this music festival, which is referred as one of the biggest EDM festivals in the world. EDC is held in other locations, but Las Vegas is the flagship and everyone prefers to be on it.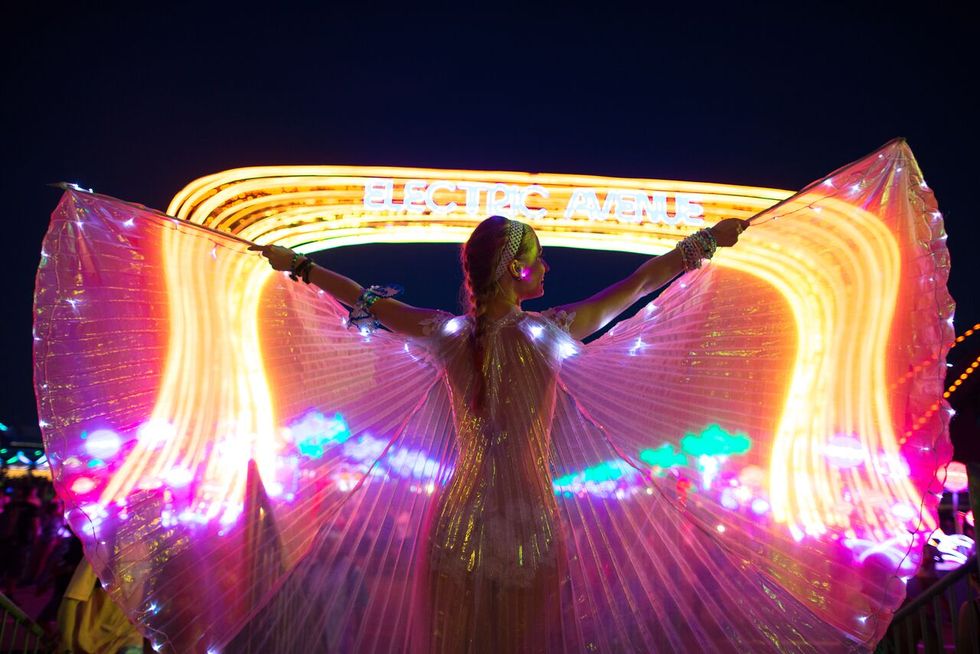 What's unique about this music festival is the hours of the event. EDC is a nocturnal rave going from sundown to sunrise, Friday through Sunday.
These unusual hours gather all types of big name artists and producers like Tiesto, Armin van Buuren, Major Lazer, Diplo and many more. Some of these djs each incorporates various styles of dance music like trap, dub-step, trance, hard-style, house, and more.
This year's EDC weekend had over 400,000 attendees, eight stages, over 230 artists, 10 art installations, 18 carnival rides and several costumed performers.
Walking-in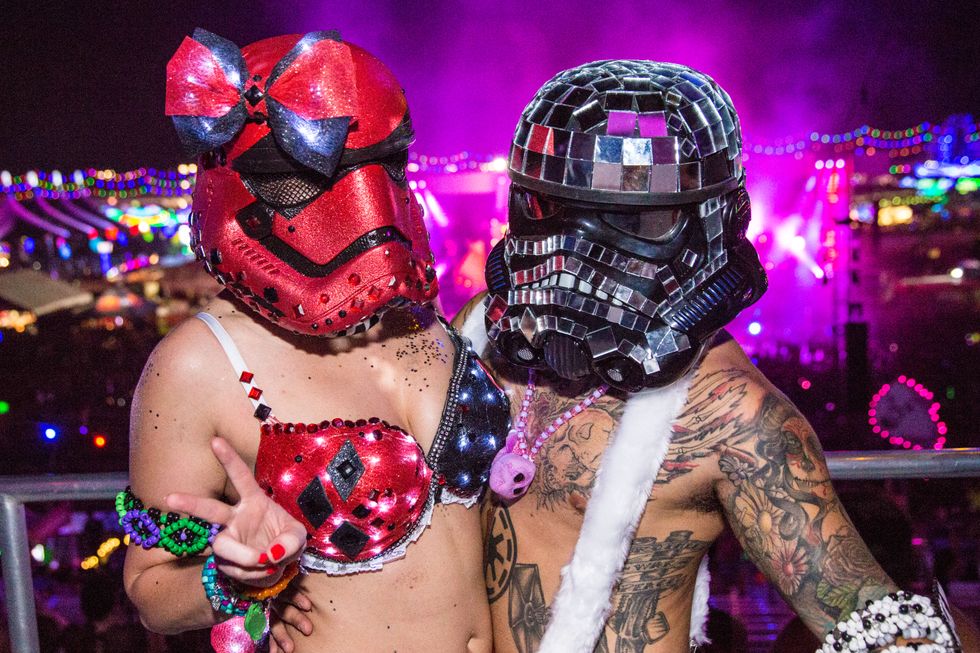 Media has its own line but just like general admission, we had to be searched and frisked. Once walking through, the sun is going down,our entrance had us passing through a bridge that leads inside of the anatomy of the speedway.
The oval of the speedway became an electric zoo. Attendees in all kinds of outfits and costumes. People lifting creative totems and banners from hand-made gigantic fidget spinners to blown up Rick and Morty references.
The first passing was "EDC town," where two wedding chapels are built which had several couples getting married all weekend .After that, there's "Electric Avenue," a massive gateway arch to represent as Electric Daisy's welcome to grandeur of the neon circus. It was the starting point to seek each stage, vendors and other amenities.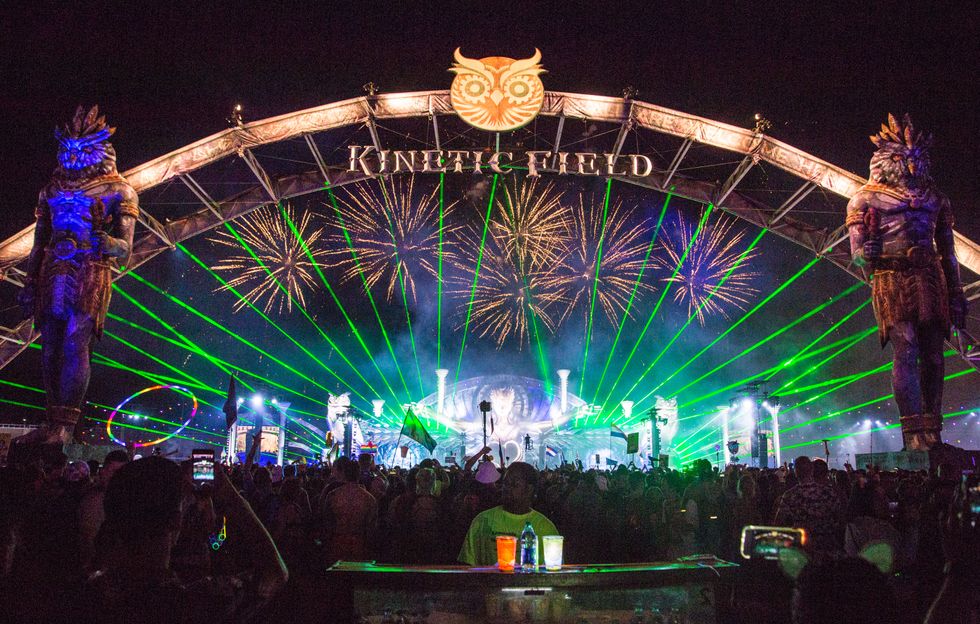 Each stage had its own character, the main stage known as the "Kinetic Field stage," debuting what was called the Gaia design. It is 100-ft. tall and 446-ft. wide, stretching her arms out, symbolizing to welcome all the guests. Next to her were 48-foot tall owls, with 30 pools cascading water. The combination of technology and nature provided eloquent back drops for the artists on this stage for the whole weekend.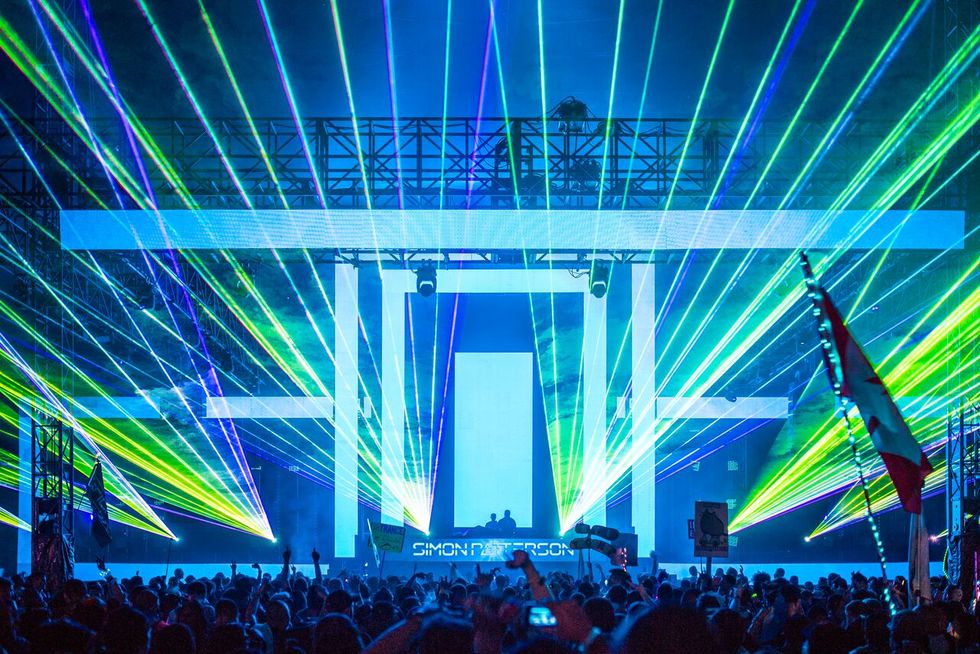 Insomniac also introduced a new stage called "Quantum Valley." The stage was specifically made for trance artists that showcased 175 moving lights and 250 video tiles, all under a circus tent.Speaking with attendees it was one of the most mention stages that "you must see" this weekend.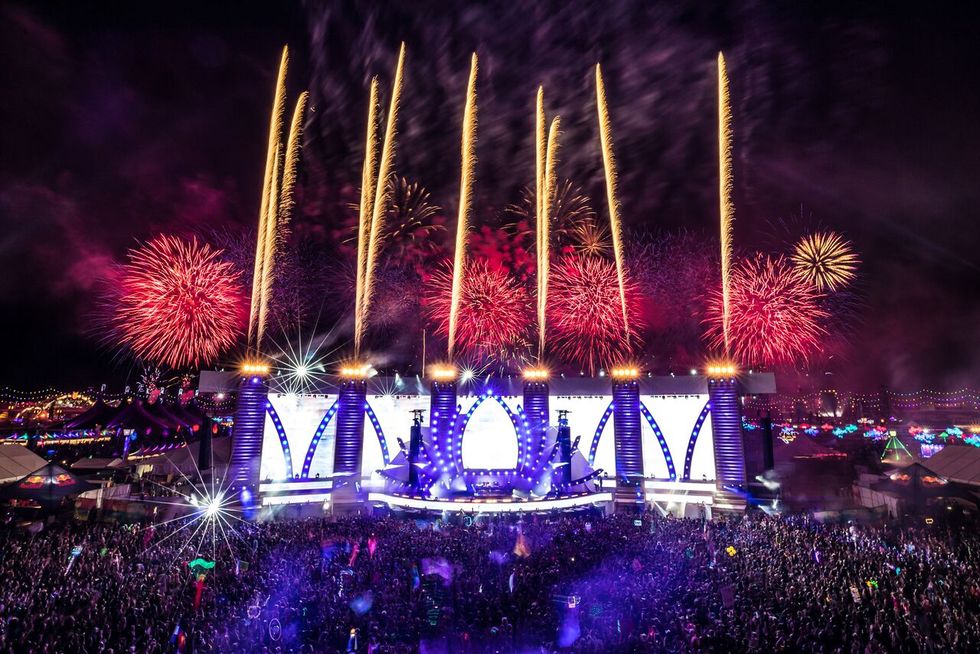 "Cosmic Meadows," was mainly for trap and house style artists and was the only stage that had a grass ground. The stage was basically a giant, neon-lotus façade.
"Wasteland," was an apocalyptic, dystopia environment, with towering speakers covered in forms of graffiti with visuals of pyrotechnics and over 260 lights. This provided for the ravers that are particular into hard-style techno, which sounds like you're listening video game music from a Japanese arcade.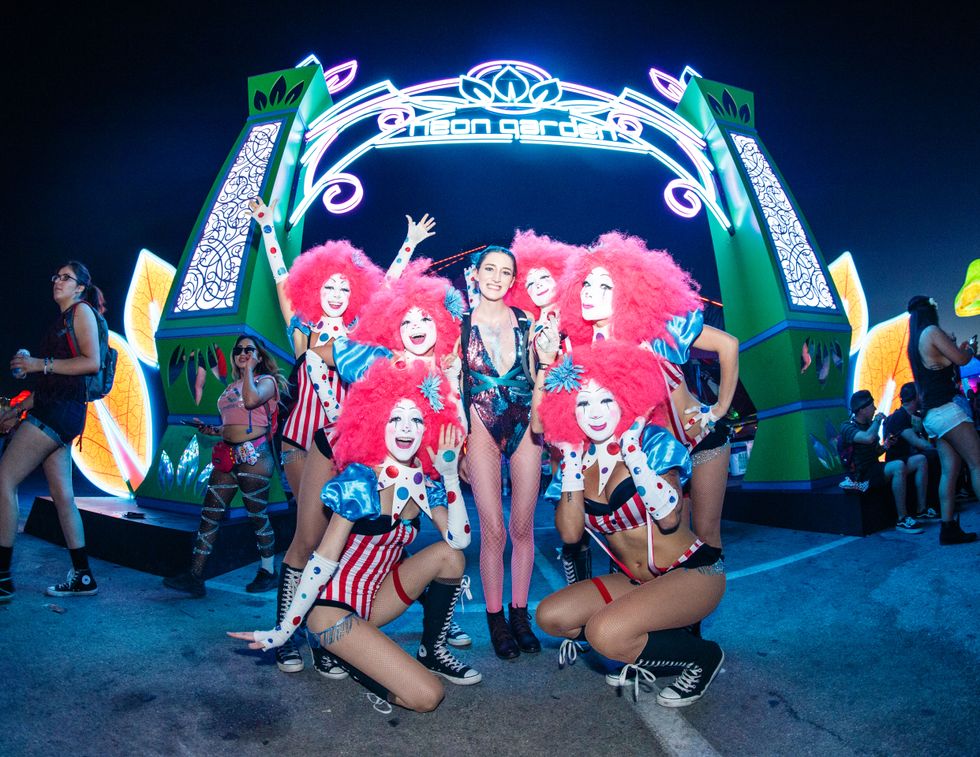 "Neon Garden," is a dark massive tent that brings deep-house, personifying it to be dark and intimate.To help noticing it, just find the large mushrooms emitting neon.
"Circuit Grounds" was a popular stage, a 360-degree of pyro-units, 2,000 moving lights that surrounds fans that sits right across the speedway of the Kinetic Field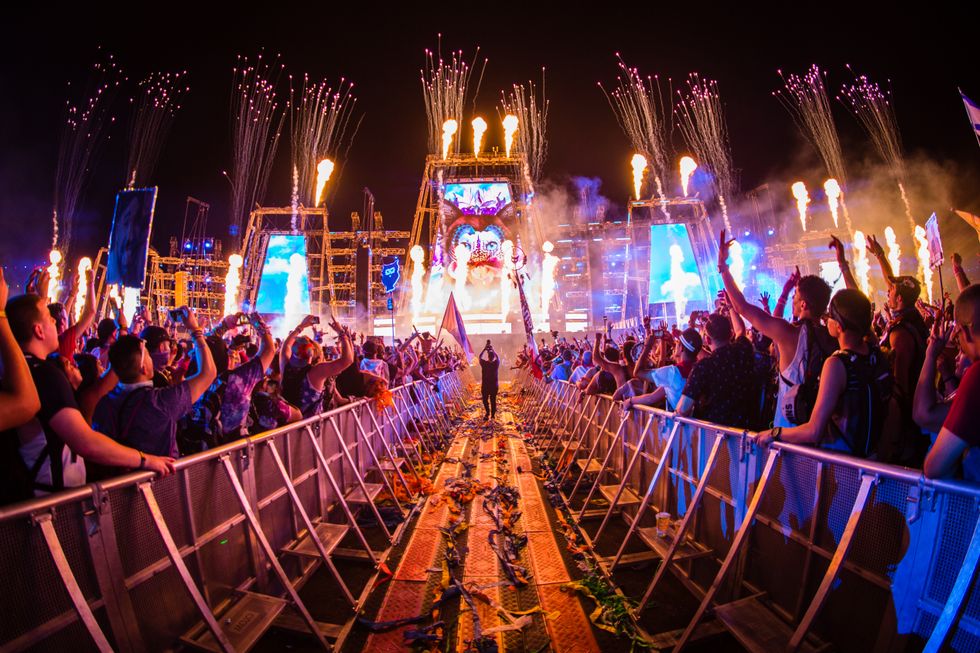 "Bass Pod" is exactly how it could be describing walking into this stage.It was like walking into a mini colosseum that gives waves of bass and shooting pyrotechnics from all angles.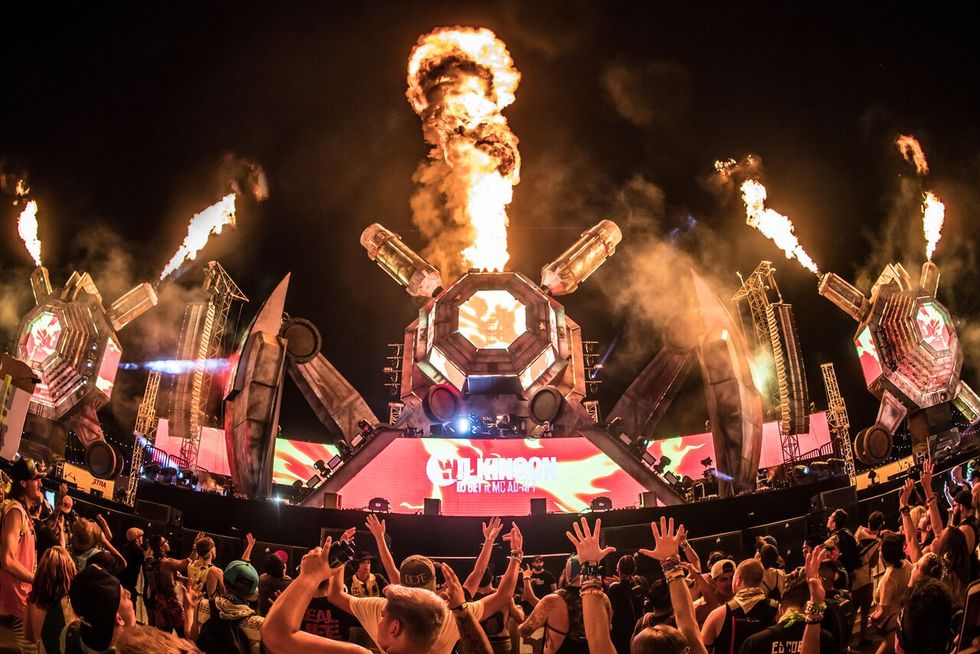 The remaining two stages would be the "Upside-down House," and the "Art cars," mobile stages that parade through the speedway with various sounds and unique performers.
Day One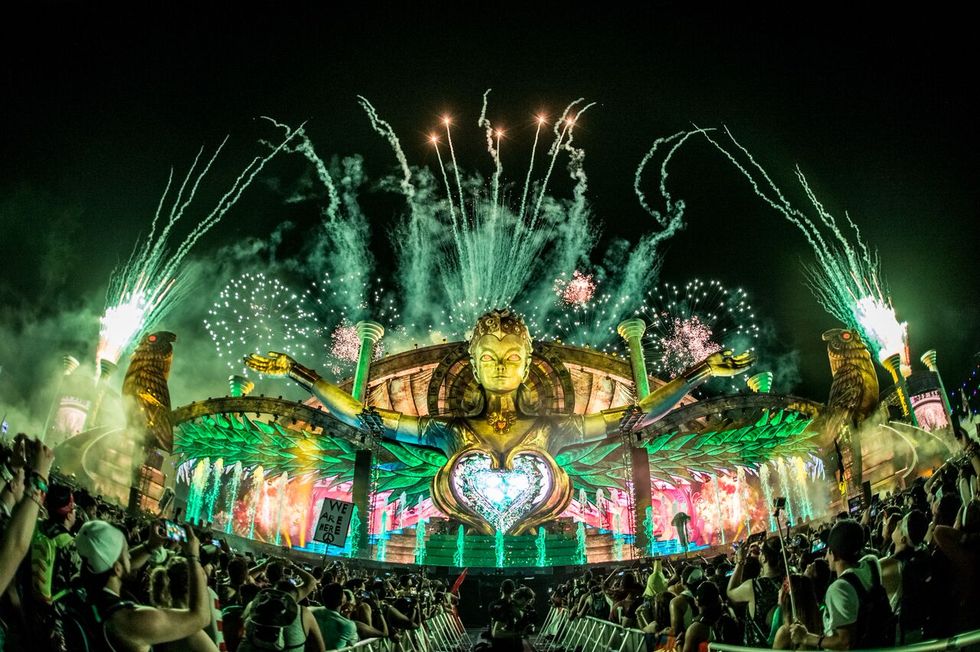 It was the day to get familiar of the whole place. On various stages Miguel for RL Grime, Rae Sremmurd for Afrojack, and G-Eazy with Jauz made special appearances to electrify the first day.
Despite it being a music festival, EDC is still entitled as a carnival, it was filled with rides and games all accommodated with the wristband. The speedway was overpopulated with 135,000 people on the first night. For some reason multiple djs from various sets would play "Heads Will Roll," by the Yeah Yeah Yeahs, remixed. It was hard to speculate if this was intentional or not. Also, the traffic coming to the speedway went through the entire night.
Day Two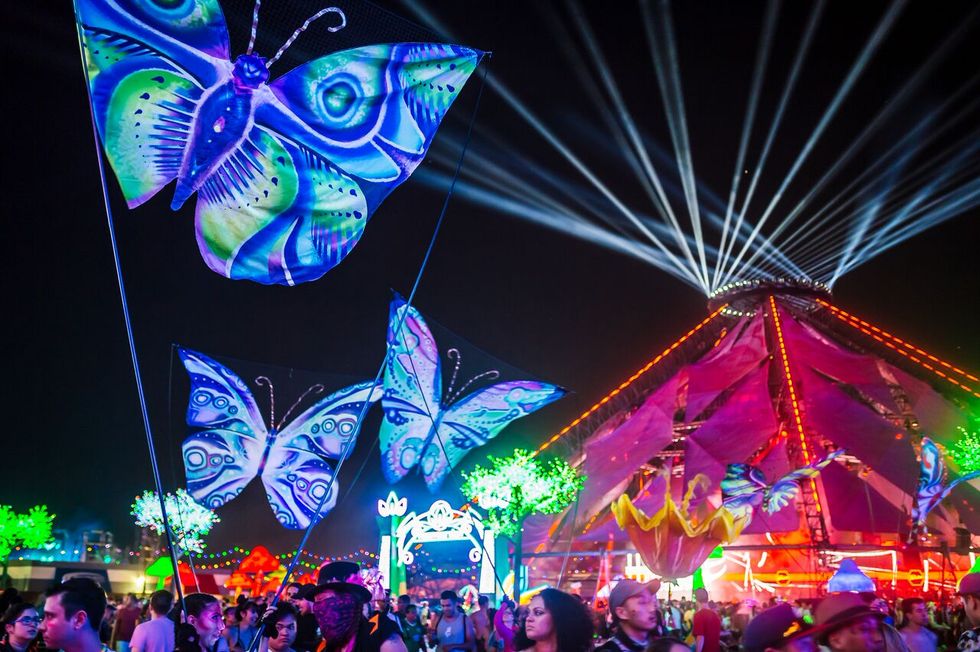 The Las Vegas heat stayed vicious as it was in the triple digits. There were hundreds of medical assistance through the evening. Day two was familiar to day one but it was the possibility of coming across sets with more dub-step. It was encouraged to see the dj known as Slushie at the Cosmic Meadows, only to feel disappointed, due to tsunami bombed with more dub-step and that song from Six-Flags commercial, the one with the old man dancing. Another intrigue was the increase of marriages at EDC town's chapels.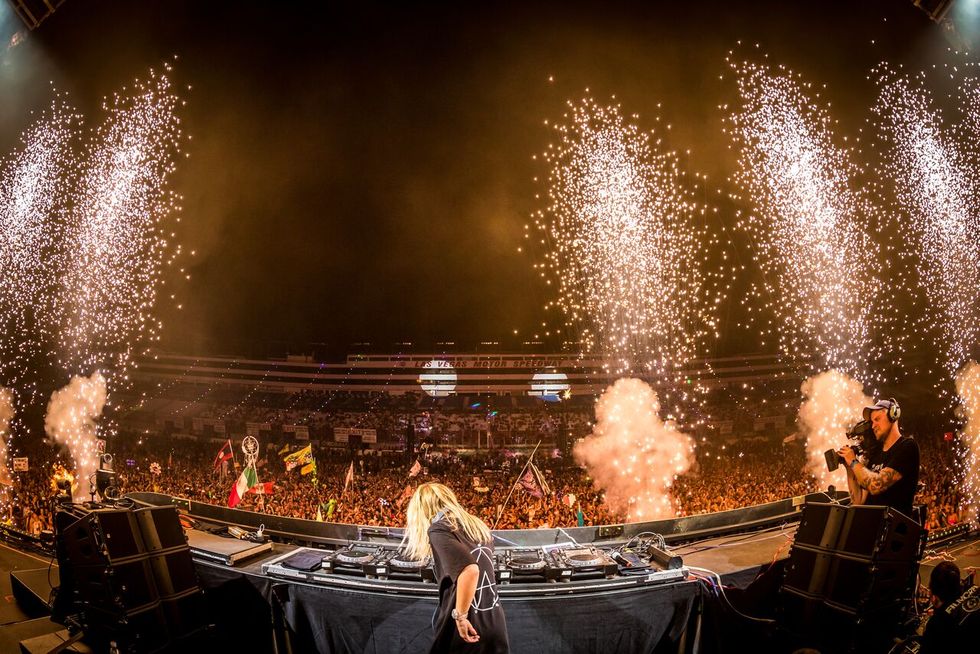 A few highlights of the evening that made a turn-a-around were music sets from Alison Wonderland and Mija at Cosmic Meadows. Alison Wonderland's incorporation of trip-hop and trap was bringing strong vibes to the audience.
From the entire evening being hot and draining, Mija revived the audience with her playlist selection from drum and bass, house and hardcore, she even put on "Sowing Season," by Brand New. Her dynamic revived the audience, making a realization the night sky was fading and it was 5 A.M.
Day Three
This is only a personal opinion, but the third night was by far the best. It was not because it was the last day and it will inevitably come to closure, but the assortment of artists that played through the night were going out with a bang.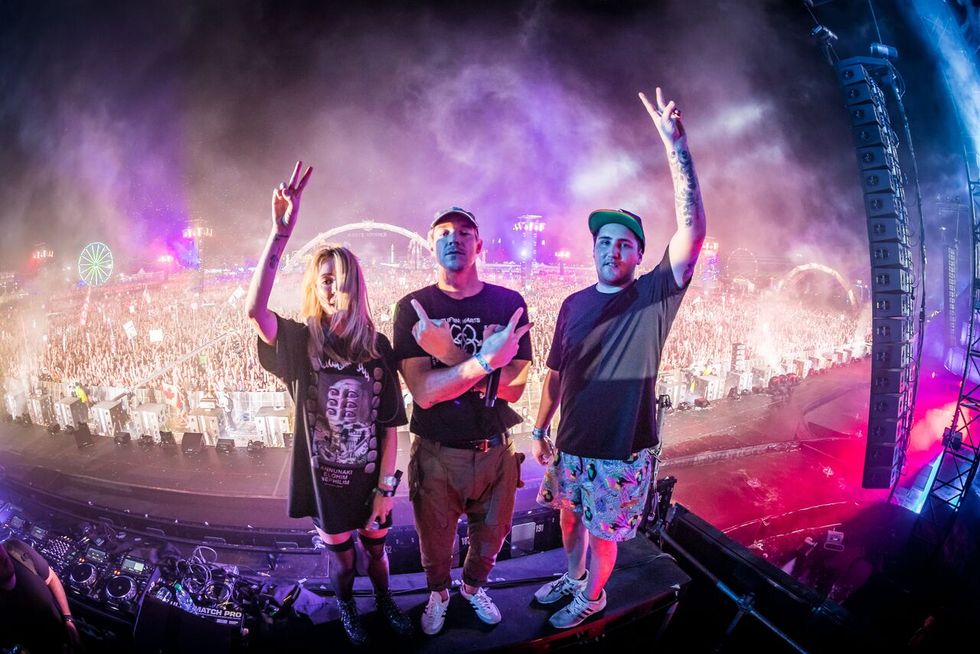 The previous two days it was hard to appreciate unitl day three. There was a back to back set with Alison Wonderland, Diplo and Jauz. At the Bass Pod, Metro Boomin brought out Drake to perform his hit song "Fake Love."At Circuit Grounds, Flosstradamus brought out Lil John and Kaskade was a secret guest by performing his set on the Kalliope Art Car.
The only downfall for the evening was to witness DJ Khaled to disappoint fans by showing up to his set late and having technical issues. His mistakes were his actions, cutting off his tracks after a minute of music and going back to his foolish speaking to the crowd. He was booed off the stage with the audience demanding the next artist Yellow Claw, which they did not disappoint and became a fan.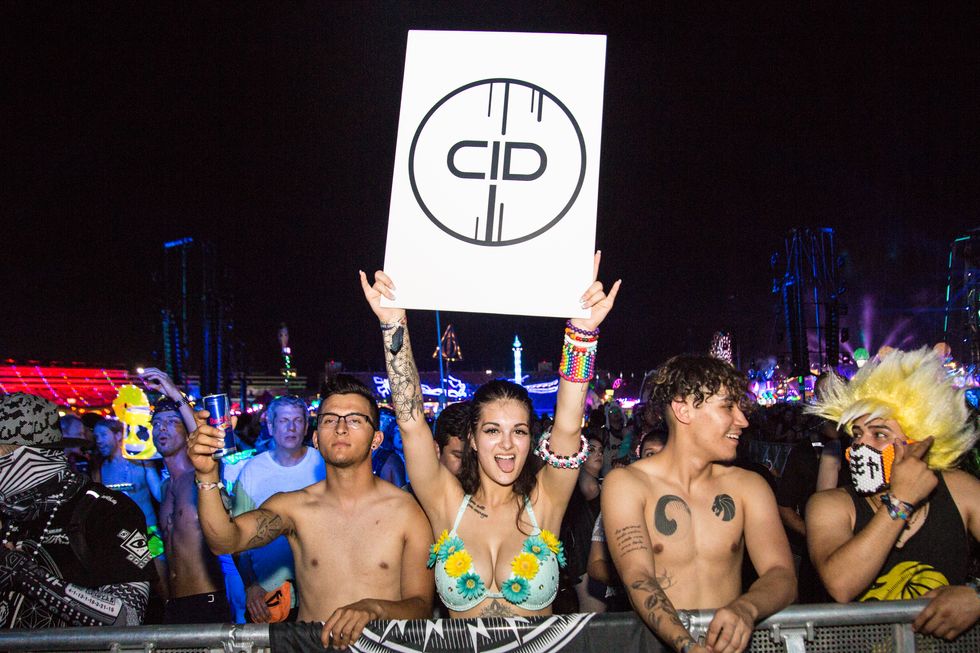 After three nights in the neon jungle, Insomniac Events put on an incredible lay out in the north outskirts of Las Vegas. As the outsider, it can be quite draining and the graveyard hours may not be suitable for anyone, but new music was discovered and memories have been placed.
Realizing on the third day was discovering the appreciation what the weekend was for everyone. It was about the interaction and the engagement of others; the atmosphere. EDC was a mecca for people all over the world to witness, to get away from their daily routines and stresses. When it is all over, people have to go back to their life and have to assimilate. EDC is to experience a weekend "under the electric sky."