Being from such a small town, it can be a real culture-shock to go to bigger cities, especially, St. Louis. It is supposed to be the most dangerous place in America. However, my family decided to go for a weekend, and those two days were the most exciting I have ever had.
We stayed in a hotel downtown and the window view was incredible! It was amazing to just stare at the streets at 2 a.m when they were still crawling with activity on a Saturday night. We even got valet parking at the hotel. You have to understand, I'm from a little town in Tennessee, we do not have valet parking. The closest you get to valet parking is someone dropping you off at the door at Wal-Mart before they park. I felt like the coolest person ever standing outside of our hotel waiting on the guy to bring our car. You may think that I am lame, and you would be right!
After I got over the whole valet parking business, we went and ate at a 5-star restaurant. Just kidding, we ate at a Hardee's which is practically the same thing. It was kind of odd because I am used to fast food workers being super-friendly because, well, just about everyone in the south is abnormally friendly and you become accustomed to it. They weren't rude at this Hardee's, but it just wasn't an environment I was used to. It's okay though. I was really just there for the fries, anyway.
It was kind of bizarre to me that everywhere you went in St. Louis, you basically got onto a freeway. I hate freeways so much, but St. Louis was so beautiful I didn't mind it. It was also pretty cool to see the ball park and the businesses around it. There really was so much stuff to see in such little time.
While we were in St. Louis, it'd be a serious sin if we didn't see the Gateway Arch. It was huge and under construction which was mildly disappointing, but all was well because I got all the selfies my little heart could desire. My family tried to go into the gift shop, but their security was extremely strict which is something us small-town folk aren't used to. I had pepper spray in my bag because 1) I am paranoid and 2) it is in a sparkly and pretty container and made me feel safer walking downtown. On a side note, isn't it cool that they make pepper spray in sparkly containers? Anyway, when I first came into the security line I let the guy know I had pepper spray and handed it to him. He kind of just briefly stared at the glitter-covered bottle in confusion and told me my options. My mom ended up standing outside with it because I am lazy and was not walking
all
the way back to the car
just
to put the pepper spray up. In the end, my sister and I went into the gift shop and forgot our money anyway so we left empty-handed. However, we did have a wide-array of selfies and pictures of the Arch so I would say it was a win.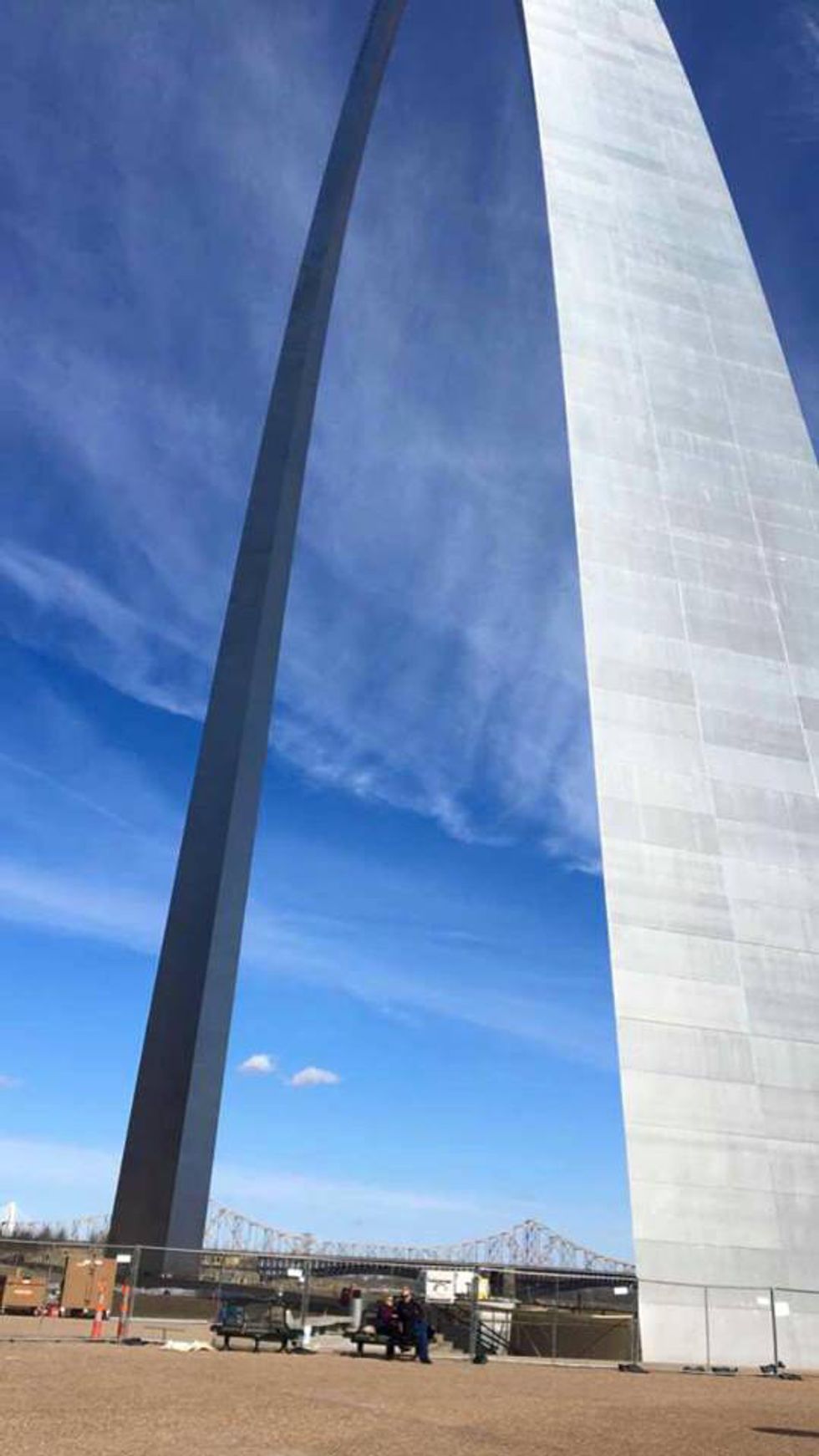 The drive back from St. Louis took hours, but we stopped in Mount Vernon, IL to eat. I ordered a Mello-Yello to drink. Well, where I am from, people say, "Melly-Yello". So, when I ordered it the lady smiled and repeated it correctly. I think that was the first time I have ever heard Mello-Yello pronounced "correctly". It was a true learning experience.
Overall, my trip to St.Louis was awesome and I would love to go back. There was so much to explore and I wish I had more time. It really was not scary and I didn't feel unsafe even though it supposed to be a dangerous place. Actually, I would love to come back and go to the arch when it isn't under construction and walk around downtown more. I highly recommend traveling there if you haven't.