Imagine spending twelve hours straight on your feet, dancing and singing, with no breaks and no opportunities to sit down. Well, that's exactly how I spent my entire Saturday. I didn't do it as some crazy exercise scheme but as a privileged participant in Rutgers University Dance Marathon, the largest student-run philanthropic event in the state of New Jersey. Dance Marathon is a 24-hour dancing event (split into two 12 hour sessions) where students from members of all types of organizations come together to raise money for such a great cause, Embrace Kids Foundation, which raises money for children fighting cancer and other blood disorders. I participated in Dance Marathon as a member of my sorority, Alpha Gamma Delta, and it was so amazing to spend the day with my sisters dancing after raising so much money for the kids.
One of the greatest parts of Dance Marathon is Family Hour, when the different families and children who benefit from Embrace Kids come and dance with the 1000 plus student dancers. Each organization is partnered with a specific child and their family throughout the year, especially by hanging out with the kids during their tough treatments and hospital visits. During Dance Marathon, the kids come out and spend the afternoon dancing and hanging out with their college student friends that they've made throughout the year. The following picture is myself and one of my sisters with Peyton, Alpha Gamma Delta's child, and her sister. While I hadn't had the opportunity to meet Peyton and her family before the Dance Marathon event, it was such an amazing experience getting to have fun and dance with them throughout the event.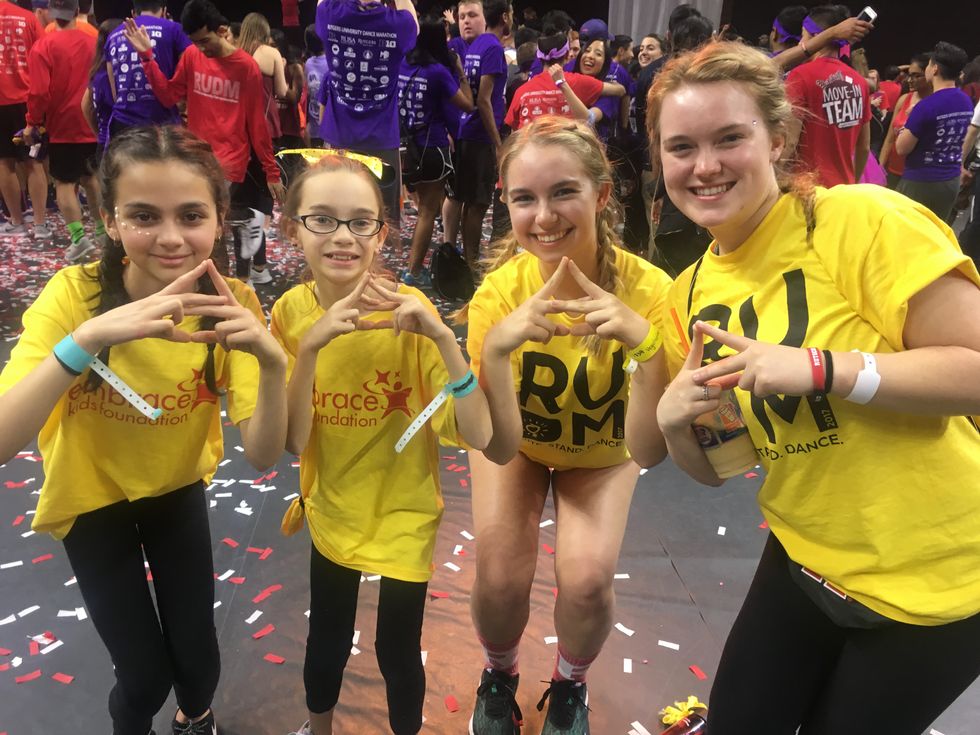 No lie, Dance Marathon was one of the most exhausting experiences of my entire life. 12 hours of non-stop standing and dancing can really put a burn on your legs and back, and I'm definitely no exception. Sitting here reflecting on this event, I can safely say I don't think my legs have ever been so sore. However, my brief soreness after this event is nothing compared to the pain and fight these amazing children and their families experience on a daily basis. The main message and chant at Dance Marathon is "For The Kids", because all of the fundraising and dancing is to benefit them and give them a great opportunity at life. Near the end of the event, one of the emcees said that while we've probably never been more exhausted, we've probably never been more exhilarated either. And that was completely true. I was drop-dead tired, but I've never felt more alive.
Every year, RUDM aims to raise more and more money to benefit the Embrace Kids foundation. Last year RUDM raised over $900,000 and the goal this year was to hit the million mark. At a little after 9pm, after over 24 hours of dancing between the two sessions, the directors of the event started raising the number cards, revealing that RUDM 2017 had surpassed the $1 million in fundraising. While I raised my own donations that was only a small fraction of that amount, it filled me with so much pride to see that total after such a physically and emotionally draining day. Now, it's time to raise that number even higher for RUDM 2018.