After stopping at the University of Wisconsin-Madison for the bathroom and some food, the Carell's arrived at the University of Michigan for a real tour of an *actual* school.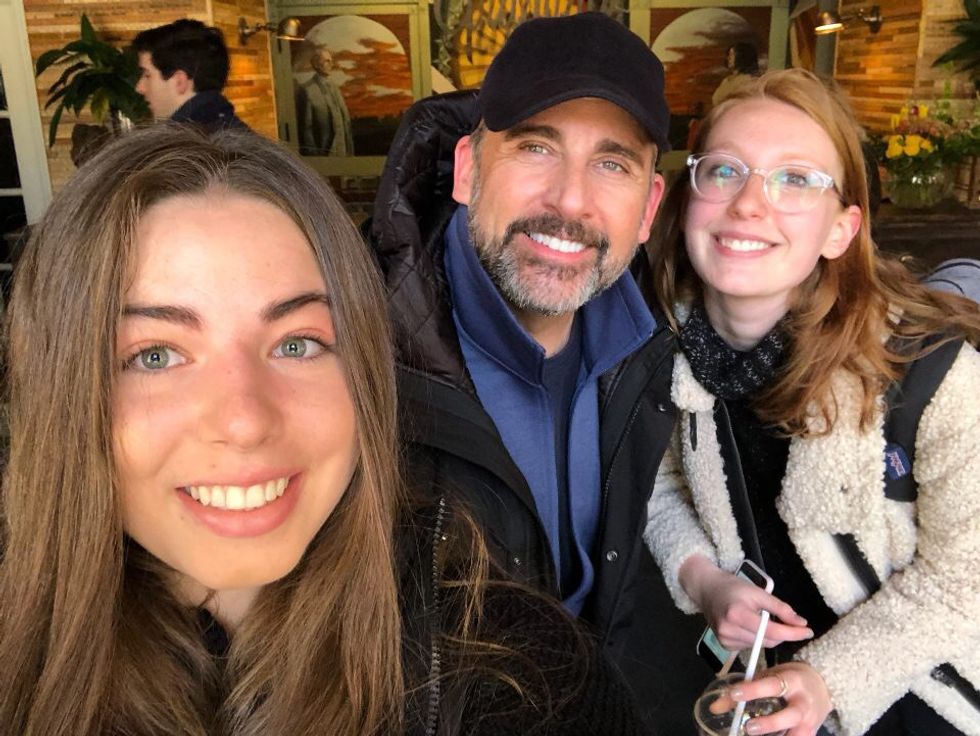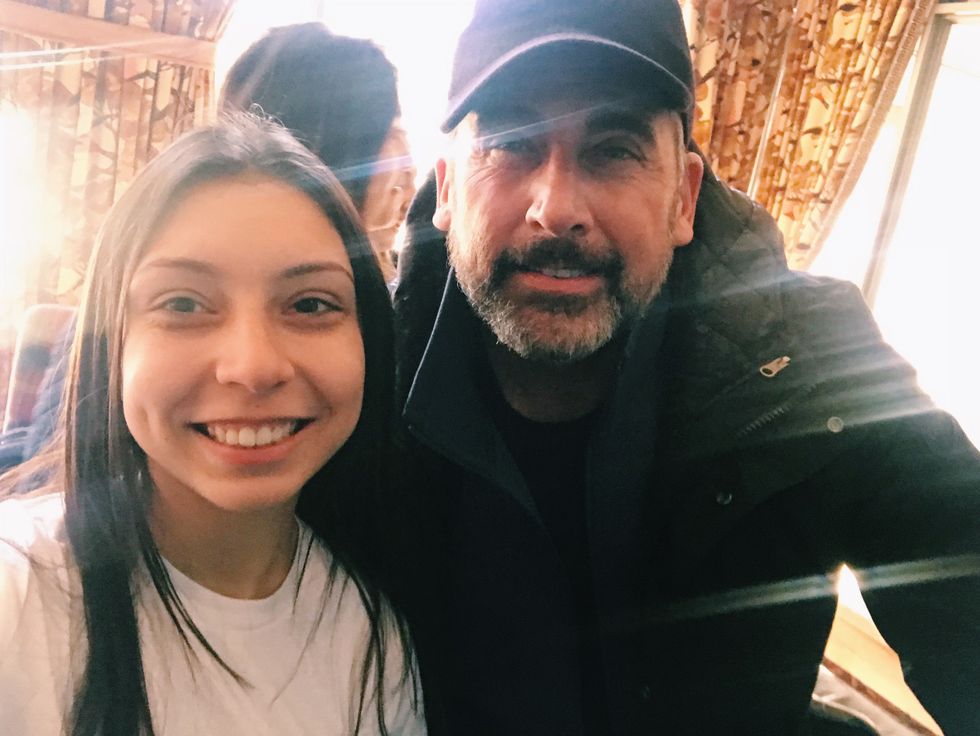 Multiple students spotted Elisabeth's parents, Steve and Nancy Carell throughout the day. They were kind enough to stop and take pictures with them, and when one student called out "Michael!" Steve turned around and laughed with the 20-year-old. As amazing as it was to have these two on our campus, that isn't the point of this article.
Dear Elisabeth Carell,
We hope you enjoyed visiting the one and only University of Michigan. This school is one of a kind; wear a Michigan hat or shirt around any town in the United States and you are bound to get "Go Blue!" yelled to you throughout the day. We are a community that sticks with you forever, an amazing network that'll take you above and beyond.
1. Game days are no competition
From being woken up at 7 a.m. to getting ready, to the euphoric tailgates to WINNING, nothing beats a Michigan game day. Nothing. Being in the Big House thousands decked out in Maize and Blue is incomparable, you will never feel more a part of something than you do when you are all cheering for our football team in that stadium. And trust me, you want to go to a school where they actually win their games.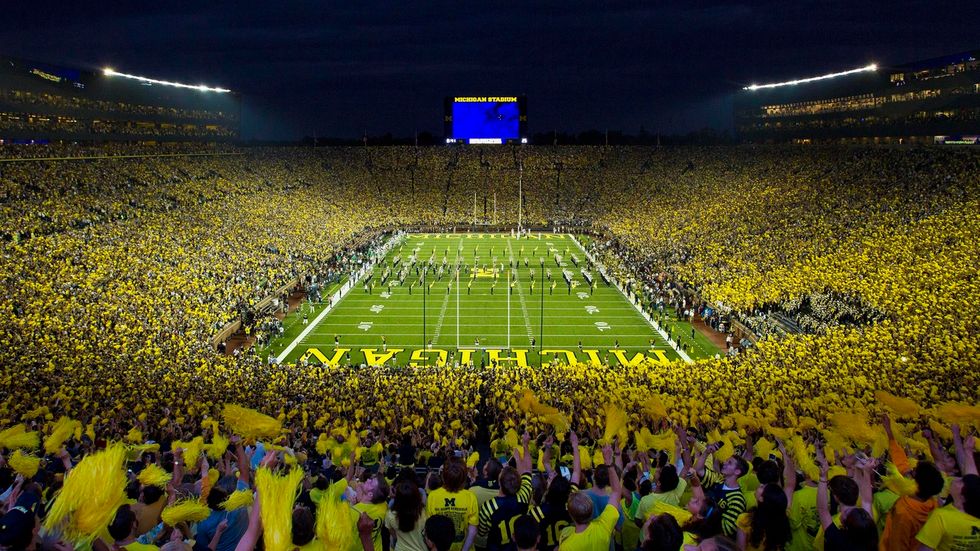 Anyone that goes to the school can go on and on about all the traditions we have at this school.
2. At some point during your time here, you will most definitely paint the rock
What's on the rock changes each day, sometimes even multiple times a day.
3. We have a giant Spinning cube
"The Cube" as most people call it, brings good luck. Students and alumni are known to spin it when they walk by.
4. The traditions start as soon as you become a wolverine
During orientation we walk through the fountain towards the diag, symbolizing the beginning of us as a Wolverine. Then on graduation day, the students walk through the fountain again towards the graduate school, symbolizing their bright futures.
5. Kissing under the West Engineering Arch
It is known that if you kiss someone at midnight under the Arch before you're 21, then this is the one you will marry.
6. DON'T STEP ON THE M!
I swear this is real, in the middle of the diag lays a brass M, if you step on it you will fail your first blue book exam. The only way to reverse this is to run to the Natural History Museum from the M, kiss the two stone pumas and run back between the first and last stroke of midnight –naked.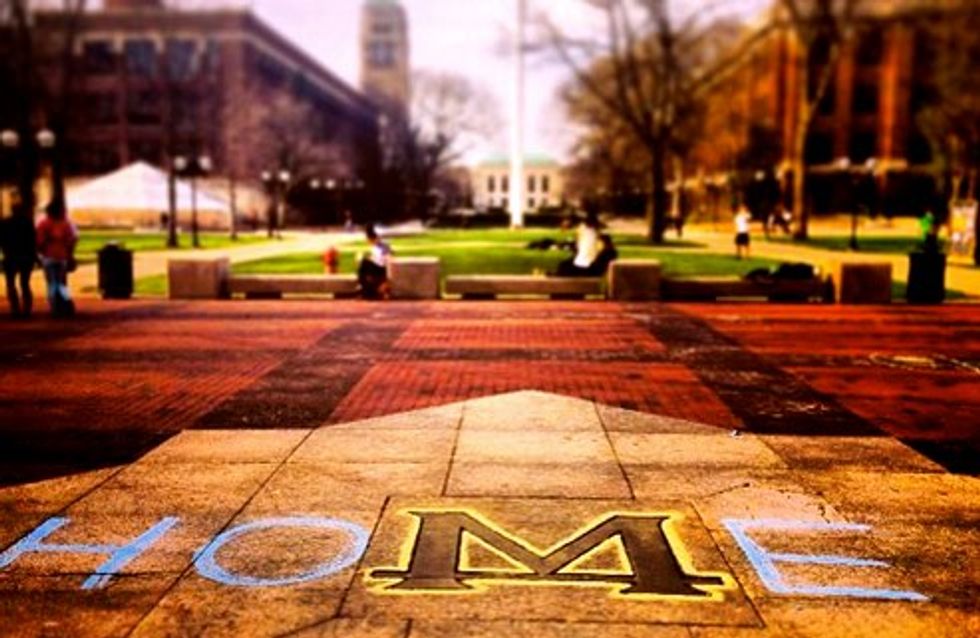 7. Our campus is beautiful
You can always count on something going on in the diag and people laying in hammocks or walking on tightropes tied between trees. The Arb, the buildings, the views, it's all exactly what you could want for a college campus.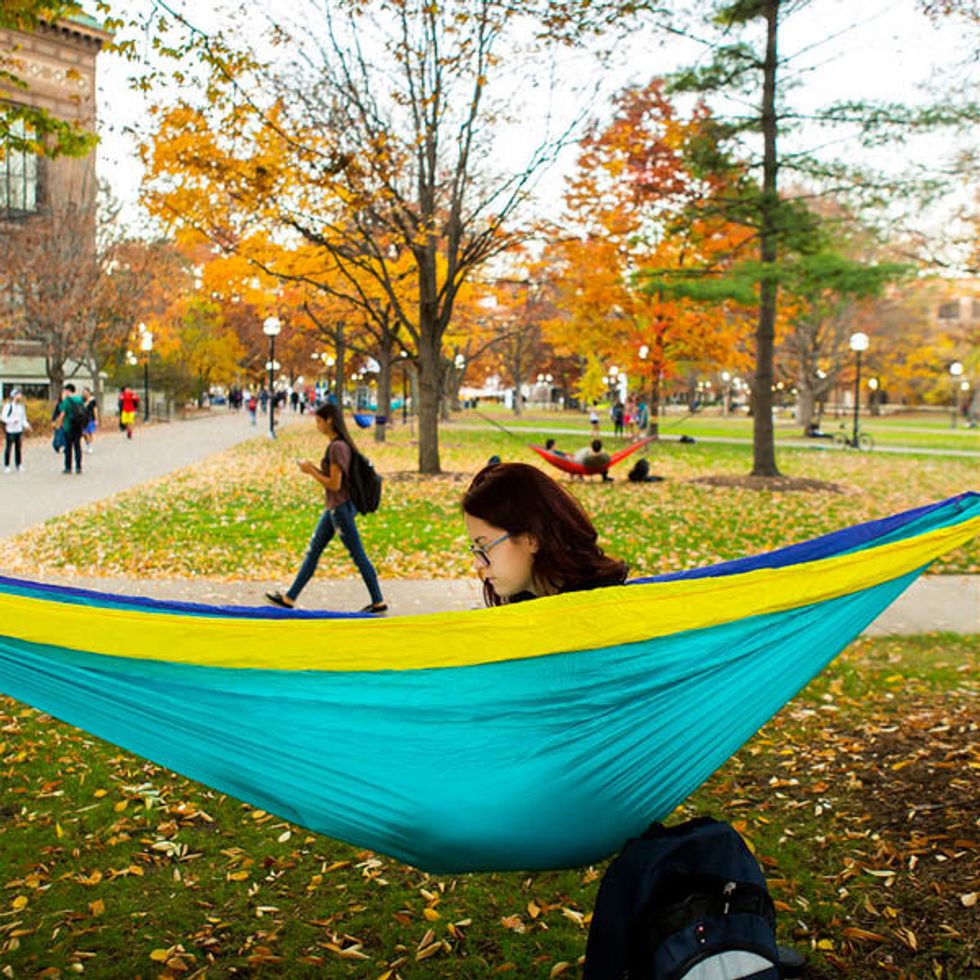 8. State Street
There are tons of "state streets" across the country, but nothing quite compares to this one. There is art and culture everywhere you look, amazing clothing stores and of course this gorgeous street brings me to…food.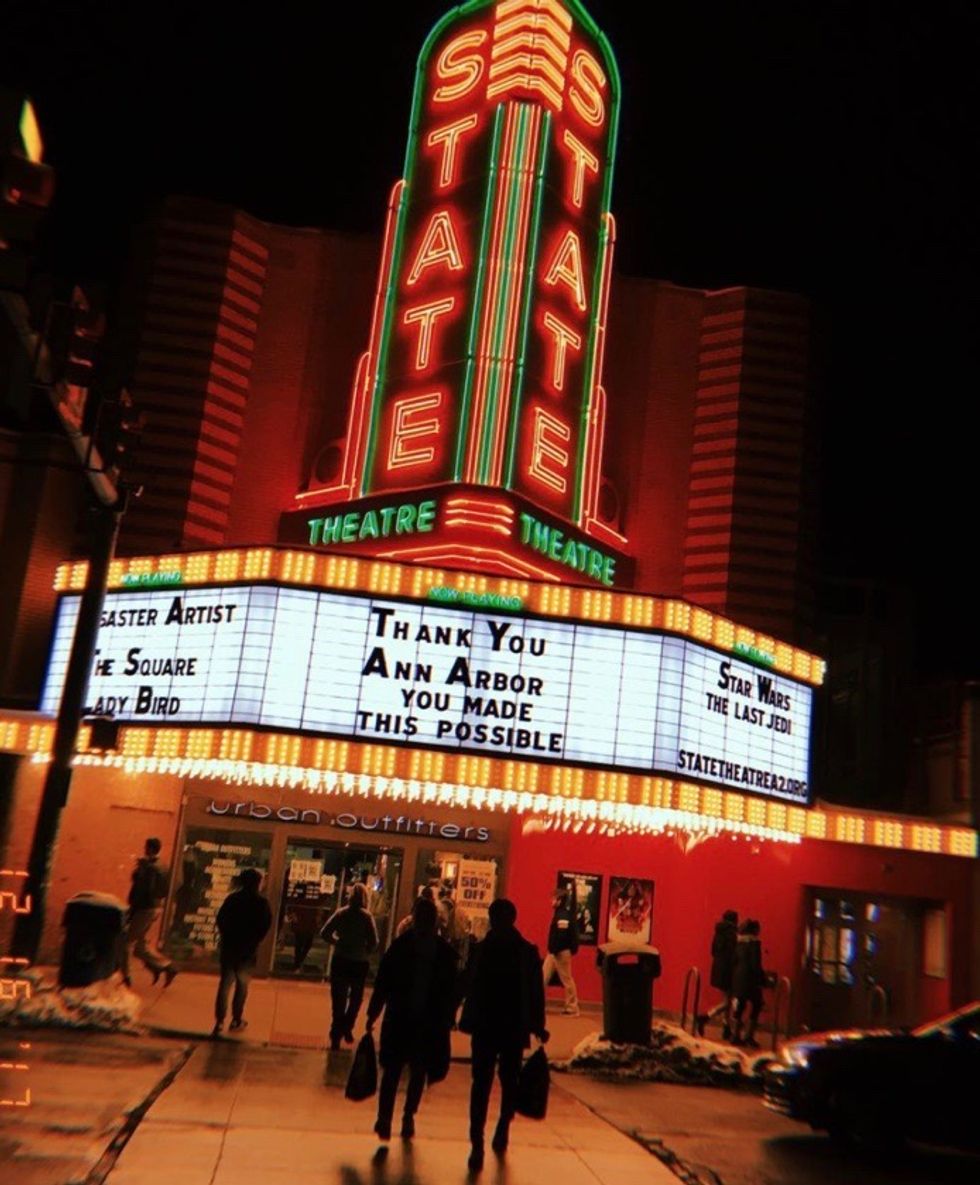 9. Food
From Frita Batidos to Fred's to Zingerman's, the list goes on and on.
10. THE TEAM
11. The education
Our clubs and activities are endless. There is a place for everyone and so much opportunity. The faculty care, they want to see you succeed. I have heard many stories where faculty have introduced a job or an internship to a student that skyrocketed their career. With all the classes and majors you could want, Michigan specializes in anything and anyone with passion. That's what makes us so great.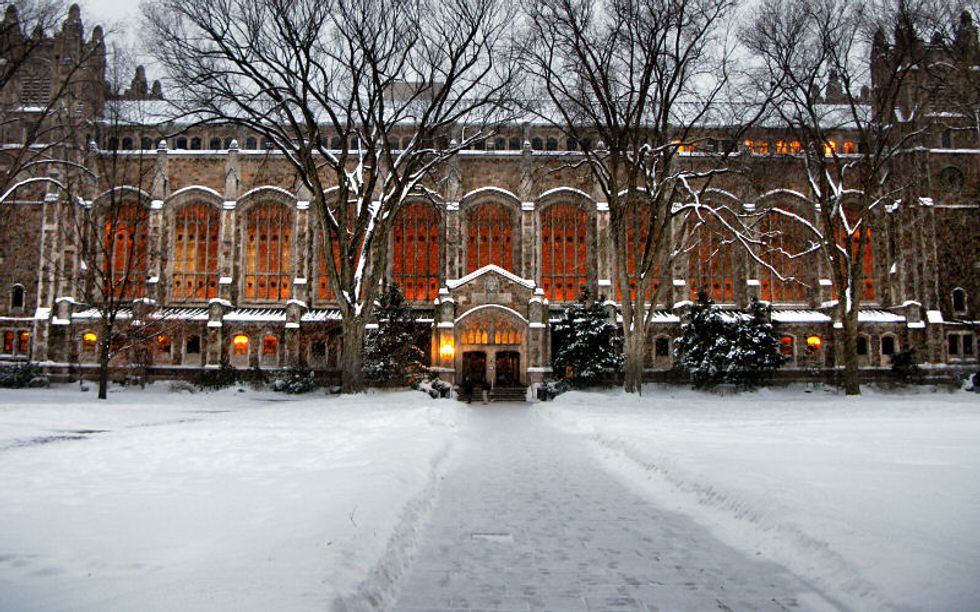 This is where the best memories and friendships happen, I promise. College can be hard, but lucky as a student at one of the best universities I've fallen in love with this place faster than I'd ever think. You go in and faster than you would imagine you are able to find connection unlike any other. This is where it's at.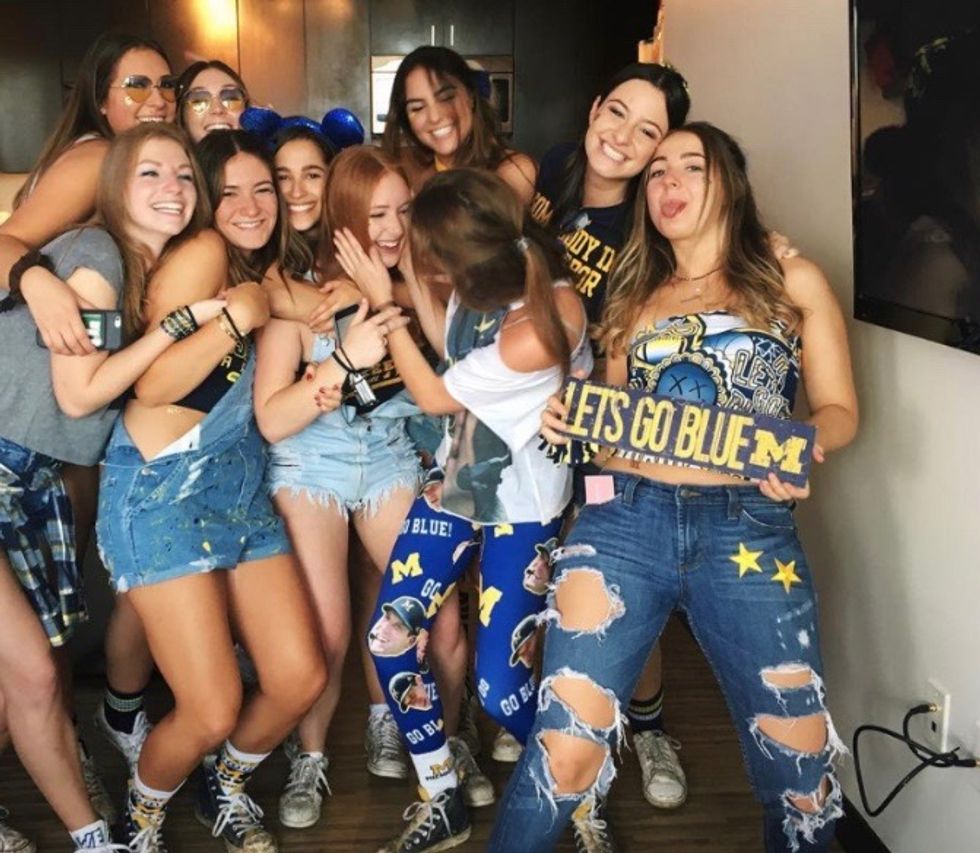 Come here to have the best college experience you could ever ask for.
Sincerely,
The entire UofM student body