Justin Vernon and Aaron Dessner had a dream.
Deep in the heart of Wisconsin's remote bluffs and valleys, they saw an opportunity to create a unique musical and environmental experience quite unlike anything else.
And they took it, lighting a flame that grew from an ember into a wildfire.
Through "trusting the audience," passionate faith in their work, inspiring relationships with other artists, and a 'build-it-and-they-will-come' mentality, Vernon, (Bon Iver frontman), and Dessner, (the National), saw their vision to fruition through founding the Eaux Claires music festival in Eau Claire, WI in 2015.
This past weekend marks the festival's second and highly successful year in existence with over 20,000 people pouring into the deeply private wooded hills near Eau Claire, WI in search of soul refreshment.
On the banks of the rushing Chippewa river, dozens of widely regarded alternative, socially conscious artists (musical and otherwise) gathered to, in the words of Vernon's mission statement: "create a deeply meaningful experience of togetherness and expression."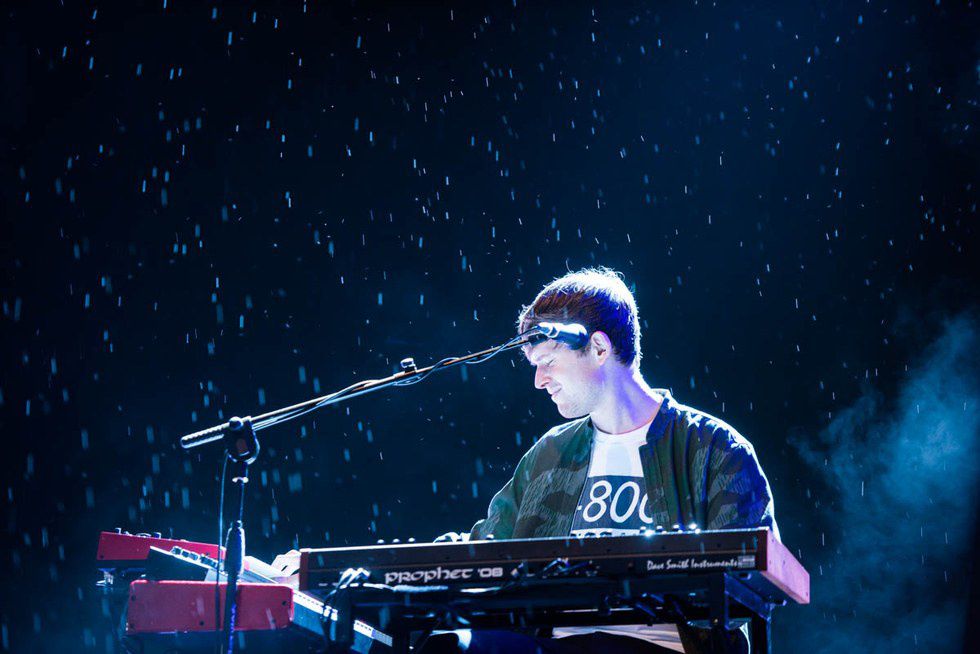 Artist James Blake playing the aptly chosen "Touchdown on a Rainy Day"

The two day lineup included musical heavyweights such as the otherworldly Erykah Badu, effervescent crooner James Blake (above), '80s guru George Hornsby, siren sister trio the Staves, lilting Irish gold Lisa Hannigan with Aaron Dessner, cool man's Beach House, power-rapper Vince Staples, and acoustic delight Sam Amidon, along with 20+ other bands that created a well-rounded experience for any music enthusiast.

Of course, perhaps most importantly, the founding man himself, Justin Vernon with Bon Iver, debuted his upcoming album "22, A Million" which showcases a new, more synthesized sound than heard on previous records.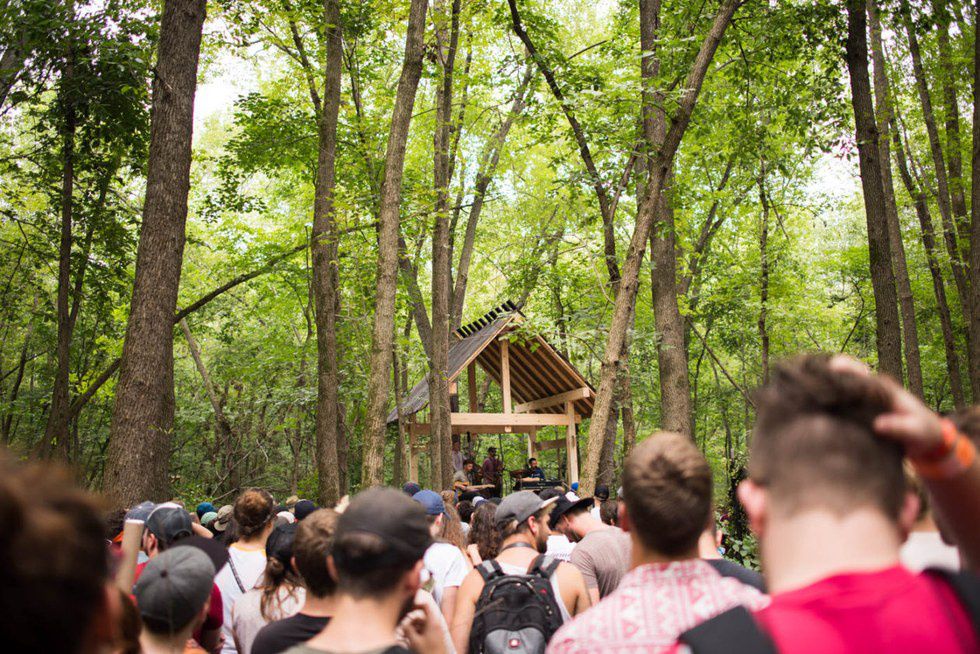 Artists like S. Carey popped up from time to time, providing gentle, shimmering vocals on a secret stage in the woods.
What distinguishes Eaux Claires from other festivals is not only the uniquely secluded location, but the fact that they went above and beyond the call of duty for a summer music festival in creating magic for their guests.

The cuisine and entertainment spanned nearly 15 different cultures and several continents of content, with my friend and I dining on everything from British pasties to Asian street food, a healthy gourmet salad to gelato, all while listening to live organ music flowing from an airy giant birdcage-esque wire sculpture or talking with strangers from Germany to South Dakota.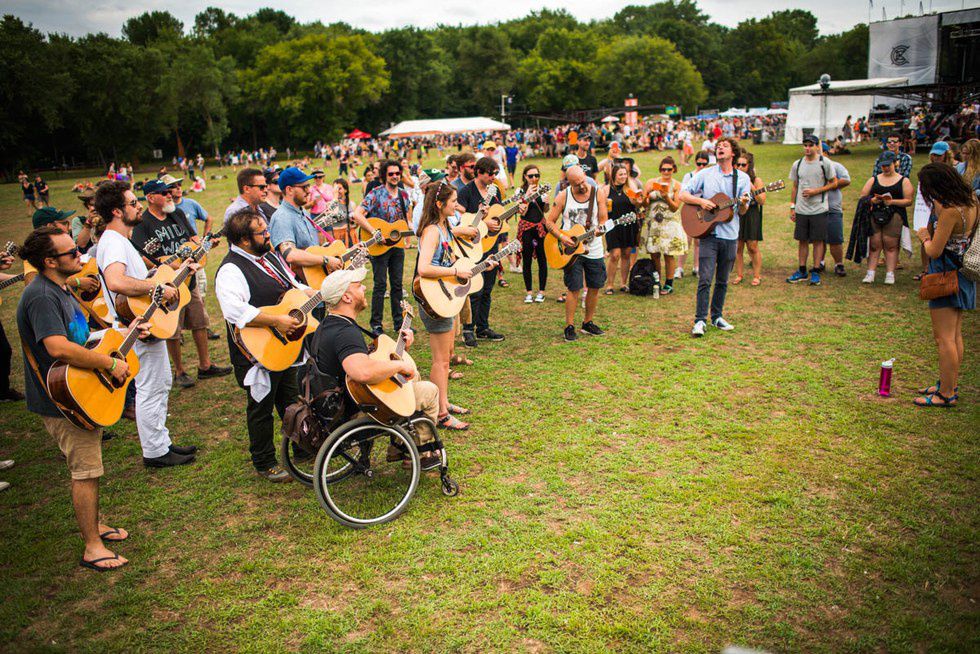 Jam sessions amongst strangers, naturally.
The wide breadth of inclusion, and the near constant cover of drizzle, helped to inspire a sense of community and innate respect amongst the festival goers.
Amongst the variety of activities available, there was also a headphone disco igloo (participants listen to a live band through headphones and dance) and a section for unique shopping from vintage clothing to handmade items to hand carved cutting boards. Are you feeling the hipster vibe yet?
With a mini stage nestled amongst the trees, going by a secret set list, featuring artists like S.Carey and other surprise guests kitty corner to a trail full of location art pieces made from wood, leaves, and other natural resources, there was a sense of attention to detail and a bit of fairy dust thrown in to keep us on our toes.
A favorite discovery was a geometrically designed, awkwardly spherical, wood sculpture that echoed its own eerie intonations and featured the ability to sit inside of it.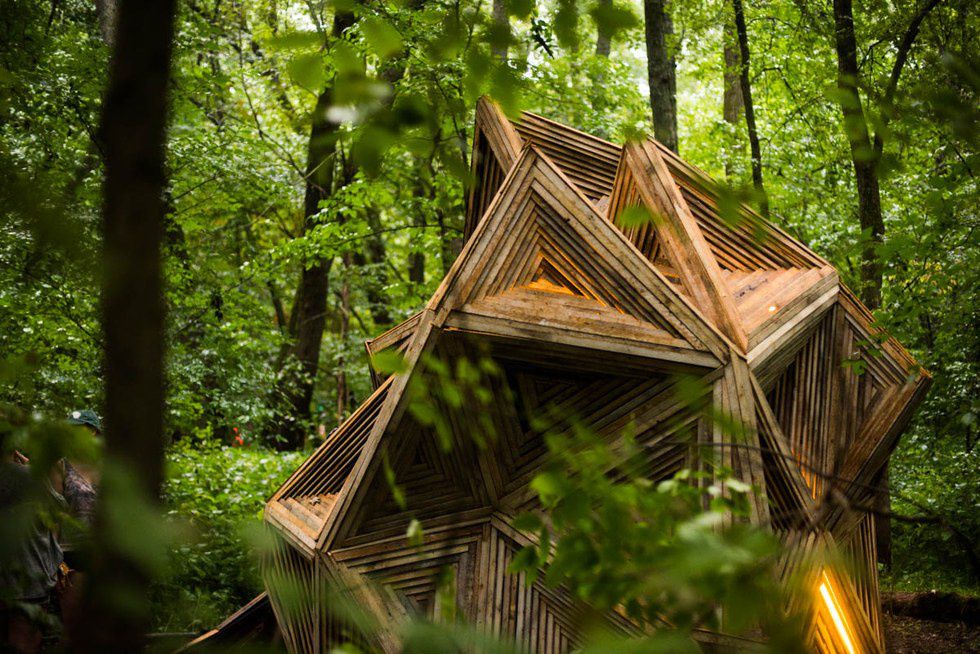 UFO sighting or the true "heart of the forest?"
It would seem in that moment that we had found the heart of the forest, much like Vernon and Dessner took us with them to the heart of the music.
Take a voyage into the woods next summer, you won't want to come back.