Struggling to scarf down that last piece of dry grilled chicken? Tired of going to bed without anything to satisfy your sweet tooth? My dear fit friend, there really is a way you can have it all. Try these "healthified" versions of all of your favorite comfort foods and treats the next time you find yourself crying over a salad (it happens).
---
Brown Rice Pasta With Ground Turkey Bolognese vs. Your Nonna's Italian Feast
There is nothing more comforting than a bowl of homemade pasta. Although no one makes spaghetti quite like your Nonna does, here is a "healthified" version to try for yourself. I like this meal because it's cheap, easy to make, has few ingredients and lasts me about four meals. This is perfect for after a heavy leg workout when you need some carbs to refuel.

You will need:
1 package 99% lean ground turkey
1 bag brown rice pasta OR protein pasta (Here is my favorite brown rice pasta)
1 jar of your favorite marinara sauce
1 handful of chopped baby spinach
Nonstick cooking spray (I recommend cooking with coconut oil. Read why here)
A pinch of minced garlic, salt, pepper and your favorite herb blend
Instructions
1. Preheat a medium skillet over medium heat for 5 minutes.
2. Spray with nonstick cooking spray and add minced garlic. When the garlic is sizzling and brown, add in ground turkey. Season with salt, pepper and desired Italian herbs.
3. Break up the ground turkey with a wooden spatula until it reaches the desired consistency.
4. Once the meat is fully cooked and browned, create a well in the center and add baby spinach. Once spinach wilts, stir it into the turkey mixture.
5. Add half the jar of marinara sauce and let simmer for 15-20 minutes, or until ready to eat.
6. In a medium pot, fill 3/4 of the way with water and let boil.
7. Add a pinch of salt and 1 bag of brown rice pasta.
8. Cook about 15 minutes, or until it has reached desired consistency.
9. Drain and add the other half the jar of marinara sauce.
10. Place a scoop of meat sauce on top of a bowl of your pasta.
11. Buon Appetit!
Serves 4.
---
Egg White Spinach Wrap vs. A Breakfast Sandwich
We've all been there. You stumble out of bed at 11:30 a.m. because you slept through your alarm and try to piece together last night's events from the small, fuzzy details you can remember. The pounding hangover headache is making it difficult for you to open your eyes past a squint. You fumble through your dresser drawers, throw on your wrinkled shirt, and run out the door for work in only ten minutes…until you realize you forgot to brush your teeth. With no time for breakfast, you stop at the nearest Dunkin' Donuts and order a quick, bacon egg and cheese on a croissant to go.
Instead, try this healthy egg white spinach wrap. I love it because it's super quick to make in the morning so it's easy to grab and go. Try it with fresh berries or oatmeal for a more complete breakfast.
You will need:
1/5 carton of egg whites
1 handful of baby spinach
1 low carb whole wheat wrap/tortilla (see my favorite here)
Salt
Pepper
Anything else you'd like to add
Instructions

1. Finely chop baby spinach and set aside.

2. Preheat a medium skillet over medium heat for 5 minutes. Spray with nonstick cooking spray.
3. Pour egg whites into the pan, sprinkling the spinach on top. Allow the mixture to solidify. Do not scramble!
4. When the egg whites are fully cooked and form a thin layer, use a fork to roll the egg whites into a small omelet.
5. Plate your wrap and add some of your favorite fixings. Low fat cheese, salsa, ketchup, or avocado are great choices!
6. Place your omelet inside of the wrap and sprinkle with salt and pepper to taste. Roll that baby up Chipotle style and cut it in half.
7. Buon Appetit!
Serves 1.
---
Cauliflower Crust Pizza vs. Regular Pizza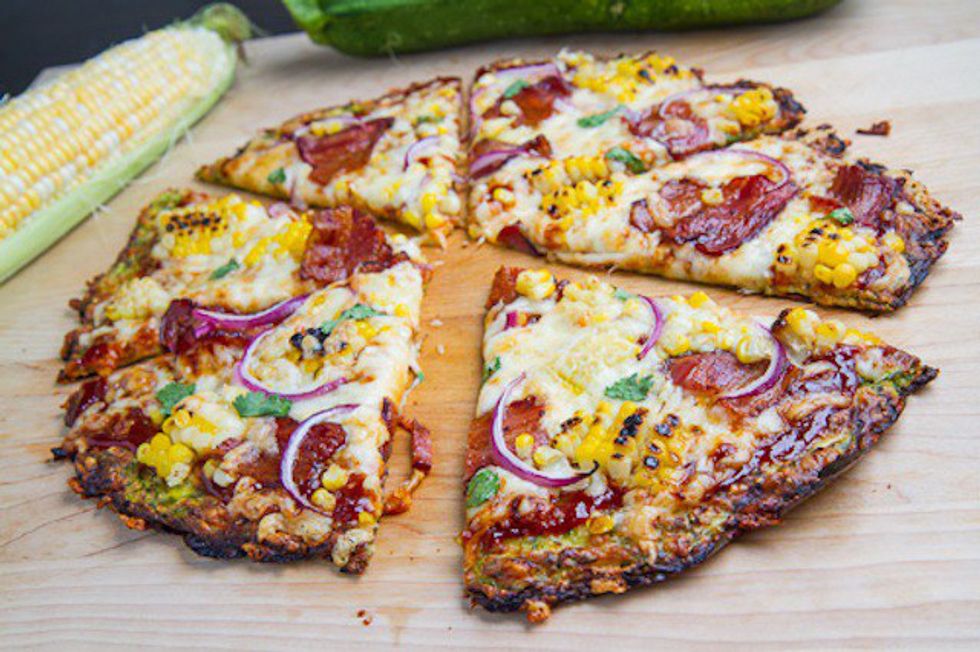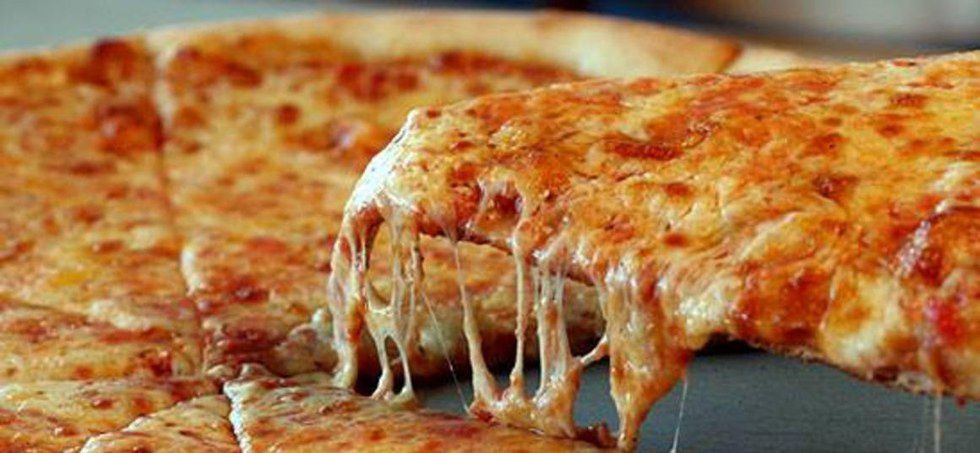 Admit it, just about everyone has a weakness for pizza. There's something about the melty cheese atop of the carb-heaven crust that makes this pie so irresistible.
Not to worry my friends; there is a way to get your pizza fix without sacrificing your summer bod. Internet personality and YouTuber Cassey Ho (aka Blogilates) came out with a recipe for cauliflower crust pizza, and it's damn good. Using cauliflower in the food processor as the base for a crust is a clean substitute for traditional pizza crust. You'll have to try this on your own to see for yourself, but it definitely does not disappoint.
Dominos medium-sized veggie medley pizza: 1920 cals
Blogilates medium-sized cauliflower crust pizza: 616 cals
Now all of your pizza hopes and dreams can finally come true. Check it out here.
---
Steamed Chicken Broccoli and Brown Rice vs Sesame Chicken and Fried Rice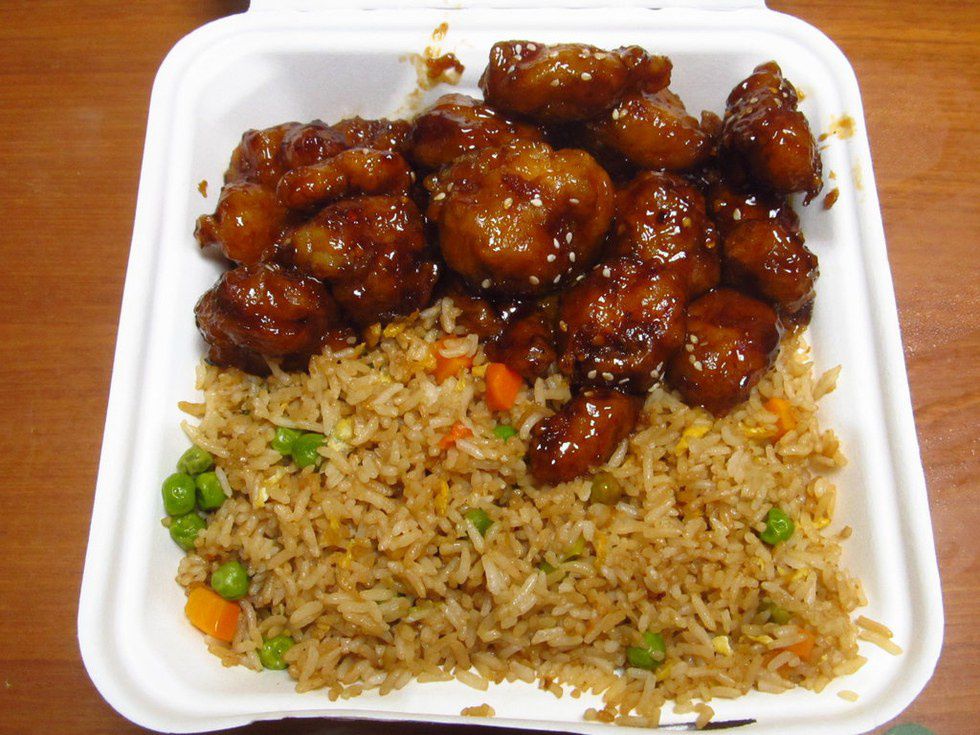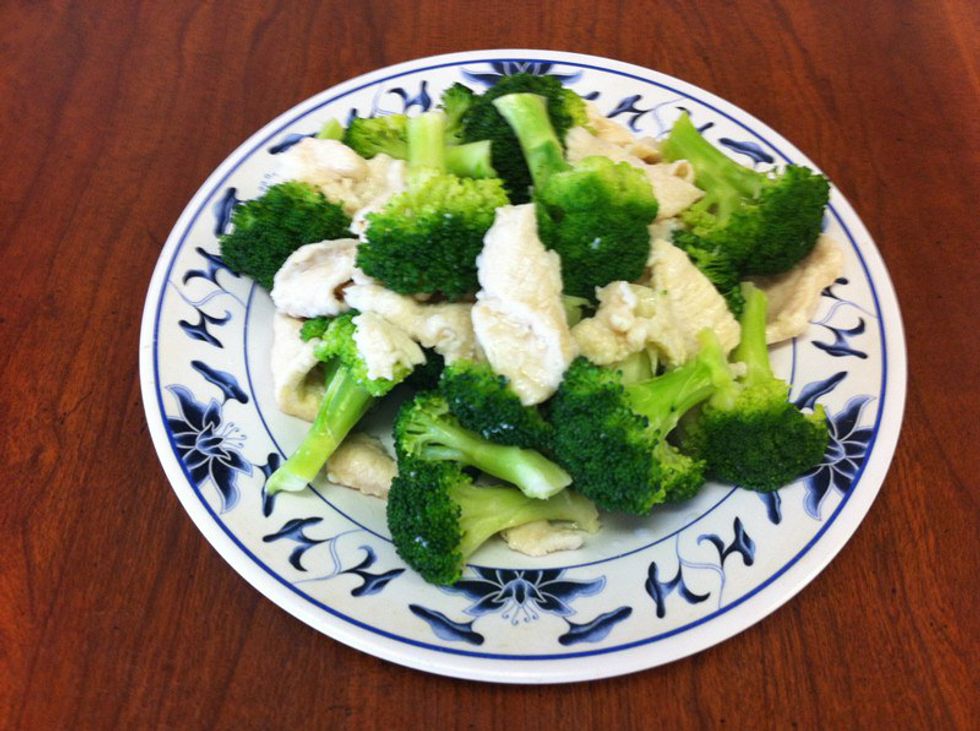 This Chinese takeout hack will change your life. Order chicken and broccoli, beef and broccoli, or shrimp and broccoli steamed, sauce on the side with an order of brown rice. I know this may sound like no fun, but I promise you it's not bad. Using the side sauce to dip and drizzle still gives you the flavor of the salty, yummy brown sauce without your food swimming in it. Plus, after you order it, it should be ready in no more than 15 minutes (how do they always make it so fast?).
---
Lenny and Larry's Complete Cookie with Halo Top vs. A Chipwich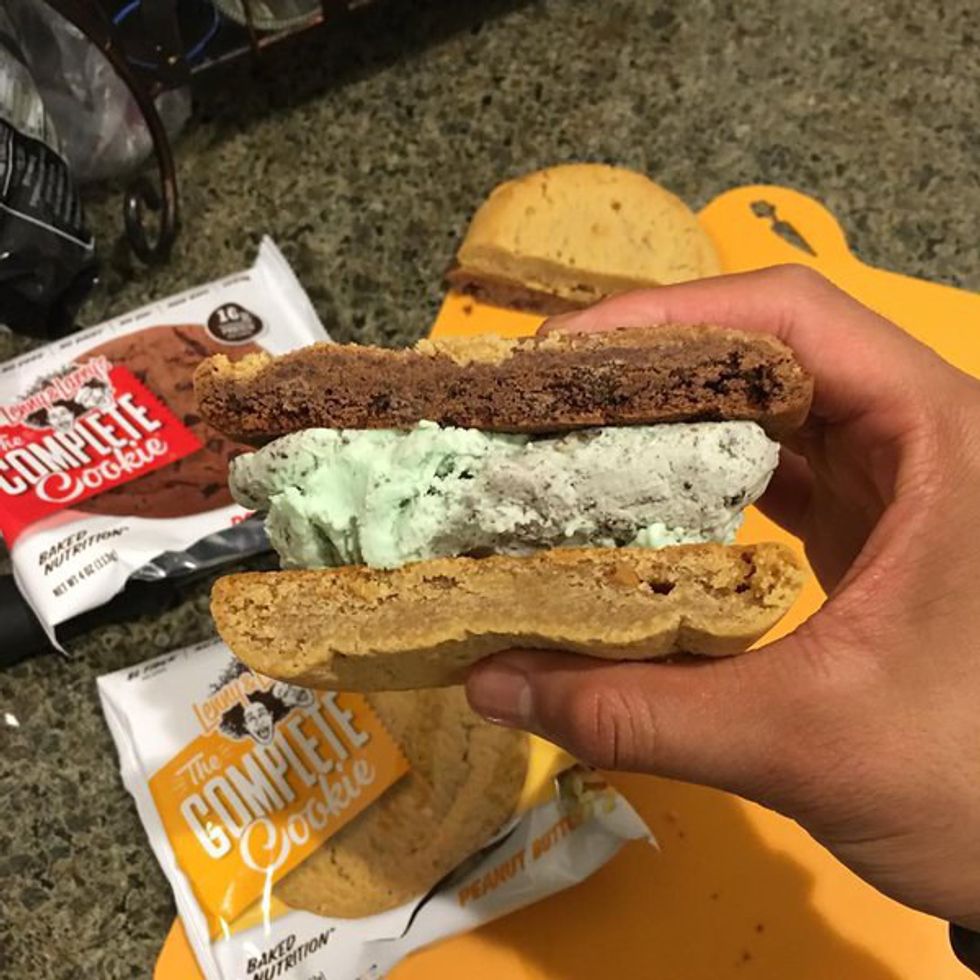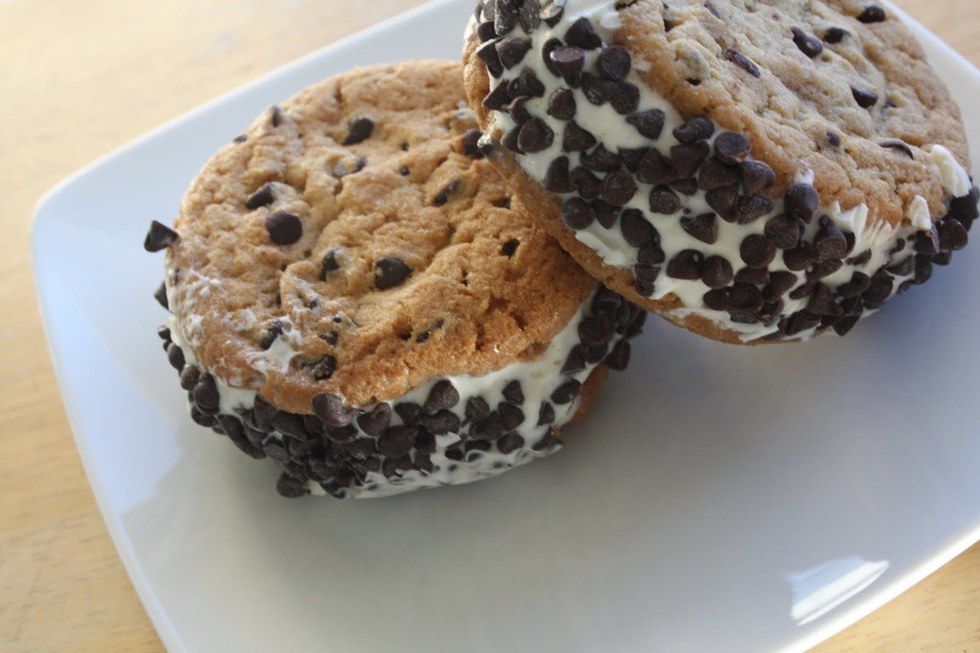 You didn't think I'd leave you without dessert, did you?

If you haven't tried Halo Top ice cream yet, you must. It has all the creamy, rich, delicious flavor of Haagen Dazs, with only 240-280 calories a pint (yes, you read that correctly). I first discovered Halo Top through a Buzzfeed article and have been addicted ever since. It really is too good to be true.
Lenny and Larry's Complete Cookies are the cleanest cookies you will ever find. They contain 16 grams of protein, 8 grams of fiber, and are completely vegan. A Complete Cookie with Halo Top ice cream is truly a match made in heaven; an ice cream sandwich lover's dream. Alternatively, warm up the cookie in the oven or microwave and top with a scoop of Halo Top. Either way, it still feels like cheating on your diet without any of the guilt. Who knew?
---
Remember that the key to any healthy lifestyle is balance, and that no matter how often or how hard you go at the gym, there is no substitute for a well-balanced diet.
Stay fit and fabulous.
Xoxo,
Rachel