Matthew Hussey.
Never heard of him? Don't worry, you aren't the only one. This man was completely unknown to me until recently. Hussey is a British television personality and life coach, who has been deemed an "expert" on love advice. He is also a best-selling New York Times author, having written Get the Guy: Learn Secrets of the Male Mind to Find the Man You Want and the Love You Deserve.
---
How I discovered him:
Like any other person my age, I spend a large portion of my day consuming media- specifically, YouTube videos. While I'm willing to shell out a few bucks a month for a premium Spotify subscription and some Adobe products, I don't have it in my heart to pay for YouTube Red. So, I'm left to endure terrible ads. Usually I'm able to ignore a commercial's first ten seconds and press 'skip', however, a few times, I was presented this ad.
"In this video, I'm going to show you three ways to compliment a guy to make him fall for you."
Oh, boy howdy! Where do I begin? How could I possibly turn this ad off? It sent all my "broadcaster" senses a-tingling! Here we have a well-groomed, attractive man, sitting in front of a white background. No distractions, no flashy clothing.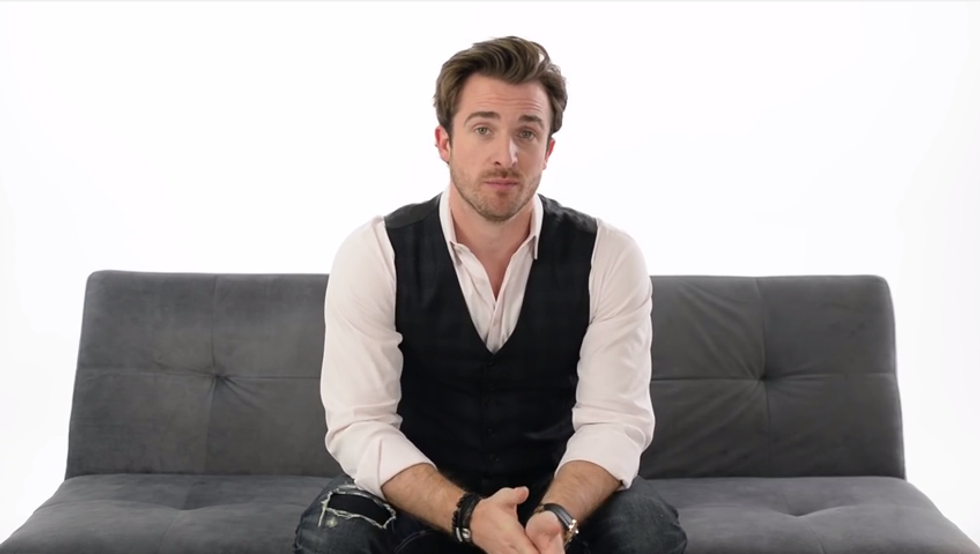 He is the center of the viewer's attention. His opener is short, sweet, and to the point. "You have a desire, and I'm going to help you fulfill that easily." He follows this with a call-to-action, saying to watch until the end because he has something "very special" that we don't want to miss.
A gift? For me? From this handsome, British man? Best call me a pike, because he has me hook, line, and sinker.
In all seriousness, this ad did catch my attention. This really began to peak my curiosity when this ad continued to pop up for me on another five or six videos. Did my online activity pinpoint me as a single woman who so desperately needed a man, that I needed to seek a complete stranger's help? Did I seem incapable of attracting a mate?
Alright, I was being unfair. Some people benefit from getting a bit of relationship advice. I decided to dive into Hussey's media presence and YouTube channel, and see what I could find.
3 Types of Advice
Matthew Hussey appears to have divided himself into three different Love Gurus.
First, you have the love guru who appears on the NBC show "Ready for Love". Hussey appeared on the program as one of three matchmakers, helping three men decide between their own set of twelve women, to find their future brides. Hussey's opening statement on the show was "Matchmaking is about getting inside the male brain to get what you want."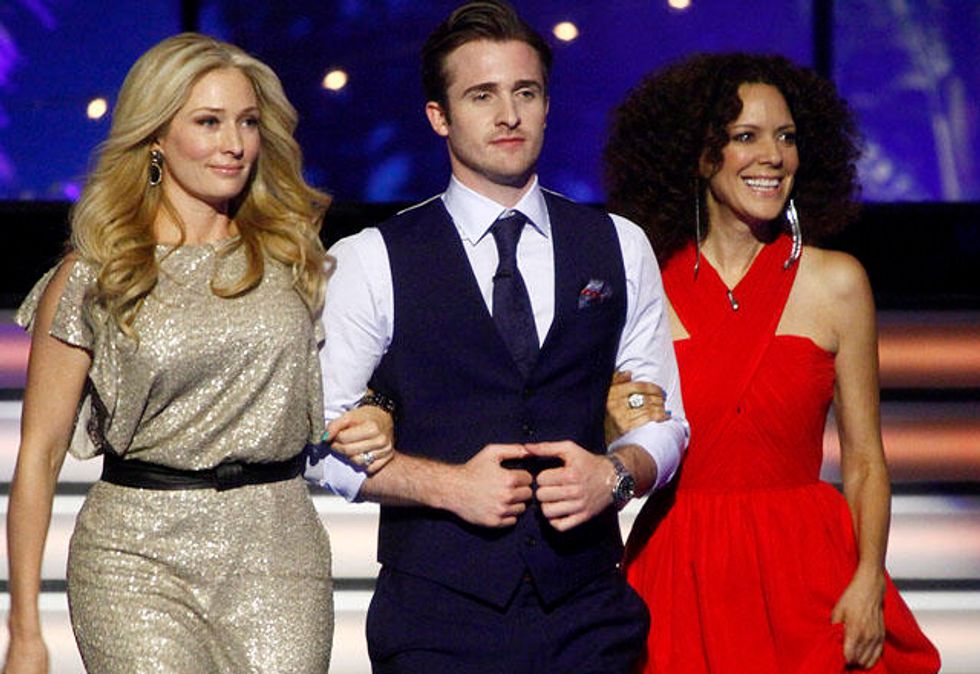 On "Ready for Love," the matchmakers coach the women for their dates and give advice on how to catch the contestant's eye, make a lasting impression, and make the most of their time with the contestant. Hussey seems to focus a lot of his advice on "doing the right thing." He has a set idea of what's the right way and the wrong way to get with a guy. This makes sense, as Hussey says in an interview on "Ready for Love," that his background as a life coach soon led him to holding love advice conferences for men. He would hear a lot of what men were and weren't looking for, and he's built up a repertoire of dos and don'ts for courting those of the male gender.
Next, we have the Matthew Hussey you meet on a luxurious retreat! For the right price, that is.
Thanks to the success of his book, Hussey has expanded his work into a series of products that you can purchase on his website howtogettheguy.com. These products read like the article titles in every edition of Cosmo.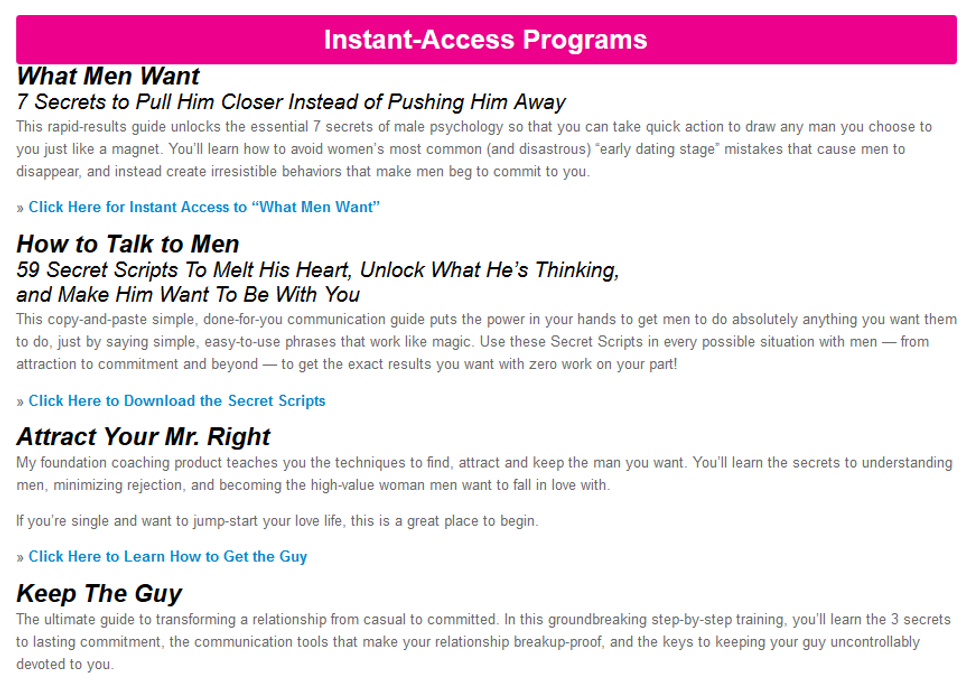 These products appear to focus on "fixing" yourself and your mistakes in order to achieve the ultimate goal: getting to take home your very own man. They sit in a very stark contrast to his larger product: The Retreat.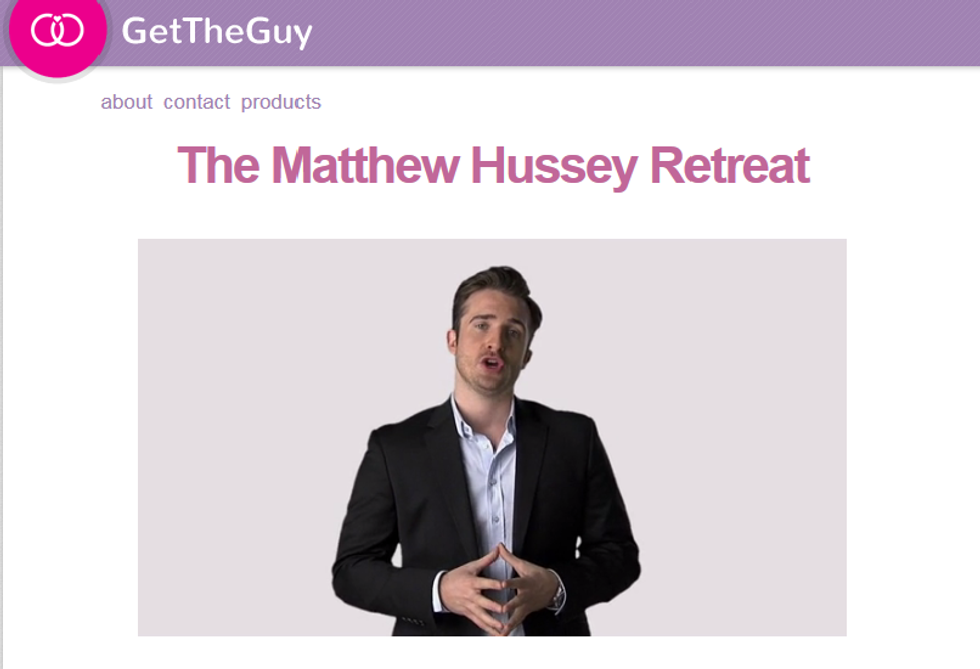 The Matthew Hussey Retreat, or at least the upcoming one, is a five day event in Florida, where each day, you and a large number of other women, will spend each day looking at yourself, your values, your current life as it stands, and everything that might be standing between you and the person you want to be. This retreat focuses heavily on finding happiness for yourself through changing aspects of your everyday life. These changes are meant to make you more confident, thereby making it easier to find and build a relationship with a man. I keep repeating "man" specifically, because in all of the research I did on Hussey's advice videos and packets, he never seems to mention the option of having a relationship with another woman.
All-in-all, the retreat appears... intense. There are tasks before the retreat that are asked of you, such as keeping diaries regarding your activities, emotions, and discoveries. The following days revolve around understanding your goals, other people's motives, and eventually learning to let go of your own insecurities and pushing yourself to take risks in your day to day life.
These things don't sound terrible! They seem like sound advice to give someone who wants guidance badly enough to spend a large amount of money. It's an investment in themselves, after all. While I couldn't find the exact price of the retreat on Hussey's website, an English writer for The Telegraph said her retreat ticket costed over £3,000 ($3845).

Finally, I had to look into our third Hussey, the first one I encountered.
The YouTube Hussey.

At this point, Hussey didn't seem so bad. Sure, he had some gimmicky advice products and seemed to cater to women who were down on themselves, but he is a life coach, after all. And not all of his advice seemed awful. But I still had this uneasy feeling about him, and all of it stemmed from that first video I had seen.
Looking into his YouTube profile, his videos seem like, for lack of a better term, clickbait.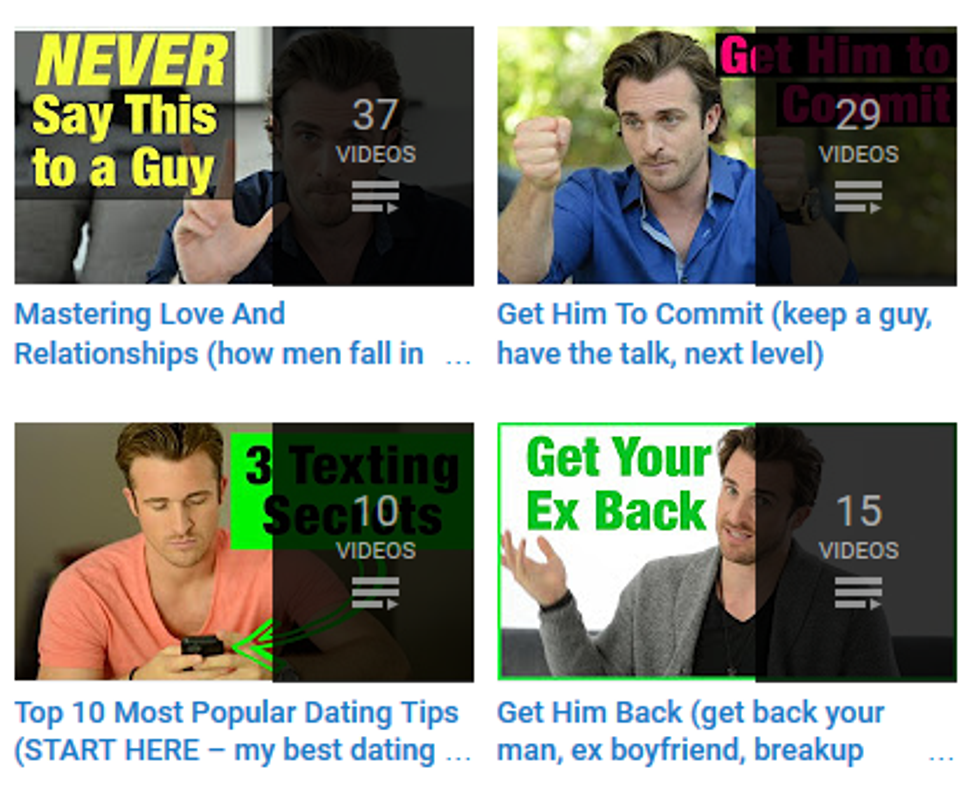 How to Get Back With Your Ex!
How to Make Him Melt!
How to Stop Attracting the Wong Guys!
Get His Attention at a Party!
What He REALLY Means When He Says Yada yada yada...
It's all just so simple.
Matthew Hussey's videos are presented in a way that makes dating into some sort of game. He formats men into puzzles that women are too distracted or nervous or blind to figure out.
A lot of his advice circles around what it takes to get a man, but none of his content addresses what it means to actually sustain a relationship. He barely talks about communication, and instead lays heavy on how to act coy yet confident. Hussey's work comes off as a gimmick. It's all just set up from an entrepreneurial stand point, rather than a humanities one.
He doesn't treat a relationship as an investment in a partnership, but rather as a Twinkie at the end of a stick. "If you just stop and think about the situation or who you are for a second, you'd be smart enough to reach out for the Twinkie, instead of waiting for IT to come to YOU!"
Look, I might be a bit young to be giving relationship advice, and maybe you enjoy Matthew Hussey's work, and if so, that's fine. But for me, the best advice I was ever given for a relationship were these three things:
1. Don't let a significant other define you. In the end, you live with yourself. Don't let another person decide who you're going to be.
2. Be an adult. If something is bothering you or if you wonder if you're bothering them, speak up about it. Nothing good is ever born from silence and fear.
3. Do things for one another. Be it a small or a large gesture, this will be what they remember at the end of the day.
And that advice extends to all sorts of relationships, not just romantic ones.
Be yourself. Be honest. Be kind.