This past week I was scrolling through Twitter and I came across a tweet that really rubbed me the wrong way. I understand that sorority life isn't for everyone, but that does not mean you get to put us down. I don't go around talking about your life choices and I sure did not ask you for your opinions about mine. I understand where you are coming from. From an outsider's point of view, it may look a little cult-like. I get it. The door songs are a lot and sorority recruitment (aka rush) is a huge process.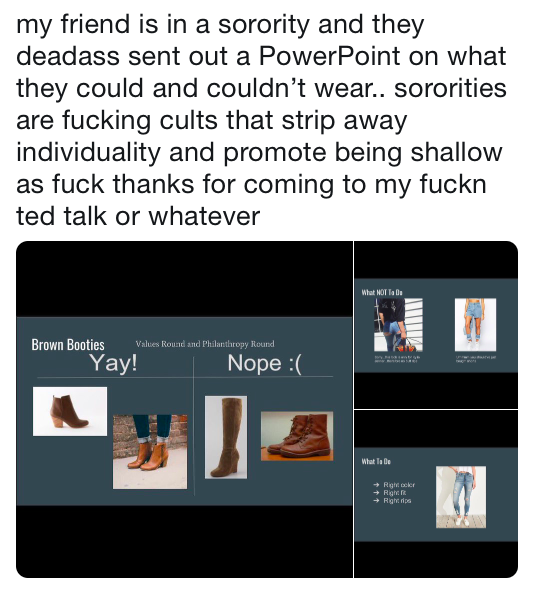 Twitter
But there is a reason why girls keep joining sororities.
People say you pay for your friends, that dues are astronomical, that it is just stupid and that rush is a nightmare. I can see where this comes from. In regard to this tweet, you're wrong. This isn't a dress code of what you must wear every day. This is for sorority recruitment. Again, you may be thinking that it is a little weird when you have restrictions as to what you can wear during rush. But I argue your point. When potential new members of your sorority walk through your sorority home, it is very appealing when everyone looks put together. It shows that the members care. It looks professional. They aren't asking you to all look identical because that would be scary. Just clean-cut and like you have coordinated.
On the contrary, sororities want you to have your own identity. They do NOT strip it away. We aren't shallow, we just care about an organization that is bigger than us.
There are hundreds of girls in my sorority. How could we all be the same? So go ahead and say that we pay for our friends. We aren't all besties, but I have found some of my best friends because of my sorority. College is a scary time. It is hard to meet new people and put yourself out there. Sororities are a great way of meeting people. The girls I have met have changed my life. Some of these girls will be at my wedding and a few will even be in my wedding. But I would not have met them without my sorority.
Girls join sororities because they change your life and help you grow.