If you watch a debate, read the news, or just live in America and are an active member of society, you probably will hear something polarizing that businessman and Republican nominee Donald Trump has said. He does not speak like a politician. If you hear his informality, his lax attitude on the stage, as well as his tone and heavy dependence on adjectives, you could see that he sounds like any other person with good speaking skills would sound, as opposed to Bernie Sanders' jerky, staccato voice or Hillary Clinton's calculated, smug approach. However, the media isn't up in arms about Trump's way of speaking; it's what he's saying that's doing the real damage.
Donald Trump has insulted women, Hispanics and Muslims, and that's just in the past year, and that's in public. Despite being the front-runner for a party that does the same thing, things like this haven't been said before so out in the open. The best way to describe it is what Jason Sudeikis said, impersonating Mitt Romney on Saturday Night Live: "We at the GOP, the party of the great Ronald Reagan, we do not say racist or sexist things. We imply them subtly over decades and decades of policy, so I felt that I had to take matters into my own tanned, well-manicured hands."
In a Republican debate, Trump had said "I think the big problem with this country has is being politically correct." Wait. Sorry. I have to analyze one thing before I get back on topic: it's the "big" problem? So many problems this country has, and the thing that plagues us worse than all else is our political correctness? Is that going to be the thing you say you're going to do in your first 100 days in office, is stopping political correctness? I can see it already: "The War on Political Correctness." Yeah, you could call it "The War on PC," but I don't think the company PC would be too happy about it, and God knows you are looking for the interest of businesses first.
Sorry. Had to get that out of my system. As I was saying, Trump has made being PC a big problem, and one could only connect his rejection of this to be synonymous to his susceptibility to very honest language, even if it's not true. In turn, you can make the claim that Trump considers political correctness to be curbing language to be soft and general, while still not making any generalizations. For example, the phrase "they're bringing drugs. They're bringing crime. They're bringing rapists," Donald Trump's PC converter would make it "illegal immigration can lead to many instances of trouble for our country." Words like "trouble" are soft, and words like "can" makes illegal immigration seem more like a risky endeavor that is only seen through in certain scenarios, being general without generalizing.
However, I don't consider this to be what Political Correctness is about, and while the nation is starting to discuss political correctness from now (and, with South Park doing an episode about it, you know it's definitely in the national discussion), I think it's time to really dig deep and find what being politically correct really means. What's the place to look? Comedy.
Last year, Jerry Seinfeld said he stopped performing on college campuses because they are politically correct and are quick to equip jokes with the words "racist" or "sexist." This is Jerry Seinfeld we're talking about, here. He isn't clean in terms of the Brian Regan's of the world, but he sure is no Anthony Jeselnik. What Jerry Seinfeld does make jokes about, along with 99 percent of other comedians, white males or otherwise, are about minority groups.
There are a few different kind of jokes, however, and, to make it clear, I created a graph for this: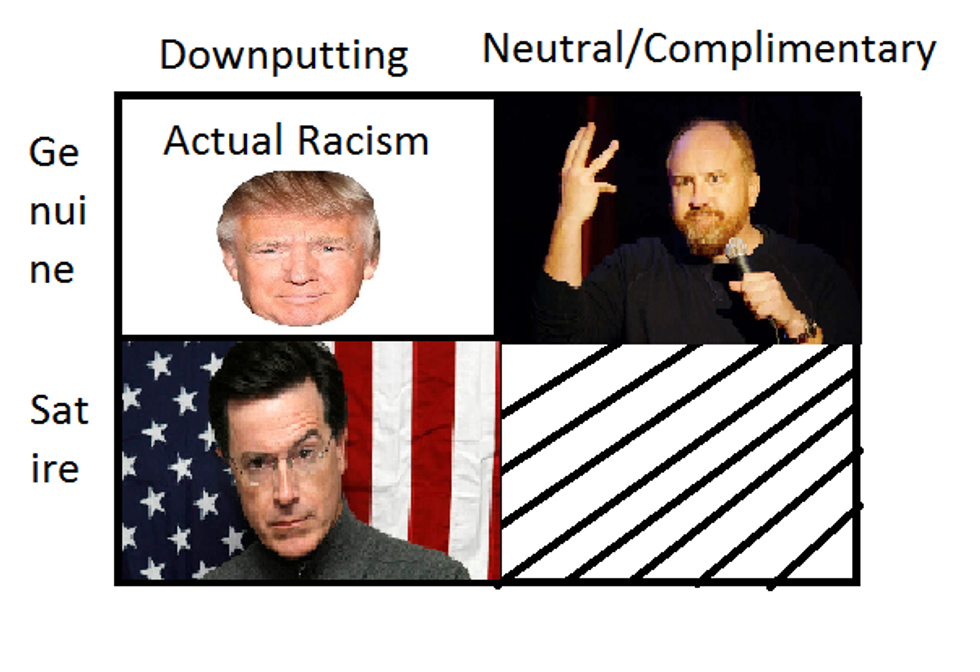 In a world where white people have been talking about minorities just to put them down forever, watching Louis C.K. doing stand-up might make you squirm at first, but when you finish watching him and re-watching him, you realize that there really is nothing offensive. You could see a the title of Louis C.K.'s clip of "I Enjoy Being White," and things are not looking good, but you watch the clip and you actually realize that it's a criticism against white privilege. Intelligence like this is why Louis C.K. is one of the most critically loved comedians of the century, but it's also why he is one of the most controversial.
Then you take people who put down minority groups. Some people do it genuinely (see above), but the Stephen Colbert's of the world do it as satire of people who actually are genuinely racist. In this way, they actually poke holes in the same arguments that they're satirically supporting, giving us a better understanding of the prejudice we actually deal with in the real world.
I'll give you an actual example, this time from Bo Burnham and his song "Klan Cookout." The song from Bo's self-titled debut is from the perspective of a modern day Klu Klux Klan member and speaks about his beliefs and practices. There are some outright — albeit funny — put downs like "And if you're black/Don't want to see your face/They're like a high school track/Just a stupid race." However, there are also some subtle put downs to his own kind, like references to incest and nazism. Again, this seems alarmingly racist, but there are no legitimate claims for prejudice that exceeds what we've already heard, and in the end, we're actually just laughing at the speaker.
How does being politically correct fit into this? Being politically correct is putting all of these categories into the genuine downputting category. In other words, being politically correct is defending a demographic that doesn't need defending in response toward a comment toward that demographic that wasn't genuinely offensive. I think that, other than our generally accepting society, a reason that our country is quick to these labels is that we are a country that is more adept to being quick and not thinking over things too much. With Twitter, you can think of something, and it will be online in thirty seconds. Likewise, you can see a bit called "I Enjoy Being White" and label it racist without really thinking over what it really means.
And these bits aren't only okay; they're essential to the path to true equality. If we suppress any talks about race, sex, gender identity, etc., we also suppress progress. Ignorance is not a virtue when it comes to accepting of other people. If you are accepting of another type of person, you should be educated on those people because if you don't, it will lead to microaggression. And, in my experience, I have heard many more microaggressions than I have heard non-put-down jokes about minority groups gone wrong. If we suppress other people, if we prefer to stay ignorant, how much better are we than the ignorant people who decided to discriminate and start this whole thing?
So yes, Donald Trump is not politically correct, but not in the way he thinks. And when he talks about who is coming over the border, it's not just that he isn't politically correct. He isn't correct. These are people fleeing violence and poverty and want to start a new life here, in America, ironically called the greatest country on Earth over and over again by the same people who don't want other people to do so, and Trump labels them as criminals?
Political correctness, on the other hand, is something we shouldn't strive for because it's superfluous, exaggerating, thus the word "political." We should strive for a truer, more honest America, and by "honest" I don't mean bigots saying what they feel. I'm talking about the true consciousness of the sum of our beautiful, diverse country.