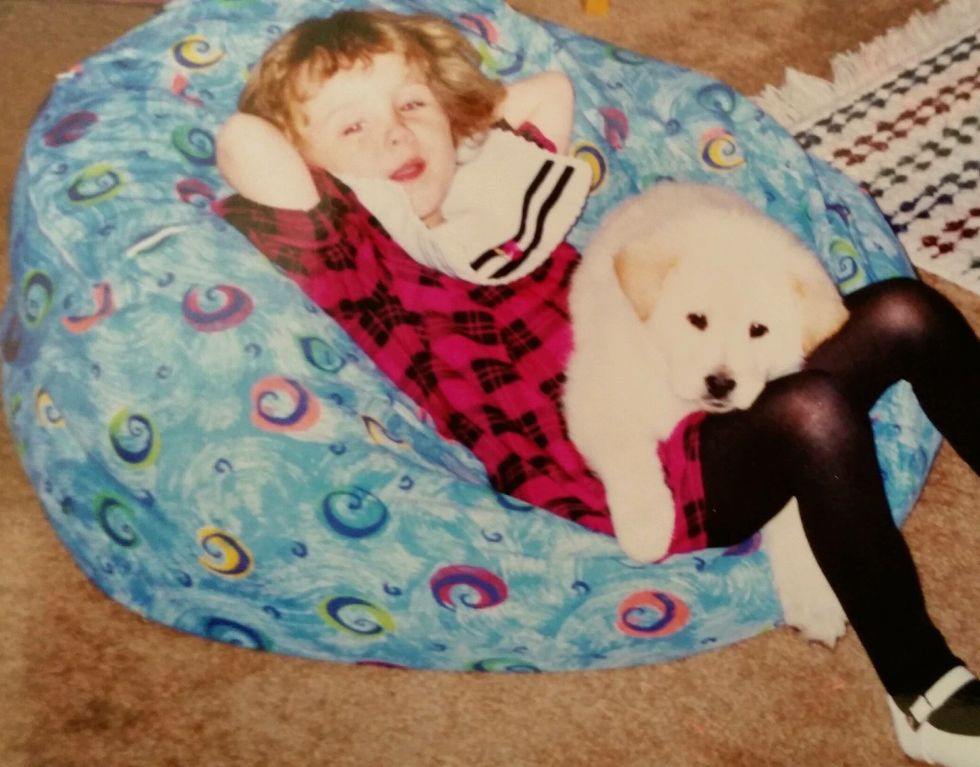 "Whoever said that diamonds are a girl's best friend...never owned a dog"-Unknown
Dear Robbie,
I remember being four years old and asking mom about if we could get a dog. She told me to pray to God about this and if we were meant to have a dog, he would make it happened. I do not remember how long after that prayer that we got you but eventually God made it happen. I remember we pulled up to the Walmart in Hoodsport, and a few minutes later, this lady showed put with this large box full of puppies. I jumped up and down saying God answered my prayer. Dad picked you up, you were this tiny white ball of fur and melted into his arm. It was like we did not pick you, you choose us. In the car ride back to the lake, mom put you in my lap and asked me what I was going to call you. I decided right then and there your name was going to be Robbie. They tried to get me to choose a different name but I was set on calling you, Robbie. Somehow that name seems to fit you and now I could not think of any name but Robbie to call you.
You were more than just my first pet, you were and always will be my first best friend. Throughout my childhood, you were there and always ready for whatever adventure. You listen to complain about everything and there to wipe away any of my tears. I could have never asked for a better sidekick. Every childhood memory I have you are beside me. Some of my favorite memories of us are when summer trips we took to Hoodsport and swan in the lake. You would try to keep with me and even tried to swim all the way across the lake with me. You were always my protector. It is not to remember a time when we did not have you.
As I got older, so did you which was very hard for me. In my mind, I always thought of you being in my life as that full of life puppy. But that was not that case, you had a harder time moving at all because of being in so much pain. Then could no longer control of your bladder. That was when I had to admit I do not have you in my life for much longer. Even being in so much pain, you never failed to give me a kiss and show me your love. You and I said goodbye to each other beginning of summer before my senior year. Who knew saying goodbye to you was one of the hardest things I ever had to do.
It has been almost two years since you left us and it still feels like it was yesterday. What I would give to have you back just one more time. To be able to just give you a hug and kiss again. I would love to see your smiling face as I come home from school, so excited to see me. I could not have asked for a better first pet or best friend. No one will ever be able to replace you in my heart. You were and still is one of the best gifts God has given me. Thank you for everything.