If you don't know Justin Bua, or his work, you should. He has literally topped my list of all-time favorite artists, replacing my obsession with all things Caravaggio. Art, in any form, is used to express a multitude of feelings of who we are, where we come from, or what we are going through. Justin Bua uses these feelings as tools to educate on the plight of the here and now. For example, one of his paintings has a front and center spot in my family room: it rests on my fireplace's mantle. Although I own three (The DJ, 1981, and Bass Player), there is one that is favored out of my collection.
1981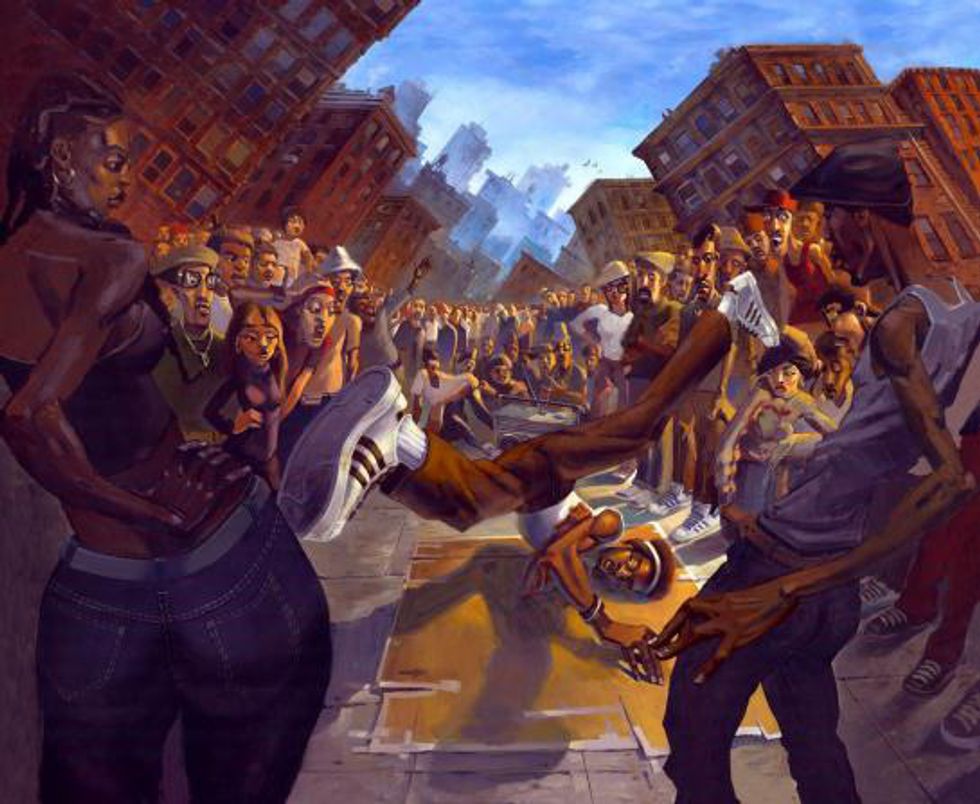 1981 speaks of the economic crisis of New York City, but instead of focusing on abject poverty, it examines a celebration of a new era: the birth of Hip-Hop. When I look at this painting, I see that through dance and togetherness, he portrays dignity and resilience through even the worst of times.
Bua attended Art Center College of Design, a prestigious art school in Pasadena, CA. He is also a former Associate Professor of Art for the University of Southern California (USC), but now offers online training. Justin Bua's work falls under a Graffiti Art Movement called Distorted Urban Realism. In my humble opinion, for all the art lovers out there, he is a more raw Goya, a less egocentric portraiture artist than Rembrandt, a dream-maker like Dali, and despite the distortion, a more realistic Hayden Palmer à la Jeunesse.
Despite all the hoopla of analytical rhetoric toward Bua's work, and the genre in which he's classified, what I really connect with is how his work is more than acrylic on canvas, or charcoal on paper. His work to me, and I hope to open your eyes to it as well, is that his paintings, his brushstrokes have a rhythm all of their own. They remind me of the hard-hitting beat of a hip-hop song. In his paintings everyone is a character, no matter their race or background. Even the buildings, the low income, single occupancy-roomed apartments in the background hold a cultural importance. He provides the masses a perspective of the minority, but not one of "underdog" defeat, but of inspiration and pride.
Bronx Tree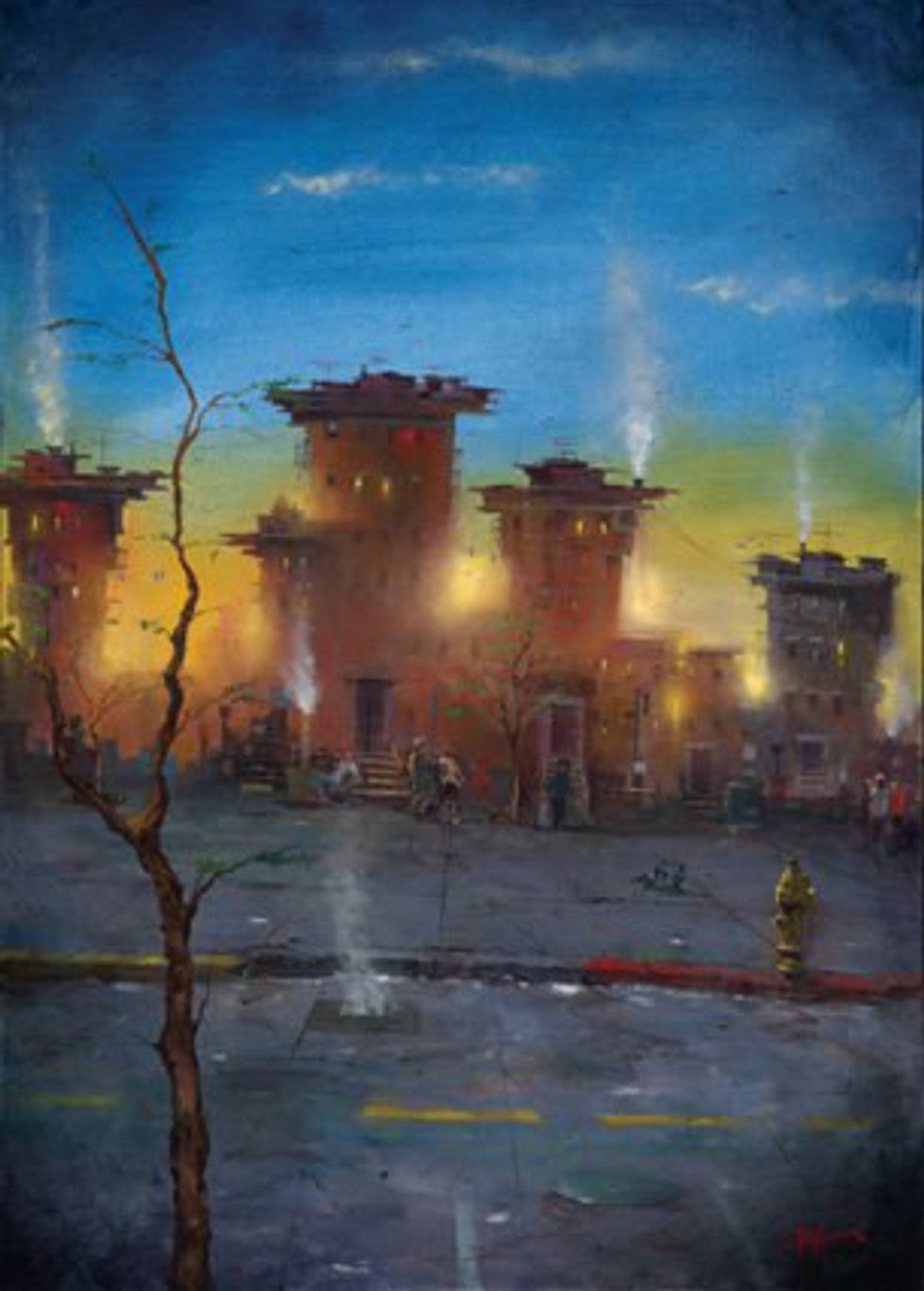 Of his painting's subject, Bua himself has said that Ronda Rousey is "powerful and unwilling to accept defeat--All the makings of a champion," and I'd like to throw those words back at him. I'd like to say to Bua, "You Sir, have championed your industry, defeated your odds, and graced us with a powerful talent that you not only share with the world, but give back through teaching. I am in absolute awe."
Breaking Point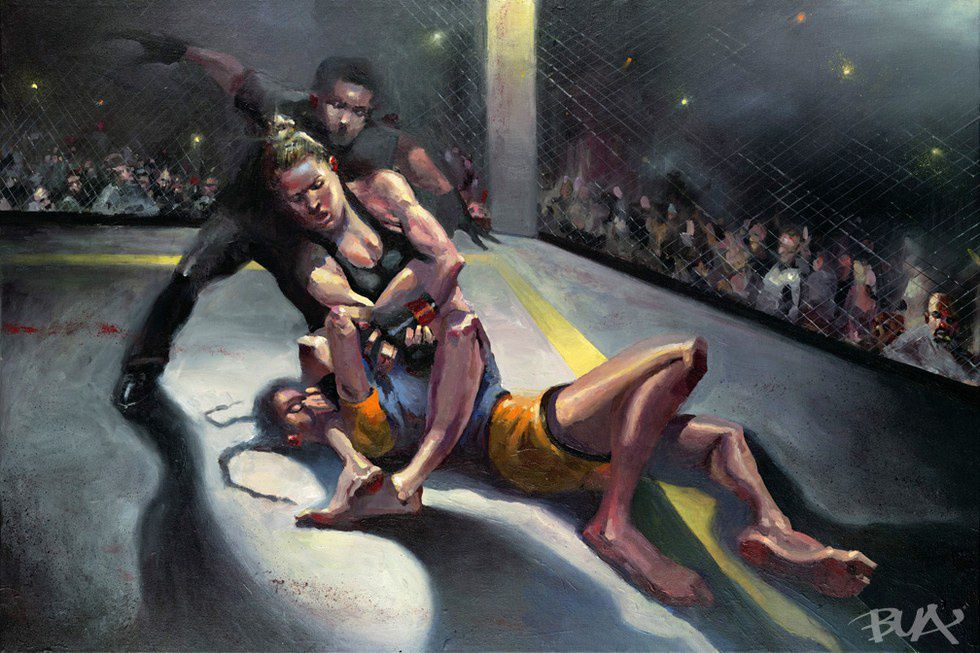 If you're interested, Justin Bua has taken his art on the road and may be coming to your town. If he's not coming to your state, you can always check out his work at http://justinbua.com because most importantly, there is this Floetry about his distortion that I really thought to share, but more so, he's just... cool. What do you think?