---
As seen on the 72nd annual Tony's Awards, presented this past Sunday, the topic of diversity was extremely. Anyone who tuned in witnessed the practically perfect sweep by Itamar Moses' adaptation of the 2007 Eran Kolirin movie , The Band's Visit, a tale of an Egyptian band stuck in a small town in the Israeli Negev Desert. The evening of the Tony Awards, two award winners, Lindsey Mendez (Carrie Pepperidge in Roger and Hammerstein's Carousel) and Ari'el Stachel (Haled in The Band's Visit) both commented on personal acceptance of personal acceptance of their diversity with Mendez stating, "When I moved to New York, I was told to change my last name from Mendez to Matthews or I wouldn't work. And I just want to say how proud I am to be a part of a community that celebrates diversity and individuality." This statement reigns superbly true. Theatre is the community of inclusivity and most people may attest to that, but it wasn't until a recent trip to New York until I realized how far we have come and how far we have to go.
This past March I flew to New York City with my Model United Nations Delegation to compete at the National Model United Nations Conference. Given a free trip to NYC, it was obvious that I would spend any free time I was given on theatre as well as navigating my less familiar teammates around the city (willingly, lots of love for Goatia). Since my time was short, I was only able to see two shows—Rogers and Hammerstein's Carousel and Lindsey Ferrentino's Amy and the Orphans.
Only a 6 minute walk from the Imperial Theatre (home to Carousel), one would find the Roundabout Theatre Company's Laura Pels Theatre which was home to Amy and the Orphans
Headlined by Actress Jamie Brewer (American Horror Story, Switched at Birth, and Southland) during the Tuesday- Sunday Primetime Performances and Edward Barbanell (The Ringer, Workaholics, and Dumb and Dumber to)
This was it, the moment where I can say I was truly in awe from a theatrical experience, a sensation that I haven't felt in a long time, if ever. For the first time in my life, I witness not only a down syndrome character represented in a play, but a down syndrome actor. Amy and the Orphans is the true story of play write Lindsey Ferrentino's aunt Amy who was sent away as a child to a live in state institute because of her grandparents inability to raise a child with down syndrome, with the only real interactions with her family being their sparse visits and trips to the movies—movie quotes playing a huge part in Amy's speech. As the show progresses, Amy's siblings realize the distance between them and her and that leads to an eager fight to regain ties with their estranged sister.
I sat in awe, and frankly, covered in tears. To see an underrepresented community finally gaining light felt as if a door had been open to a facet of the arts that people have never seen before. One thought couldn't leave my head was, "it's not about if they can do it, it's about when they will do it." This is something I have always known to be true with the Down Syndrome community, things will be accomplished, but time needs to be taken and opportunities need to be given. Without mentioning names, I want to shout-out a very important friend in my life who has Down Syndrome but hasn't let any obstacle interfere with living her perfect life. Not only can she dance a circle around anyone, but her wit could outdo even the greatest of comedians. Like I said, it's not about if, it's about when.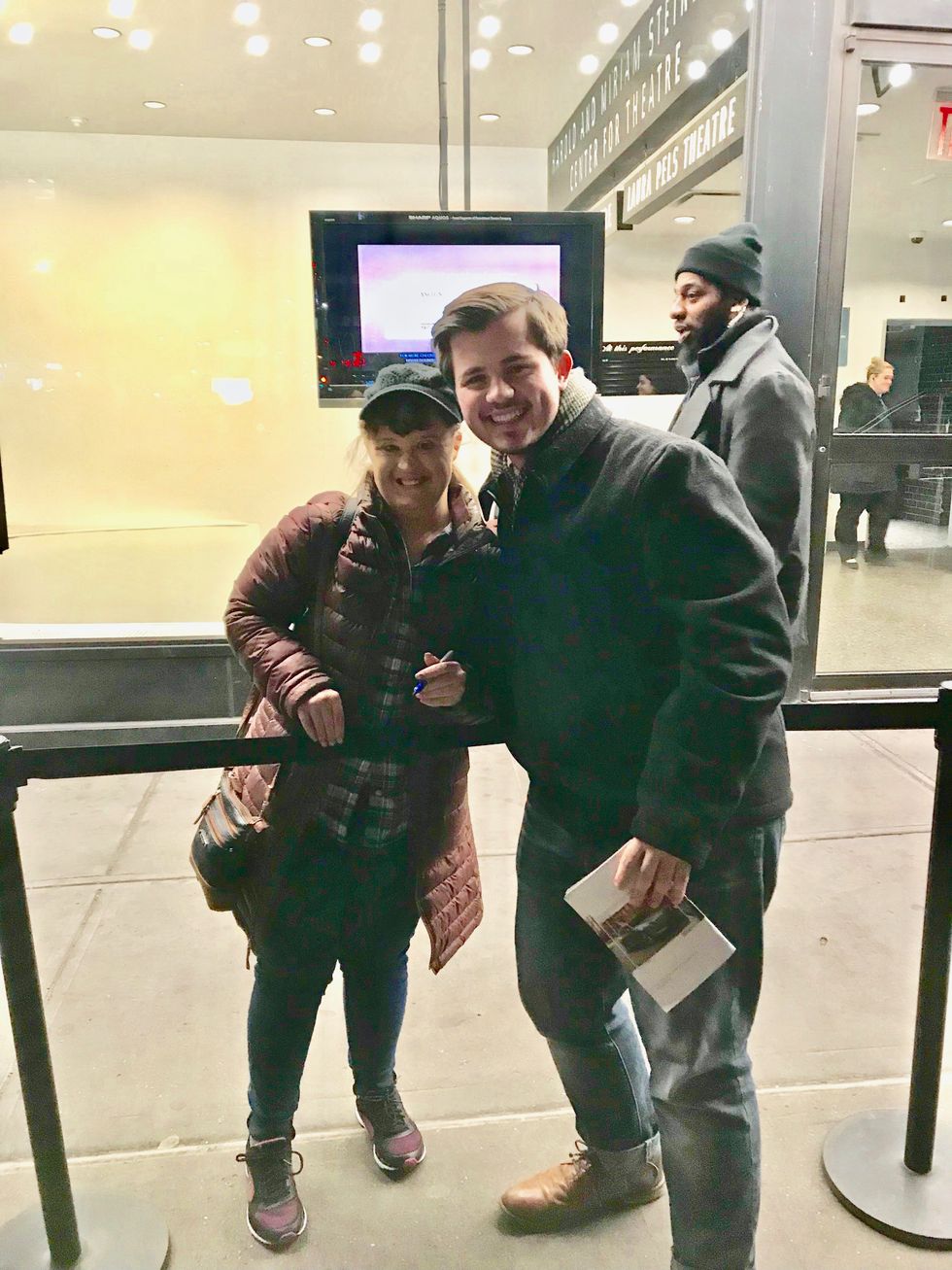 Jeter Weiss
Finally, I leave you with the moral of the story: people are people, and if one falls under that "People/Person" classification, there isn't anything stopping them from greatness. Amy was one of many to face cruel circumstances like her upbringing, but she serves as an inspiration to fight for those who can. Amy, who finds most of her words come in form of movie quotes leaves us with the following:
"I'm a human being, damnit.
MY LIFE HAS VALUE.
You don't understand.
I coulda been a contender.
I coulda been somebody. I coulda been somebody. I coulda been somebody. I coulda been somebody."
-Amy and the Orphans