I am sitting in my dorm room trying to figure out what I am going to do with my night when I get a text from my best friend from home. She mentions how she's sad I won't be with her for her birthday, and I remember it's the first time in 11 years that we haven't been together to celebrate. I think back to the first time I met her, and she hated me. It was the third grade, and I had just moved to a new school. I was absolutely terrified that I wasn't going to make friends, and having a feisty eight year old scowling at me definitely wasn't negating those fears.
It wasn't until maybe three months later that we found ourselves in a situation that forced us to be friends. Our brothers, who both ended up being the same age, we're in the same class and they immediately became friends. Because of them, our moms became friends, and next thing we knew we were being forced to hangout. This wasn't the story where we knew from day one that we were meant to be best friends, but we did have a lot more in common than we thought.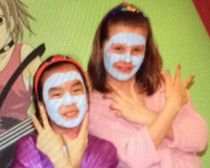 Age, 10
We soon started hanging out more and more until we were absolutely inseparable. Even the distance of college and being 623 miles apart can't keep us from constantly talking and facetiming to catch up on everything that's been going on. I've even gotten her to admit to missing me a few times, which happens, but is rare. Our friendship is one where no matter how much time we spend apart, when we are together it's like we never left.
Over the years, we have played the same sports, had the same jobs, and made so much fun out of whatever we were doing, that everyone around us would stare and wonder why we were laughing. It didn't matter how good we were at what we did, but as long as we did it together it didn't matter. We have so many inside jokes, that looking back are so stupid that they're still funny. Through time, our parents began calling both of us their children, and at times the other was the favorite.
We have shared so many memories together that I have no doubt in my mind that we will ever stop being friends. We are convinced that we were separated at birth, despite the difference in appearance, and nobody can tell us otherwise. Whether it was something so small as 1 on 1 drills at soccer practice and knocking each other over to make it more fun, or tackling all four parks at Disney world in one day, there is not any experience I don't want to have with her. As we get older and life keeps changing we will always be involved in each other's lives.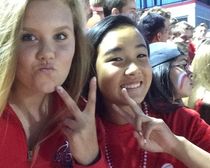 Freshman Year
Long story short, she is the only person that can make me laugh so hard, no breath comes out. She is the one who was able to take hard times and get me to joke it off. She is the one who can run down the soccer field screaming 'Y' and assume that I know exactly what she means. The distance is hard and there may be times that I wish she was here at school with me, but I know that summer is only a few months away and we will have all that time to create new memories.

So tonight, I spent my night writing this piece about how much I miss my best friend. Although I am not there to celebrate 19 with you, just know that if I was, your face would be in your cookie cake. So enjoy eating it bestie, I love you!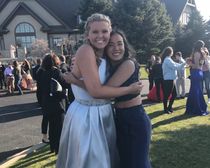 Senior Prom