1. "Snow White and the Seven Dwarfs" (1937)

In story planning meetings for "Snow White and the Seven Dwarfs", Walt Disney suggested films for animators to watch—two of which were 1936's "Romeo and Juliet" (starring Norma Shearer and Leslie Howard) and 1931's "Dr. Jekyll and Mr. Hyde" (starring Fredric March). And each of these films had a visible influence on the final product.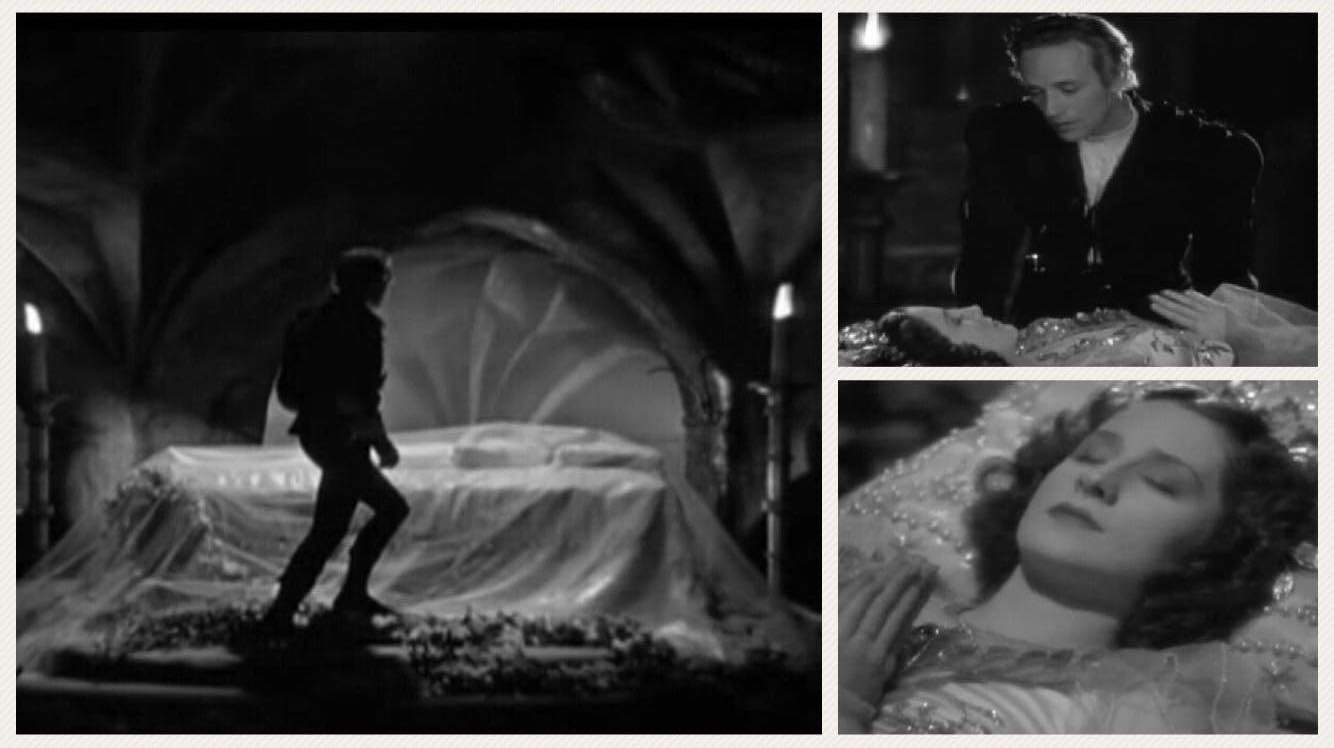 Romeo and Juliet (1936)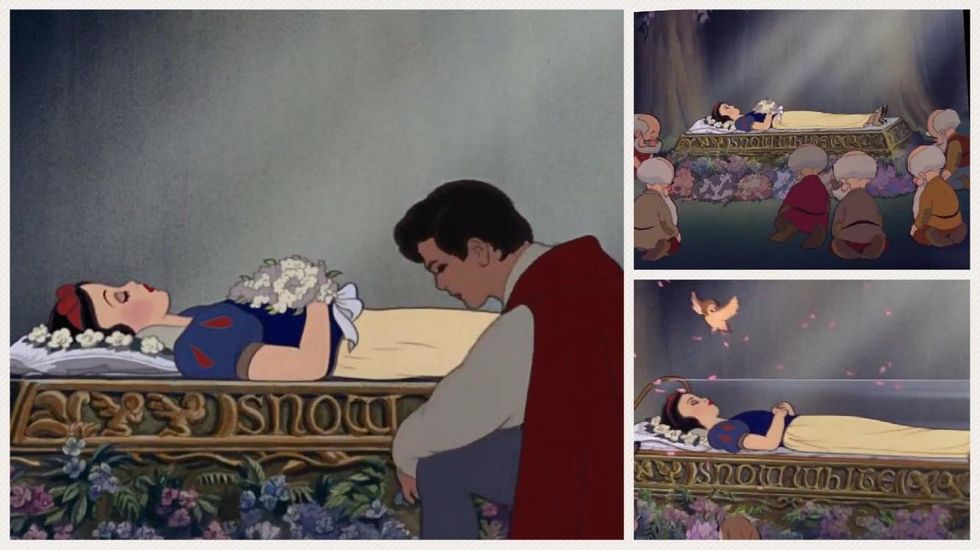 Ending of "Snow White and the Seven Dwarfs" (1937)
Remember that beautiful scene toward the end of the Disney classic in which the dwarves mourned as sunlight shined on Snow White's glass coffin? That was more-than-obviously borrowed from "Romeo and Juliet", in which similar lighting effects were used when Romeo found the departed Juliet, and sunlight shined over her body.

As for "Dr. Jekyll and Mr. Hyde", the scenes in which both The Evil Queen and Dr. Jekyll transform into disfigured beings in their respective films are almost identical! (Check it out in the videos above!)

2. "Sleeping Beauty" (1959)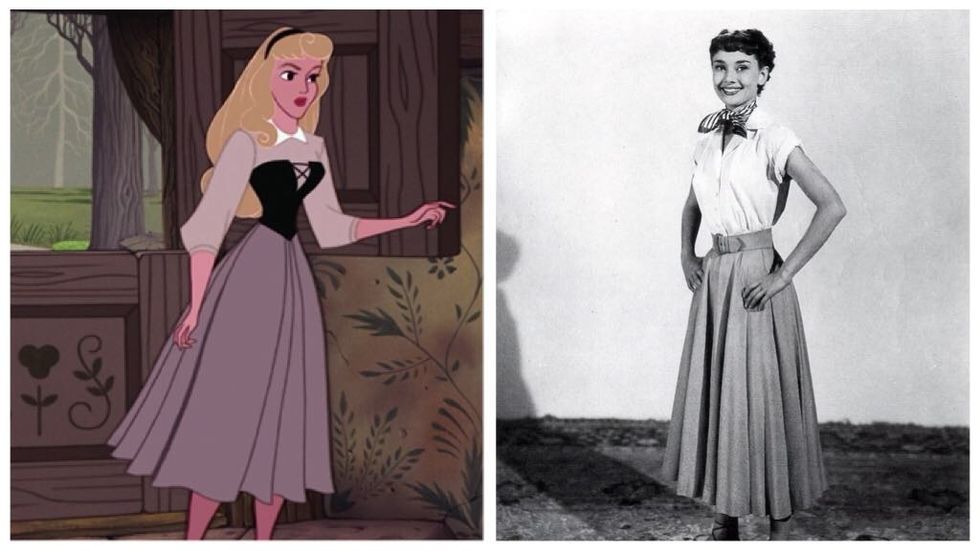 As a certain female star had exploded as a massive star in the mid-1950's, it's no surprise that she had inspired the Disney animators at the time who were creating Aurora. And this star was no other than Miss Audrey Hepburn, an actress and a huge style icon at the time.

But the animators only looked to Audrey Hepburn as an inspiration for beauty and appearance, as they borrowed Hepburn's tragically unrealistic slender figure and tiny waistline in creating Aurora's look.
3. "Beauty and the Beast" (1991)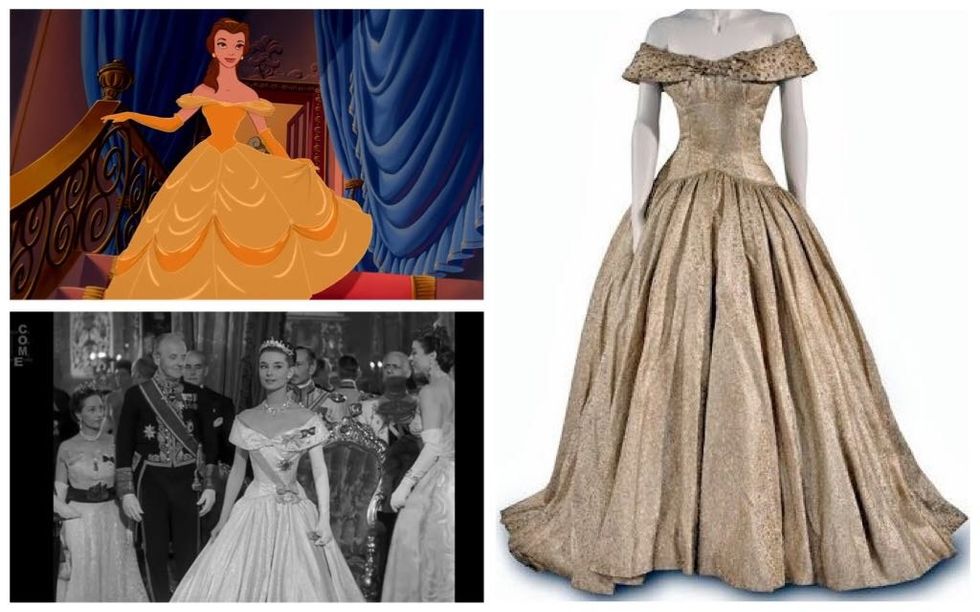 In designing Belle's iconic yellow ball gown during the "Beauty and the Beast" ballroom scene, Disney animators borrowed inspiration from Audrey Hepburn yet again: this time, they looked to Audrey's style. Specifically, they drew inspiration from a film in which Hepburn also plays a Princess: "Roman Holiday" (1953). In fact, Belle's dress closely resembles the one that Hepburn's Princess Ann wears at the beginning of the film.

4. "Aladdin" (1992)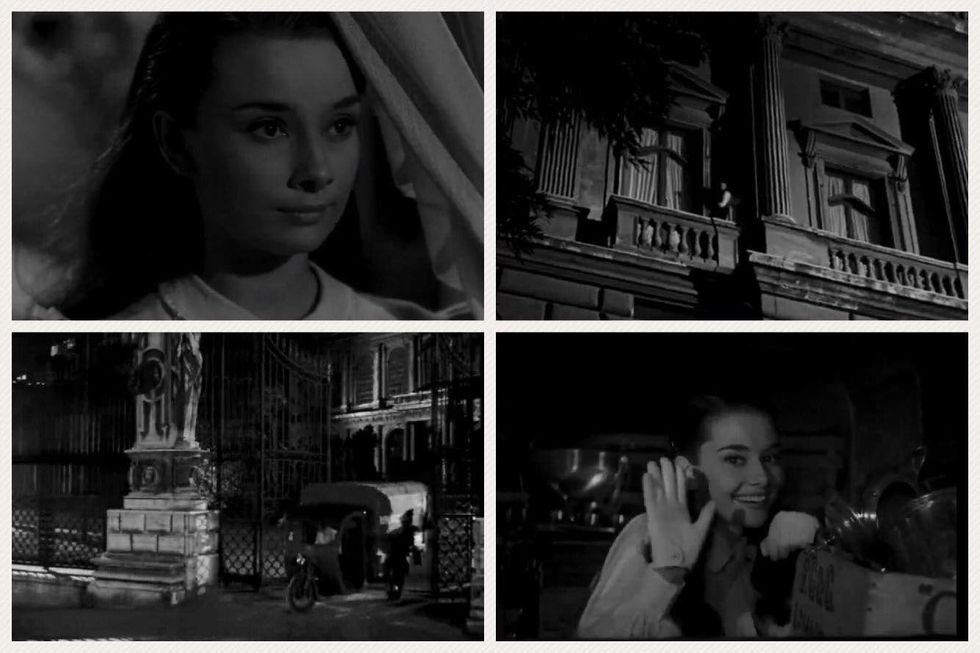 Princess Ann sneaks out in "Roman Holiday" (1953)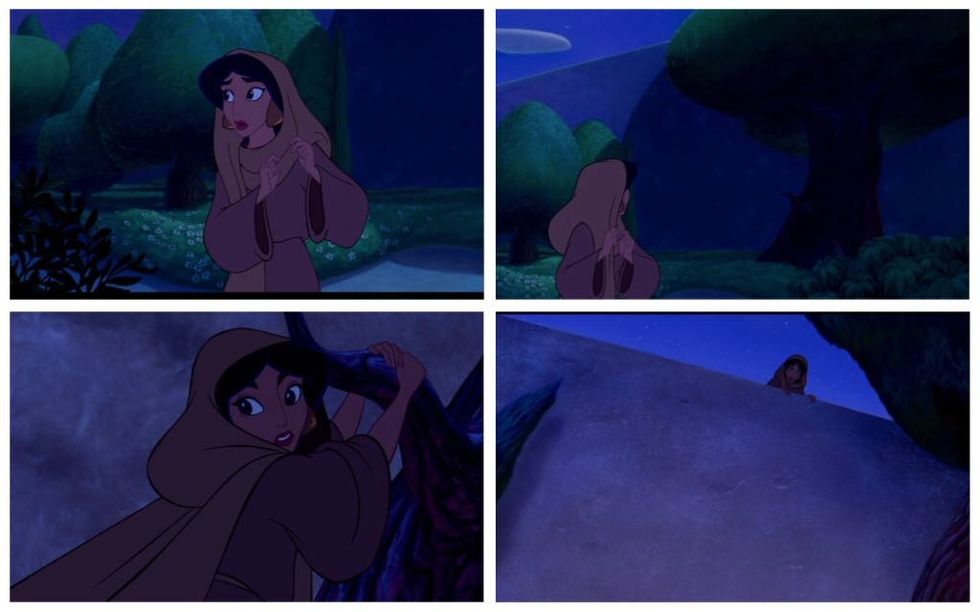 Princess Jasmine climbs over the palace wall to escape in "Aladdin" (1992)
You've already seen two Princesses who borrowed inspiration from Audrey Hepburn in terms of style and beauty, but animators and screenwriters sought inspiration from another component of Audrey Hepburn's charm in creating Jasmine: her spirited nature.

The scenes in which Jasmine sneaks out of the palace grounds and meets Aladdin in the marketplace parallels the plotline of "Roman Holiday". Both Princess Jasmine and Princess Ann seek to escape their lonely, suffocating lives by sneaking out for a day of fun and freedom among "the outside world"—and they both fall in love with the men who help them out in the process.


5. "Tangled" (2010)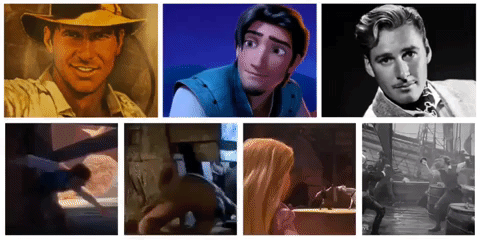 Aside from borrowing part of his named from Errol Flynn, the biggest action-adventure star of the 1930s, Flynn Rider in 2010's "Tangled" was also much like the many "swashbuckler" characters that Errol Flynn played throughout his film career. Flynn Rider, as you may remember, even told Rapunzel beside a campfire how much he was inspired by the tales of a "swashbuckling rogue" named Flynnigan Rider—which also sounds very much like an Errol Flynn character in films such as "Captain Blood" (1935) and "The Adventures of Robin Hood" (1938), among many others.

In an interview with Collider, Nathan Greno, one of the directors of "Tangled", said that in creating an "anti-prince" male lead, they sought to create Flynn Rider as a combination of the many great action-adventure stars of the past. He cites Errol Flynn as an inspiration, but also Harrison Ford as Indiana Jones. Theres even a nod to Indiana Jones clips above, when each male hero grabs an item of importance to them at the last minute as they are fleeing danger—Flynn grabs his weapon of choice (a frying pan) and Indiana Jones snatches his signature fedora in "Indiana Jones and the Temple of Doom" (1984).
What are your favorite non-Disney film references that you've noticed in Disney movies? Tweet me your thoughts @missjulia1207!