"Hamilton" is a hip-hop/rap musical about the life of founding father Alexander Hamilton. Despite how strange it's sound, it's been won a ton of awards and been critically acclaimed. Like pretty much every work of historical fiction, it took some artistic license with the actual historical content. Here's some of what got changed:
Hamilton's mother's status as a "whore" is an oversimplification. She was forced into a marriage at an early age, and never officially divorced her first husband, although they ended up separated. He made an effort to discredit her, throwing her into jail for her infidelity. She never officially married Hamilton's father due to never being divorced, but they seem to have been devoted to each other. On the other hand, there is some debate as to weather or not Alexander is even Hamilton's son, given how he filed to stay in contact with both his father and his brother later in life.

There were actually fifteen children of Philip Schuyler, as opposed to the three in the musical. There were several sons, so there wasn't as much pressure on Angelica to marry rich. Also, Angelica was already involved with her future husband when she met Hamilton. Basically, the entirety of the song "Satisfied" is drama as opposed to history. Here's Angelica's Wikipedia page for reference: https://en.wikipedia.org/wiki/Angelica_Schuyler_Church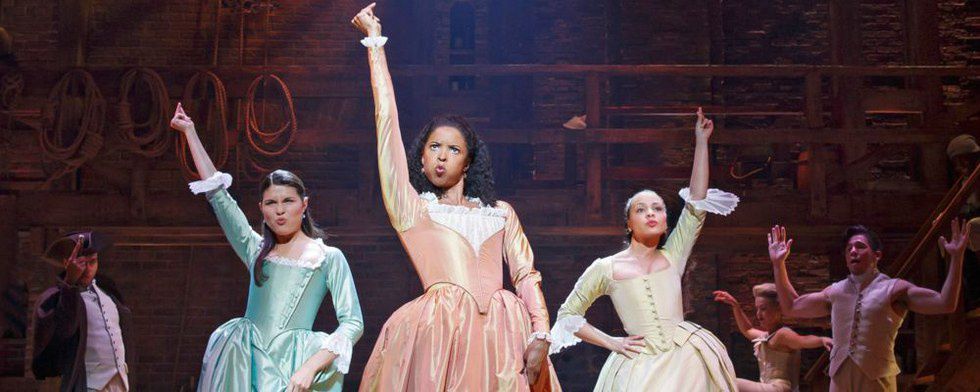 Charles Lee survived his duel with Laurens.
Hamilton resigned from his position as the Secretary of the Treasury in 1795, two years before Adams became president, because the job didn't pay well enough. However, he was still close friends with Washington and influential in politics at the time, and helped Washington write his farewell address.

James Monroe and Fredrick Muhlenberg were the ones who approached Hamilton about his affair. A journalist published the affair, before Hamilton did.
Hamilton was involved in 10 duels prior to his one with Burr, although he never actually shot any of his opponents
The pistols used in the duel between Alexander and Aaron Burr were the same pistols used in Alexander's son's duel. They where supplied by Angelica's husband, who also had a duel with Burr, albeit with no fatalities.
The Hamilton-Burr duel did not result from the Election of 1800. Burr was Jefferson's vice president. Jefferson didn't run with Burr for reelection in 1804, so Burr tried to become governor of New York, and lost. Burr then heard that Hamilton was talking smack about him, and then they wrote letters to each other and eventually dueled.
Dueling actually was illegal in New Jersey, but it was more aggressively prosecuted in New York than it was in New Jersey.