Artificial intelligence: we've all heard about it. It's become a sort of scientific fantasy for many of us for what seemed to be ages. I know we all have our own opinions on the feasibility of such creations but today I wanted to take the time to talk about a game that I've been obsessed with for the past few weeks.
It's called "Detroit: Become Human" and it's not just amazing story choices and awesome gameplay, it also poses many philosophical questions regarding AI and places these questions in such an innovative way in which we the players are able to sympathize with the cause of AI machines.
For those who don't know what this game is about, you basically follow the stories of three main characters: Kara, Marcus, and Connor. Each one has their own upbringings which create many factors that may either lead them to wake up or stay as obedient machines.
From here on, there are going to be plenty of spoilers. If you plan on watching someone play the game or playing the game yourself, don't read any further.
Cool, now let's dive in.
I'm not a professional game critic but I'd love to share my opinion on what this game means to me.
So here's my take on this whole game. It was made by the same creators (Quantic Dream) of some of my favorite games, "Heavy Rain" and "Beyond Two Souls." In terms of artistic format, the game really resembles "Heavy Rain" because so many of the scenes are set in dreary atmospheres with, you guessed it, a lot of rain.
In terms of gameplay, I really love how this game give you a lot of choices. There are so many routes to choose from and the game even tracks your progress of the choices you make and how they can slightly or drastically change your relationship with other people, the most notable ones being the choices Connor makes to change his relationship with Hank and the choices Markus makes to change his relationship with Jericho and society. Whether you're playing or watching someone else play, it really feels like their choices matter and the weight of their choices really creates pressure as you play the game.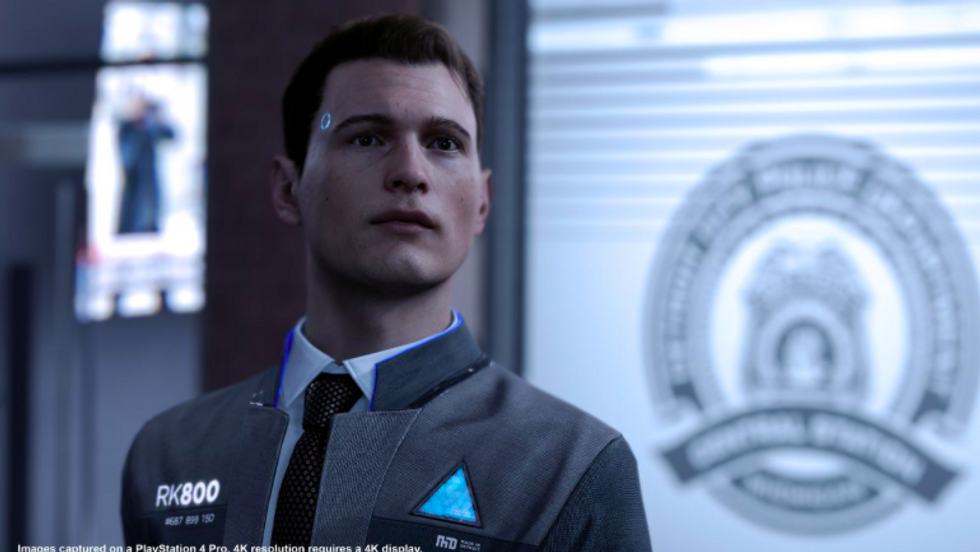 Connor"Detroit: Become Human" Gameplay
My favorite character in this game is probably deviant Connor. I love the investigations that he goes on with Hank and how their relationship flourishes (in the nicer outcomes.) My favorite scenes are particularly the moments when they're bonding such as when Connor's helping Hank during a hangover or when Connor figures out Hank's password (it's actually so hilarious.)
I particularly liked the scene where Connor is about to infiltrate Cyberlife and gets caught by his replica. When Hank was questioning both Connors to see which one was the real one, if the player makes the right decision, it really deepens the relationship and you can tell how much Hank has changed from the beginning. Also, fun fact, the actor for Hank is also the same actor for Mr. Krabs!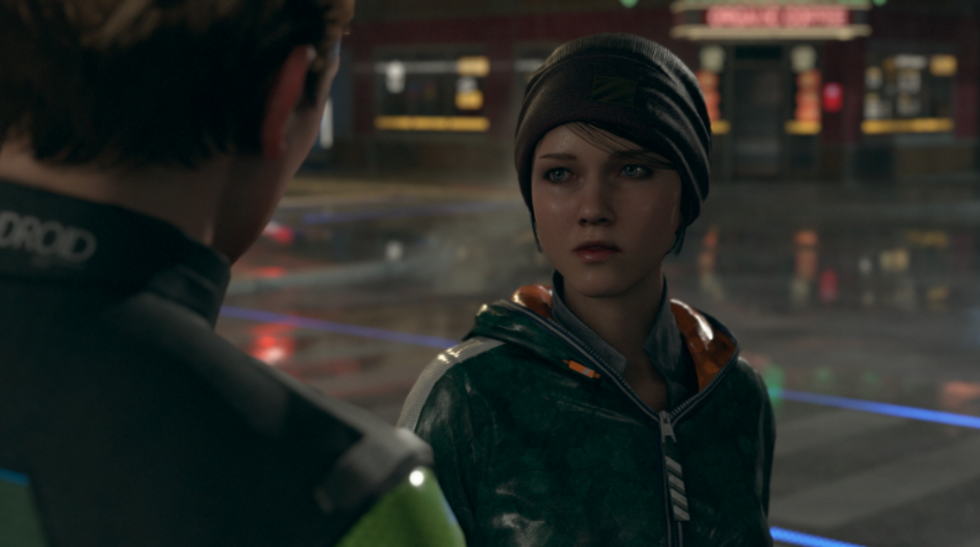 Kara"Detroit: Become Human" Gameplay
Kara's story is touching (in the good endings of course.) She looks after Alice and can choose to love her even after finding out that she's an android. Her and Luther are incredibly kind and generous to their android daughter Alice and are always scouting for ways to make Alice's journey to freedom easier. The player is given opportunities that may either strengthen or weaken their relationships with Luther or Alice at any point during their journey.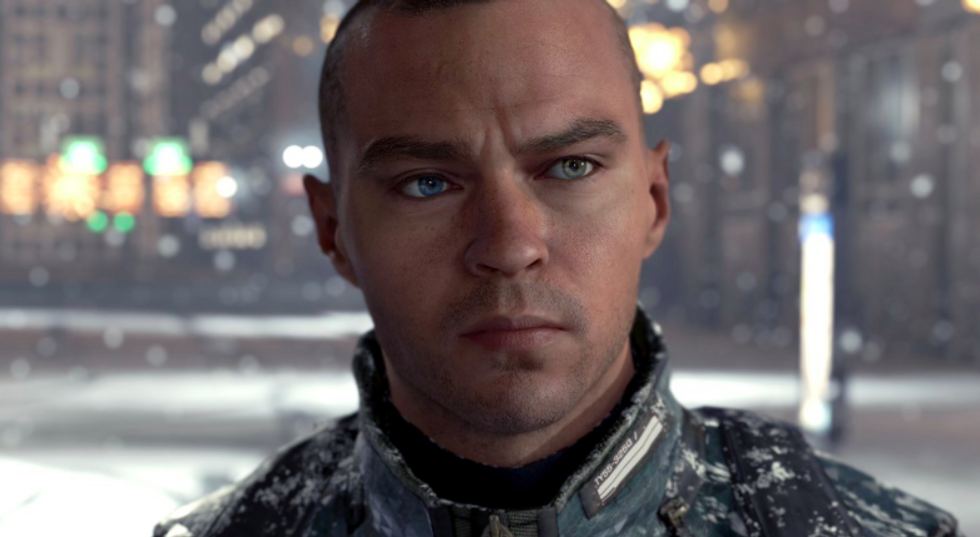 Markus"Detroit: Become Human" Gameplay
Markus has the most important role in the game in my opinion. He can either change the public opinion to sympathetic or hostile. Though it may seem tempting to pick hostile after seeing all the oppressive things humans laid on their androids, the best path to save everyone in the game is using the peaceful route.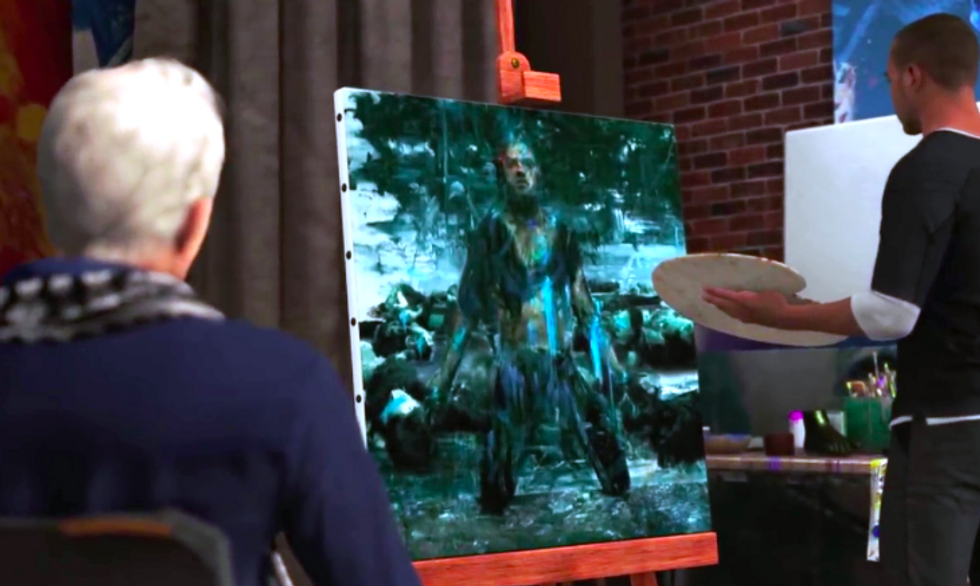 Markus"Detroit: Become Human" Gameplay
I think the game really brings out a deeper question of what we'd be like in a world with AI and questions the way we'd treat a new form of intelligent life, perhaps stronger than our intelligence. You start to realize a lot of historical references in the game that can often make the player extremely uncomfortable. Whether it's androids being at the back of the bus or the ultimate extermination of androids at the very end, it begs the question that if we were to advance to such a degree, would we ever feel the need to regress all of our work or adapt to the needs of the changing forms of technology?