The Animal Crossing franchise has been around since 2002 and has four main games in its collection: Animal Crossing (Gamecube), Animal Crossing: Wild Word (Nintendo DS), Animal Crossing: City Folk (Wii) and Animal Crossing: New Leaf (Nintendo 3DS). Each game expands and improves upon the last one, while keeping the same simple game plot in mind -- you move into a new town and must take care of it and its villagers.
That being said, not every game is perfect. Here is my definitive ranking of Animal Crossing games, from best to worst.


1. Animal Crossing: Wild World (Nintendo DS)
In my personal opinion, this is the best Animal Crossing game of the bunch. They added lots of little features, while keeping the point of the game simple. In this game you could create your own constellations, open a coffee shop in your museum and even plant money trees -- all perks the Gamecube game did not have. Also, this game was the first in the franchise to allow for online play. You could now visit other people's towns, to explore and play together. I also think the unique design of the Nintendo DS helped make this game great. You could write letters or create patterns with the stylus on the touch screen, you see both screens simultaneously while playing, which allowed for easier game play then the Gamecube version. This game, to me, really defined Animal Crossing.
2. Animal Crossing (Gamecube)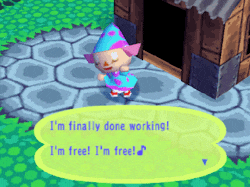 It's hard to beat the original. This is Animal Crossing, in its most basic, true form. You have a mortgage to pay, a town to take care of and villagers to attend to. There are certain features in this game that I loved and wished they wouldn't have dropped when moving forward in the franchise. One of my personal favorites is the statue Tom Nook would construct if you paid off your mortgage in full - it was gold, shiny, right in front of the train station and absolutely ridiculous. Another feature, while not exactly honest gameplay, was another great one - the cheat codes you could find online. If you told Tom Nook a certain combination of letters and numbers, he would give you all sorts of goodies -- 30,000 bells, rare items, furniture. It was a nice little perk to have.
3. Animal Crossing: New Leaf (Nintendo 3DS)
This game is arguably the one with the most changes and new features. This game took the usual Animal Crossing plot line and flipped it on its head: Tortimer, the mayor of your town, has decided to retire and named you his replacement. As mayor, you have so much you can do to your town: create new town projects, set new town ordinances, kick villagers out. Plus, a new island is introduced. You take a boat to it and have a direct line to rare fish, bugs and fruit. On top of all that, Nintendo just introduced a new update recently utilizing their amiibos in gameplay. All in all, this game is a lot of fun because it gives you so much to do. It can get overwhelming at times since there is so much you want to accomplish as mayor, but it's most always an enjoyable experience.
4. Animal Crossing: City Folk (Wii)
This game, to me, is the one I enjoyed the least. The game is pretty straight forward, like all other Animal Crossing games, but this particular one hyped up a city where you can shop from special stores or see shows. To be quite honest, the city never really impressed me. It was cool, but nothing that deserved all the hype it got. I also thought the controls for this game were a bit awkward -- you used both a Wii remote and a nunchuck, holding one in each hand. The nunchuck would control your movements and you would interact with tools, buildings or villagers with the Wii remote. It was something I could never get used to. This game wasn't bad, it just didn't live up to the other games in this family for me personally.