I believe that in order to show how great DACA is, our stories must be shared and heard. This week I had the pleasure to sit down with a fellow Dreamer at Queens College, Dulce Hernandez. Dulce is part of the Dream Team at Queens College:
"Queens College Dream Team is a club that creates awareness concerning the issues affecting undocumented youth. We provide comprehensible support, a safe space for undocumented immigrants to express themselves without judgment and we offer resources to help undocumented students succeed in their education and careers."
Listening to Dulce's story has made me really appreciate the opportunities we have thanks to DACA. In light of the commencement of the SCOTUS hearing regarding Obama's executive decision on DACA/DAPA, Dulce's story firmly stands as an example of what this decision has provided for us. For those who do not know, DACA/DAPA (Deferred Action for Childhood Arrivals/ Deferred Action for Parents of Americans) are programs aimed at protecting immigrants from deportation by providing them with temporary documents. Dulce explained to me how much her family had to endure in order to arrive here. Her family experienced a rough start:
"Both my parents and I crossed the border between the United States and Mexico, and although I made it safely, I was temporarily separated from my mother for a few days. Being her first and only young child, she was traumatized by the experience."

Nevertheless, Dulce's parents persevered and took free English classes while tackling work and childcare. Dulce grew up going to public school and I felt most familiar with her when she said:
"I did not know that being undocumented would affect my life until later on."

After attending school and learning about all the options that were available, a lot of us DACA students were thrown into the college application process and told to make a decision about how we were to pay for school because financial aid was not an option.
"There was a period between my junior and senior years in high school where I felt discouraged to attend school because I did not have my citizenship from the United States, and I was told that I would not be able to receive financial aid without this documentation. I worried about how I would be able to afford college and what were the options to continue my education. If it wasn't for DACA, I would have possibly considered trying to go back to my country and attending some higher institution there, but my parents advised me that the country was currently violent, corrupt, and poor and it would be difficult for me to trust anyone there."

Dulce aspires to be a graphic designer for either a magazine or a book company and to travel to at least one country from each continent. DACA provides the tools needed to make Dulce's, and every Dreamer's, aspirations come true.
"To the currently undocumented youth: you have the capability of changing your lives, changing others, and changing the world. Papers are just papers, and you are worth more. Prove to others you are better than what you seem. And prove to them that your education will better the future."
Many organizations and people have taken to social media to voice their opinions in consideration of the onset of the SCOTUS hearing.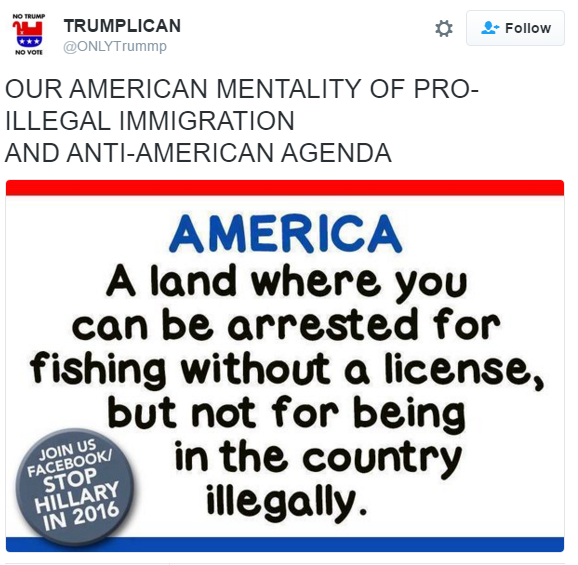 Trumplican? Really?

Starting tomorrow, the Supreme Court will begin to discuss whether Obama's executive decision to expand DACA and to implement DAPA is constitutional. The GOP, along with 26 states, claim the administration overstepped boundaries in making these decisions when, in actuality, other immigration policies have been established to this extent such as George H. W. Bush's Immigration Act of 1990 in which Temporary Protected Status (TPS) was introduced. They do not realize that we are here to stay and that the more we are accepted, the better it is for our economy.
Stand with Dulce these next few months in fighting for the Supreme Court to make its decision in support of DACA/DAPA and let us not forget these words: