Football season is one of the best times of year for college students.
School spirit is at an all-time high, crowds cheering on their home team, and let's not forget about the tailgates! Lots of girls like to look their best for the special occasion that is game day, but you don't always feel like pulling out all the stops on an outfit. So how do you put together the perfect outfit with minimal effort?
Well, my friend, it's easier than you think.
1. The classic jersey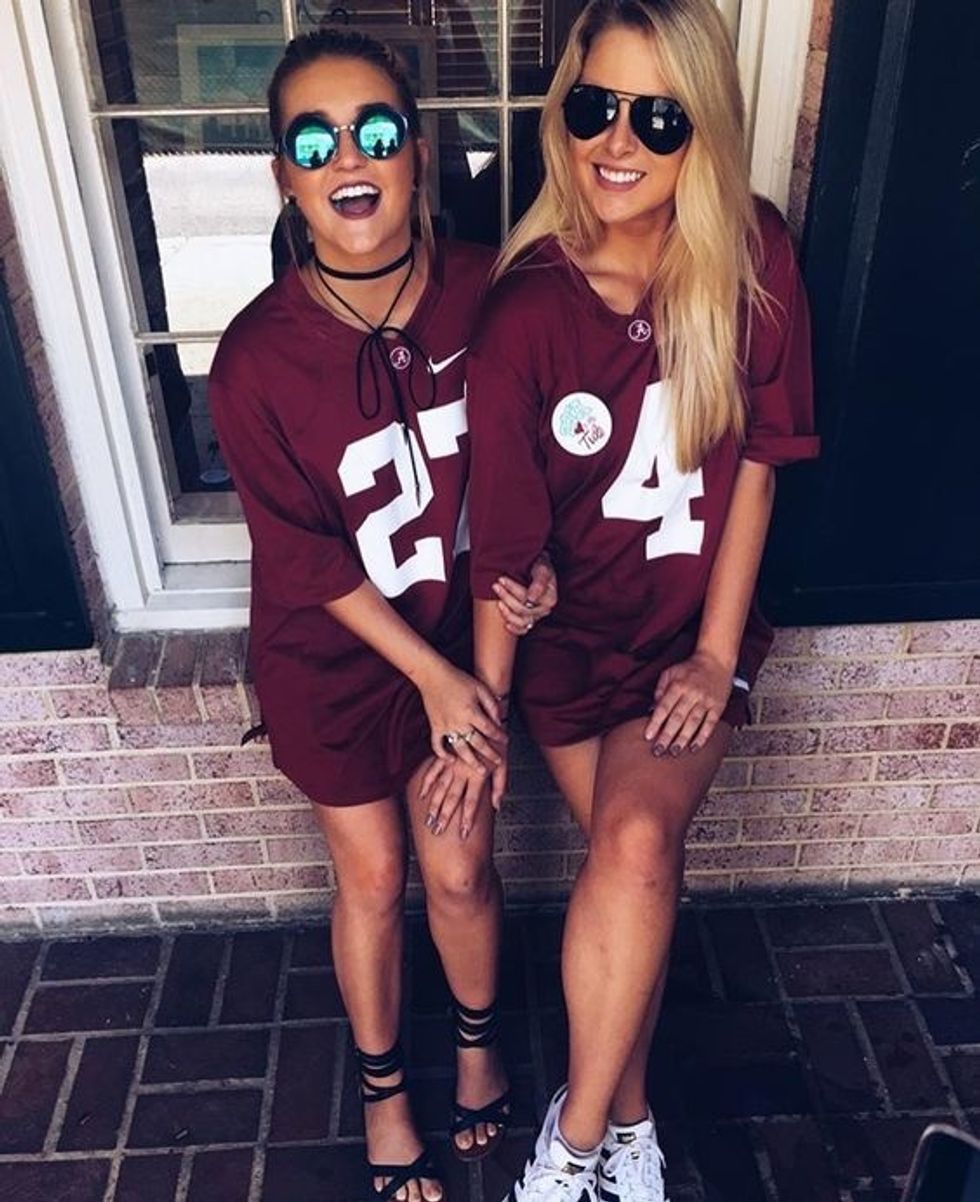 https://www.pinterest.com/pin/493496071657419066/
What's better to wear to a football game than a football jersey? It goes with just about everything: shorts, jeans, leggings, skirts, sandals, sneakers. Whatever you want to pair them with! You can also add a cute choker or your favorite necklace to add a feminine touch. You'll be comfy all day long.
2. A stylized t-shirt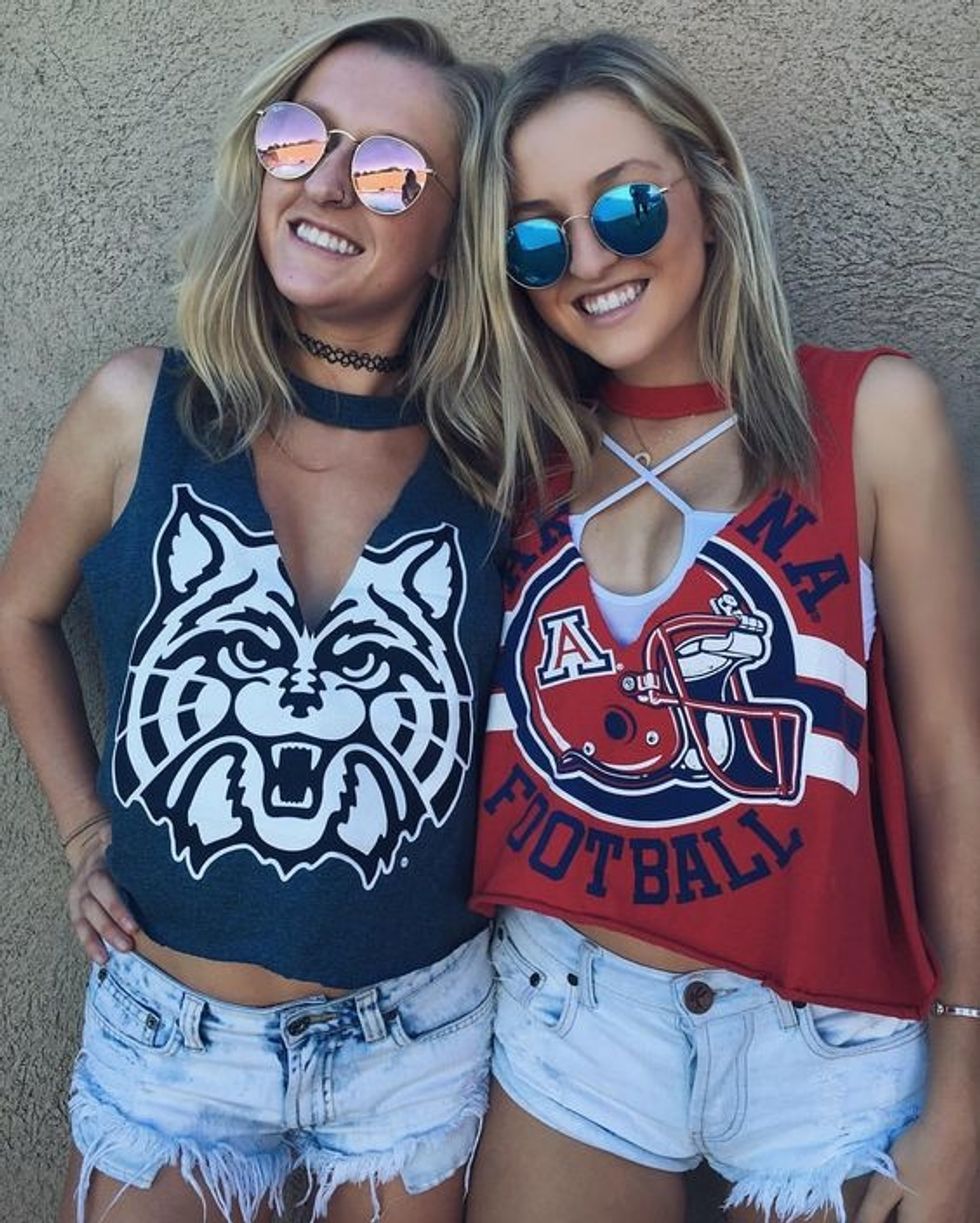 https://www.pinterest.com/pin/568157309228227362/
Give that old t-shirt that's been sitting in your closet since freshman orientation a makeover! Cut off the sleeves and collar for a new tank top, or place a few strategic cuts to give it an edgy look. Pair with some denim shorts or a skirt and a pair of comfy shoes, and you're good to go.
3. A simple dress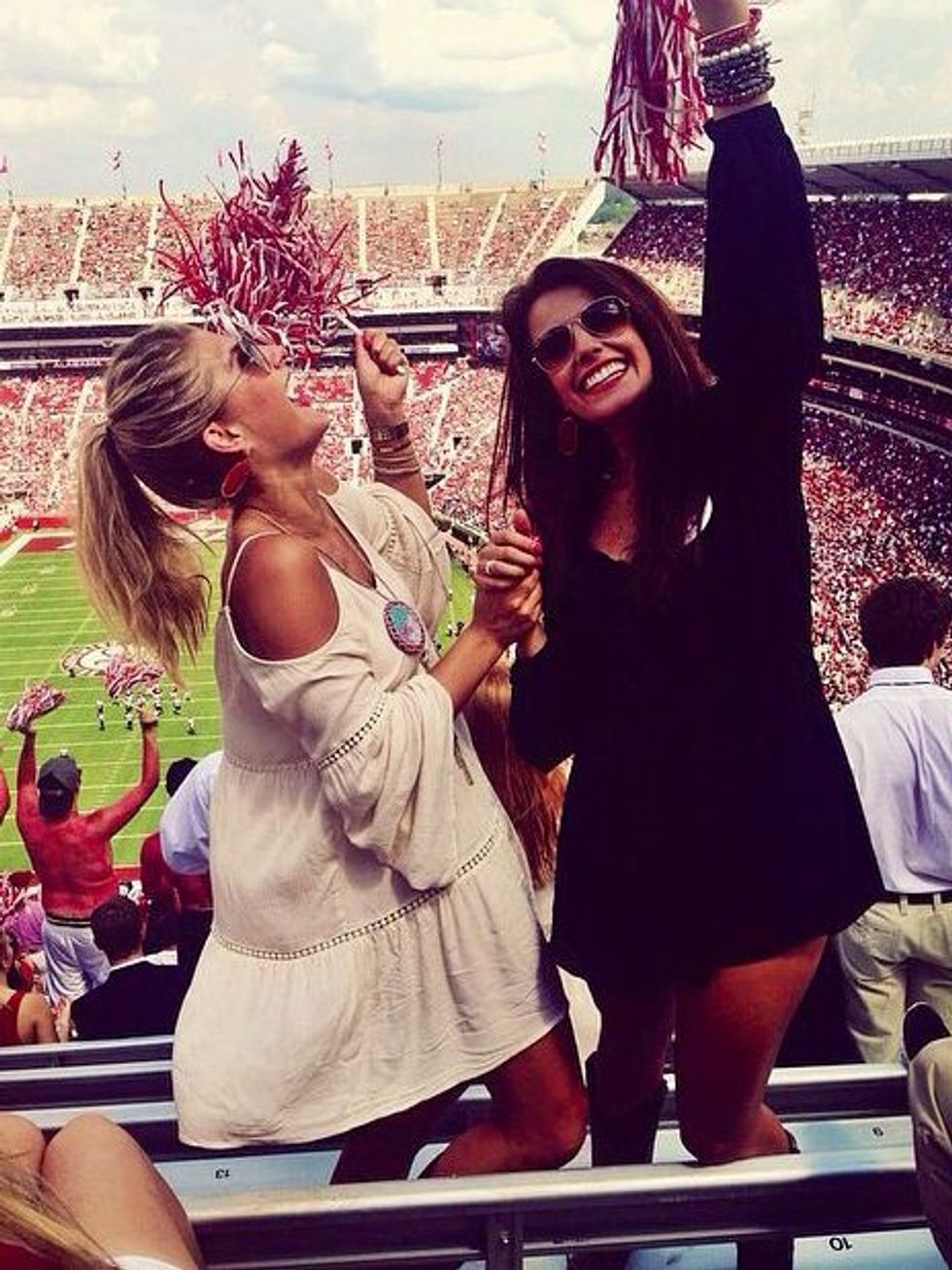 https://www.pinterest.com/pin/AZXzpkjm13b5SajkhRpBjHVf2TI2oa63ewUP979yWZzxdTOVIOIsiVg/
You can never go wrong with a solid colored dress. Pair with some accessories in your team colors, and your game day outfit is complete.
4. A sweatshirt and leggings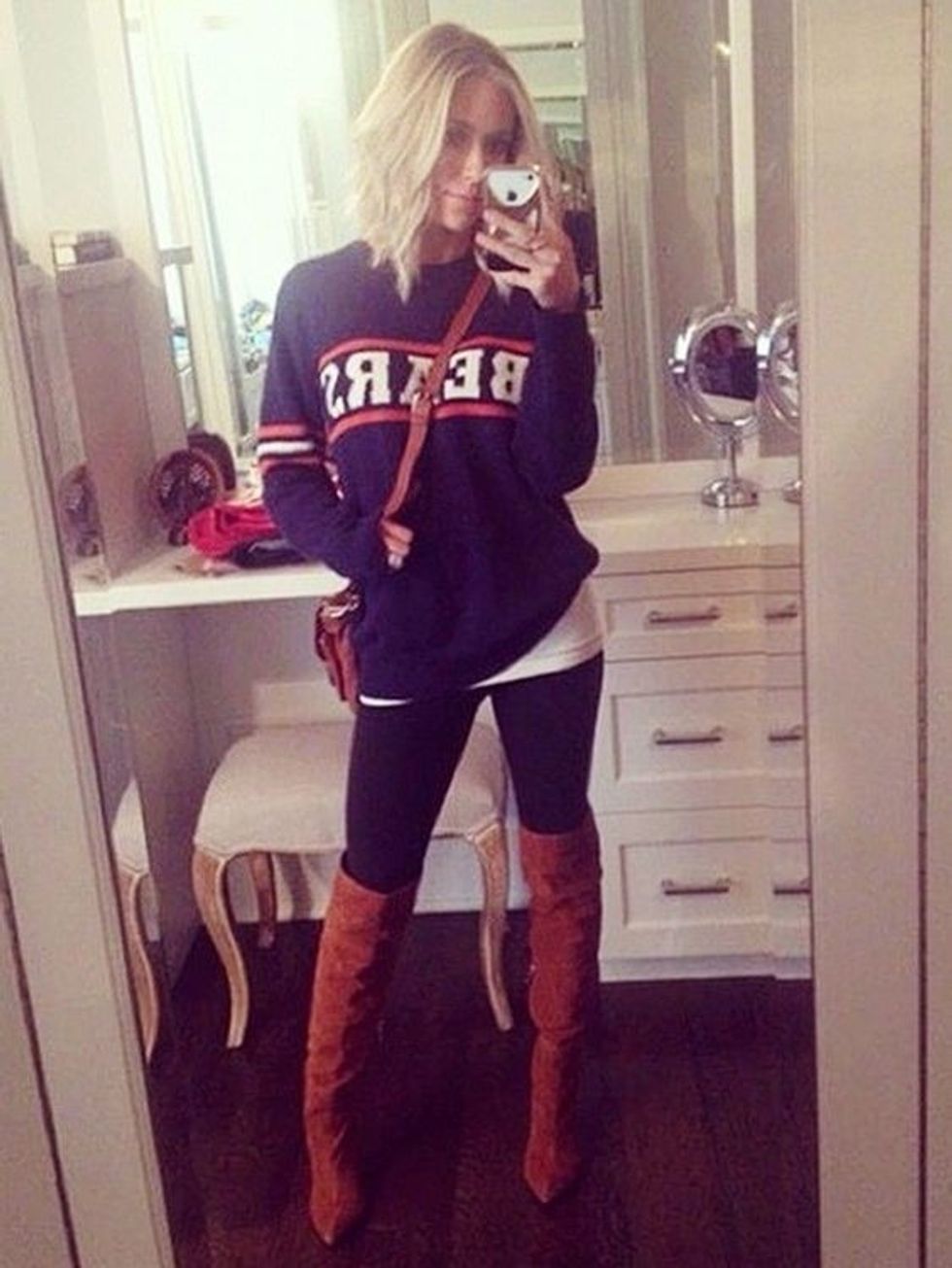 https://www.pinterest.com/pin/521150988123213800/
When it starts to get a little chilly, just throw on your favorite oversized sweatshirt (or steal your boyfriend's) over some leggings and add some boots for an effortless game day look. You can also add a scarf or beanie for extra warmth.
5. A sweater and jeans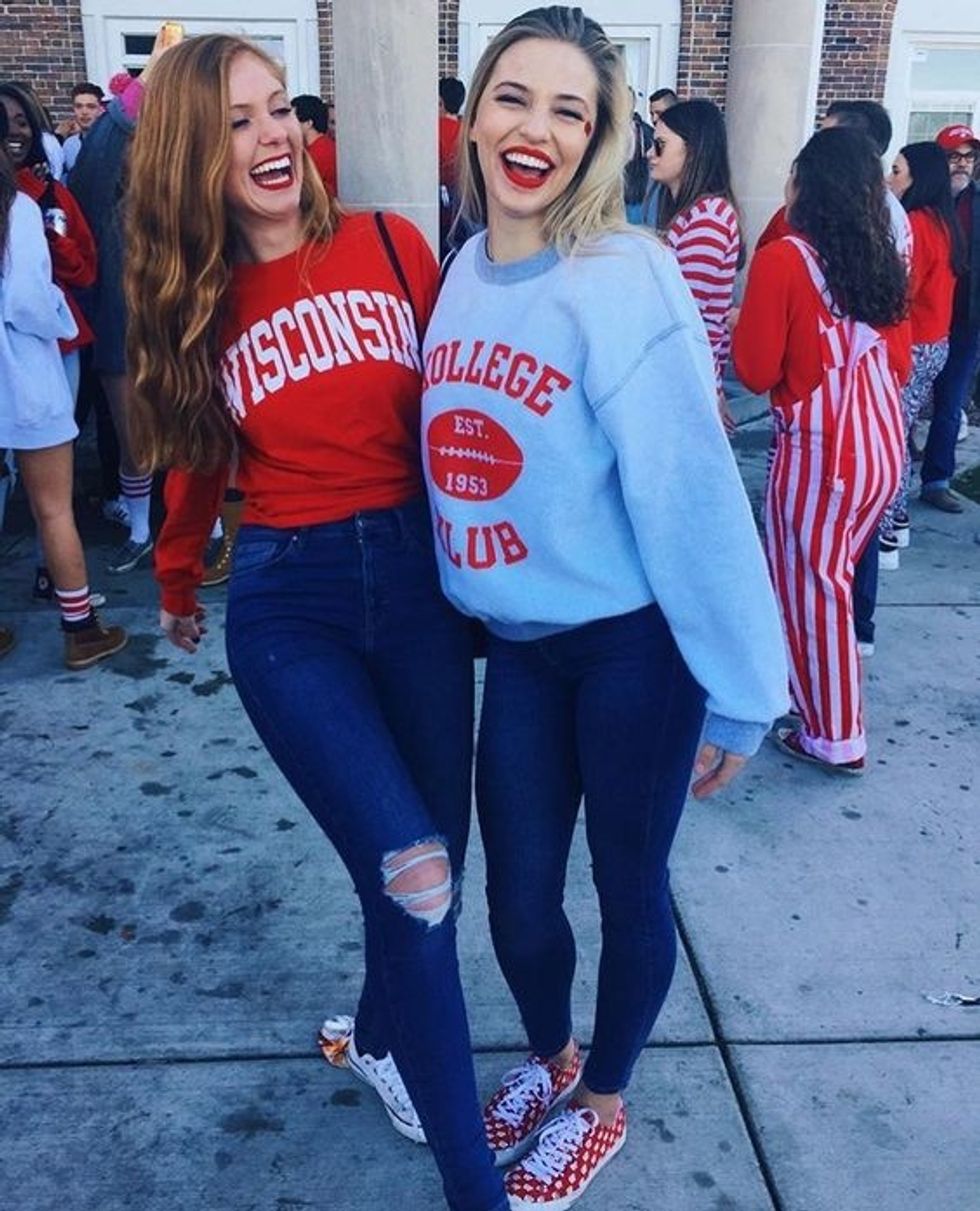 https://www.pinterest.com/pin/87749892720587428/
Another great option for cooler days: a sweater and your favorite jeans. It's simple and comfortable and provides a little more wind protection than leggings. If you don't have a sweater in your team's colors, go for the sweatshirt instead!
6. Lots of layers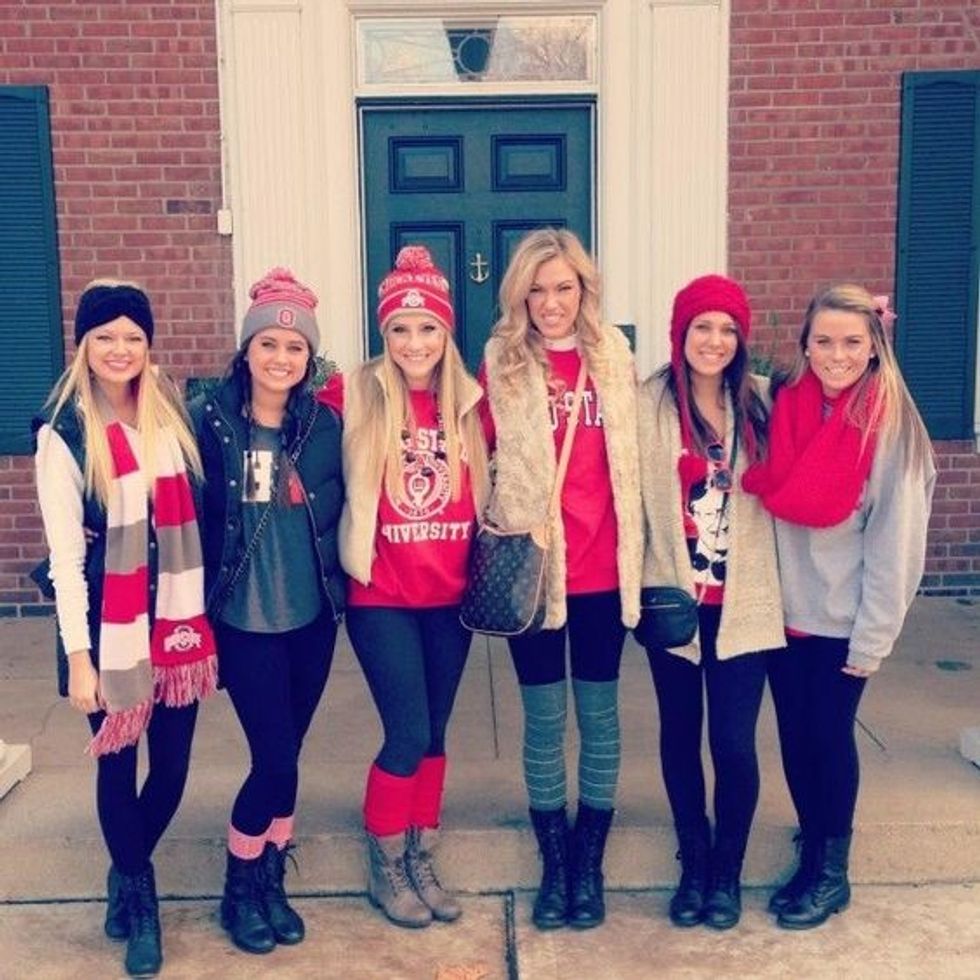 https://www.pinterest.com/pin/476185360579613536/
I live in the south so we maybe have one or two games that require a coat, but for our northern football lovers, you'll need more than a sweater to keep you warm throughout the game. Add as many layers as you can in your team colors. Layers are super on-trend for the fall and, while it may require more effort than your warm weather gear, more is more when it comes to winter. Don't forget your hat and gloves sporting your team's mascot.
7. Whatever you want!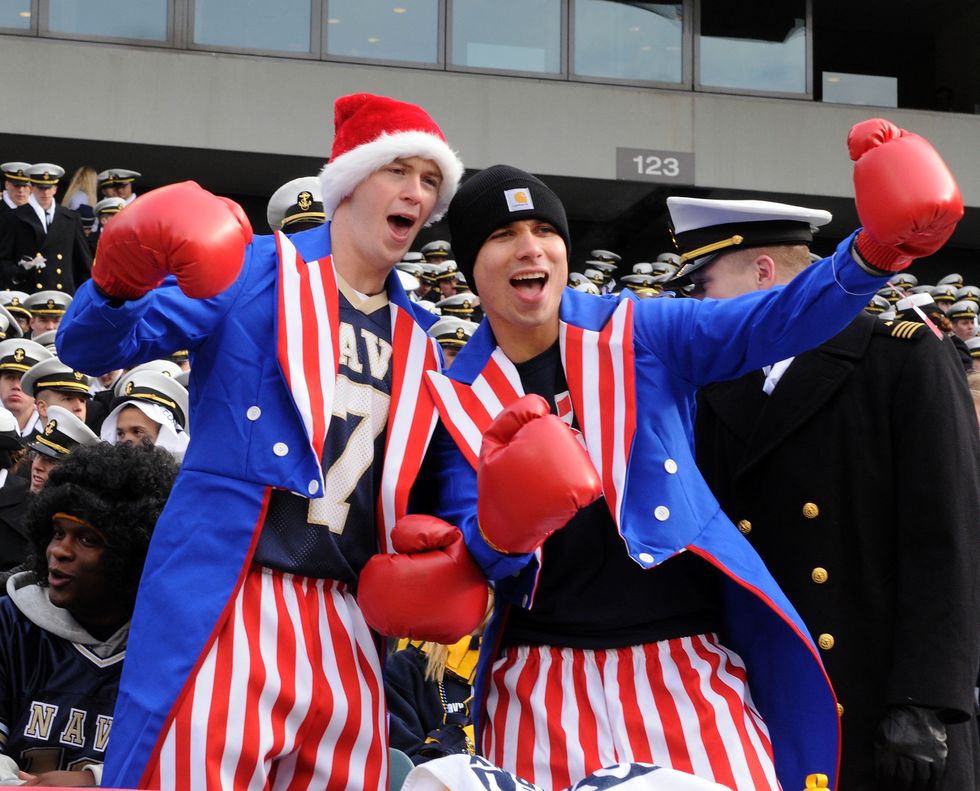 https://commons.wikimedia.org/wiki/File:US_Navy_081206-N-9585B-084_Navy_fans_John_Orr,_left,_and_Jordan_Blake_cheer_as_the_U.S._Naval_Academy_football_team_runs_onto_the_field_before_the_109th_Army-Navy_college_football_game_at_Lincoln_Financial_Field_in_Philadelphia.jpg
It's easy to get caught up in appearances, but game day isn't just about you, it's about the game! At the end of the day, all that matters is that you're out there supporting your team. So wear your colors with pride and remember: the other team sucks because they're not us.