In the summer of 2014, the Ice Bucket Challenge flooded the timelines of millions. This challenge, designed to raise money for the ALS Foundation, included videotaping one's self being drenched in ice water, Niagara Falls Style, uploading and sharing the video on social media and challenging friends, and then donating money to the organization. Before this challenge went viral, ALS, more commonly known as Lou Gehrig's disease, was in dire need of some recognition and funding for it's mission to treat and cure ALS through global research and nationwide advocacy. Within days after the first video, the challenge had spread to over 1.2 million people and soon after, that number doubled and the organization raised nearly 100 million dollars to fund research for this life threatening disease. While this challenge was a viral success, unfortunately, like most, it soon died down, but Phi Delta Thetas across the country have persevered.
Phi Delta Theta is a nationwide fraternity, a brotherhood, committed to raising money and awareness for the ALS Foundation in honor of Phi Delta Theta's own, Lou Gehrig. Although the Ice Bucket Challenge has come to an end, Phi Delts have made it their mission to continue to put on philanthropic events at their universities. They want to continue to provide support to finding effective treatments and the cure, while optimizing care for those who currently battle this disease. Our very own Colorado Gamma chapter of Phi Delta Theta at Colorado State puts on an annual "Fratagonia" event that consists of a 6v6 volleyball tournament, penny wars, and a scavenger hunt around campus in return for a donation to the Foundation. This year the event will be held in the spring of 2016 and the men hope to exceed last year's fundraising amount of 3,500 dollars.
The Phi Delt chapter at CSU will not stop with their "Fratagonia" event. The brothers are constantly striving to be the best men they can be and achieving high goals for themselves and their fraternity. After attending The Kleberg Emerging Leaders conference this past week at Miami University, where the first Phi Delta Theta chapter was founded, a few brothers were challenged with encouraging words and more than a gentle push by mentors to bring their chapters to another level. As the conference came to a close, Phi Delta Theta members participated in the Iron 5k and some were inspired to go even further.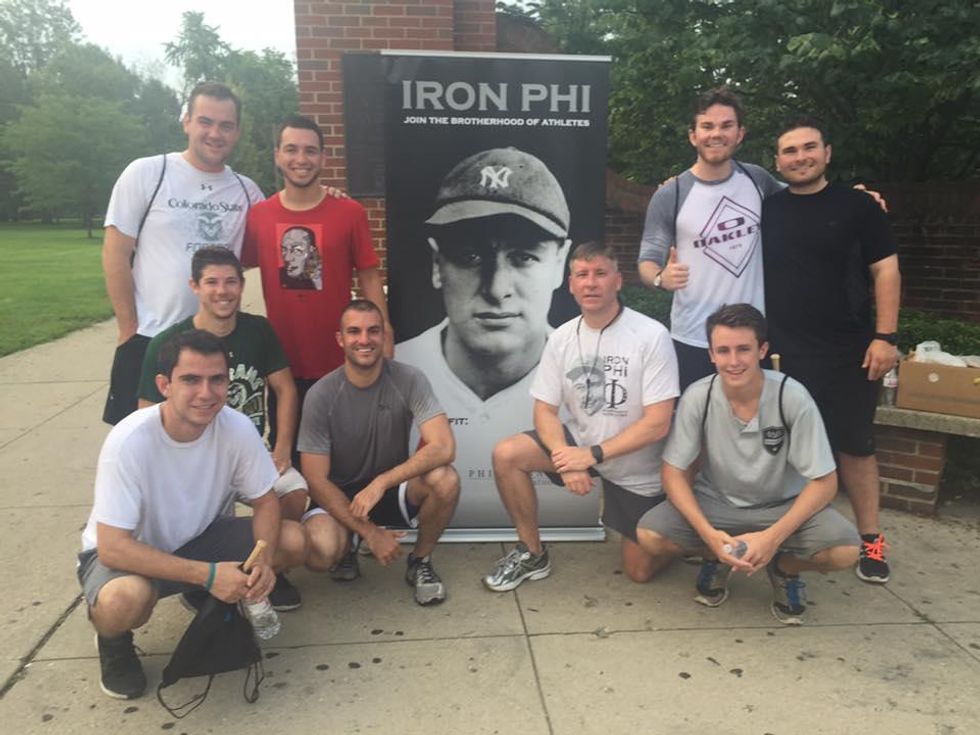 Francisco Gallegos Jr., a junior at Colorado State University, left the conference and 5k feeling as though he could make a personal impact on ALS research and his chapter. Brother Gallegos says the conference and 5k reminded him that he is part of an amazing organization that gives back to an important cause. He has pledged to raise 1,000 dollars for the ALS Foundation while training for the Colorado Half Marathon in April of 2016; something he says he has never done before and hopes will challenge him in new ways. Gallegos' ambition and determination can be seen replicated in Phi Delta Theta men at CSU and around the country. If he reaches his goal he will become a part of a small group of Phi Delta Theta's known for their fundraising and athletic accomplishments, the Iron Phis.

Brother Gallegos' attempt at becoming an Iron Phi and CSU's "Fratagonia" event are only a few examples of the amazing things that the Phi Delta Theta chapter at Colorado State is doing to not only make themselves better leaders and gentlemen on campus, but give back to research that could change the lives of many. The men of Phi Delta Theta are very proud of their partnership with the ALS Foundation but hope that a cure for the disease is in the near future. While the Ice Bucket Challenge may have died down, the perseverance of Phi Delta Theta's is still very much on the forefront of funding research for a cure.
To learn more about the ALS foundation please visit: http://www.alsa.org
To learn more about Francisco Gallegos and his fundraising goals, please visit: http://support.ironphi.org/site/TR?px=1125904&fr_i...
To learn more about Phi Delta Theta, their mission, and the brothers that make up CSU's Chapter, please visit :http://colostate.phideltatheta.org/