Dear sister,
In the short six months I have gotten to know you, my mind is still blown by how fast my heart found so much joy in spending time with you. There are days where I wish that I would have gotten to know you sooner, like WAY sooner, but God's plan for our lives doesn't always match up with ours - and in this case, I think His plan worked out pretty great. And sure, we could call ourselves second cousins and dabble in all the technicalities, but what fun would that be?
We both know that "sisters" is a much better word to define this beautiful, weird, and spontaneous relationship of ours.
I think about all the beautiful gifts Jesus has given me in my life and you're pretty high up on that list. Yes, even on the days where I've called you a panini head and the times when you threaten to hang up on me on FaceTime because of how I annoy you to wit's end. Even then, I find myself so thankful that you play such a big part in my life. Ever since I was a little girl, I have always wanted a sister that I can share my love for Jesus, Indian food, (specifically, lamb curry), cute redhead boys, cliché chick flicks, and worship music. And now here you are. Sometimes I'm still in shock that Jesus has been so good to me that He would bring you into my life, but He's just that good and is just that faithful to His promises - and you can hold on to that truth for the rest of your life.
I hope you know that whenever you like a boy you can tell me and we can talk about how boys are the absolute WORST and then proceed to talk about how Jesus is WAY better, and then end with scrolling through pictures of our celebrity crushes.
I hope you never get tired of being goofy because that is most definitely one of my favorite things about you. You bring out the goofy side of me and It's the most fun. It reminds me that confidence can be found in being yourself- which sometimes means you just need to break out into a singing and dancing session in your bedroom. I hope you never lose your wonder of getting to know Jesus personally and wanting to pursue a life of chasing after Him because that is the number one thing that will get you through your teenage years. I promise you that.
On the days where you feel so incredibly overwhelmed by all that life is I hope you know that I am always for you. I will always pick up the phone to pray for you, and I will always listen to your rants.
I hope that we are for each other just as much as our moms are for each other. I hope that one day we sit in the kitchen laughing and sharing stories from our time together just like our moms do now.
I hope you never doubt your worth and always appreciate your culture, wearing your Indian dresses with pride because you know that your ethnicity is a beautiful part of who you are and what your story is. Because sister, if there is a life lesson you should learn right now it's that when you walk through life with confidence in who you are it's pretty dang hard for anyone to tell you otherwise. And I hope that no one ever does. I hope you continue to walk through life with your head held high because you know who you are and you are proud of it.
I hope you find joy in the mundane of life because seeking joy in the routine of your every day is what gets you through the hardest of days. I hope you know that joy will be your strength, no matter how old you get. And that finding joy can range from sharing a night of laughter with your family to getting chick fil a one the days you crave it the most (every day).
Even though we don't live in the same state, one of my favorite things is to have our weekly FaceTime calls that usually consist of an outburst of dancing, sharing stories from our life, doing yoga, or having a study session, which..more often than not is interrupted by your brothers walking in or a dance session breaking out.
Sweet friend, It has been such a joy to know you, to see who you are, what you're passionate about, and to already watch you grow into the amazing young woman that you're becoming. I can't wait to cheer you on in every big moment that happens in your life. From when you get your license (yikes, I know) to when you become a Doctor (yes, you will be). I can't wait to watch you grow in confidence and courage and boldness. You are going to be a great leader, someone who selflessly serves others, and someone who treats others like Jesus would treat them.
Sister, I hope you never get sick of calling me sister, because it makes my heart glad to know that we share that type of bond. I hope that whenever you have a day that makes even the smallest things terrible, that you can read this and feel a small ounce of joy in knowing that this is a relationship that will last a lifetime. I pray for you to always know your worth, know that you are loved beyond all measures, and to know that you are and will be resilient in any circumstance that comes your way.
So sister here's to a lifetime of laughing so hard we cry, crying so hard we laugh, and dancing around in the living room because we have so much joy in our hearts - no matter what life throws at us.
Here's too more late night talks in the guest room with the warm lamp lights and more back popping sessions on the living room floor. Here's to a lifetime of joy, adventures, and stories. I can't wait to walk through so much more life with you. I love you.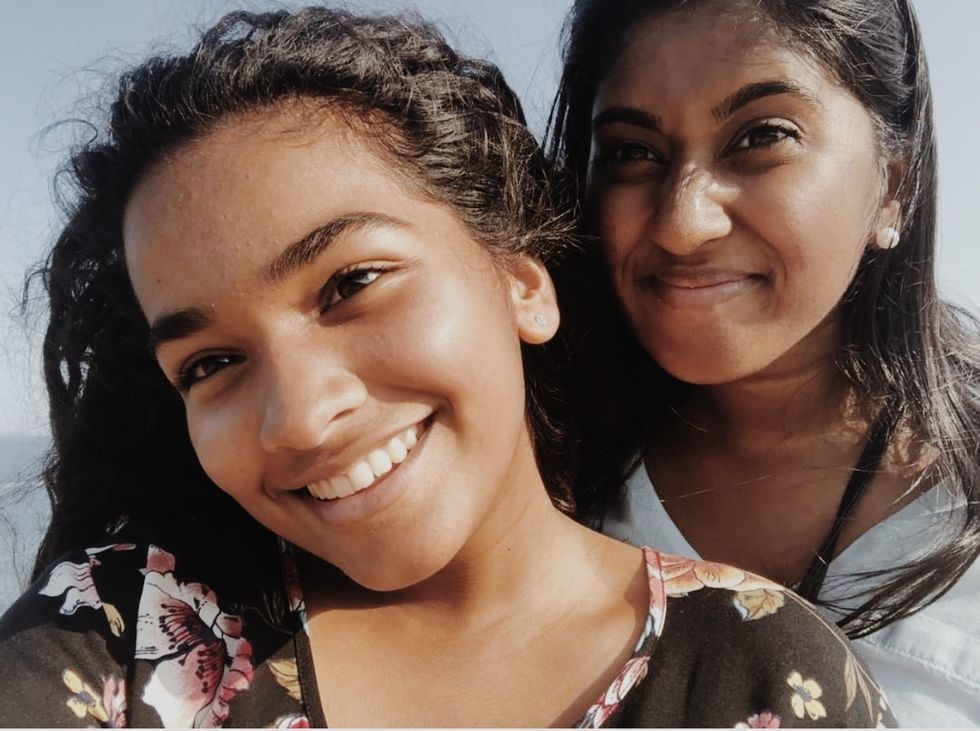 glowing queens Christina Thomas