As a writer and avid reader, I am ashamed to admit that I purchase most of my books online. There are many reasons for this. Books are often cheaper online. There is also the matter of people. Most writers are introverts, although I am a bit of an enigma as a writer. I like my alone time, but not too much. I feed off the energy of others; I simply don't trust people enough to let down my walls and get too close. I digress, or, "Oh look, squirrel."
I must hold bookstores accountable for my lack of desire to actually walk into a bookstore to purchase books. Let's begin with the idea that bookstores are now coffee and pastry shops. They also sell tee-shirts, novelties, giant candy bars, and other paraphernalia often found at a Cracker Barrel. Let's not forget the music section. If I wanted music, I would go to a music store. One last thing to mention is that bookstores have online ordering and they are constantly sending coupons to entice you to order online.
In spite of all of this, I went into an off-campus bookstore. I was looking for a specific item but decided to browse while I was there. I was curious to see if they carried any of the books written by a Francian Friar. He is a respected Christian author who has published at least 20 books over as many years. I must admit that he is somewhat controversial in the more conservative Christian groups. Let's just say that the Christian bookstores don't carry his books. I didn't find any of this books at this bookstore.
What I did find caused me a bit of confusion. As I searched for the appropriate section to locate his books or other authors like him, I managed to find myself in the aisle of Romance novels. There were four aisles of Romance novels. However, I didn't see anyone standing, walking or perusing books in those aisles. I moved on and discovered two aisles of Bibles. There were Bibles for boys, Bibles for girls, Bibles for men, Bibles for women, the Recovery Bible, the Action Bible, many study Bibles and more translations of the Bible. Goodness, is it any wonder Christians can't agree on anything?
I then arrived at the section called Christian Life. There were three or four aisles of this followed by two more aisles of Christian fiction. I found several books written by those great Biblical scholars from Duck Dynasty: the Robertsons. My favorite is the huge book on the shelf written by Si Robertson.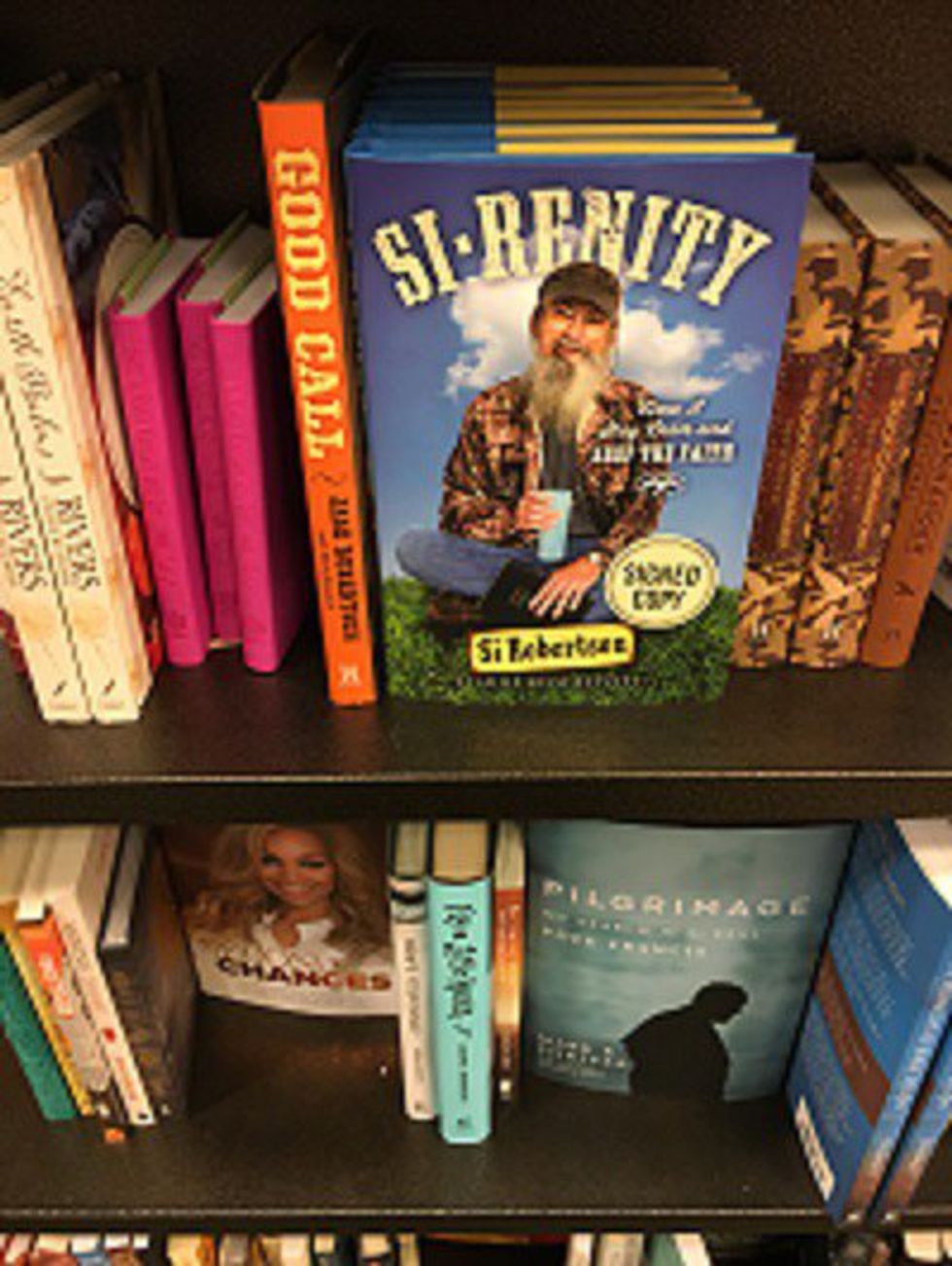 Most interesting of all was the endcap between the aisles of Christian Life. The picture below shows the endcap complete with books by Cheryl Strayed (author of "Wild"), Elizabeth Gilbert, and Shondra Rhimes. None of these women have ever identified their writings as Christian. If you look at the bottom shelf, you will see "The Subtle Art of Not Giving a F*ck" and "You Are a Badass." I seriously doubt those would make it into the Christian bookstore.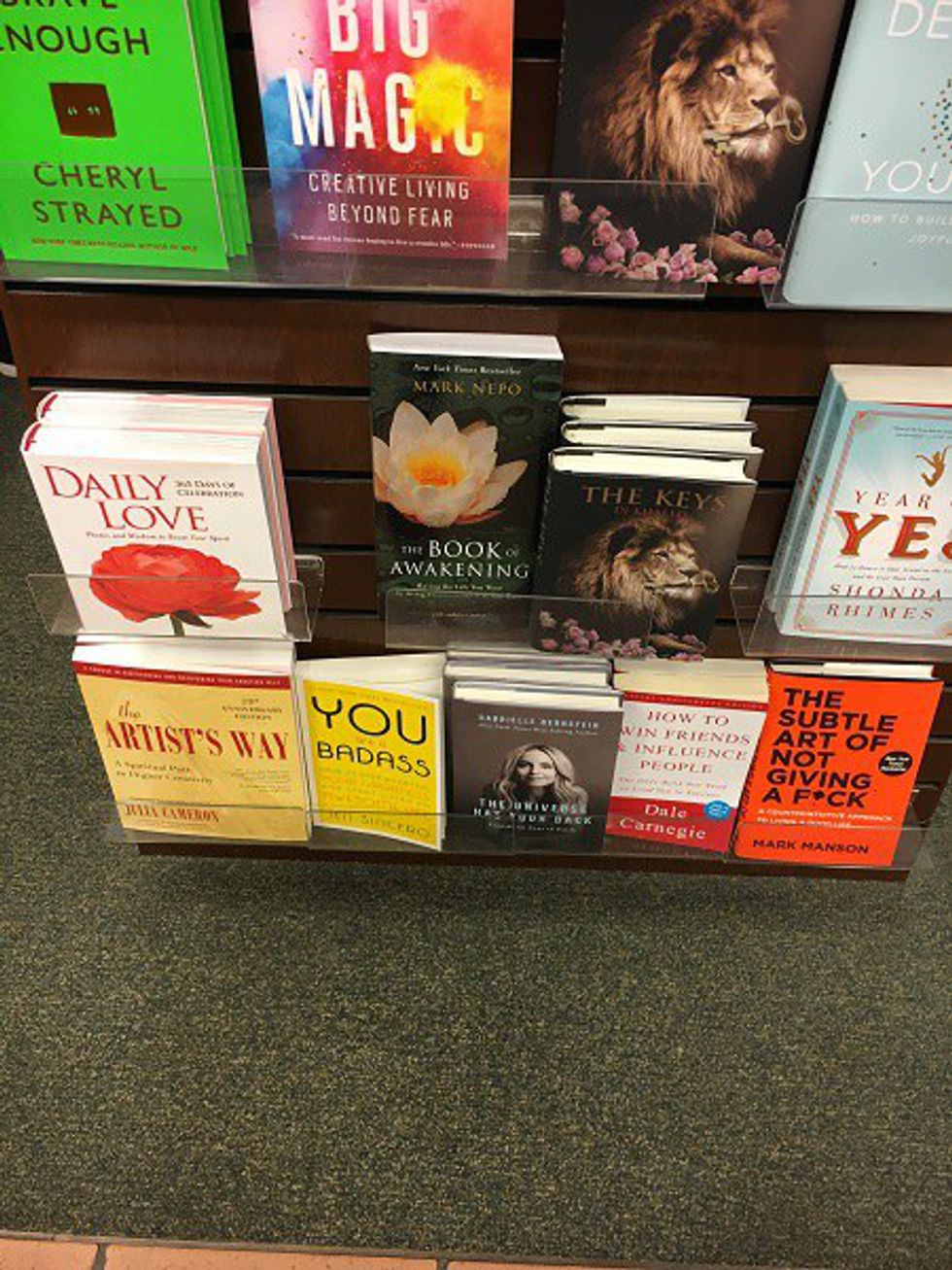 My favorite in this endcap was the one in the picture below with the lion holding a key titled "The Keys." That does have a true Biblical look and feel to it, doesn't it? I mean the keys to the kingdom and Daniel in the lions' den and all. It was nothing like that at all. It was a book about respecting the code, securing the bag and glorifying success by recording artist DJ Khaled (no, I don't know who that is.) Despite all my searching, I didn't find any of the books written by the Franciscan Friar or several of the other Christian writers I hoped to find. I did find two short shelves on Eastern Religions right next to the Christian fiction section. I thought that was an interesting choice of locations.
I wonder if these breakdowns of genres and labeling books into categories is good for writers and readers. Who gets to decide where the book I write will fit? If I write a book on my faith and want it to be in the Christian life section, can a bookstore simply decide that I am not Christian enough to have my book identified there? It seems so random to decide where a book should be listed and displayed. Perhaps, we could just divide the bookstore into fiction and nonfiction by author. That seems like a much simpler way of ordering. Thank you for following my rabbit trail along the conundrum at the bookstore.