Joshua Tree, California, a place just over 7,000 people call home; a place, at night, stars speckle nearly every inch or the dark desert sky, a place sandy landscape and local lifeforms are painted with sunrise pinks and oranges in the day. A national park, a small desert town, a thriving artistic community, a cute stop on the way to Palm Springs, Joshua Tree is all this and much more.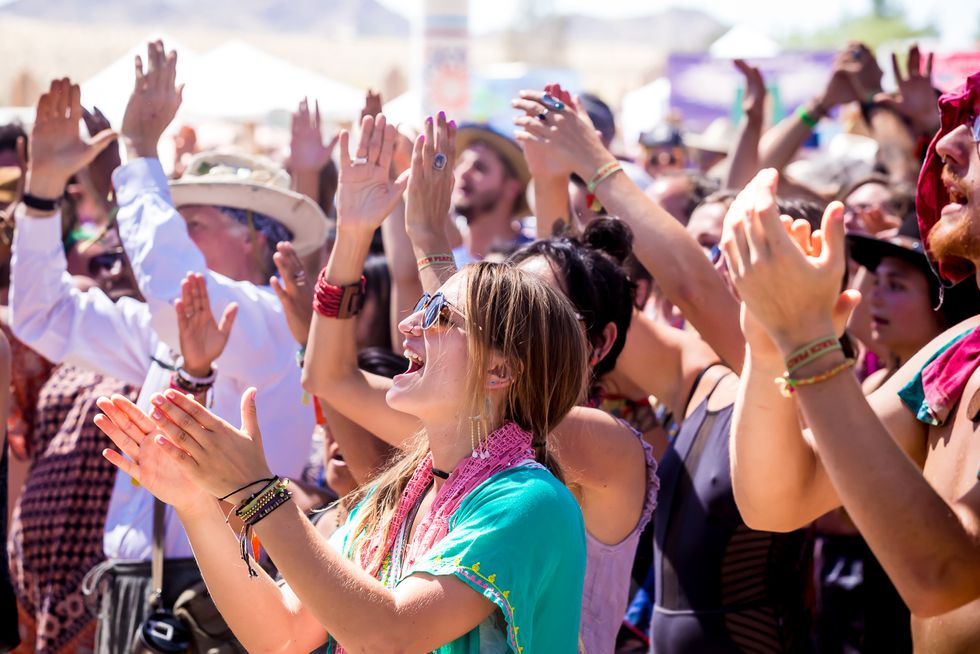 Last month, Joshua Tree hosted its 15th annual May gathering of happy hippies, cheery children, fabulous fools, and all around pleasant people. Joshua Tree Music Festival is a scene lacking recording devices yet abundant in life and laughter. This year was my second rendezvous with JTMF and I must say Joshua Tree has stolen my heart once again!
Last year I read an article describing this as a festival like no other; JTMF is "like a local threw a four day long party in his backyard"- an authentic J-Tree experience. Barnett English, founder of the festivities and traveler himself, wouldn't have it any other way. The creation story goes; Barnett had gone to and worked at over 650 camp-out festivals with his coffee café JavaGogo but found new inspiration in the natural landscape when he brought his espresso shop to the 2002 JT Didgeridoo Festival. "The sweeping views of the National Park and Copper Mountains," withdrew an idea that blossomed into an event now celebrated by thousands.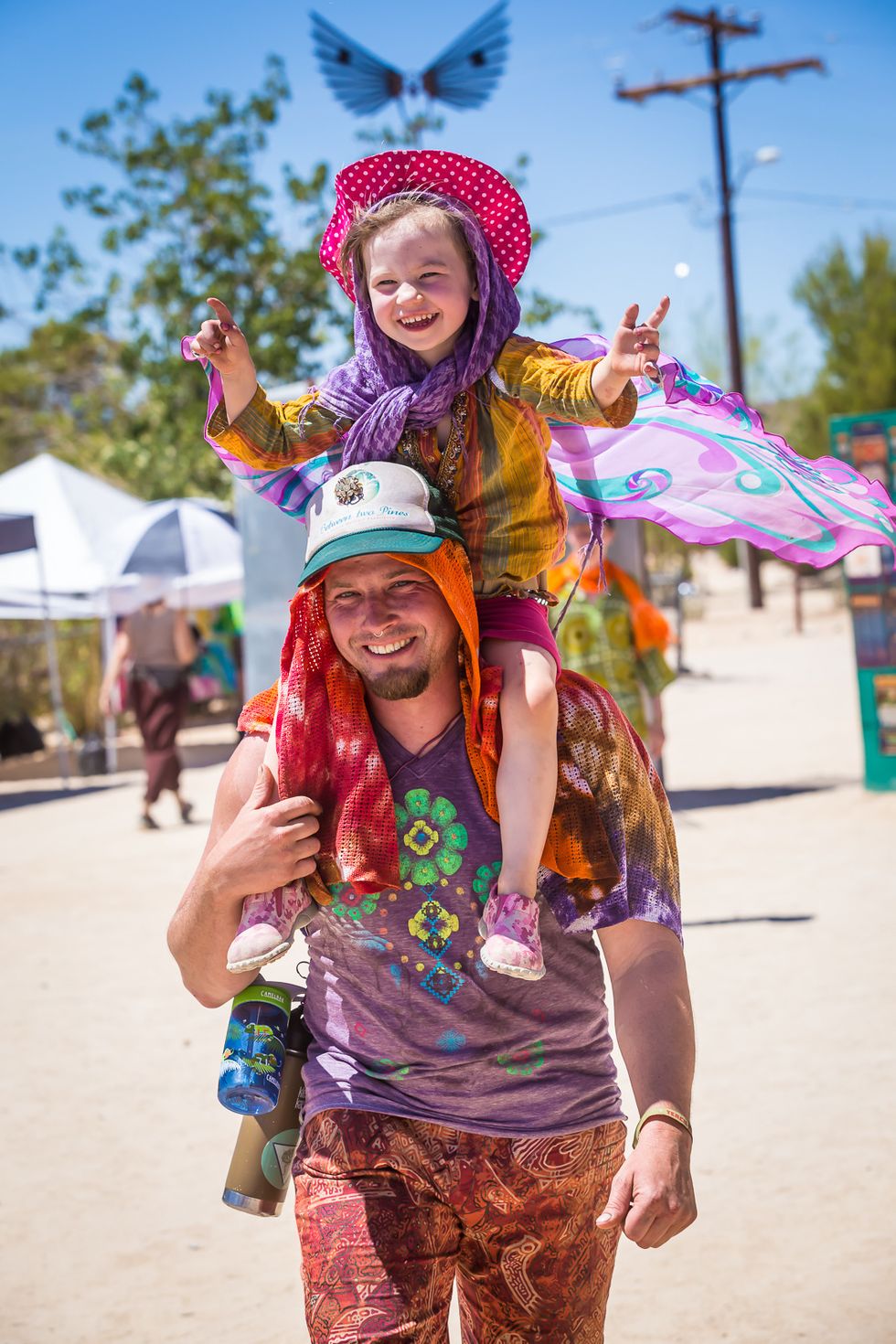 Artists and vendors from around the world showcase their work for funsters and families of all sorts. Healers and yoga instructors teach classes and offer guidance daily. Delicious food vendors are spread out with options for vegan, gluten free, and organic diets- even pizza for the picky eaters. And Barnett's JavaGogo has the best iced soy lattes! There's even a sectioned off part of the park deemed "Kidsville," a safe space for children to do crafts and play with others their age. Art installations are set up along every path; plus walking through the decorated campsites and temporary mini villages pitched for the weekend offers even more to see. A new addition this year, Dr. Bronner's soaps sponsored a community foam party washtub- where people got squeaky clean and funky fresh.
But what's a party without the music? Each festival, highly talented artists, yet to be household names, preform between the 3 main music stages. Anywhere from funk to reggae to rock, to folk, to rap, and it seems anything in between; even international acts of the Ukraine, Peru, Zimbabwe, Australia, South Korea, and the Netherlands have been featured. This year, acts like La Inedita, Desert Rhythm Project, The California Honeydrops, Orgone, Dirtwire, and hometown hero, Gene Evaro Jr. kept the crowd's limbs loose. Serving no shortage of spinning, hip-shaking, jumping, or clapping; some talented festival-goers even graced us all with some sick Russian Kazotsky kicking on the break downs.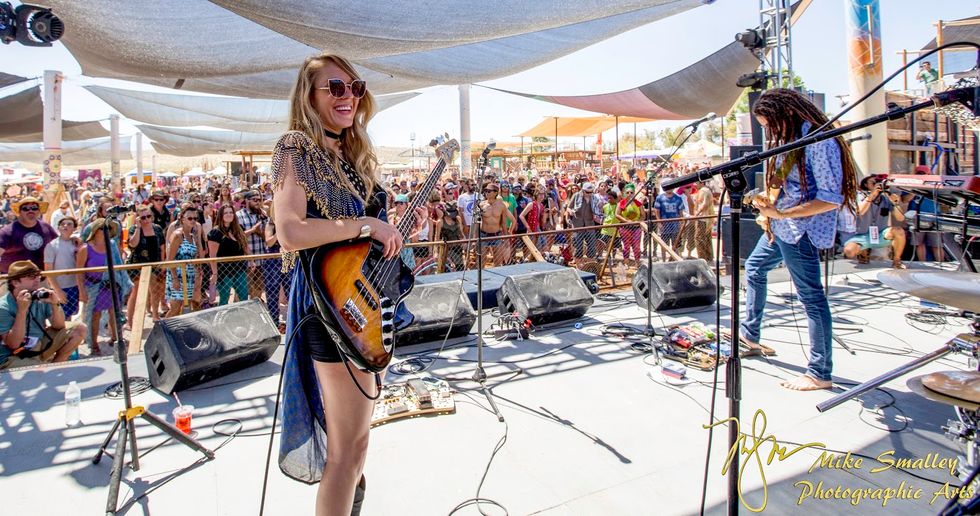 Four days of desert freedom and all around love; it's more than just a party it's a genuinely beautiful bond between humans and humanity. It's an event not tailored to one genre, one race, one gender, or one religion but rather oneness. Described as, "a slice of life," the honesty is in just that. This weekend is dedicated to harnessing the energy of people for who we are and celebrating in an explosion of diversity, something so powerful it can't be fully described nor captured but solely lived. Lucky enough, the next weekend gathering is October 5th through the 8th- an opportunity to come experience life as we know it in all aspects of the word.
For more festival images visit: http://www.mikeysphotoart.com/f32159610 and https://www.everfest.com/magazine/people-of-joshua...