It's no secret that college, job and internship searches, and life, in general, requires a certain level of failure tolerance. It's inevitable; sometimes you just won't get into the college of your choice, the program of your choice, the club of your choice, the team of your choice. Especially now, as life goes from your small world at high school where you were the best at what you did, to the not-so-small world of college where everyone around you is the best at what they do. Sometimes people are better than you, and that's just the way it is. Sometimes you pull far out of your comfort zone and get slapped on the wrists because you reached farther than you were ready for. Sometimes failure is just inevitable. But it most certainly isn't and shouldn't be the end of your world. So, you need failure tolerance. You need resilience. You need to be able to bounce back from it and keep striving on.
But the suckiest part about it is that in order to build failure tolerance, you inherently have to fail.
Many of us, getting to this point, we never really failed at anything. So to hear, "Sorry, you weren't good enough," for the first time can be soul crushing. Especially after you put so much hard work into it, especially after you thought you were a sure shot for the job.
I applied to a club recently, and I went to their networking events, did research, worked for hours on my resume and wrote a cover letter, dressed up, learned what a case interview was. Worst of all, I set my sights really high. I thought I was good enough to get in. I really, really wanted to get in. I made it all the way through to the last round, but I wasn't good enough. For any number of reasons, I just wasn't good enough to make the cut. I was upset over it. I was mad at how it was such a waste of time, how I had spent so much energy on this one club, and ultimately got nothing out of it.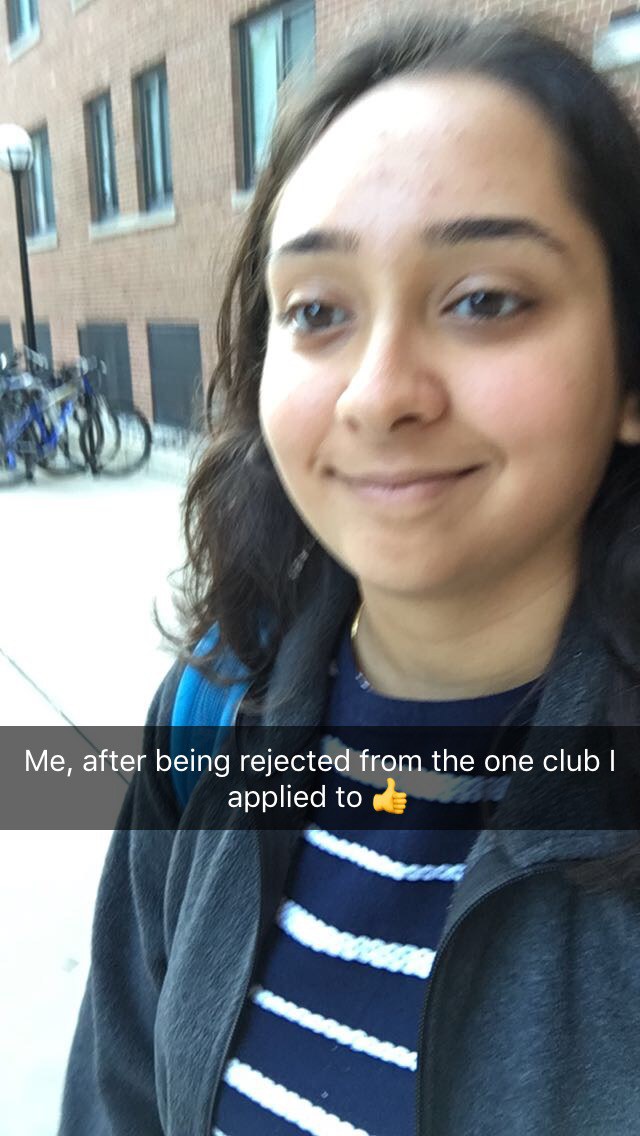 A few hours of thinking later, I realized that I actually got so much out of it, out of the experience. This was a solid learning experience. And no, that's not the most cliché thing to say. It's real. I learned so much from this experience. I learned what business professional and business casual mean. I learned what is a case interview. I learned how to write a proper resume (thanks to my awesome brother). I learned how to follow up and maintain relationships, how to network. And, yes, I learned how to deal with failure.

The important thing to remember is that it happens, to everyone, and the best thing to do is pick up and keep going on. "Just keep swimming," like Dory says. It's not the end of the world. Plus, this is the time for us to make mistakes, to go down the wrong paths, to tank interviews, to say the wrong thing, to build that failure tolerance. Right now in these first years of college, everything is low-risk and very, very high return. There's no other time like it. We have to take advantage of it. I'm glad I went out for that club, because even though I was rejected, I learned so much.
And when I come back next semester, I'll dazzle them. Because failure is nothing I can't handle.
(Shout-out to my brother for the inspiration for this article, for picking me up when I was down. You make me who I am, and I would be nowhere near where I am if it weren't for you.)