On Tuesday, October 4th, students at colleges involved in the Jesuit Divestment Network gathered on their respective campuses to kick off their campaigns for fossil fuel divestment.
College of the Holy Cross, Loyola University New Orleans, University of Scranton, Loyola Marymount University, Boston College, Georgetown University, Loyola University Chicago, Canisius College, and Santa Clara University have all joined the Jesuit Divestment Network in an effort to engage students in celebrations and actions meant to illustrate the link between Jesuit values and socially responsible responses to climate change. This includes ethical investments--and all of these schools have investments in fossil fuel industries.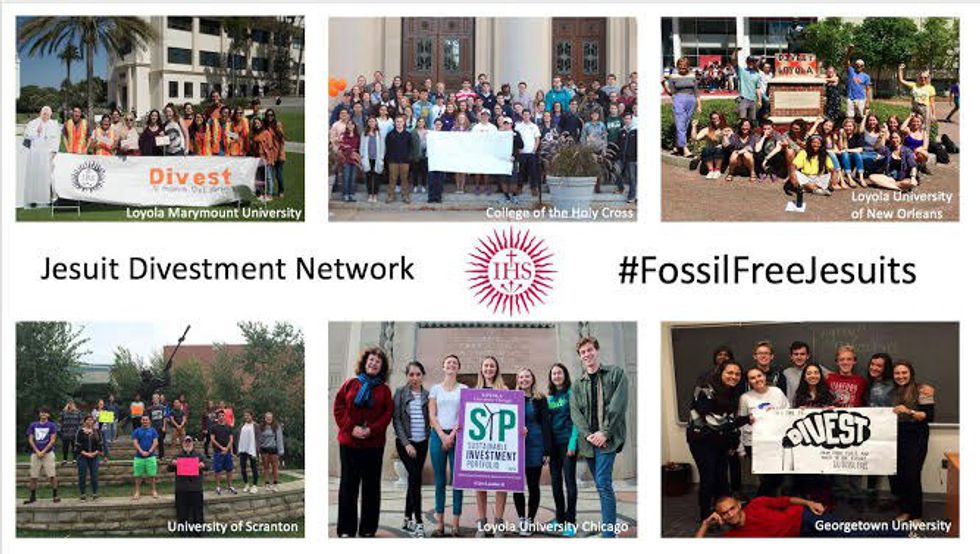 Students at College of the Holy Cross gathered in front of the chapel on Tuesday afternoon to introduce the student body to HC Fossil Free: a student-led campaign to divest Holy Cross' endowment from fossil fuels. Students and staff gathered and signed a poster in their support for the movement. Scientists agree that the burning of fossil fuels is a huge contributor to the increase of carbon dioxide in the atmosphere: which is at 402 parts per million currently, when the concentration hospitable to human civilization is 350 parts per million. The increase in carbon dioxide is undoubtedly causing climate change, and climate change is negatively affecting communities across the globe in very different ways.
Climate change is also about climate justice: the idea that climate change is also a matter of social justice and morality in addition to the well-being of the planet. College junior and International Studies Major Marie Therese Kane introduced the movement, saying "Climate change stems from injustice because it is the product of a system based on an imbalance of power and the exploitation of people and natural resources. Climate change also perpetuates injustice by distributing its effects unevenly, hitting the most vulnerable citizens the hardest, and soonest."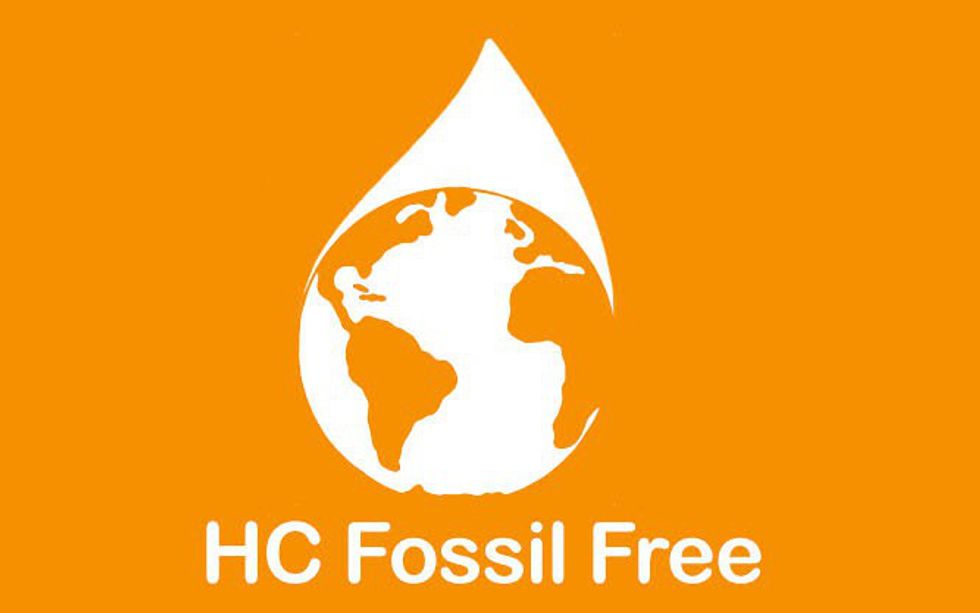 Marie Therese, along with a handful of other students had been planning for this moment for months, talking about what divestment would mean for the school and why students should be campaigning for it. First and foremost, divestment is un-investing money in fossil fuel industries. College of the Holy Cross, along with many other colleges, has and endowment. An endowment fund is an investment fund established by a foundation that makes consistent withdrawals from invested capital. About eight percent of Holy Cross's endowment is in fossil fuel industries.
Aligning with the Jesuit mission, Holy Cross's mission statement reads that the school has a "special responsibility to the world's poor and powerless." The college's investment in fossil fuels does not align with that mission when fossil fuel industries are destroying the environment and more drastically affecting the most vulnerable and marginalized people. Junior political science and religious studies major Brian SanGiacomo said "it is inexplicably wrong for us to profit from the fossil fuel companies who both profit from environmental wreckage, and prevent solutions to climate change through their sizeable influence in politics and the economy." He urged students to "act as an agent of change" in this opportunity for Holy Cross to "use the social and moral power we hold as a Jesuit institution to lead a cultural shift away from fossil fuel dependence and towards a livable future for all people."
Together, colleges like Holy Cross can illuminate the realities of climate change and influence more colleges and universities to invest in a cleaner, more just future. Divestment from fossil fuels aligns with the Jesuit call to be a "man and women for others," and we, as students at a Jesuit institution, call upon the administration and board of trustees to think about their commitment to the environment and the marginalized affected by climate change.