Operation Christmas Child (OCC) has always been a ministry that's been close to my heart. This ministry is simple but powerful: you take a shoe box and pack it with school supplies, hygiene products, toys, and if you can fit it, some type of clothing item (socks, a hat, flip flops, etc.). Then you turn these boxes in to a donation center in your area, where it's then shipped to a distribution center to be checked (so no inappropriate items are sent to children). Then the box is shipped overseas to a child who's never received a Christmas present before.
I've been packing boxes all my life. It's simple and fun and as a child, it was always entertaining to find toys I loved that I could send to kids my age across the globe.
I didn't really appreciate this ministry until college, though, when I was asked to lead it. The first year I led a committee of 12 or so people, and we got the campus on board to pack 701 boxes. And once you've packed 701 boxes, something in you shifts.
Suddenly, I was really thinking about those kids - those 701 kids who would receive 701 boxes bulging with toys and school supplies and soap and toothbrushes. Those 701 kids who would sit down in their village and be handed a box of presents and be forced to wonder: why?
[rebelmouse-proxy-image https://media.rbl.ms/image?u=%2Ffiles%2F2016%2F10%2F23%2F6361283968721814961104076893_OCC_thailandshoe_box_distribution20%3Fwid%3D550%26op_usm%3D2%2C.5%2C6%2C0&ho=https%3A%2F%2Faz616578.vo.msecnd.net&s=410&h=c2a013e1cd240d7df42271be0f60f84ecf264fd513e3e87493f0082626010a81&size=980x&c=4287601180 crop_info="%7B%22image%22%3A%20%22https%3A//media.rbl.ms/image%3Fu%3D%252Ffiles%252F2016%252F10%252F23%252F6361283968721814961104076893_OCC_thailandshoe_box_distribution20%253Fwid%253D550%2526op_usm%253D2%252C.5%252C6%252C0%26ho%3Dhttps%253A%252F%252Faz616578.vo.msecnd.net%26s%3D410%26h%3Dc2a013e1cd240d7df42271be0f60f84ecf264fd513e3e87493f0082626010a81%26size%3D980x%26c%3D4287601180%22%7D" expand=1 original_size="1x1"]
So why do I love this ministry? Why do I love OCC? Because it's such a radical act of love.
For a moment, I want you to put yourself in the shoes of one of these children who receive a shoe box. You live in deep poverty. You probably live in a one room shack with your family, which can range from 4 to 10 to 12 people or maybe even more. You can't afford food, so you're constantly hungry. You can't afford school supplies, so you can't get an education. You sleep on a mat with your two younger siblings (a mat meant for one). You live life tired and hungry and dirty, and let's be honest - this is probably it for you. This is what life will be like for you and your children and your children's children.
Then someone comes and tells you that you're going to get a present. You don't really understand why, but who passes up a present? So you go with a bunch of other children in your village to get this gift. You're handed a box with red paper on it that has little white shapes on it. The lady who hands it to you says they're snowflakes.
You sit down with the other children. When everyone has a box, you all open them together and you find treasure inside. A bright blue notebook, pens, pencils, a bar of soap, three toothbrushes (so you and your siblings don't have to share one shabby one anymore), and the biggest prize of all: a fluffy pink stuffed pig. You've never touched anything so soft in your life.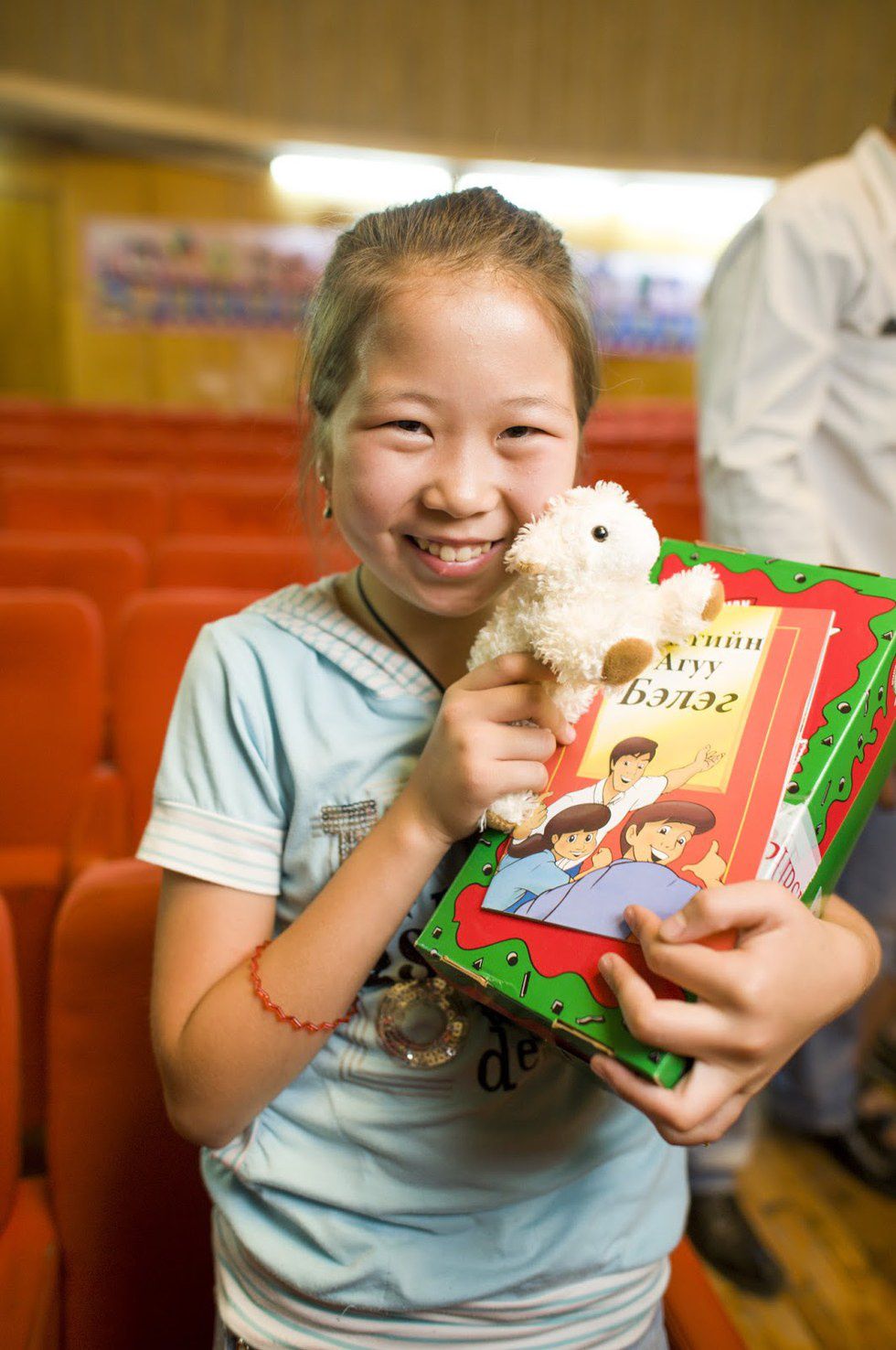 You have one question to ask the man walking around: why?
And while I know this probably isn't how it goes, I always picture the man bending down with the New Testament Bible that comes with every shoe box in his hand, and giving it to you and saying: "This is why."
Do you see the radical love in those boxes yet? It doesn't make any sense. Why would someone in Schenectady, New York take the time to make a present for a child in the slums of Kenya or the rural towns of China? Love and Jesus. That's it. Love and Jesus.
And as someone who ran this ministry for two years on a college campus, I can tell you that it's not just recipients of those shoe boxes that are touched. My campus was tiny - only about 1,000 students - and we weren't really what I would call a "Christian-friendly" campus. Our Christian Club ran a Christ week a few times, a week or trying to minister to students through movies and speakers and prayer, a week of trying to show love to the students on campus, and the complaints constantly poured in. People thought we were judgmental and unaccepting.
But Christmas brings people together. OCC was supported by people of different faiths on campus (including those with no faith), by students, faculty, staff - everyone loved to help out. Students donated items, bought our baked goods, participated in our fundraisers, and most importantly, they came out the day of our annual packing party and helped us pack all those shoe boxes with gifts. With a campus of 1,000 students, we had over 100 show up every year. It was always a huge project (last year we actually packed 1,035 boxes - talk about a project!), and we spent so much time preparing for that party each year, but it was so worth it to see a student search through the stuffed animal mountain for the perfect bear to put in her 5-9 year old girl box; to see a freshman hockey player dig through the box of toys to find the lone barbie doll for his 2-4 year old girl box; to see a girl I'd never even seen around campus before debate between Despicable Me stickers and Spiderman stickers for her 10-14 year old boy box.
[rebelmouse-proxy-image https://media.rbl.ms/image?u=%2Ffiles%2F2016%2F10%2F23%2F636128398984061702-863243392_12227839_10208486448946624_8012847504280072208_n.jpg%3Foh%3D9ec46ae20fcf9051d4bf4deb2d16c5e2%26oe%3D589A52AF&ho=https%3A%2F%2Faz616578.vo.msecnd.net&s=976&h=ed118a87703465c45aa063d0ffdb6d5370f97e2c028bdba962b0304c3ffd1754&size=980x&c=763698226 crop_info="%7B%22image%22%3A%20%22https%3A//media.rbl.ms/image%3Fu%3D%252Ffiles%252F2016%252F10%252F23%252F636128398984061702-863243392_12227839_10208486448946624_8012847504280072208_n.jpg%253Foh%253D9ec46ae20fcf9051d4bf4deb2d16c5e2%2526oe%253D589A52AF%26ho%3Dhttps%253A%252F%252Faz616578.vo.msecnd.net%26s%3D976%26h%3Ded118a87703465c45aa063d0ffdb6d5370f97e2c028bdba962b0304c3ffd1754%26size%3D980x%26c%3D763698226%22%7D" expand=1 original_size="1x1"]
There's just so much beauty in this ministry. And I encourage you to pack a shoe box this year - there's still plenty of time! Collection week is this November 14-21. If you check out the OCC website, you can find a drop off center in your area. Or you can even pack a box online! But if you've never heard of this ministry before, or perhaps have but have fallen away from it over the years, I ask you to prayerfully consider packing a box or donating this Christmas. Give a child a Christmas, but more, give a child hope this holiday season. For these kids, sometimes hope is all they have.
Christmas can still change the world. This Christmas, why not be a part of that change?