Everyone in Music City knows who he is, but the average Joe probably has no idea about Chris Stapleton. At least they didn't know who he was until the 2015 CMA Awards.

Chris Stapleton is from Lexington, Kentucky, and moved to Nashville in 2001 to pursue his dream career. As a singer and extremely talented songwriter, he was the lead vocalist for bluegrass band The SteelDrivers and later founded southern rock band The Jompson Brothers.
His website biography states, "He has written five No. 1 songs for George Strait, Luke Bryan, Kenny Chesney, Darius Rucker and Josh Turner and contributed cuts to several major motion picture soundtracks. He's also been nominated for three Grammy Awards and won the International Bluegrass Music Association Emerging Artist of the Year award as a member of The SteelDrivers. His songwriting credits span all genres and artists from Adele to Jason Aldean, and he's recorded with everyone from Miranda Lambert to Don Williams."
Now he's off on a solo endeavor... releasing the album "Traveller" in early 2015. It's true, homegrown country unlike the "bro-country" that's flooded the radio airwaves. Listen for yourself!
He's highly respected in the industry for talents that come naturally to him. He's a unicorn in today's music society.
Stapleton's CMA sweep was no surprise to those in the music business. Nominees and winners for the CMAs are voted on by those in the industry. He won every category he was nominated for: male vocalist of the year, new artist of the year and album of the year.
Yet, viewers were shocked.
Wait who is Chris Stapleton?
— Paige Dwyer (@paigeedwyaa) November 5, 2015
Soo maybe I've just been under a rock this past year but who is Chris Stapleton and how is he winning everything 🤔
— Sarah Talbott (@s_talbott) November 5, 2015
Going to turn off the CMAs. Who the fricken frick is Chris Stapleton? PISSED 😡 #SamHunt
— Shayla Cravens (@ShaylaCravens) November 5, 2015
WHO IS CHRIS STAPLETON BYE WE DONT KNOW YOU!!!!!?!??
— Lyndsey Smith (@lyndseyysmithh) November 5, 2015
But soon after his performance with Justin Timberlake, those viewers quickly became fans.
For those of you who asked "Who is Chris Stapleton?" ... now you know. #CMAawards
— CMT (@CMT) November 5, 2015
Every acceptance speech after also gave major kudos to Stapleton. Miranda Lambert even donned a bedazzled "Chris Stapleton" shirt on stage while accepting female vocalist of the year.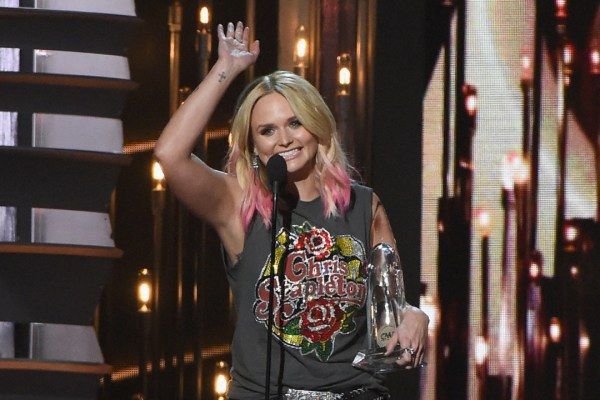 The night after the CMAs, Stapleton's "Traveller" shot to the number one spot of the Billboard 200 Albums Chart.
said who is Chris Stapleton... then he started singing with JT.. 🔥😍😍😋 IM IN LOVE
— Chelsey Kirby (@chelseykirbyy) November 5, 2015
Best part of the CMA show, Chris Stapleton. Bringing back real country. His duet with Justin was the highlight of the night. New fan here.
— Marcie Kirk (@momolee73) November 5, 2015
Never heard of Chris Stapleton until last night when I was watching the CMA awards. Now I'm a new fan. Wow. #Traveller #RealCountryMusic
— Kevin L. Willoughby (@kev_wilbs) November 6, 2015
Playing the new Chris Stapleton on @SeattleWolf right now. Love it!!!
— Nick Alan (@nickthedj) November 6, 2015
Nashville's best kept secret is a secret no more... He may not shake it like Luke Bryan or have the sculpted physique of Kenny Chesney, but Chris Stapleton is an artist and now the world can appreciate his music.