This past year our society has been hijacked by political polarization to the point that being offended is more of a crime than actually saying something offensive is. I've never been a fan of Tomi Lauren's "snowflake" title she created for the left where if you were offended by anything you were a "liberal snowflake." Yet her title, and her career (where you at Tomi?), are complete jokes. Because if there's one thing that really offends right-wingers, it's when people don't accept their beliefs in religion, abortion, vaccinations, etc. The fact of the matter is both sides are so incredibly fragile and "triggered" that you almost cannot say or do ANYTHING anymore.
What I'm talking about folks is the outrage culture. We live in a culture where anything you say is misconstrued and taken offensively to at least one person or group out there. And once that group speaks out, the public mob is out to put your head on a pike. Both the left and right are so bad for it, and it makes it more infuriating when both deny it. It's ruining our comedy, our interactions, and our society.
Now let's be clear, I do think there are actually offensive things to be said. It is 2017 and we are not the same society we were even a few years ago. It's not cool to be a racist or a homophobe, you are in the minority. And if you say things that are directly antagonistic towards a person or group of people, then it may indeed be offensive. But we've given too much room to the extremists on this one. 90% of the time I don't think people are actually offended, but they are taking advantage of the climate were living in and using it to destroy people who speak their mind. If you're still unsure what I'm talking about, of what is and isn't offensive, allow me to show you some recent examples.
Let's start with our good friend Star-Lord, also known as Chris Pratt. When he's not out saving the galaxy, taming dinosaurs, or saving Pawnee as Burt Maclin, he's living his normal celebrity life. That is until one day, Pratt gives an interview with Men's Fitness saying
"I don't see personal stories that necessarily resonate with me, because they're not my stories. I think there's room for me to tell mine, and probably an audience that would be hungry for them. The voice of the average, blue-collar American isn't necessarily represented in Hollywood."
That's it. Seem's like a totally normal thing for a man to say, but that little part at the end blue-collar American isn't necessarily represented in Hollywood drove the internet absolutely insane. Suddenly everyone is attacking Pratt for his "white privilege" and how terrible he is for thinking this when there are so many groups and people out there who get no representation in Hollywood. Pratt literally didn't say anything else about any other group out there but one he feels he can relate to most. I'm sure Pratt (one of the biggest Hollywood stars there is today) has a pretty good feel on Hollywood and if it's what the man feels than who are we to judge? But the public was so offended by it for no god damn reason. Seriously, how is this offensive in any way? Because he didn't say blacks or Asians or trans people don't get enough representation, he's suddenly a terrible person? I don't buy it. But the backlash won and Pratt gave in, releasing an apology just a few hours later.
But if that didn't tip the scales for you, Pratt had another run-in with the outrage police, for a social media video for Marvel promoting the upcoming Guardians of the Galaxy 2 movie. Usually in these video's on Facebook, Twitter, and Instagram, the whole video has subtitles because not everyone can hear the video or turn on the volume on their phone or they just think it's easier to read what's being said. At the end of this particular video (which has been removed from the internet) Pratt says "C'mon seriously dude? You'd rather read those than hear me?" speaking about the subtitles.
Hours later we get this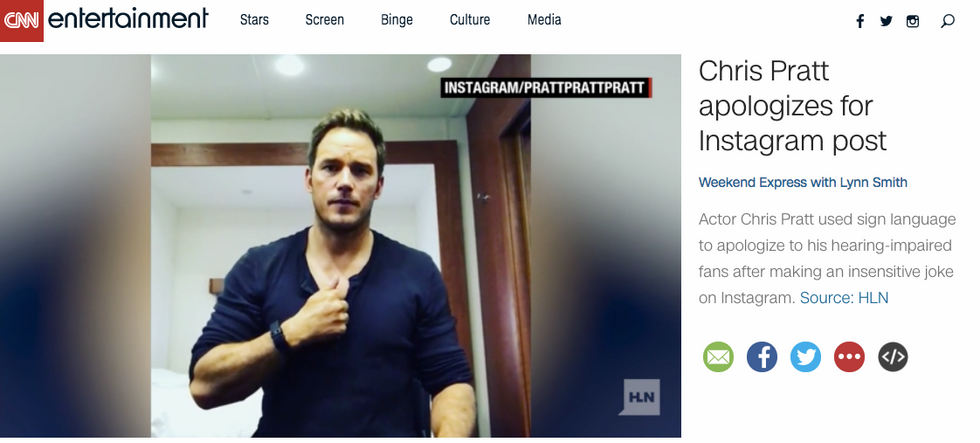 Yes, I know what you're thinking. You have got to be fucking kidding me. Because of that little snippet at the end of the video encouraging people to turn the volume up as opposed to reading the subtitles, the "deaf community" came running with their pitchforks and torches. I'm sorry, but that's just ridiculous. Of all the things going on in this country and this planet, THIS is what people choose to be in an uproar about? You're offended because someone IN A VIDEO, wanted you to turn the volume so you can LISTEN TO YOUR VIDEO. And if you can't listen to the video THEY HAVE SUBTITLES FOR YOU. If were being honest here, how did the deaf people get so irate in the first place if they couldn't hear what Pratt was saying?
That's my point, people are jumping on to these things and making a outrage out of absolutely nothing even when it doesn't affect them at all. Someone saw this opportunity and leaped on it even though they probably weren't offended at all, they just want to cause chaos and drama. Surely a deaf person realizes when they are watching a video it is mean't to be heard. That is just how video and audio works. At this point why aren't we worrying about the blind people? How are they supposed to watch this video? Where is the braille transcript of the video for them to feel out? It never ends. If it's not one person getting offended it's another.
The saddest part is hours later Pratt posted a video of him apologizing entirely in sign language looking all sorry and sad as if he had accidentally killed someone's dog or something. Don't apologize Chris, you didn't do anything wrong, you didn't say an insensitive joke, you simply said how a video works. In no single way did Pratt say anything at all about deaf people, or people who cannot hear or anything antagonistic at all but everyone decided to spin the fucking shit out of it and turn it into something that it wasn't.
These are the best examples of outrage culture I can give you. It's people going out of their way to be offended by something that could not be more pedestrian and inoffensive. All of this is especially surprising considering our President can say he grabs women by their genitals, is allowed to make fun of handicapped people, and wants to bang his daughter; but heaven forbid Chris Pratt ask you to turn your volume up.
So I beg you, please - PLEASE - do not give in to the outrage culture. Stop and think for a second, "is this actually offensive? Is this actually an issue? Should I actually go on Facebook and rant about this?" I guarantee you 90% of the time it's not. Simply move on and put your time and effort towards things that actually matter.
WRITERS NOTE: I will not apologize for anything written in this article.