Like many in the globalized society today, I have family all over the world, and that's awesome. But it also means hours spent thinking about what to pack, packing, going through airport security, and then the long flight (ugh, I know, first world problems right?). I also realized that I absolutely hate carrying multiple things around, and would consolidate and cut down to the essentials as much as possible, so throughout my years of flying long-haul international flights, I've come up with a routine that has helped me with this process.
1. The Bag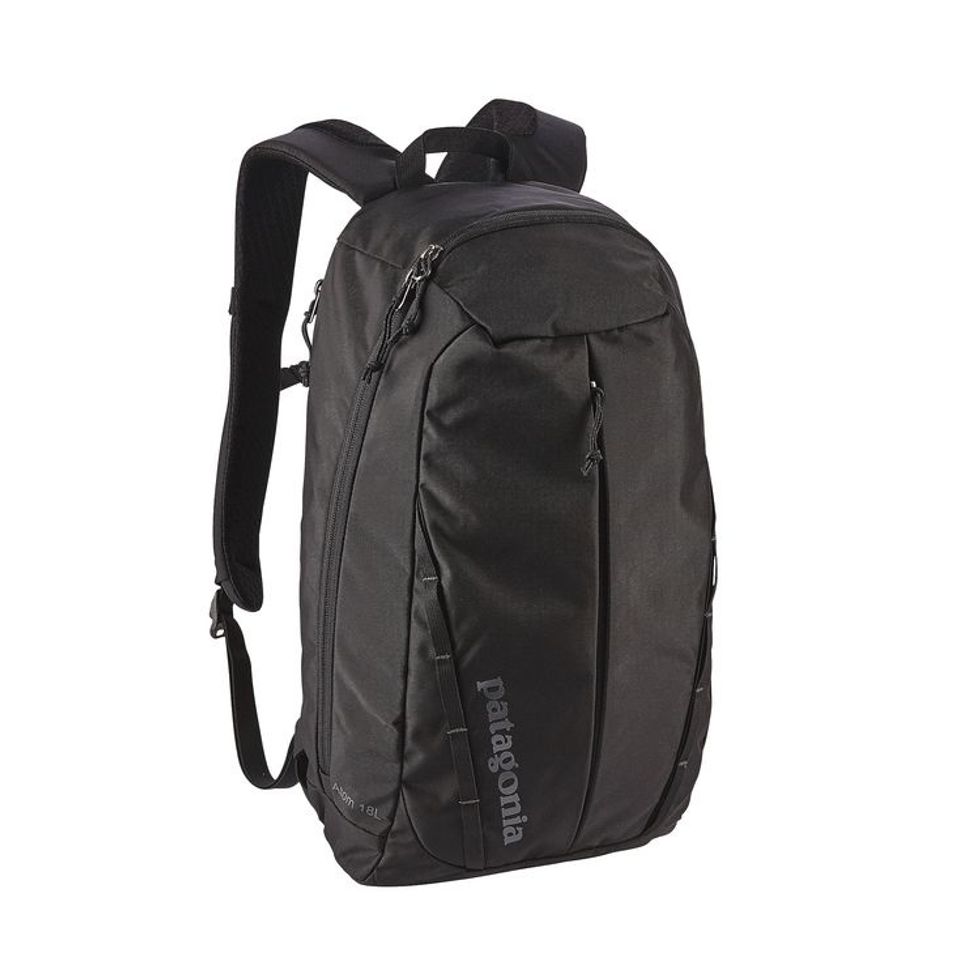 I literally use this bag for anything: weekend trips, long haul flights, school, work, etc...
I used to bring an oversized backpack and carry-on luggage when I travel because I needed to bring that extra jacket in case it gets too chilly and I needed that second book just in case I blew through the first one, and oh, my full skincare and makeup routine was somehow essential because of all the paparazzi that would be waiting for me when I landed. You get my point.
Now, I bring a compact backpack like the Patagonia Atom Pack 18L because it includes an electronics pocket perfect for a laptop and smaller pockets inside for earphones and similar smaller items. What I find most convenient is its easily accessible front pocket where you can store items (passport, wallet, boarding passes) that are needed throughout the time you are at the airport. Its main compartment is like the Weasley's Flying Ford Anglia--compact appearance on the outside but roomy on the inside. It can fit a light jacket, a book, glasses case, snacks, water bottle, and makeup bag easily.
2. The Wallet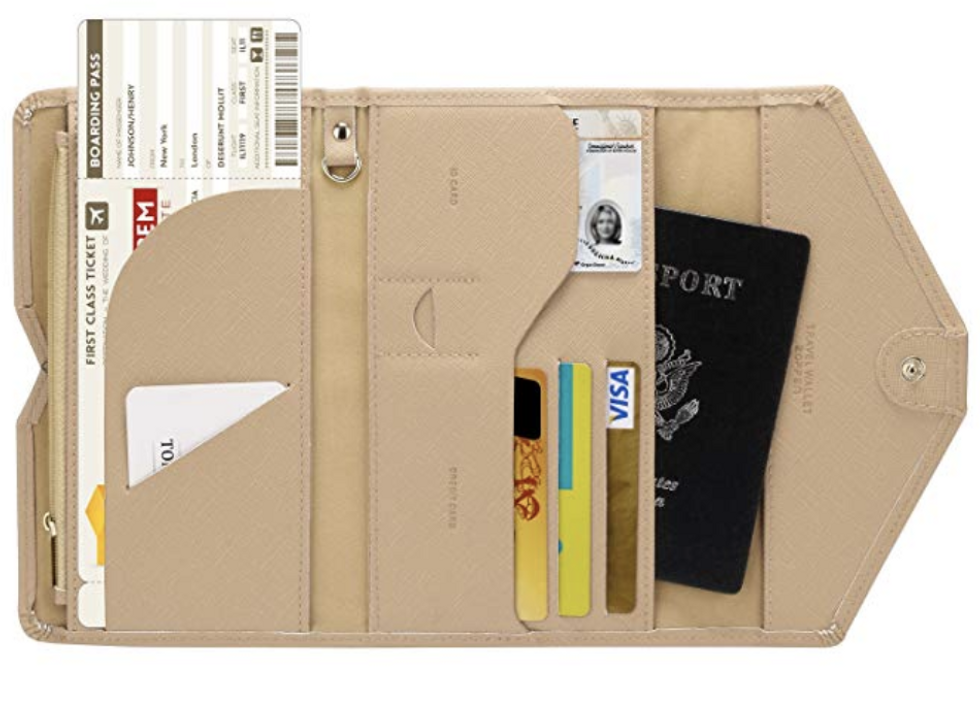 Really consolidates everything in one place.
So now that I'm in school, my flights are mainly to-and-from Los Angeles and Taipei, which can range from 11 to 13 hrs in the air. After some turbulence and attempts to pass out, I wake up groggy and disoriented. Digging through my backpack to find passports, other documents, and a Taiwanese SIM card can be at the very least annoying, but it can also increase the chances of dropping and losing something important. What I discovered through rave reviews online is a RFID-blocking (to add that extra level of security), multi-faceted wallet that can carry it all. My travel documents, various cards, boarding passes, SIM cards, and both my passports fit with room to spare if I wanted to slip my phone in there too.
3. The Makeup Bag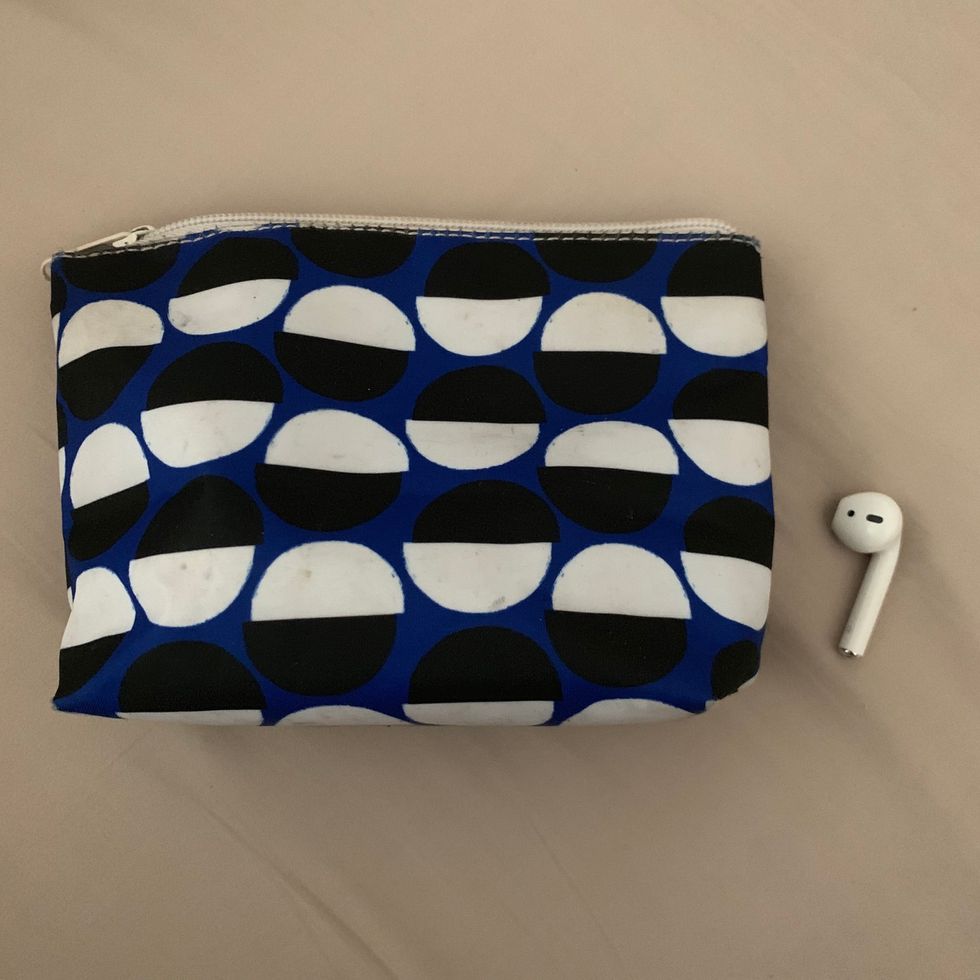 AirPod for comparison.
I know skincare and makeup routines are different for everyone, but I have cut my routine down to a few essentials. I found this waterproof bag with the travel-sized toiletries at Target (about 6 bucks). I love it because it's a really simple one pocket that carries everything I need:
A travel toothbrush and toothpaste, floss (a must for me), two pairs of contacts (because I'm clumsy), my Glossier Boy Brow eyebrow filler and shaper, travel-sized facial spray (like Mario Badescu's $5-miracle-in-a-bottle), moisturizer, lip balm, a small compact mirror, concealer (Elf has small ones that does the job), and meds (if you have them).
This list is pretty bare bones, but comfort is definitely key.
4. The Accessories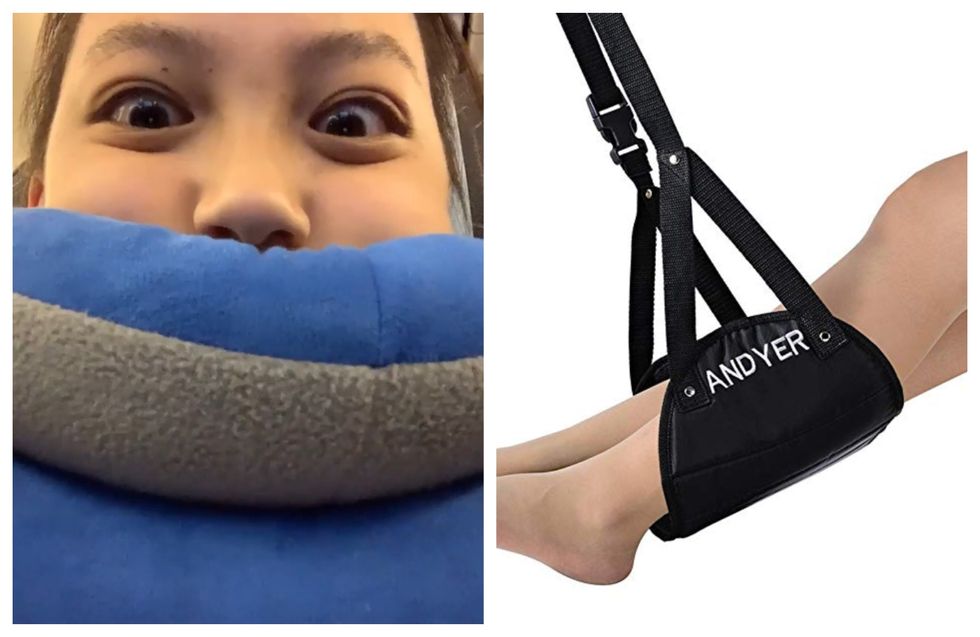 I look crazy.....crazy about the pillow!
These are newer additions to my essentials but oh my goodness they are everything I need. My biggest problem on long-haul flights used to be finding a position where I can fall asleep without waking up feeling like my neck has been bent the wrong way. This versatile wrap-around pillow (that can be bent every which way) supports my neck and head while I sleep. Coupled with the foot rest, which can be easily hooked onto the tray table, I sleep through everything expect for meals of course.
Although I couldn't fit this into my backpack with everything else already in there, the pillow comes with a lightweight cover (with a handle) that the folded footrest fits into as well. I attach that to my backpack with something similar to a carabiner.
Having just one compact bag is definitely the way to go. From easily pulling out your laptop during TSA screening, to safely finding everything you need, the only thing I dread when traveling now is sitting near a baby on board, but I guess that's what earplugs are for.