Over a year after Camila Cabello parted ways with famous girl group Fifth Harmony, she has released her first solo album and if you want to bless your ears I suggest you take a listen.
Cabello's self titled album, "CAMILA" which was originally going to be titled "The Hurting, The Healing, The Loving" hit stores worldwide January 12th and instantly hit number one in the U.S. and plenty of other countries.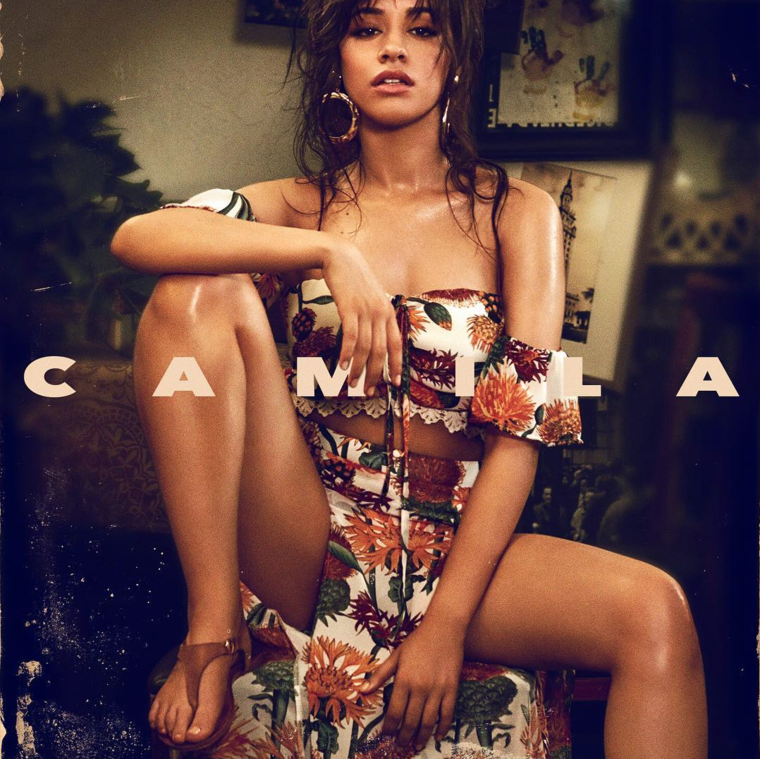 At 20 years old, the Cuban-born, Miami raised singer portrays not only her personal experiences but expresses her Latin American origin, giving the album a melodious sound and a Cuban-Mexican vibe. Of course her big hit single "Havana" is included among these 11 songs, becoming the closest one to your loud, club-worthy song. The following 10 songs are stripped down so listeners can appreciate and admire Cabello's vocals, proving that the girl can SING and is something you don't really see these days.

Among the many tracks, Camila includes a ballad titled "Consequences" which is a real tear-jerker. Cabello's soft vocals with the beautiful piano in the background really set the tone of this song. Singing lyrics like, "secret keeping, stop the bleeding / lost a little weight because I wasn't eating" really show the singers emotion put into the song and makes everyone feel that something.
Two tracks later, Cabello writes another emotional song known as, "Something's Gotta Give" which discusses a relationship where the singer leaves because there's no reason to deal with the lies and misuse. The singer uses the power line, "No reason to stay is a good reason to go" which is something some people really need to here.
Cabello is great at hitting every part of a break up including a song ("All These Years") which covers a sweet, but upsetting encounter with her ex after a breakup. The singer uses an acoustic vibe while complimenting her ex through amazing, soft vocals. Cabello is instantly reminded of all their memories together, but then is heartbroken (and a bit happy for her ex) when she finds out there is a new girl in his life.
Moving on to some songs you might've already heard. Cabello obvious includes her newest single, "Never Be The Same" making it the number one track on the album. If you haven't heard it, the track has some R&B vibes and is a mid-tempo ballad about a love that is painfully pleasing. Cabello even tweeted that the the track is, "what falling in love sounds like."
The track even mentions nicotine, heroin, and morphine and we're sure you'll be addicted to this song (and the album) just like the drugs mentioned. Just like "Never Be The Same", the track "Real Friends was released a month before the actual release date of "CAMILA" on December 7th, 2017. I can guarantee you that you will relate to this song as it talks about going through the realization that the people you're surrounding yourself with aren't actually your friends.
Cabello sings, "I'm just looking for some real friends, all they ever do is let me down" making this one of the strongest, most relatable lyrics on the album. Cabello admitted this song is about being in LA (and that she totally hates it). We're glad Camila is surrounded by her family most of the time.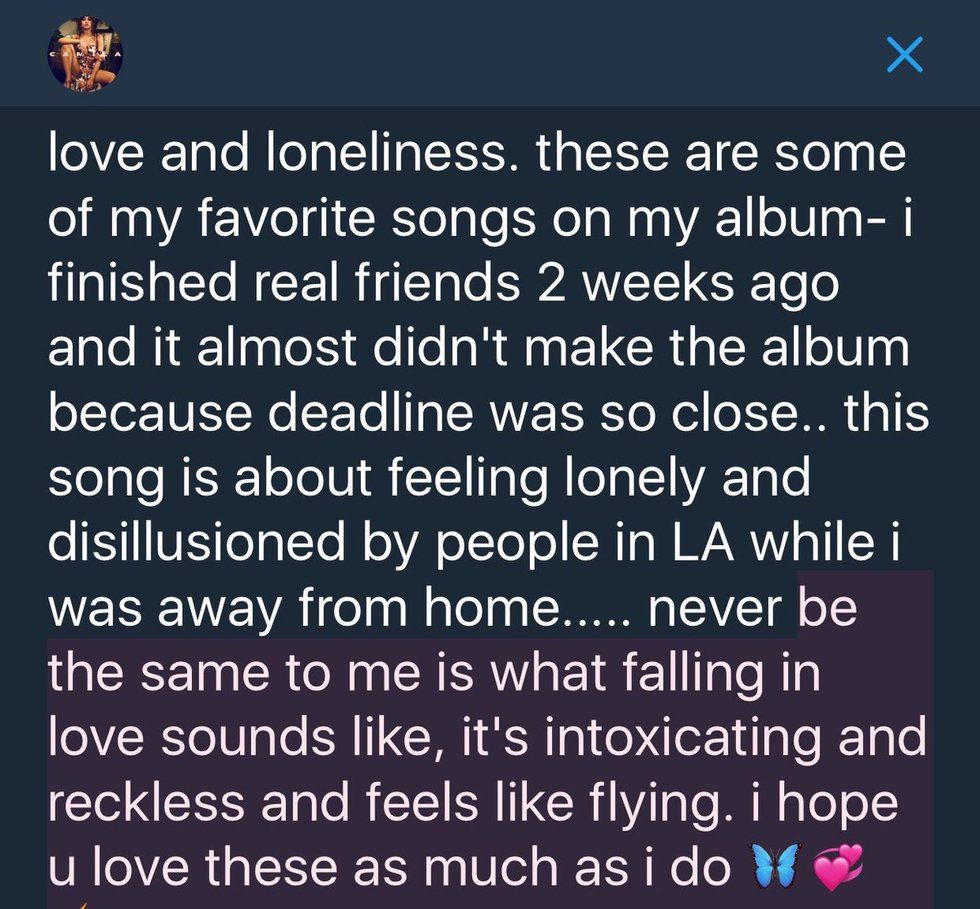 Opening up for Bruno Mars' 24K Magic World Tour, fans and others heard another track early. While opening for Bruno, "Inside Out" took a place on her setlist. Being the only song that you can dance to alongside "Havana," the track is fun and full of energy. In this song, Cabello goes back to her Cuban-Mexican roots for sure. Singing the song in English and Spanish, the song is something you'll just want to dance to. Before performing the track on tour, Cabello even requests the audience to close their eyes and imagine they're in Latin America before she sings, "De Miami a México / Esta cosa se prendió"
Continuing on Camila's objective of showing every piece of falling in love. A track that really stands out is "In The Dark". This song really emphasizes wanting to know every side of someone (especially the dark) because everyone has their secrets.
Once again, Cabello takes a stab at Los Angeles yet sings one of my favorite lyrics of the album, "Who are you when it's 3 AM / And you're all alone / And L.A. doesn't feel like home?". This track is Camila's plead to get to know that special someone she likes (and we totally hope she gets what she wants).
Finally, every album needs those sexy, makes you feel good type of song. LADIES listen up because "She Loves Control" is the song for you. Cabello strong and proud sings the lyrics, "She loves control, she wants it her way / And there's no way she'll ever stay unless you give it up". No one should tell a girl what to do, and Cabello makes that clear.
Perhaps this song is even a stab at the Fifth Harmony gals (after all they wouldn't let her write some of her own music, which led to her departure). We couldn't be happier that the singer wrote this tune. Moving on, Cabello writes an even sexier song singing, "I see a king-sized bed in the corner, we should get into it". Cabello titled this song "Into It" which is an upbeat, vocally impressive song which Camila admitted was about a daydream she had about a guy she had been crushing on. If you're head over heels for a special someone, Camila understands and this WILL be your favorite song on the album (trust me).
Okay, now all you have to do is buy or stream the album and then continue on doing whatever you were doing. Heres where you can check out "CAMILA" the debut album by Camila Cabello:
https://itunes.apple.com/us/album/camila/1321216767