If you are like me and have a bit of an obsession with ghost hunting shows, then do I have a show for you. It's not a show on TV but on YouTube. It is called "Buzzfeed Unsolved". I know some people have things against Buzzfeed but all opinions aside, this show is great.
I first got into ghost-hunting shows when I was in high school. I would spend my Saturday mornings catching up on recordings of "Ghost Hunters" on the Syfy channel (because I was a wimp and couldn't watch it at night because I was too scared). I watched that show up until its final season in 2016. I was so upset that the final season was finished that I did not know what to do with myself. Four months later, I came across "Buzzfeed Unsolved" .
Ryan Bergara and Shane Madej team up in exploring the unsolved mysteries of the supernatural that often lead to paranormal activity. They have investigated cases regarding exorcisms, the Illuminati, voodoo, and lots of murders. Each video will either have chills sent up and down your spine or have you laughing at their commentary. It will have you spending your Friday nights binge-watching all ten 20 minute episodes in a single night.
Ryan and Shane are complete opposites in what they believe in. But together, they make one heck of a team. Ryan is a firm believer in ghosts, aliens, and all things supernatural. Don't be surprised if he pulls out a wild conspiracy theory in any of the cases they do. Shane, on the other hand, is a skeptic. You see in all of their supernatural investigations his doubt in the paranormal. He will never miss a chance to mess with Ryan (with quite a few jump scares) or taunt the ghosts that supposedly haunt the locations they visit.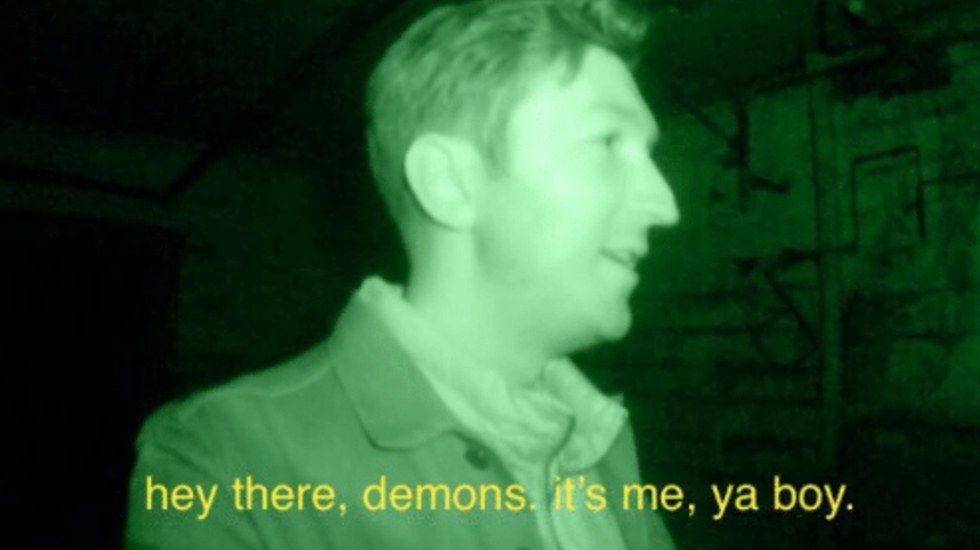 They bicker and tease one another and I think that's what makes it a fun show to watch. They are amateur ghost hunters who like to have fun with it. They are not afraid (well they are slightly afraid) of locking themselves in a closet or bathroom to see if they can talk to any ghosts that lurk there.
Not only does this duo investigate the paranormal, but they also investigate true crimes in their other show "Buzzfeed Unsolved: True Crime". They investigate crimes such as the murder of JonBenet Ramsey, the trial of O.J. Simpson, and the disappearance of Amelia Earhart. During this past season, they started up another show called "Postmortem" where they answer any questions that the audience may have from the previous episode. They have answered some really interesting questions, heard some interesting theories, as well as joke about how Ryan said a word weird in the episode or Shane's doubt in ghosts. Either way, it's a great way to interact with the audience and get to hear more of Ryan and Shane's humor.
I look forward to every Friday for the release of a new "Buzzfeed Unsolved" episode. Their curiosity and humor make it so much fun to watch (as well as giving me the creeps). After I watch it, I immediately talk to my roommate about the episode. We talk about the best parts of the show. It may be creepy parts or a comment Shane or Ryan said. Either way, we have a shared love for this show. If you want to be spooked this Halloween season, I highly recommend watching an episode . Once you start, you won't want to stop.