"It's the most wonderful time of the year." The malls, Target, and Walmart are all filling with Christmas decorations. Companies are already advertising for Black Friday. Even though I believe society might have forgot about Thanksgiving. With the sign of Christmas near, its officially time to start thinking about what you plan to get all your loved ones for Christmas.
It seems like it should be a lot of fun- but when your bank account is low, it can make Christmas shopping miserable. As a college student myself, this is one of the biggest struggles I face when the holiday season sneaks up, so that's why this year I'm budgeting for Christmas! Yes I said it! I am not going to just buy exactly what I think people may want, no matter the price tag-I am going to make sure I follow a strict budget. Which is going to be terribly difficult, because I am a BIG Christmas giver (which is obvious in picture below). Having said that, I am going to key you in on some of my secret Christmas shopping tips-so that when you get home on Christmas Break you will have plenty of money in the bank to actually enjoy your whole month off of classes!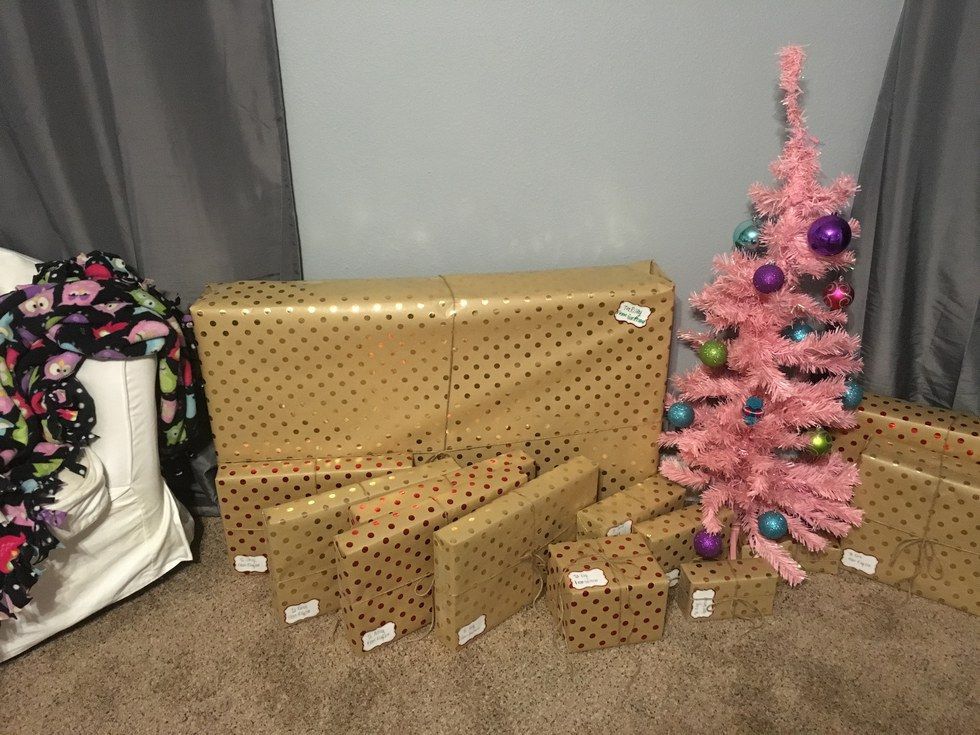 Figure out who you are buying for:
For myself personally, I am in charge of purchasing for my entire family plus my boyfriends family(minus his dad and brother, because he likes shopping for them). So for me knowing how many people I will need to purchase for, is extremely important for the next few steps.
2. Start a budget for each person:
Your budgets may vary depending on the person. For example, my brother wants one thing but my boyfriend NEEDS more than just one thing, so I give him a bit more of a budget than I did for my little brother.
Also, think about what people have asked for in the past. I have some people on my list that ask for more expensive things, whereas I have some people on my list who just want ONE big thing!
You also need to be prepared for the little things that come up when budgeting for Christmas, for example the dreaded secret Santa's. It's inevitable that once a holiday season there will be one secret Santa you are apart of-so make sure that you budget accordingly.
TIP: Making homemade Christmas gifts, which I highly recommend if you're crafty, needs to be budgeted for as well. Even though it's cheaper, it's still not free to do at-home crafts!
3. Make a list for each person or get a list from each person:
This will help you keep on track and make sure you do not veer away from your budget. Every time you purchase something-check it off the list. Once you make your initial list, do not add anything to it, unless it's within budget. For example, if you are done with all of your mom's gifts and then she tells you on December 8th that she would really love this one thing for Christmas-do not feel guilty and do not go buy it. It seems like every year I get everything finished, and then everyone that didn't give me a list starts having request that they didn't voice before. Don't give in. Whatever you bought for them originally will be great. Feel free to go return what you already purchased. But do not purchase what mom wanted on top of what you already bought her.
4. Shop Early:
Shopping Christmas Eve will cause you nothing but frustration and to spend more money! Therefore, I recommend shopping as early as possible! I purchased my first Christmas present in August. When you shop early, it helps spread the cost out over an extended amount of time. For me, it's easiest to purchase something for someone each paycheck-so I don't feel the pain all at once!
5. Don't give into temptation:
If you're shopping closer to the holidays and you're finished with everyone on your list; and you find something you think a friend/family cannot live without-don't give in! Just step back and think about how wonderful it's going to feel when you actually have money after Christmas, instead of pinching pennies!
---
Just remember the biggest part of Christmas budgeting is not giving into temptation! I hope with these five steps you can work with me to achieve the goal of not being broke after Christmas. Just remember we're in this together. Once we graduate we will be able to buy the biggest and brightest Christmas gifts once we have our 'big kid jobs!'
Cover Image Credit: Elizabeth Miller