A commonality between two otherwise very different young women led to a partnership with the potential to change thousands of lives.
Emily Kramer-Golinkoff co-founded Emily's Entourage in 2011 in the midst of the beginning of huge strides and landmark medical phenomena in the world of cystic fibrosis. Life-changing drugs like Kalydeco and Orkambi were being described as miracle drugs and the quality of life for people with CF was improving dramatically.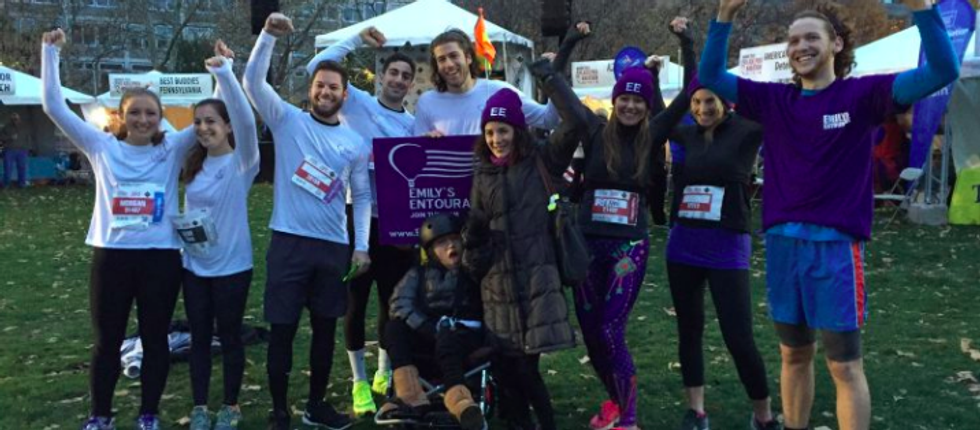 Emily's Entourage
Fighting the progressive disease herself, Emily watched as excitement and hope spread within the community – the only problem? Not a single project was in the works for people like her: those fighting "nonsense mutations." With 35% lung function, Emily and her supporters felt that there was only one option: Dive in and take action.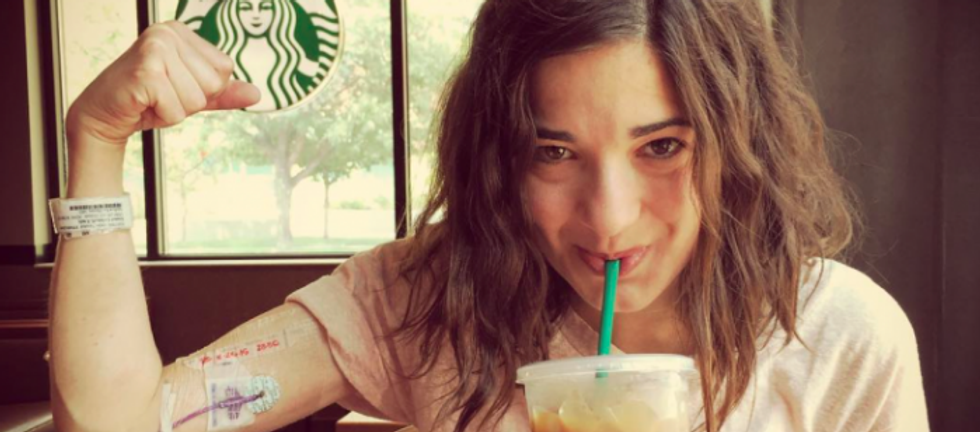 Emily receiving IV antibiotics through a PICC line.
Cystic fibrosis is caused by mutations, some of which are called nonsense mutations; and according to the Cystic Fibrosis Foundation, about 5 percent of people are affected by said nonsense mutations and very unlikely to be able to benefit from current therapies like Kalydeco and Orkambi.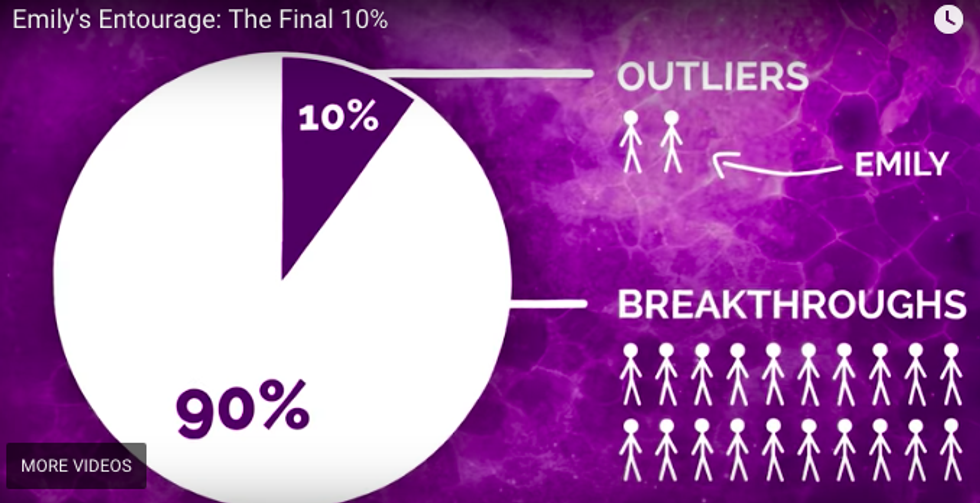 "We are laser-focused on what we want to achieve: To communicate the vision and urgency," said Emily. "We didn't have a lot of time to wait for innovation."

With a dedicated team made up of researchers, friends, family, academics and volunteers, Emily's Entourage took matters into their own hands and have since raised $3.7 million to accelerate research for nonsense mutations and are not stopping anytime soon. They currently fund and monitor 10 projects that fall within the scope of their research goals.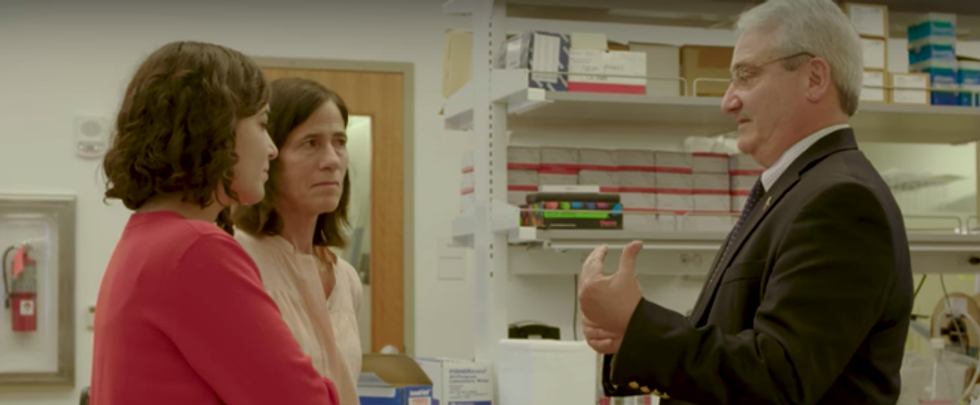 YOUTUBE: Emily's Entourage: The Final 10%
OTHER PRESS & MEDIA COVERAGE
AOL
PLAYBILL
BROADWAY WORLD
CF ROUNDTABLE

In July 2018, Emily's Entourage launched a music video featuring Broadway stars to serve as a platform for awareness and raise money toward the fight against cystic fibrosis. The video features a little girl overcoming her fear of the monster in her room.
Emily and Elizabeth Phillipson-Weiner grew up in the same hometown of Lower Merion, Pennsylvania, albeit 8 years apart in age. A prominent family in the community, the Kramer-Golinkoff family was well known and well esteemed. Elizabeth admired from afar, gradually growing more and more inspired by the family's tenacity in the face of adversity.
Fighting her own chronic illness, Crohn's disease, composer Elizabeth longed for such support.
The social gap between the two became smaller when Elizabeth's dad, a research scientist, joined the Scientific Advisory Board of Emily's Entourage.
Shortly after, Elizabeth decided to dive in and bridge the gap after writing a song that she felt would strongly connect the two. The fight against chronic illness inspired the song, now called "Anyway."
"I realized that the things I liked most about myself were born out of the adversity that I faced dealing with Crohn's," said Elizabeth. "And I realized that if Emily is doing so much work to save the [CF] community and herself, then I could certainly push myself to help that. I felt the need to show everyone how they could do the same thing."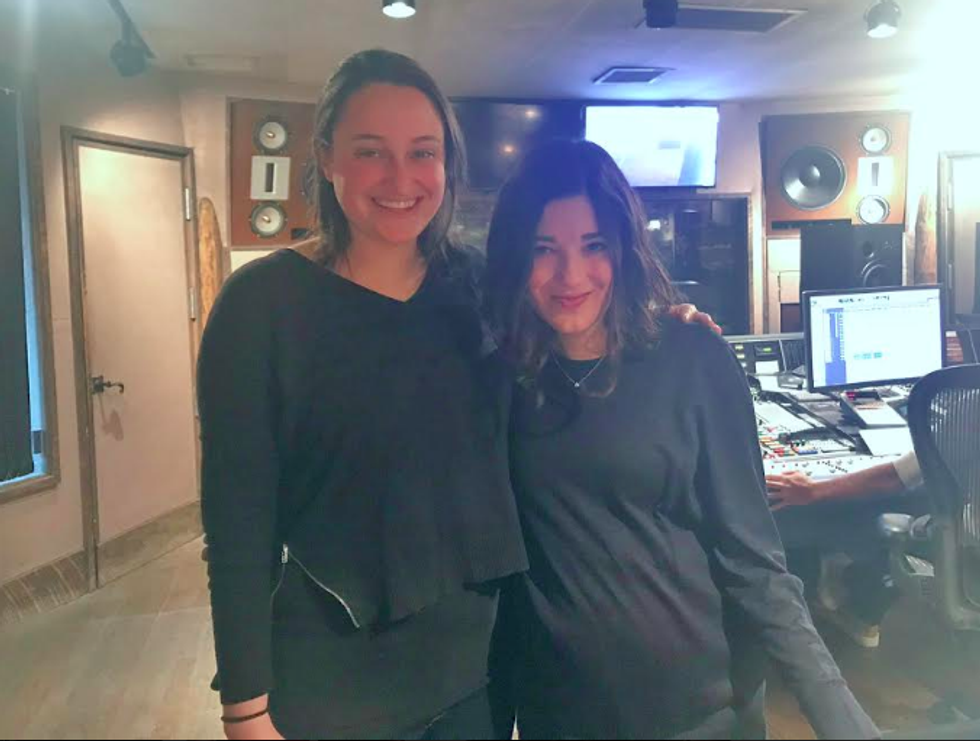 Elizabeth and Emily behind the scenes.
The power of the song and Emily's strong mission motivated Elizabeth to present the idea to Emily's Entourage, who welcomed the opportunity with open arms.

Emily described Elizabeth's song and project as "the light through it all," "the good news that we kept needing."
For months after the initial meeting, Elizabeth spent countless hours finding the resources to bring the song to life. With the help of local townspeople, donated resources and the kind hearts of a volunteer director and Broadway stars Laura Osnes, Javier Muñoz, Christy Altomare, Gideon Glick and Sarah Levy, the song and video came together, kickstarting a campaign with the potential for inexplicable good.
The video has taken off to a strong start, with coverage by media outlets like AOL, Playbill, Broadway World and the CF Roundtable and the ongoing, undying support of Emily's Entourage - including singers Laura, Javier, Christy, Gideon and Sarah.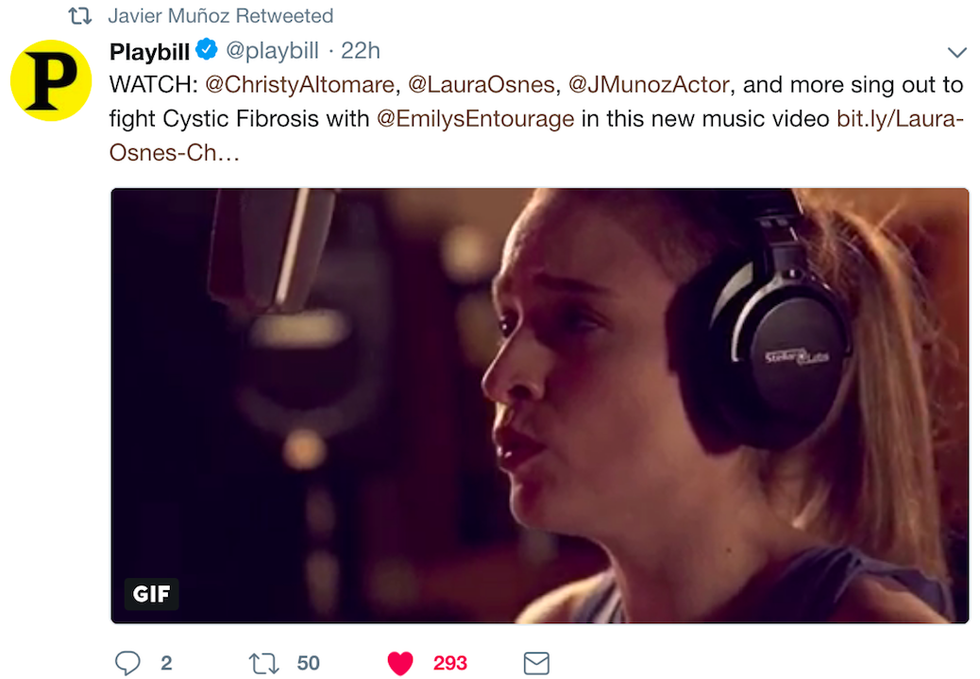 Playbill tweets about Emily's Entourage
"Sometimes the most powerful force can be an unwillingness to accept any answer other than yes," said Emily as she reflected on Elizabeth's efforts and the kindness within the community in making the project possible. "Their ongoing support is a testament to humanity and our [interpersonal] connections. People are really kind."

The campaign is asking for those who are touched by adversity and want to put their positive energy into the world of chronic illness to donate $9 and/or shine their light to defeat the monster that is CF by sharing the video and spreading awareness.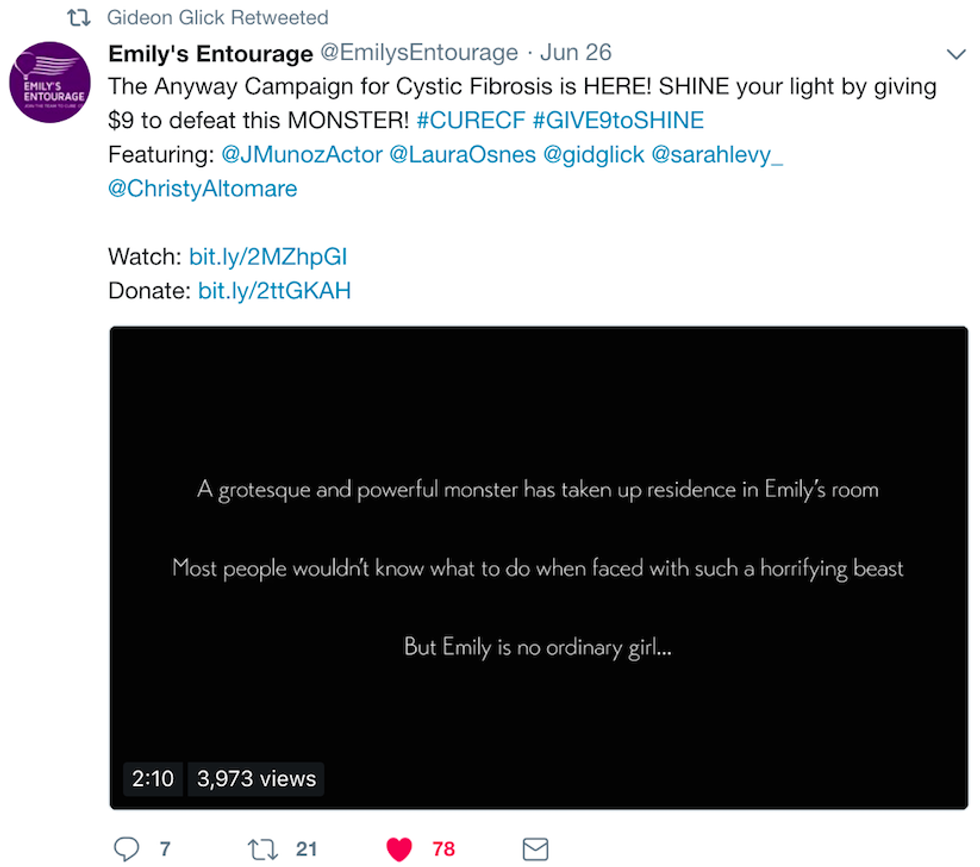 Emily's Entourage tweets about "Anyway" video campaign
"It is the collective force of pulling the light [within each other] together that can fight even the most vexing of monsters," said Emily. "The goal is for therapies to exist that will treat 100% of those with CF, so that there's no one left behind."

Will you join? SHINE YOUR LIGHT by donating $9 and blasting this video to your friends and family. #GIVE9toSHINE
-----------
Emily, Elizabeth & Emily's Entourage:
I can only hope that this story does your efforts justice! I am touched, honored and humbled by all you've done for the CF and chronic illness communities. Thank you for shedding your light and being a force of good in our world. I am so inspired and grateful for your determination in the face of adversity. I look forward to joining forces with you in the future.
-----------
If you or someone you know have an inspiring cystic fibrosis story & would like to be featured on this blog, please contact Kristy at kristyannwrites@gmail.com