Imagine Labyrinth meets Frozen with a little bit of the film version of Stardust and you probably have an idea for what Caraval feels like. Stephanie Garber's first YA novel/first novel in general is about two sisters, Tella and Scarlett, that receive an invite to the exclusive event of Caraval held and coordinated by a mysterious man named Legend. On the first night of the event, Tella is captured and soon claimed as the final clue to this year's prize, a wish for anything you could ever want. It's up to Scarlett to step out of her comfort zone and do everything she can in this magical new world she's found herself in to save her sister.
What I liked about this book most of all was the main character Scarlett, who to me just seemed like a breath of fresh air as a female protagonist in a YA novel. Usually in books these days I seem to find three stereotypes now for female protagonist: 1. The Manic Pixie Dream Girl, 2. The Badass Sarcastic girl who just wants true love, and 3. The super shy girl who swears she's not good at anything but ends up being a badass in the end. With Scarlett she stuck to who she was the whole time while still developing as a character. In the beginning she's a very follow the rules type a girl and a helicopter mom over her sister, with good reason once you read the book, but then throughout the book she begins to grow and realize she needs to start being more selfish and care more about herself while still being the same person she was before. I don't know how to explain what I'm trying to say here, but I'm basically trying to say that instant changes in personality just don't happen right away (I'm looking at you Tamlin in Court of Mist and Fury) and the author did a good job of letting these characters be themselves and just grow on their own.
Also Julian is totally now getting added to a fictional boyfriends list.

The last thing that I loved about the book is just the wording and how Garber describes the world of Caraval. My favorite thing she would do is when she would have Scarlett describe what she was feeling with colors, for example if she was happy with how something was she would use words like "my happiness had a peachy coloring to it". That's probably not the best way to describe it but once you read the book, I think you will understand what I am saying.
Overall Rating 3.75/5
Spoilers Portion-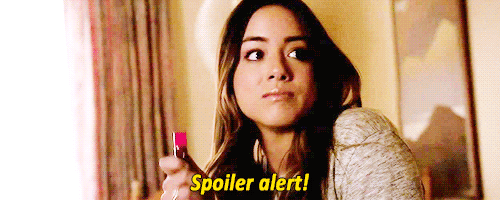 *Am I just stupid or was Scarlett just pulling her guesses for the next clues out of nowhere? If there is anything books with mystery to them have taught me it is that I should never be a detective. Mainly because I feel like how Scarlett kept interpreting the leap of faith clue was all over the place. I was sure that her admitting her feelings to Julian would've been the real leap of faith but hey what do I know?
*Scarlett got over the fact that everything was staged way too quickly! There was a Castle episode years ago where Beckett staged a Rear Window situation to fool Castle into a surprise party and I'm still not over how angry I would've been if that were me. Scarlett's reaction to Tella still being alive after jumping out of the window and figuring out that she set it up in the first place was just way to calm for me, I needed some yelling and pillow throwing.
*I also really wanted Aiko to be Legend that just would've been a fun idea for me.
*I have no clue how the sequel is going to work out, but I am excited for it. Really wanna see how Scarlett and Julian's relationship grows.