Blair Waldorf always knows what to say whether it's friendships, love, men, or even destiny. These eight quotes are quotes that we can all live by. As girls sometimes life can knock us down. However, these quotes can pick you up. In these quotes Blair is basically saying we hold our lives in our own hands and we can control our lives.
1. I'm not a stop along the way. I'm a destination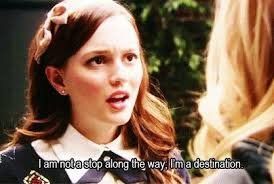 If you know Blair you know she was always bent on finding true love and the one for her. In the end she married Chuck Bass, but in the beginning Blair knew her self worth and she knew that whoever she ultimately chose to be hers was the one. She held herself to a higher standard and that is what girls and young women can learn today.
2. Once again the world has proved anything you can do I can do better.

Just like in Blair fashion she always wanted to be better than everyone else. To her she was always trying to be better than others. Not saying that we have to be as hateful as she was at times, but we need to have the mentality that we can always do better.
3. Destiny is for losers. It's just a stupid excuse to wait for things to happen instead of making them happen.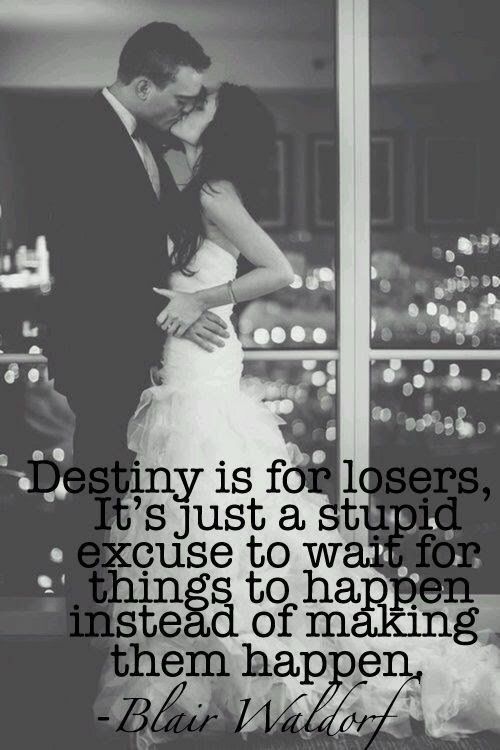 Here I completely and 110 percent agree with Blair. If you want something so bad make it happen and get what you want.
4. We make our own fairy tales.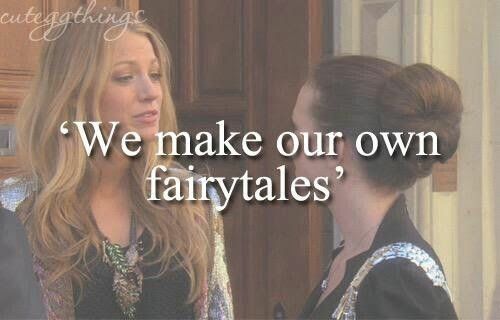 Again we make what we want in life and Blair was always doing that. She fought for what she thought she should have and she did it without regrets and that's how we should live.
5. Stop whatever you're doing. We need to shop.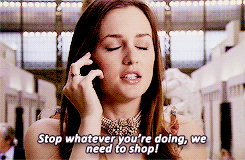 This is one of the less serious quotes for Blair. However, who are we kidding all girls need to stop and have retail therapy everyone once in a while.
6. You can't make people love you, but you can make them fear you.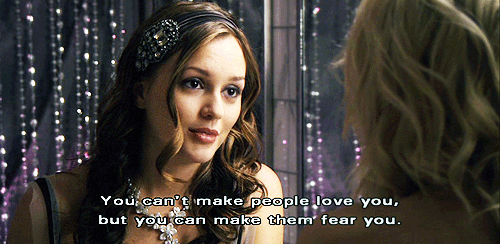 Blair did not get the name Queen B from making friends with everyone. She knew that at times it was okay to kick someone to the curb knowing they may become your enemy. Then you just have to show them you're better off. Blair showed girls how to do that as well.
7. Once men have tasted caviar, it baffles me how they settle for catfish.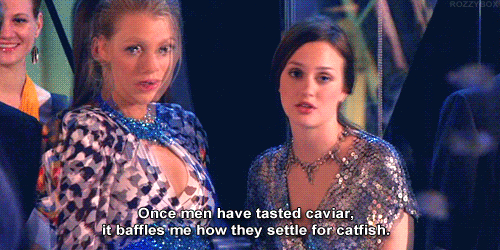 Friends, clothes, or boys. Blair wanted the best and she was appalled when others. She considered herself the best so when she or her best friend Serena were left by a boy she was baffled how they had the best, but left it.
8. Be careful who you open up to. Only a few people actually care, the rest are just curious.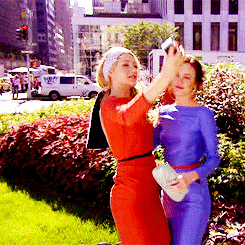 Blair had one best friend and that friend was Serena. Even though they had their ups and downs they were always loyal to each other. That's why as a girl you have to be careful but once you find that one you better hang on.
Whether it was friendship, love, boy, or shopping advice Blair had the answers. She always knew what she wanted and how to get it. I mean after all she was Queen B. Personally, I believe she should be a role model. Maybe not be as hateful as she can be but we can learn that as girls we deserve the best in a boy, a friend, or in that perfect dress.