I was obsessed with Big Time Rush, and still am, to be honest. That band was my everything. I was never much of a One Direction gal at their peak because I was too busy loving Big Time Rush.
After the Nickelodeon show, "Big Time Rush," ended, the band themselves decided to end their time together as a whole. With no show on TV, what was the point of continuing to tour? I am not totally sure why BTR decided to break up, but all that matters is that there is a glimmer of hope that they will return after quarantine.
In the last couple of weeks, the boys of Big Time Rush have been hinting to their fans that we can expect a reunion in the future. First, it started out with a video of all four of them saying they hope we are staying safe during this time, but they added a little "there are lots to look forward to after these days." Does that mean a reunion tour? New music? Who knows, but I am excited!
Then, they posted a video on IGTV of them singing a new and improved "Worldwide." One of the most recognizable Big Time Rush songs, and one of my favorite, "Worldwide" gives this sense of hope that one day we will all get to be together again, but for now, we just have to wait it out.
Finally, Big Time Rush has reactivated its Instagram account. Now, this one may not seem like a big deal, but the account had been absent for years until recently. That was the first sign of the Jonas Brothers getting together, so why not Big time Rush?
Not biased or anything, but I personally think Big time Rush reuniting will cause world peace.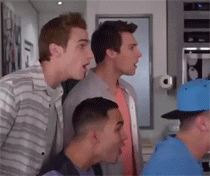 big time rush crazy for u GIF Giphy