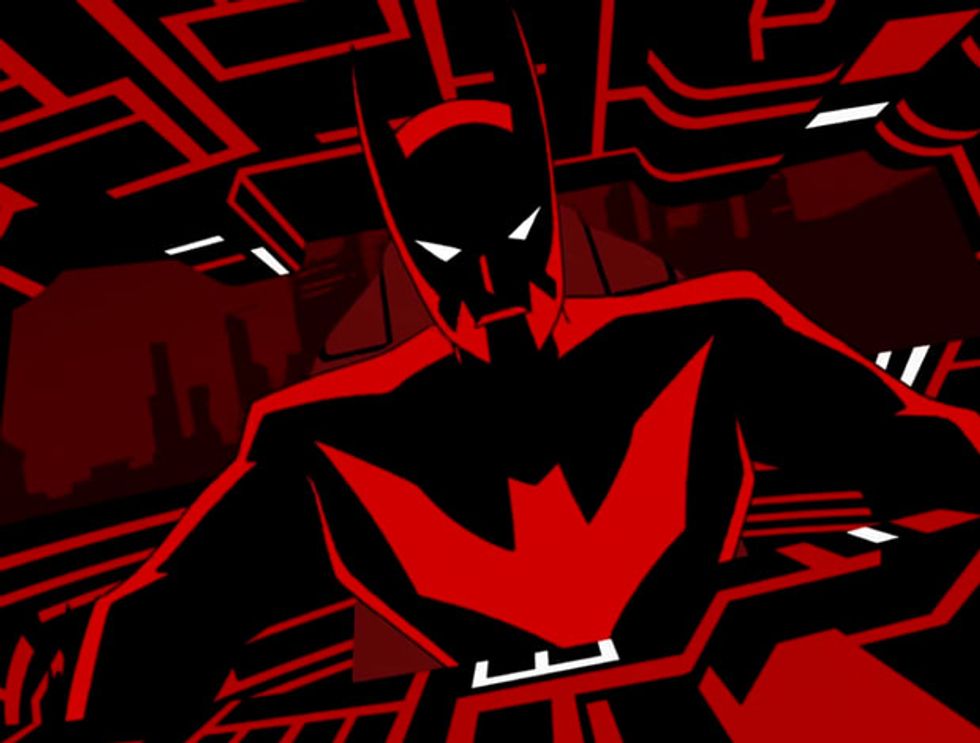 ---
In this day and age, every year is marked by the release of another super hero blockbuster or tv series, as Marvel and DC continue to duke it out over who can deliver the next greatest story. But before this intense rivalry on the silver screen, before the greatness of the "The Dark Knight" series that spawned this fixation with live-action superheros, this intense rivalry between comic book universes was secluded only to animated cartoon series that aired on Nickelodeon, Warner Bros Channel, and even Toonami. And while all sides brought their A-game with terrific, high quality shows, the one that truly captured my heart as a kid was Batman Beyond.

Released at the turn of the millennium by Warner Bros. Animation, this grungy, cyberpunk thriller took place in a futuristic Gotham City where an aging Bruce Wayne is struggling to hang up his mask and Batarangs for good. In a twist, his path crosses with that of Terry McGinnis, a brash, trouble-making high school student with an inherent sense of justice. When Terry's father is murdered in cold blood, the two form a rocky alliance in order to take down the men responsible. Soon after they succeed in this endeavor, the alliance transforms into a fortified bond when Bruce, recognizing Terry's unique talents and strong resemblance to himself, offers Terry the chance to become the new Batman of Gotham, while working as Bruce's personal assistant and chauffeur as a cover.
Sadly the series only lasted three seasons, with it's finale airing on December 18th, 2001. However, the show garnered a reputation for being considerably darker than most other kid's programs at the time, exploring themes such as fear of the unknown, psychological trauma, the duality between innovation and technological manipulation of society, drug trafficking, class inequality, isolation in urban living, and invasive surveillance. And despite it's short run, it captivated and resonated with children growing up in the time when the internet was on the verge of exploding across the globe. But, as is tradition with other great shows, the executive producers found that this "pet project" of revamping the look of Batman wasn't a right fit.
Yet given the world in which we live today, it seems that this new edgy, cybernetic Batman may be more relevant than ever. One the more memorable episodes from this story-line, "Hooked Up", focused on the new Batman's fight against Spellbinder, a villain who warped the minds of young adults through a highly addictive VR technology. With the rise of Instagram, Twitter, Facebook, and new VR systems headlined by both Facebook and Samsung - we're experiencing the temptation of how much more satisfying and vibrant our "tech lives" may seem versus our real ones.
There's also another episode that dives deep into the psychological scars of Bruce Wayne, and how his inner demons nearly propel him to suicide. This episode I remember vividly, having recently witnessed someone close to my family suffering from PTSD after serving in the Persian Gulf War. Watching that suddenly opened my eyes for the first time to how violence and warfare can impact the human psyche. It was also the first time I had ever watched an animated series where the hero was truly broken, and all his vulnerabilities exposed.
But why this animated series in particular? What really resonates so strongly with me, with our generation? It's the theme, the idea of taking a legacy - a truly iconic one at that - and molding it into your own until it is something both new and recognizable. It reveals how aging isn't simply incapacitating and debilitating, but actually empowering in ways that youth fails to grasp - a lesson we hardly ever hear about in our youth-dominated pop culture and media - that no matter how advanced technology may come to duplicating the human element, it will only remain a hollow shell compared to the authentic spirit, and that at the bottom of it all, we and we alone have a choice on how we live our lives and want to be remembered. The question is, do we have the confidence and strength to make those choices?
Oh, and did I mention Bruce ends up getting a guard dog named Ace that works with Terry on missions? Enough said.