Since the release of Beyonce's album, "Lemonade" in 2016, many people were wondering if the lyrics and the subject matter on the album rang true to the songstress or if she was only using this theme to shock her audience. Many people, including my mother, thought that Beyonce didn't have relationship problems and that "Becky with the Good Hair" was just a figment of some random songwriters emotion. However, with the release of "4:44" by Jay Z, many of these skeptical thoughts still resided. Of course, my mother still thought that all of this was a hoax. I was personally on the fence. I've always thought that the Carters kept their relationship very low-key. But recently, after watching the Jay Z and New York Times interview that was released last week, I wanted to know if the Carters have ever spoken about their relationships in music or in interviews. I did some research and found that since 2003, both Beyonce and Jay Z have made comments about their relationships in their songs. So here is a list of the songs in which Beyonce and Jay Z have referenced each other either indirectly or directly: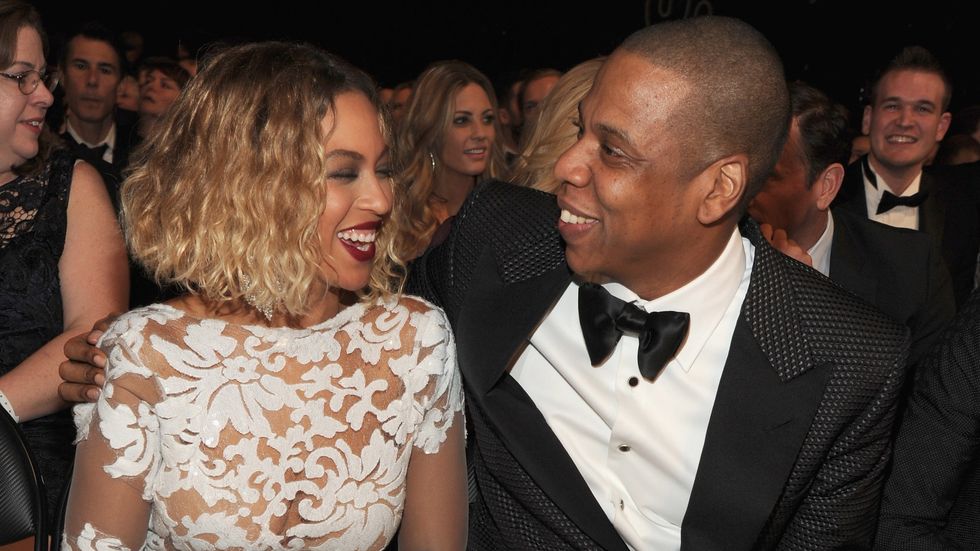 1. "Yes" - Beyonce
Album: Dangerously in Love (2003)
Released in 2003 off of Beyonce's debut album, "Yes," is a song about a girl who meets a guy that lays everything on thick at the beginning of their relationship together. But as soon as the relationship starts to progress, the guy starts to pressure the girl. It is reported that Jay Z was Beyonce's first and if that's the case, then maybe Jay Z was the guy that pressured Bey. Jay Z and Beyonce are both on the credits for this song.
2. "Signs" - Beyonce
Album: Dangerously in Love (2003)
Another track in Beyonce's debut album, "Signs," the topic of the song is self-explanatory and revealed through its title. It is a song about horoscope signs. Yes, horoscopes signs! The song starts off with, "In December every sign has its own mode, I was in love with a Sagittarius, See the emotions he put me through." Now it's no secret that Jay Z is a Sagittarius and was born in December. The couple started dating in 2002 and this album was released in 2003, so It's clear to me that love was in the air during the making of this song.
3. "Deja Vu" - Beyonce
Album: B-Day (2006)
If you don't know "Deja Vu," then you've probably been living under a rock for the past 11 years. It is one of Beyonce's most iconic songs and is dedicated to her boo, Jay Z. Some of the lyrics include, "Know that I can't get over you, Cause everything I see is you, And I don't want no substitute, Baby, I swear it's Déjà Vu."
4. "Flawless" - Beyonce
Album: Beyonce (2013)
Although this track is dedicated to her haters, Beyonce also gives a shout out to her family in it, including her loving husband, Jay Z as well. Some lyrics include, "My man made me feel so Goddamn fine (I'm flawless!)"
5. "Halo" - Beyonce
Album: I am...Sasha Fierce (2008)
In my opinion, this is one of the most emotional tracks by Beyonce. This is the type of song that will get you in your feelings. Some of the lyrics are, "Hit me like a ray of sun / Burning through my darkest night / You're the only one that I want / Think I'm addicted to your light."

6. "Soldier" - Destiny's Child
Album: Destiny Fulfilled (2004)
"Where They At, Where They At!" Even when Bey was a part of her previous girl group, Destiny's Child, she was dropping references to Jay Z. He is from Brooklyn and this song lyric references men "from the BK (Brooklyn)." Hmm, isn't that interesting? The lyrics are, "We like them boys up top from the BK (BK), Know how to flip that money three ways (Three ways), Always riding big on the freeway (freeway), (Wit that east coast slang that us country girls we like)."
7. "Young Girl" - Pharrell ft. Jay Z
Album: In My Mind (2006)
Off of Pharrell's debut album, In My Mind, "Young Girl" is about Pharrell being in love with a girl that's way too young for him. In the song, Jay Z, the featured artist of the song expresses, "So high strung, such a vibrant thing. I introduce myself, 'Hi, Miss Thing' You're 19? No, you're lighting in a bottle I give you a ring tomorrow." It's no secret that Beyonce and Jay Z met when she was 19 and he was 30.
8. "Beach is Better" - Jay Z
Album: Magna Carta Holy Grail (2013)
This a really short song about vacation off of Jay-Z's 2013 album, Magna Carta Holy Grail. The lyrics include, "Girl why you never ready / For as long as you took / You better look like Halle Berry / Or Beyoncéeeeee. Sh-t then we getting married!"

9. "That's My Bitch" - Jay Z & Kanye West
Album: Watch the Throne (2011)
The specific lyrics that I'm about to reference has to do with putting black women in the Museum of Modern Art (MoMA). Although I love the Mona Lisa and other famous works of art, wouldn't It be awesome if Beyonce and Rihanna were in famous museums like the MoMA or The MET? Some lyrics of this song are, "Put some colored girls in the MoMA, Half these broads ain't got nothing on Willona, Don't make me bring Thelma in it, Bring Halle, bring Penélope and Salma in it, Back to my Beyoncés, You deserve three stacks, word to André, Call Larry Gagosian, you belong in museums."

10. "Public Service Announcement" - Jay Z
Album: The Black Album (2003)
If your man isn't making an announcement to the whole entire world that you're the most fly chick in the game, then sis...what are you doing with a man like him? These are the type of beliefs Jay Z preaches about his chick, Beyonce, in this song. The lyrics mention, "Flyer than a piece of paper bearin' my name, Got the hottest chick in the game wearin' my chain, that's right."
So these are some of the songs in which Bey and Jay reference each other. The songs go back to the beginning of their careers, when they first met, to today, happily married with beautiful kids. Do you have a favorite Beyonce or Jay Z song from this list? How do you feel about the Jay-Z NY Times interview video that was released recently?