On September 16th I watched Netflix's Black Mirror episode of "San Junipero."

The next day, September 17th, 2017, the episode won not one, but TWO Emmy Awards (Outstanding Writing for a Limited Series, Movie or Dramatic Special and the second Outstanding Television Movie).
Coincidence?
Probably.
But needless to say, I'm pretty ecstatic over the win(s)!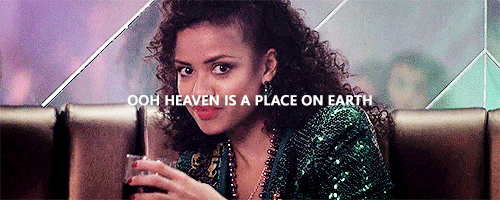 .
Much like the other episodes marked by Black Mirror's touch, the episode provides analysis on humanity, its relationship with technology and highlights creeping patterns in contemporary life that may well have unforeseen consequences.
It's commentary,
It's a love story,
It's a masterpiece of television.
Briefly, a basic synopsis of the episode (insert mandatory spoiler warning):
The episode title of "San Junipero" refers to a seaside resort town (and self declared 'party town') where an awkward and sheltered girl, Yorkie (Mackenzie Davis), meets the confident and spirited Kelly (Gugu Mbatha-Raw). They flirt, dance and entice each other as viewers slowly understand that San Junipero holds more secrets than one might believe. As the stories of Yorkie and Kelly unwind and their personal baggage is revealed-the former's inexperience, naivety and overpowering desire to begin again and the latter's sorrow over the death of her husband and own morality- it is realized that this town doesn't physically exist and is merely a virtual reality. The elderly and the dying can spend a maximum of five hours a week within digital paradise in the bodies of their younger selves or you can "retire", and spend an eternal afterlife in cyberspace. After a great series of events both Yorkie and Kelly fall in love, choosing to remain forever in the realm of San Junipero.
Now, without further adieu, here are some of my favorite aspects of this Emmy award-winning episode.
1. It's An Uplifting LGBTQ Love Story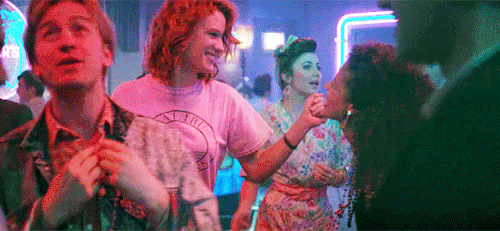 Although queer characters are becoming more demanded within the world of television it's still pretty rare to see same-sex couples on TV, let alone female same-sex couples. Even when lesbians or queer women due break onto the small screen, it is more likely than not that the relationship ends in tragedy, usually death. Although Kelly and Yorkie both die, their minds are uploaded into the online server of San Junipero resulting in them being able to live together for eternity as a married couple and thus, having a happy ending.
2. Use of Foreshadowing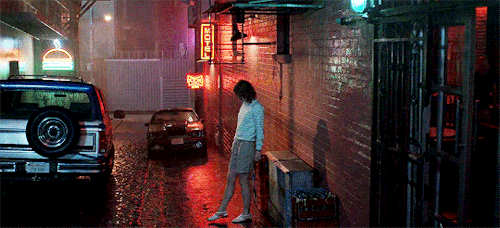 Here's a small list of some of the amazing uses of foreshadowing within the episode:
When the Gamer Guy, in the beginning, shows Yorkie the car arcade game, Yorkie reacts badly, foreshadowing her own real-life experience with the car accident which ended her life before it began.
Kelly saying "Saturday night is only once a week". You think she's referring to the day like normal people but she's referring to their limited 5 hours of San Junipero once a week
When Kelly says she is merely a tourist, a forlorn expression crosses Yorkie's face. This is because of this because for her, San Junipero is her second chance of life and she has already made the decision to pass and stay here permanently.
Yorkie walks much more slowly and stiffer in the beginning of the episode compared to the way she freely and walks to her car towards the end.
3. The Editing
The editing-especially before the first major reveal in the episode- creates an overarching sense of unsureness; dipping into the unknown. It makes viewers feel as though they too are strangers within this odd, exciting place and forces us into shy and timid Yorkie's perspective as she begins to navigate both socially and physically within the town. For the second half of the episode, the perspective flips entirely as we follow Kelly as she carries the rest of the episode, mostly as her authentic elderly self in the 'real world'. This final collide between both worlds culminates so beautifully that if you don't find yourself feeling the smallest bit of amazement, you need to make sure you're not one of the Quagmire's residents.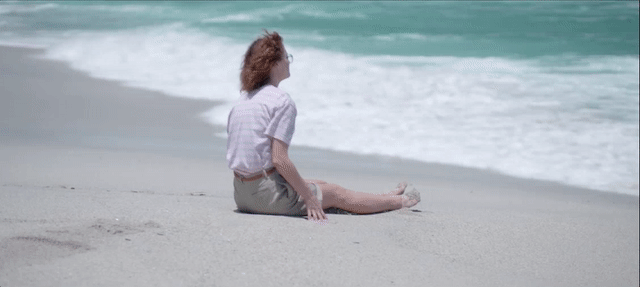 4. Nostalgia Points!
In an unmistakable 80s atmosphere we first experience the disco era version of San Junipero with the opening song of 'Heaven is a Place on Earth' by Belinda Carlison, the poster of vampire teen movie "The Lost Boys and once inside Tucker's Club viewers are smacked in the face with arcade video games such as Top Speed, Pac-Man and Bubble Bubble. It's here that Yorkie first begins her journey of identity and love and goes through different ages, marked by the club's changes. "Ironic" by Alanis Morisette, the poster of
Scream
, "Can't Get You Out of My Head" by Kylie Minogue and even
Dance Dance Revolution
all make an appearance to further solidify the characteristics of different decades and times.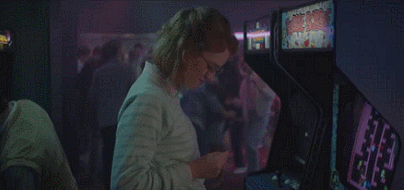 Even though this episode is not every "Black Mirror" fan's cup of tea due to the departure from the overpowering and dark intensity of prior episodes (with the rare inclusion of a 'happy ending'), San Junipero has an overwhelming power over those who immerse themselves completely into its world, especially on me.
With instant, lived-in chemistry, and a broad range of emotions displayed in a mere sixty minutes,it's an episode that's hard to forget and even harder to leave.