At Thanksgiving Dinner one year when I was little, I said that I was thankful for the Nickelodeon Lineup. That pretty much sums up how much Nickelodeon was a part of my childhood, and I still love watching the 90's Nicktoons today. So, I figured I'd take a trip down memory lane and rank all icon 90's Nicktoons from worst to best. Get ready to be slimed!
13. KaBlam!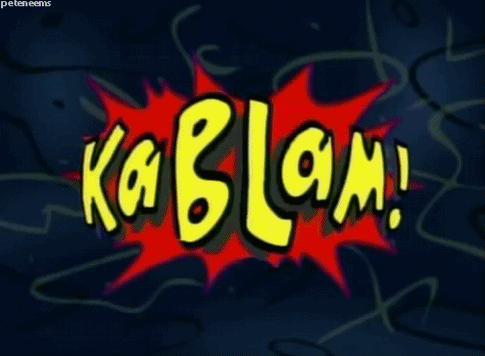 There's a reason I had never heard if Ka Blam until recently. This show is awful. I know that's harsh, but it's true. It features a collection of shorts, most of which are pretty bland. Ka Blam commits the worst crime a cartoon can commit: it leaves little to no impact, and I forgot about it almost immediately after I watched it. Wouldn't recommend, unless you like things that are basic and uninteresting.

12. Angry Beavers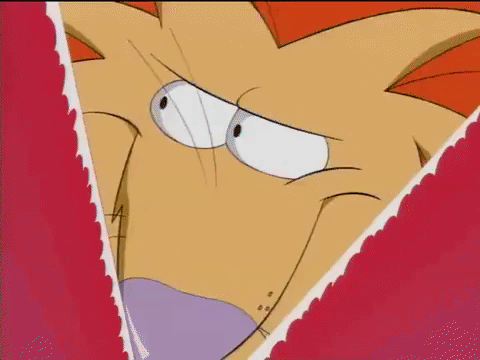 Meh. This show, from what I saw of it, seems like it has good elements (like adult humor, exaggerated animation) they're just not fully realized. I think there's some potential with Angry Beavers, but it doesn't hook me enough to care, and that's the show's biggest issue.
11. Rocket Power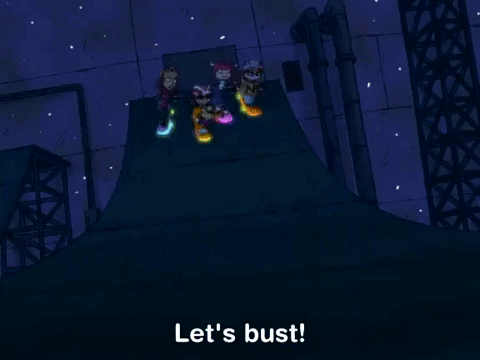 I remember watching Rocket Power when I was younger, but I don't remember much about it. It's a decent show, it's fast paced, and is always moving. The backgrounds are pretty, but the characters aren't that memorable. It's a fun show, but nothing to write home about, unless you love skateboarding
10. As Told By Ginger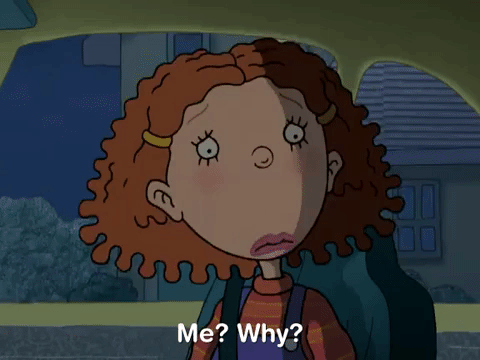 This is more of a slice of life, teen drama show, which is which is very different for Nickelodeon. But, As Told By Ginger is smart and offers realistic interpretations of a young teenage girl trying to cope with growing up. It's not zany or over the top, but it's emotional and sweet, and sometimes you need that
9. Aaahh Real Monsters!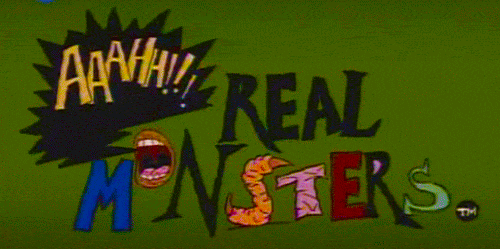 I haven't seen much of Aaahh Real Monsters because I was afraid of it when I was little. But now that I'm older and don't find the monsters fear-inducing, I can say that I enjoy Aaahh Real Monsters. There's a lot of creativity to it, both in the concepts and designs. For example, if the monsters wish to return to the monster world from the human world, they flush themselves down the toilet, that's pretty clever. It's also got some pretty decent tongue-in-cheek humor, too. I can't say it's one of the best Nicktoons, but it's much better than I expected.

8. CatDog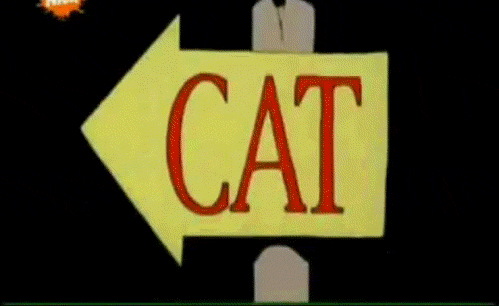 You'd be hard-pressed to find a cartoon more strange than CatDog. The very idea of a Cat and a Dog stuck together as sort of Siamese twins, is very weird, but a lot of the comedy comes from this weirdness. I really like the relationship between Cat and Dog and the Greaser Dogs are pretty cool. But more than anything, CatDog is strange, but hey, kids and adults alike are suckers for strange. (Side note: PLEASE stop with the stupid jokes and questions about how CatDog uses the bathroom.)
7. Doug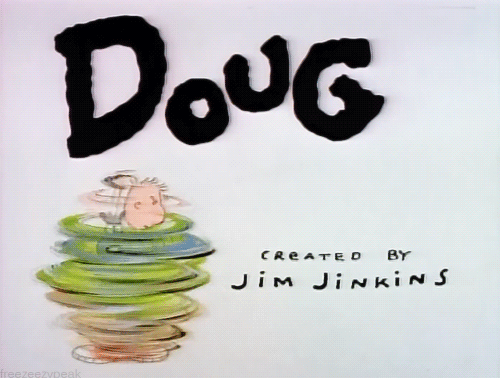 Although I can't say I watched Doug when I was little, I have enjoyed it in recent years. It's a simple story, following the life and antics of 11-year-old Doug Funnie. He has a best friend, a bully, a crush, a lovable dog. It's standard and has pleasant yet minimal animation. It's been criticized for being boring. Honestly, though, I think Doug is pretty harmless and is likable and sweet enough to check out at least once.
6. The Wild Thornberrys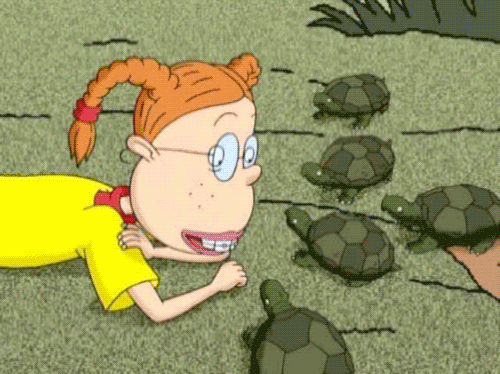 Nigel memes aside, The Wild Thornberries is pretty imaginative. It revolves around a girl who can talk to animals. I was awed by the possibilities when I was little and still am today. The animation, and backgrounds, particularly, are really pretty. It's also cool to get a different setting each episode. I also watched the movies frequently when I was little, check it out. Both the show and the movie are SMASHING.
5. The Ren and Stimpy Show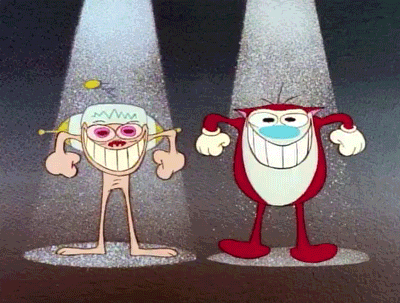 I never watched Ren and Stimpy until I became an adult, but surprisingly, it might be a better this way. Ren and Stimpy has a very adult tone despite its cartoony style. It's interesting to see these two elements clash with one another on screen. The animation is very fast paced and exaggerated, which matches the tone of the jokes. I really like all of John K.'s designs, there's something beautifully retro about them. The relationship between Ren and Stimpy themselves is also great. The show represents the wild child in us all and is truly one of a kind.
4. Rocko's Modern Life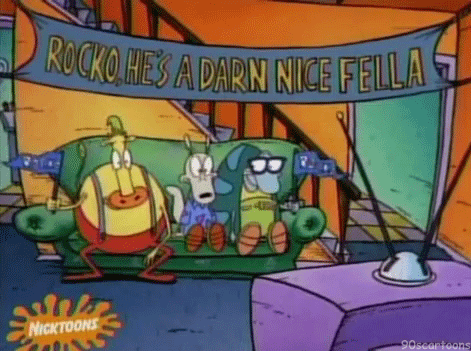 If you took Spongebob Squarepants and added in more blatant sexual references and a cute little Australian Wallaby you'd get Rocko's Modern Life. Created by Joe Murray (who also created the Cartoon Network cult classic, Camp Lazlo) and an all star lineup of writers, Rocko's Modern Life is HILARIOUS. There are just so many adult jokes and references; some episodes have me laughing on the floor. The characters are also really fun, both in personality and design. The artwork and background are done in a very unique, wonky style that matches the tone of the show. Nothing else to say but Rocko rocks.
3. Hey Arnold!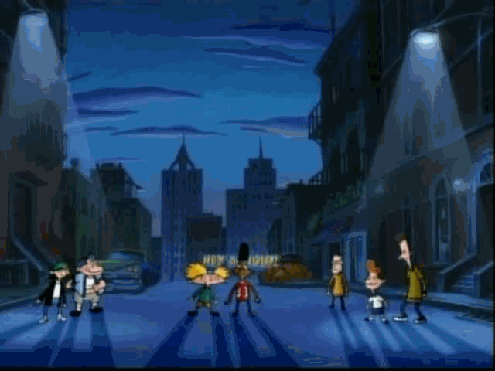 Few shows are as beloved as Hey Arnold. Even though the concept may have been simple, the characters and the environment is where the show really shines. Arnold himself is a fearless optimist, a role model for kids and a ray of hope for adults. Helga is also one of the most complex characters in Nickelodeon history. There's such a kindness in this show, and most of it comes from the characters and situations. It's a great for little kids or for big kids to revisit.
2. Rugrats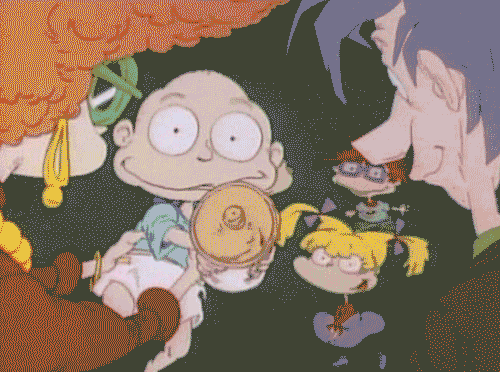 Confession time! When I was little, The Rugrats was my favorite show. But aside from my bias, I can honestly say from a television analysis standpoint that The Rugrats is a great show. It's fun for little kids and has clever writing for adults. The all the characters are likable and have very distinct personalities and great voices to match. (Chuckie is the best though.) The animation is bright, colorful, and full of soft lines, making it ideal for kids and nostalgia-evoking for adults. The three Rugrats movies, (one of which, The Rugrats in Paris, the first film i ever saw in theaters) are also great. Check them out when you're done here.
1. SpongeBob Squarepants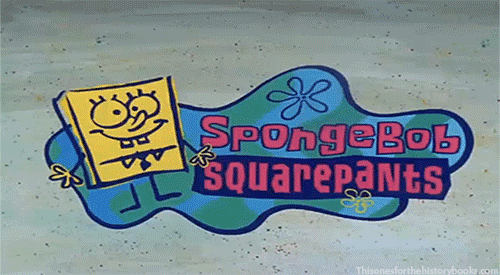 SpongeBob Squarepants...he was number one! It's crazy to think that if Spongebob Squarepants had come out eight months later, it wouldn't have qualified for this list. Spongebob is without a doubt the most iconic show Nickelodeon has ever produced, and there's a good reason for that. It's hilarious, the characters are all memorable, the animation is perfectly cartoony, and everyone is still quoting it. Heck, I'm still quoting it, nearly 20 years later. If that's not the ultimate compliment a show can get, I don't know what is.
Cover Image Credit: Netflix