Welcome back
Sign in to comment to your favorite stories, participate in your community and interact with your friends
LOG IN WITH FACEBOOK
cookies
Benefits of homemade cookies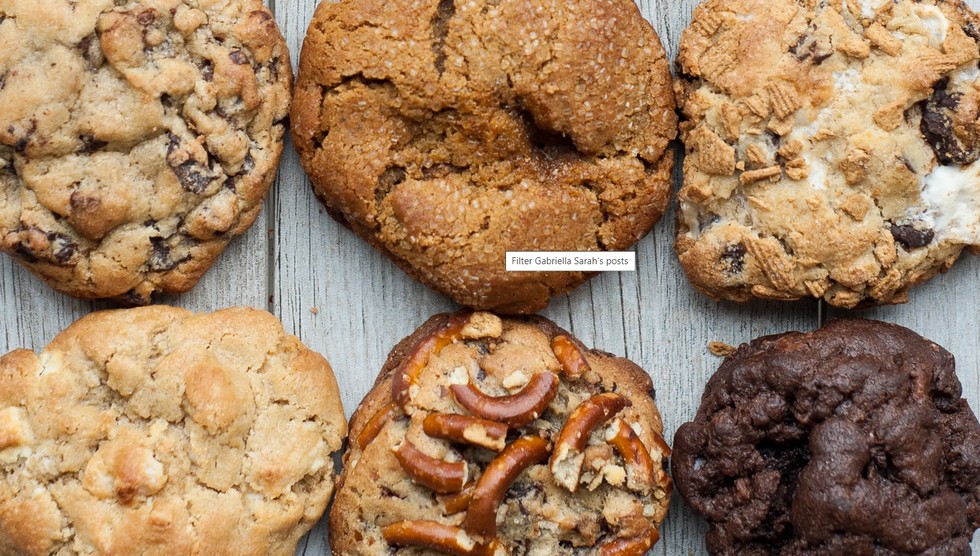 Report this Content
This article has not been reviewed by Odyssey HQ and solely reflects the ideas and opinions of the creator.
Subscribe to our
Newsletter
Featured
Jeevti from Pakistan would like to tell you so herself.
478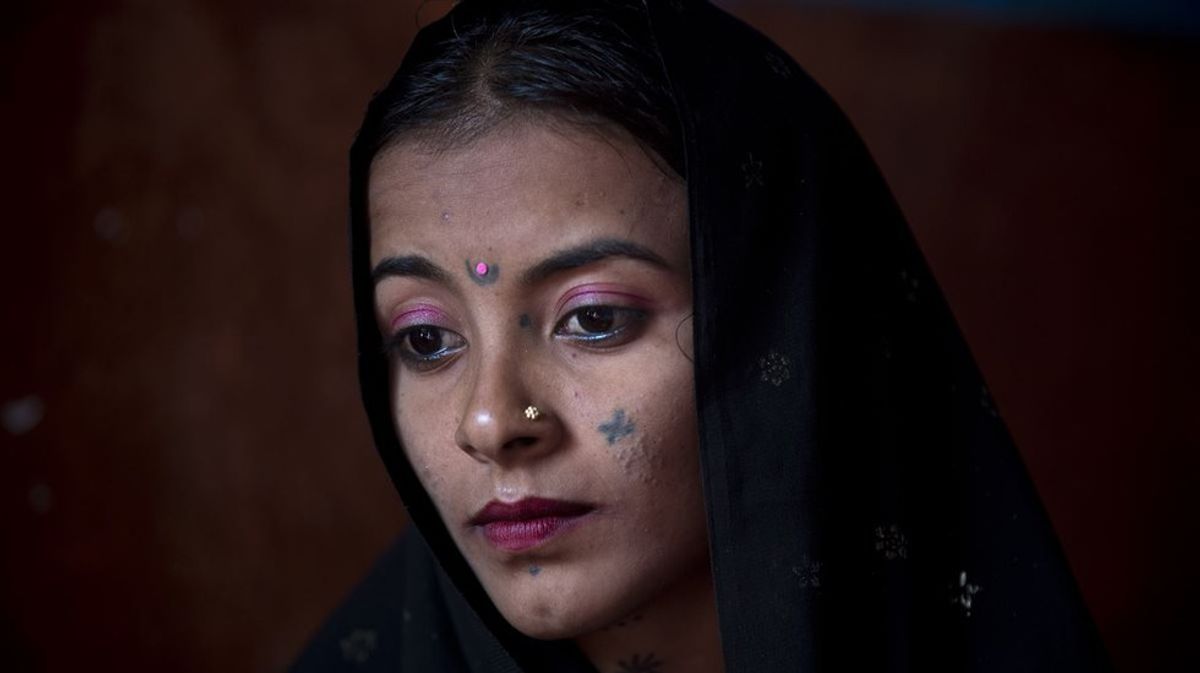 Standard.net
Unfortunately, at this time of year, we tend to overlook how incredibly blessed we are. We live in a free world, where we should not have to fear being penalized for our gender, sexual orientation, beliefs, or values. This is a fact we take for granted; in many other countries, simply being born female makes you an immediate target.
My thoughts and prayers this week are with a young Pakistani girl named Jeevti. She lived with her family, who lived and worked on a farm owned by someone else. When they initially began working this land, Jeevti's family borrowed the equivalent of $500. This loan spiraled into more and more debt for this family, who was struggling to pay it back. The final total doubled the original amount. In Pakistan, there is a terrifying (and under-the-radar accepted) method of debt repayment: young girls.
One night, Jeevti's family was forced to sleep outside on their lawn because of unbearable heat. When they woke the next morning, Jeevti was gone. The man who gave her family this loan, Hamid Brohi, decided that Jeevti would suffice as the $1,000 they owed him. In the middle of the night, this man stole a fourteen-year-old little girl away from her family to keep as his property.
The family hired a well-known activist to aid them in freeing their little girl. Veero Kohli also captured by a man when she was a young girl, and she now works to free oppressed females in Pakistan. Kohli went to the authorities immediately, and was extremely let down by their response (note: Pakistan is an incredibly male-dominated society, wherein all women are viewed as "less than".) \
The police informed Kohli that there was no rescue needed, seeing as Jeevti clearly went with Brohi of her own free will. She even signed a statement that expressed her desire to marry Brohi and convert from her family's Hindu religion to Islam. She also changed her name from her Hindu name Jeevti to the traditional Islamic name Fatima.
Here enlies the problem: Jeevti cannot read. Jeevti signed this statement signifying that these were, essentially, her own words. She could very well not even know what she has signed! Also, she could have easily been coerced (read: threatened) into signing the statement. Kohli paid a visit to Brohi's home to see Jeevti for herself.
Jeevti reportedly kept eyeing her new husband fearfully. She also "could not remember" quite what she said in her signed statements, contradicting them several times. When Kohli returned to the home, the room in which she met Jeevti was padlocked. When Kohli asked around the community, no one there had heard of a Fatima or Jeevti at all. When Kohli called the police again, they simply dismissed her concerns.
This is an uncommon tragedy in Pakistan. Little girls are frequently taken by grown men and sexually assaulted, forced into marriage, and forced to convert to Islam (if they are not yet Islamic.) Girls from Christian and Hindu families are often those targeted, especially those found to be conventionally attractive. As if this situation is not dire enough, it is worsened only by the fact that all of it is regarded as legal.
While we are all celebrating such a joyful time in our lives, I hope we can remember those who are unable to feel this happiness. For Jeevti's family, their lives will never be normal again until their family is made whole again with the release of their daughter. As of now, that is not looking like a strong possibility.
Somewhere in Pakistan, there is a scared little girl who was forced into something no one should have to go through-- and remember, Jeevti is far from the only one. If a fourteen-year-old in the United States was set to marry a grown man, a whole country would take up arms!
Please, at the very least, do not forget the plight of girls like Jeevti. Imagine how she feels: not only is she trapped and in danger, she is stuck in a country who views this as normal.
Humans are not property. Humans cannot be bought, sold, and traded. This is disgusting, and I will not REST until this practice is put to an end. Don't give up, Jeevti.
https://www.yahoo.com/news/snatched-night-pakistani-girl-enslaved-debt-064114925.html
Keep Reading...
Show less
Featured
Hispanic is not a race
2224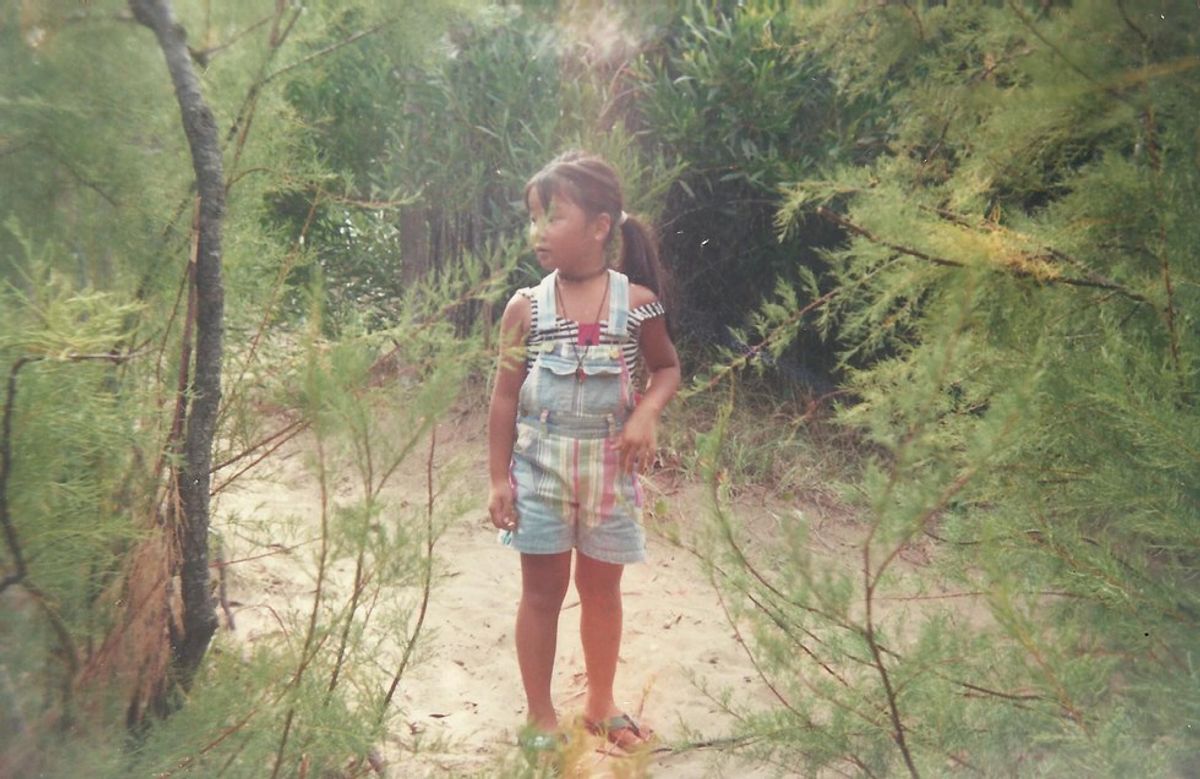 Melisa Im
My Ethnicity
Hispanic is not a race... it's an ethnicity. The term Hispanic describes a group of people whose common thread is language and/or culture. I'm a Hispanic woman born in Argentina to Korean parents. I self-identify as Hispanic/Latina and my personal experiences can't be summarized by the color of my skin or the languages on my tongue. That is because every single person in the universe has a unique experience. Whether someone labels me as Korean or Argentine or American, that will never change my experiences as a Spanish speaker, immigrant, child of divorced parents, Californian, college graduate (Go Bears!), omnivore, writer, or any other label I choose for myself.
(In the video the two men in front of a white-passing Mexican man make fun of him and say that he can't possibly be a real Mexican. When he turns the tables and makes fun of them for ordering mild tacos, two other men join in laughing at the duo. Hurt, one of them throws a racist remark to the Asian man who responds that he, too, is from Mexico. As does the last gentleman. Appearances can be deceiving)


Discovering My Race
People who believe that we live in a post-racial America don't know what it's like to discover race as opposed to being brought up in its cage. I discovered I was Asian when I arrived in this country, a country where I was constantly asked what kind of Asian I was or where I came from or where my parents are from. A country where someone driving down the street yells racial slurs at me. A country where I have to figure out if I am "hispanic/latina" enough to join the Latino clubs or not Asian enough to join the Asian clubs. A country where I am absolutely terrified of every Spanish word I forget due to disuse. If I lose my language, with the appearance that I have, then who will I be? I was already pushed to the edges of Korean communities for not knowing Korean. Language is so essential to belonging. It is in entering new spaces that we learn the most about who we are. It is in struggle, through the walls that push against us, that we find our truth and identity.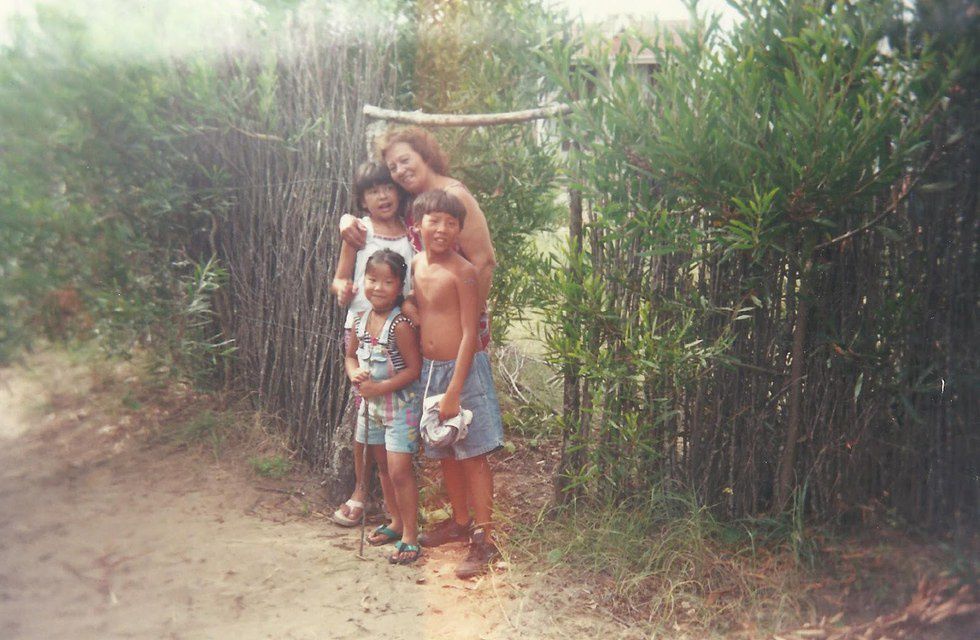 (This is my dad's friend, my babysitter's daughter, my brother and me. We had played outside all summer long so we had turned a lovely brown shade)
Racial Experience + Ethnic Experience = ?
I always believed that my upbringing made me a "person of color." Someone that brought a unique perspective to workplaces dominated by people who had known privilege most of their lives. Privileges that could be as simple as not migrating countries, or coming from unbroken homes, or even having parents who could offer financial advice. As I progressed and grew in the United States, I came to understand that I had my own set of privileges as a person of color that stemmed from the fact that I was neither black nor visibly hispanic. There is a systemic disadvantage, one that can be deadly in this country, when you look a certain way. Which is why it is of utmost importance to use that feeling of belonging to an oppressed group in tandem with my physical privilege to uplift those with greater struggles than mine.
(In this video this woman recounts her experience with racial profiling and how her sister, who appeared white, used her appearance to stand up against the injustice)
We must create a world where everyone has the same opportunity to belong. This isn't an uncommon experience, globalization has ensured that. Just listen to my friend Alex, a man whose ethnicity clashed with his race:

Or to my friend Brian who had to toe the line between not being White enough and not being Mexican enough:
Intersectional privilege empowers us to be more. Let's increase our sense of belonging and exercise any shred of power we have to make the world a more inclusive and empathetic place.
Happy Hispanic Heritage Month!
Keep Reading...
Show less
Featured
Here's some things you could do.
4317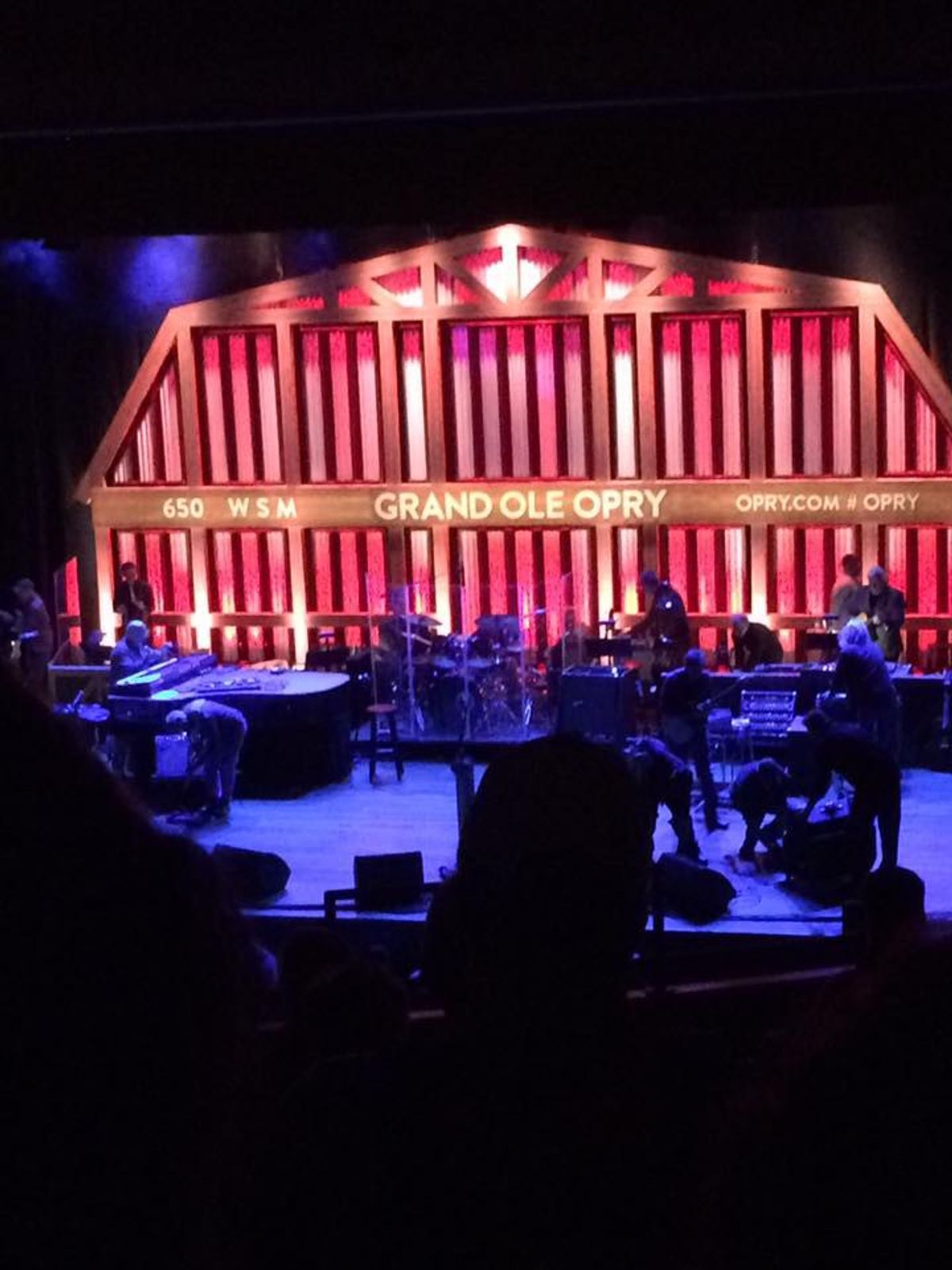 Kaitlyn Wells
I have had the opportunity to visit so many places in my lifetime, and recently one of those places was Nashville, Tennessee. There is so much to do and see in Nashville but here are some of my favorites that I would highly recommend.
1. The Country Music Hall of Fame

Of course, when in Nashville, you should visit the Country Music Hall of Fame. So many great musicians, past and present, are recognized. The group I went with was also lucky enough to have a Q&A-type session with a current songwriter. It was great! If you are a country music fan then this is definitely one stop that I would recommend-- you may get the chance to learn more about your favorite artist!
2. Ryman Auditorium
The former home of the Grand Ole Opry, Ryman Auditorium is where the Grand Ole Opry is housed during the months in which the Grand Ole Opry House is under construction. Being in the historic building was just as exciting as the Opry House would be, and being able to experience the Grand Ole Opry was a treat as well.
3. The Schermerhorn Symphony Center
During the week long stay in Nashville, my group had the opportunity to see the Nashville Symphony at the Schermerhorn Symphony Center. The building was beautiful and the ensemble put on a fantastic show. This is one place, as a music lover, that I would love to go to again!
4. Broadway Street
Broadway street in Nashville is full of bars, souvenir stores, and cute little shops. There are also some great, small restaurants to wander into. Jack's Barbecue was delicious and not terribly expensive for a great lunch, and the Candy Kitchen is a fantastic place to stop for dessert after!
5. The Gulch
Most of my time in Nashville was spent in the Gulch area as this is where my hotel was. This part of the city is beautiful and fun to walk around. It includes many different restaurants and shopping spots as well!
While I did not get the chance to see as much in Nashville as I wish I could have, I truly did have a great time. There is obviously so much more to see, but here are some things that I would recommend if you are planning a trip in the near future! I surely can't wait to go back one day.
Keep Reading...
Show less
Featured
"I am dead inside."
4667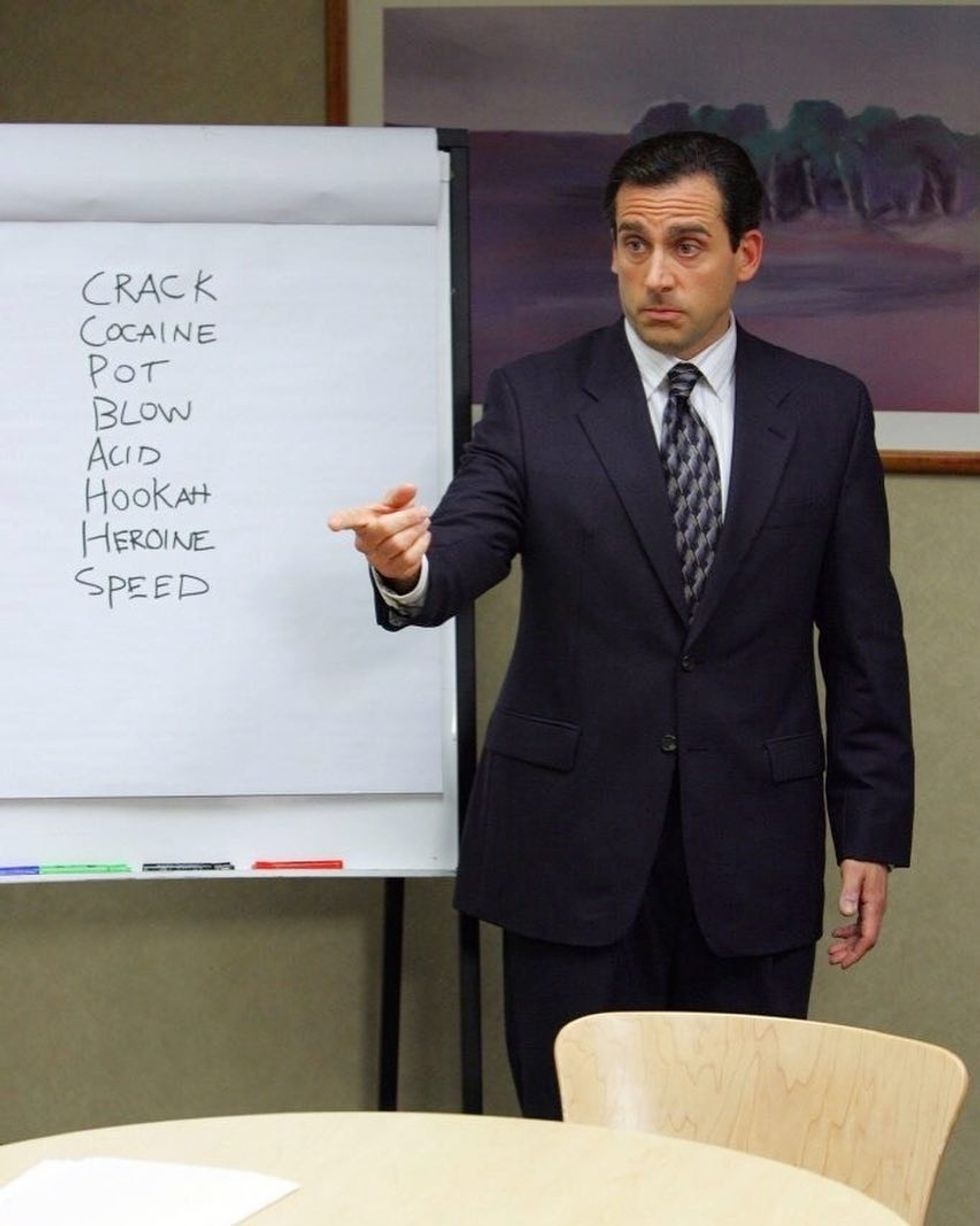 "The Office" is basically the best American TV show created in the past 15 years (you can fight me on this). And through all its hilarity and cringe-worthy "that would never happen in real life" moments, the show really does have a lot of relatable themes, as can be seen by the little compilation I put together of Michael Scott and Stanley Hudson.
Monday:

Mondays are the worst. They are the equivalent of Toby Flenderson. In a little spin-off of a Michael Scott quote: If I had a gun with two bullets and I was in a room with Hitler, Bin Laden, and Mondays, I would shoot Monday twice.
Tuesday:

Tuesday? Don't you mean Snoozeday? Come on, it's too early in the week to get any work done. We're still trying to cope with the fact that yesterday was Monday.
Wednesday:

Wednesday is hump day. Hump day means it's halfway through the week and two days from Friday. The weekend is great if you have an office job because you have no work for two days straight! If you can make it through Wednesday, you can make it through anything. Just take on Michael Scott's optimistic attitude about life even when times are rough and you'll be fine.
Thursday:

Once Wednesday is over, you come to the realization that you have to survive one more day. And if you're like Stanley Hudson, you're typically a pessimist. So that last full day before Friday might just feel terrible to you.
FRIDAY!!!

This is the day you've been looking forward to all week. You never thought you'd make it, but here you are, Friday at 5 pm! It's like that season in the show when Andy was the manager and played "Closing Time" at the end of each day. Friday is literally "Closing Time!" Stanley knows what's up. So congrats, you made it through the work week--now go enjoy your weekend.
Keep Reading...
Show less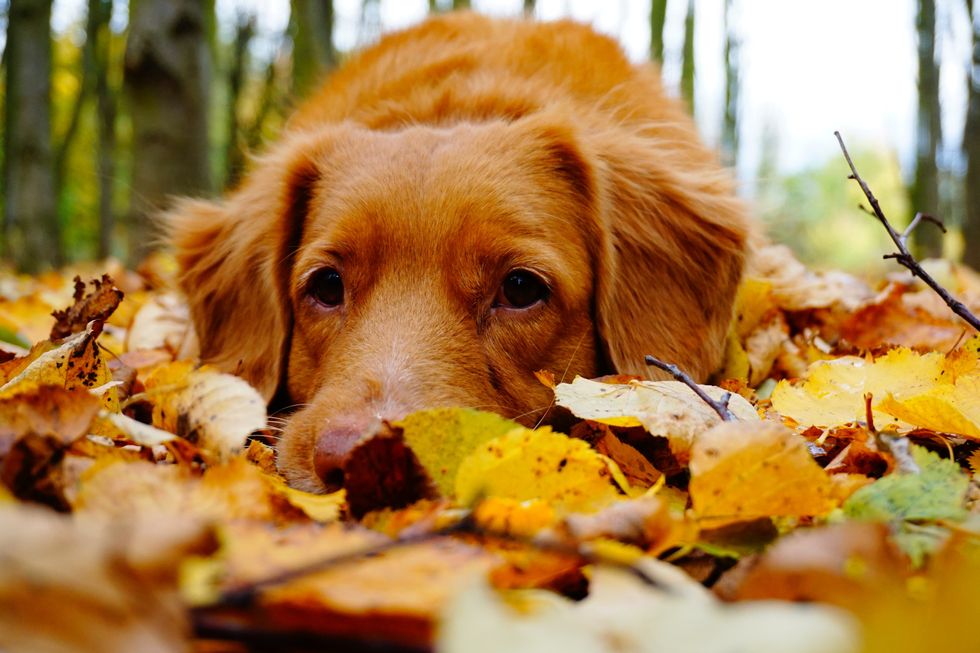 I have never liked the month of October. I like the fall weather and the beginning of wearing sweaters in the crisp fall air, but I never associated this with the month of October.
October as a month for me just has no substance.
Halloween is not my favorite holiday. It never was, and it never will be. Yes, dressing up into costumes of your favorite television personas or movie characters can be okay, but I do not understand why this makes people go bananas for this holiday. The only good thing about Halloween is the "Halloween Town" movies that played on Disney Channel. I loved those movies.
October is associated with getting scared in mazes and haunted houses before Halloween. Maybe it's because when I was little, I went on too many haunted rides with my friends who loved them or because I am traumatized by the thought of scary haunted houses, but I never have liked the appeal of being scared either. Why do people voluntarily want to be scared by others in corn mazes, houses, or jails? I just never understood the love for that state of mind. Forget about scary movies, I avoid them at all costs. The Sunday scaries scare me enough.
Pumpkin spice anything is also disgusting. Pumpkin carving is fun as well as apple picking, but I associate these activities with the season of fall. The smell of pumpkin candles or the pumpkin spice latte at Starbucks just makes me upset. I never understood the love for pumpkin flavoring. Maybe, I just don't understand it, but gingerbread cookie flavors taste amazing and the smell of Christmas trees beats the smell of pumpkin in every way.
Sorry, October. I know so many people who consider you the best month of the year, but personally, I disagree. November and December are way better months overall than you. You are overrated.
Keep Reading...
Show less
Subscribe to Our Newsletter