You just turned three years old. Your parents think its the right time to get you involved in some physical activity as well as meet some potential play daters. The choice ultimately ends up being dance class, starting of with tap and ballet. Years went by and you tried it all whether it be ballet, pointe, modern, jazz, and hip hop. You fell in love with weekly classes and working your way to the recital at the end of the year where you got to rock bold makeup and flashy costumes. One thing led to the next, and dance was no longer apart of your schedule. If some of these things below pertain to you, you may be missing your dancer phase.

1. Every time a song comes on you make up choreography in your head.
The moment a good song comes on, you instantly become a professional dancer in your head. Doesn't matter if it's alternative, R&B, or rock, in your mind, you can pull any dance off.`

2. Songs you danced to will never be viewed the same.
Before you ever learned a dance to a song, it was probably a song you could jam out to and listen to on repeat. Now, the song is clouded with memories of your old dance class, the constant practicing of choreography, and the anticipation of the performing at the dance recital at the end of the year. You will never hate the song, but you just can't look at it the same.

3. You contemplate joining dance clubs in college.
There's a lot of clubs you can join on a college campus that will boost your resume. If you're a psychology major, you can join clubs specifically targeted at your major. On the other hand, there's more eccentric options such as belly dancing and various other dance groups that probably catch your eye immediately.

4. Your favorite gym workouts are zumba and hip hop cardio.
Working out is never fun, until you discover upbeat workout classes. You're working up a sweat but all you can think about is mastering all the dance moves.

5. You still have old dance shoes and tights somewhere in your house.
Will you ever need dance shoes and nude tights for a special occasion? Probably not, unless you put together a random Halloween costume.

6. You view old dance DVDS/VCRS any chance you have.

Sometimes it's fun to relive your glory days on stage. Or sometimes it's
funny to see yourself give over exaggerated smiles pretending like you're
on Broadway.

7. You remember every costume you've worn and every traumatic quick change.
Every costume was over the top with sequence, hats, and frills, but you enjoyed it. However, you probably don't miss having to rapidly change into your next costume with one performance in between yours. Sometimes you had to take out a tight bun and style your hair half up half down and touch up your makeup for your next performance.

8. You still use techniques from warm ups and cool downs as a workout tool.
At the gym you remember all your warm up, stretches, and workout techniques from dance and continue to use them, because that's what you know best, even though you're dancing skills have become a bit rusty over the years.

9. You watch videos of choreography on youtube.
You can find some of the best dancers and dance studios on youtube. Deep down you wish you were dancing right beside them.

10. You feel like you can be the first non-celebrity on dancing with the stars.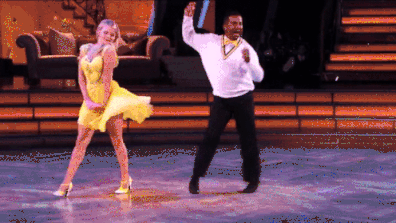 Watching celebrities start off as beginners on dance shows makes you want to join right in. You'd have the time of your life performing and in your head you'd win the show with prior knowledge of dance techniques.

11. Every time you pass your old dance studio, you reminisce on the good old days.