New beginnings. What a refreshing idea. When I think of new beginnings, I think of birthdays, new years, a clean slate. Every mistake is wiped clean with the momentous moments such as these. Often times, I find myself feeling stuck in a rut, longing to make some kind of change, but with no momentous moment in the near future, I often succumb to the feeling and merely meander along until everyone is making a pledge on New Year's Eve to make a lifestyle change. I allow myself to stay stuck in that place where I know I don't belong but can't find the courage to pull myself out of the rut.
In those moments is when I should be praying the Serenity Prayer--> "God, grant me the serenity to accept the things I cannot change; courage to change the things I can; and wisdom to know the difference."
It is so difficult to know when to take that step of faith and make a change in life, especially when I am comfortable. Why would I purposely change something in my life when New Years Eve is still months away? Here's what I have come to discover, however. The new beginning that I have been desperately searching for can happen anywhere along the way.
About a month ago, my family sent me my first of (hopefully many) care packages since moving back to college. Inside were some goodies, but my favorite part of any care package is the letters and cards written by my siblings. My mom always sends me Helen Winnemore's cards, the Curly Girl Design. I absolutely love them- they're so simple but cute and have wonderful quotes on the bottom. My roommate and I hang them up in our room because they're just good for decorations as well. I digress...the card Mom sent me in this particular care package had the quote "It is important to remember that the beginning can be anywhere along the way." At the time, I smiled and flipped it over to read the message my family had left me, then pinned it up with all of the other cards I have been collecting from them. Every once in awhile I would glance at the card and think that it was a cute quote, but I never thought much of it.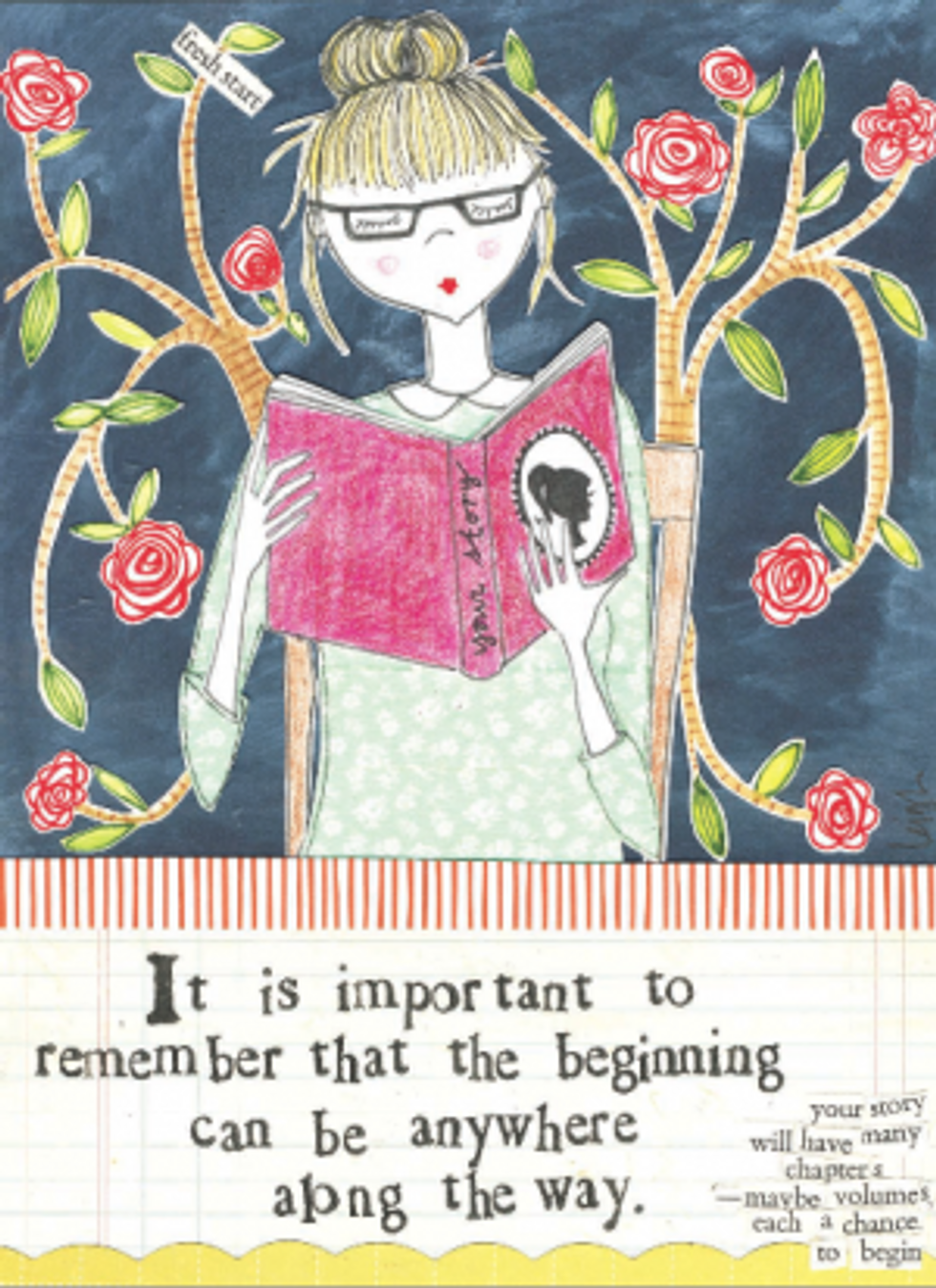 A few weeks later, I left ALIVE, a Catholic bible study on camps. We had just started a book called "Rediscover Jesus" by Matthew Kelly. The opening paragraph of the book says, "God loves new beginnings."

Instantly, in my mind I was back in my dorm room, standing in front of the card my mom had sent me just weeks before.
"It is important to remember that the beginning can be anywhere along the way."
Here's the thing...There will always be an excuse to not take the step of faith and make a change in my life.
I can continue to wait for the momentous moments in life to make a change; New Years Eve, my birthday...but those only happen once a year.
Who's to say that new beginnings need to happen only in these moments?
No, my momentous moments can happen at 9:30 on a Tuesday night when I am in my pajamas, curled up on a couch in the chapel at a bible study. My momentous moments of new beginnings can happen while I am running to class, sliding into my desk right as the professor is about to begin the lecture. My momentous moments of new beginnings can be on a Friday night, running around with my girlfriends, or walking around the lake in quiet meditation.
It is so, so, so vitally important to remember that new beginnings can happen anywhere along the way. As soon as I set my mind to it, my life can change. My life can change as soon as I take that step of faith out of my comfort zone and decide to just do it. I don't have time to wait until New Year's Eve for a revolutionary change in my life.
As for what the new beginning in my life is right now, I'm not sure. I am taking it as a message from God that He is doing something incredible in me. The change He is preparing me for will happen in His own time, and in His own way.