I recently had the pleasure of being able to attend an extremely informal Q&A in Boston with John Krasinski and his brother Paul. John Krasinski, 36, known mostly for his role as Jim Halpert on "The Office," brought an unmistakable energy that I found somewhat surprising from such a celebrity: authenticity.
The Q&A drew a large crowd of people-- mostly college students from the various universities around Boston-- and discussed topics ranging from growing up in Boston, to acting, to just life. It started with the two brothers talking and Paul asking John questions that he thought of for the crowd. The second half of the hour-long engagement dealt with questions directly from the the 100+ people there. The two Krasinskis, at one point, actually did 22 push-ups for veterans who have committed suicide with a fan that requested it.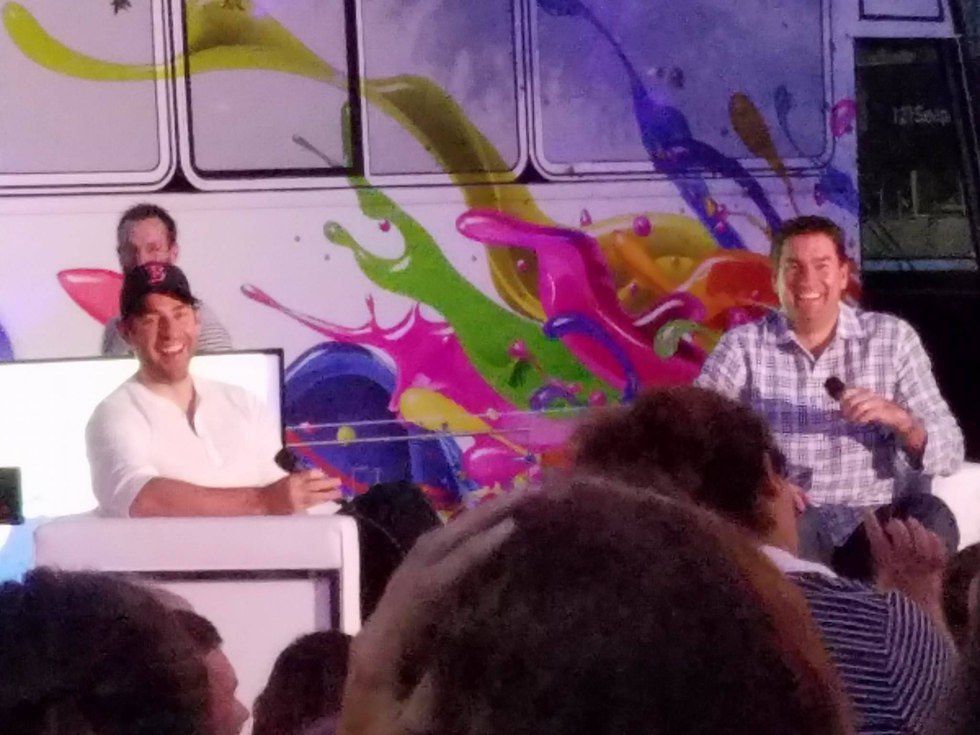 However, the most notable thing about the night was a simple and generally overlooked: authenticity. Krasinski spoke as though it were actually just a conversation, as though he wasn't a celebrity, or even remotely famous. He held himself and told stories of his success with a certain amount of humility that made everything he said just that much more compelling.
"Failure is absolutely an option," he told the crowd. He talked about his failures as an actor as much as his successes, even recounting that he nearly gave up on acting three weeks before landing his job on "The Office," just because his mother encouraged him to stay with it. They say that you have to fail before you can succeed, but Krasinski made it seem like that really was OK, and that potential failure didn't mean the end-- and fear of potential failure shouldn't stop you from trying at all. Krasinski gave himself two to three years to try and make it as an actor, recognizing how difficult of a field it is to get into.
Speaking with such an honest tone, he recognized his own privilege and luck, telling the young, inspired people in the crowd to do everything they could with what they had, and to take the bull by the horns and "jump with both feet in." Krasinski genuinely seems to understand the place in society that he was propelled into by working on "The Office" and the responsibility that comes with that position to bring awareness to things that simply don't have it-- like the 22 push-ups for veterans.
At the end of the day, John Krasinski talked to a crowd of over one hundred people as though he were talking to his friends at a bar, or maybe as he would part wisdom to younger siblings or cousins. He said what made "The Office" so incredible was the fact that the show (like himself) represented real life, and beyond that, that "the best story you can tell is real life." Krasinski himself is that real life; he's a celebrity that actually seems to have his head on straight, who knows his place and recognizes what should be done with that place, who sees his own luck and only wishes to help other people, so much so that he actually took an aspiring film major's card from the audience.
His talk was everything a person trying to find their way through college needed to hear. It was a mixture of reality and hope, of potential failure and eventual success. When you get older, he said, "you get to be a person you don't even know you are yet."
John Krasinski is a man who loves his family, who recounted his love of going home at the end of every day. John Krasinski proved himself to be like any other talented person; the only difference is that he got his gig. He was the most honest, genuine, authentic celebrity that I've ever had the absolute pleasure of seeing in real life because that's what the conversation with John Krasinski was like, real life.