When I'm sitting in the library, or the Student Union, or with my favorite cup of coffee I notice something. Among the sea of stressed out students, coffee shop authors, professors, and others, I see open laptops. Upon further review, these open laptops are covered in stickers.
Some people have their stickers spread out, others have the top of the laptop to the bottom completely covered. I began to think about my own stickers and what they mean to me. I decided to ask people about their stickers and I loved the responses I got. Here are the pictures and explanations I received, starting with my own.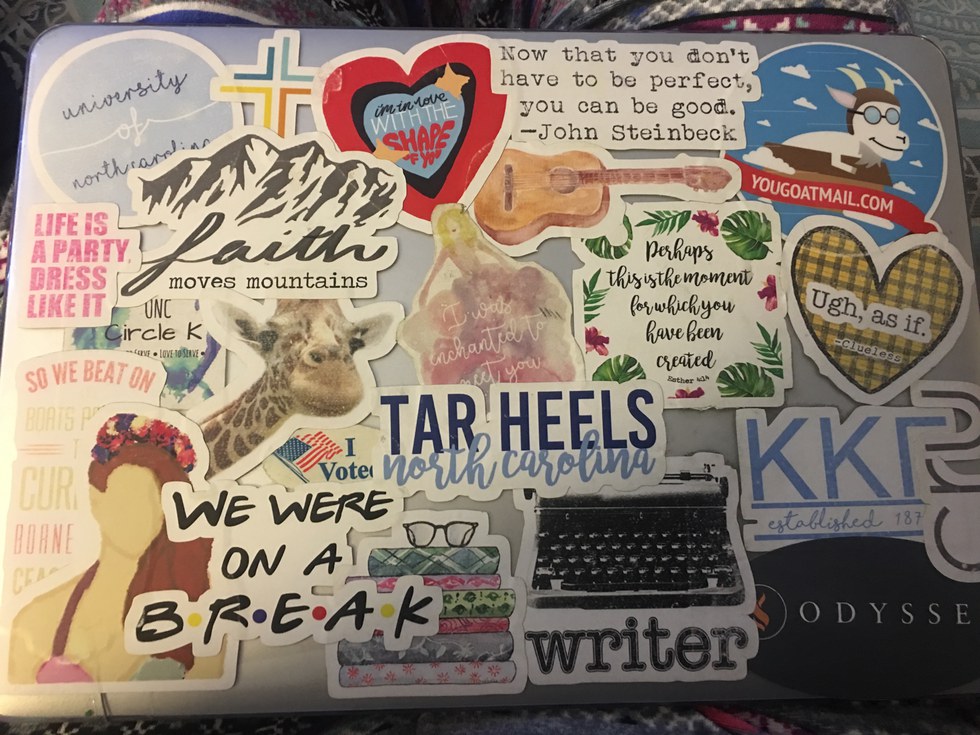 "My roommate helped with the arrangement and I love the way it turned out. For me, every sticker has a story behind it but my favorite sticker is the faith moves mountains one. Not only is it a fun play on words regarding my name, it reminds me every time I open my laptop that no matter how stressed I am, God is on my side and He has a plan for me. The faith of a mustard seed will get me through my hardest days."
Faith Newsome. UNC-Chapel Hill.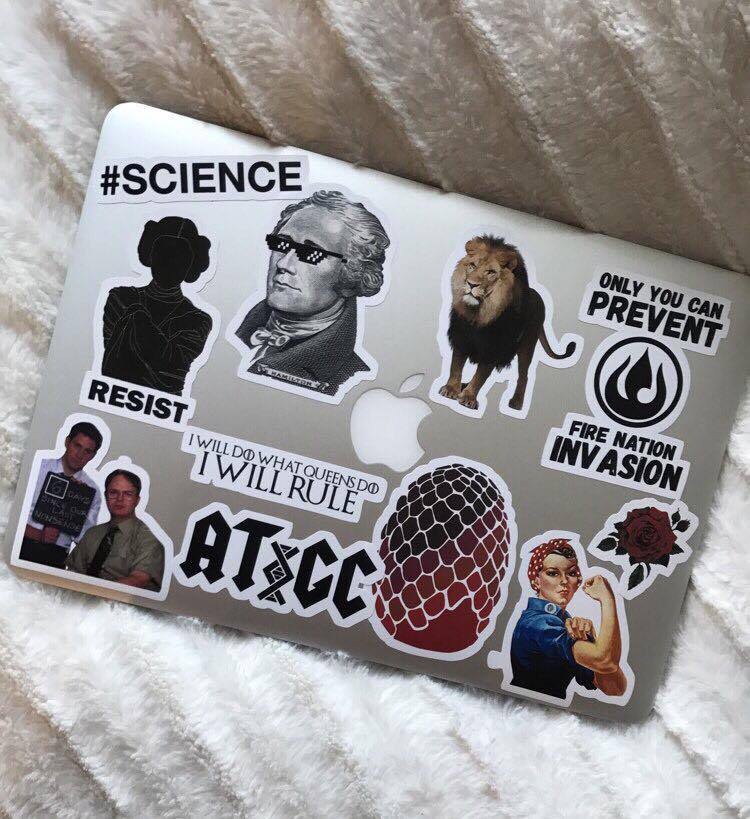 "The main takeaway from all my stickers is that I'm a giant nerd and I love to show it off. Having stickers like that are a great way to start conversations and meet like-minded people. But my favorite sticker is my lion sticker. It's not only my favorite animal but it's also a sly reference to my Hogwarts house #GoGoGryffindor."
Meredith Ellington. UNC-Chapel Hill.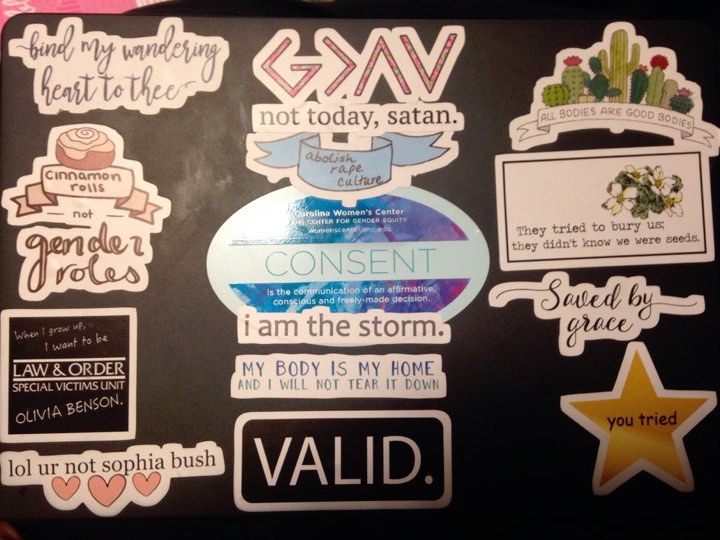 "Hmmmm...picking my favorite is hard because I like them for different reasons I think! I'll explain the one in the top middle-- it means 'God is greater than the highs and lows!' I saw it on a friend's water bottle and asked her what it meant then later got one. It's important to remember when things are hard because it's a reminder that we can't be taken down by what's bad because Jesus has already conquered it through the crucifixion and that He has us in His hands. And when things are good, they can be even greater because of Him...it reminds me of John 16:33."
Ashley Broadwater. UNC-Chapel Hill.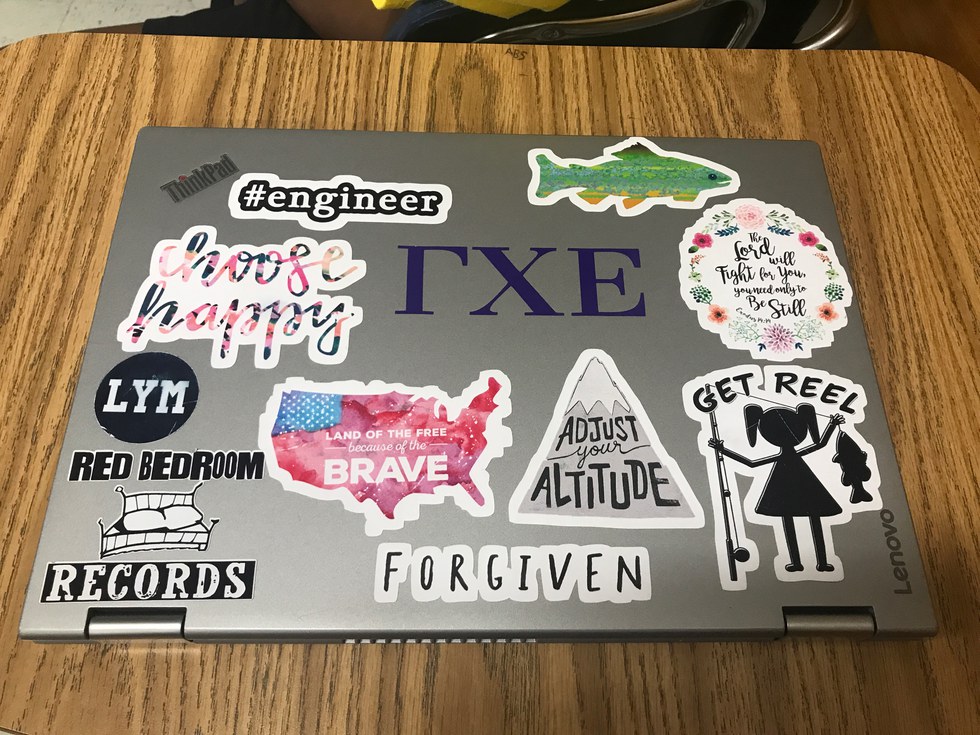 "'Choose happy' is my favorite sticker. I got it because I often need a reminder to brush off the little negative things that so easily put people in a bad mood and focus on the positive things and be grateful for them."
Emily Moffitt. East Carolina University.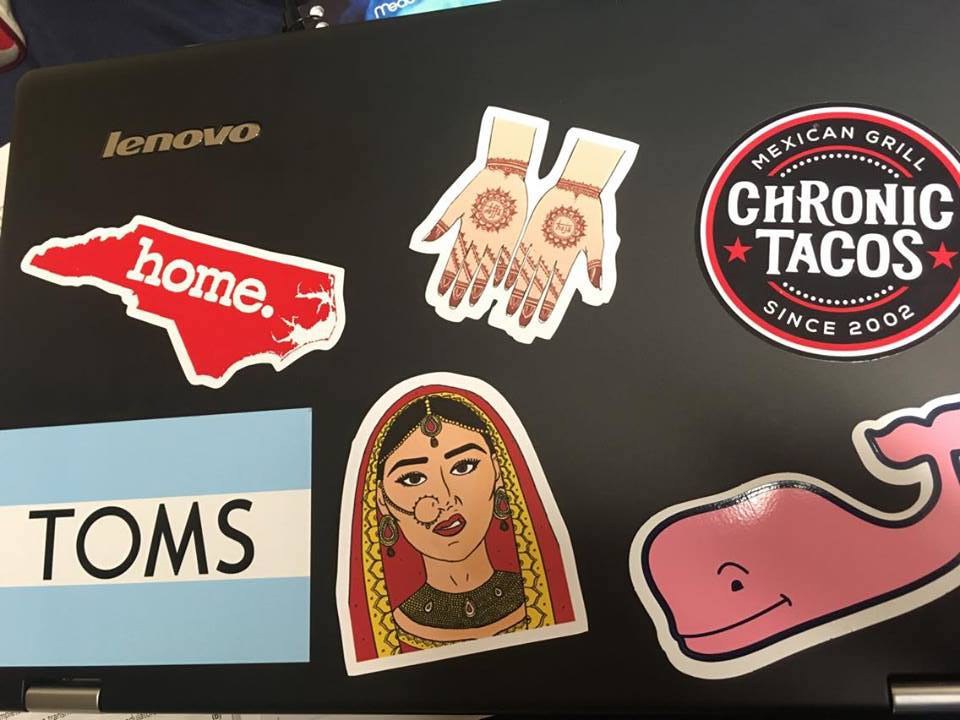 "I didn't completely cover my laptop with stickers, but I did want a few that would remind me of some important things. My favorites are definitely the Indian ones! They help me remember who I am and the annoyed face of the girl reminds me to keep making my side of every story heard.
Serena Kaur. UNC-Chapel Hill.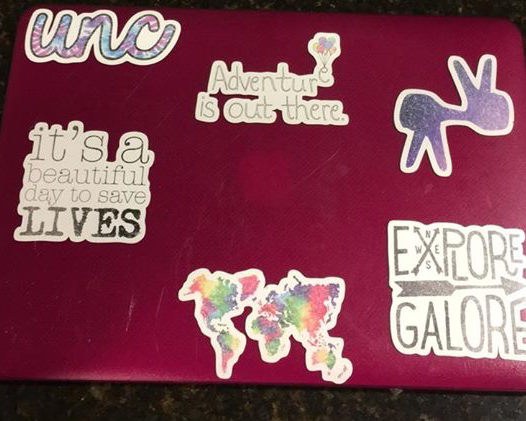 "I don't know if it's my favorite but I do love the 'it's a beautiful day to save lives' one. I know it's super basic but it reminds me of what I'm working toward in school, even if it is just a TV show (Greys, I guess I assume most people know that!). I also just love the fact that I haven't bought any of these for myself, they've all been given to me, and I feel like they really capture some of the most important parts of my personality, which is so cool to see that others pick up on that."
Kyndal Lemelin. UNC-Chapel Hill.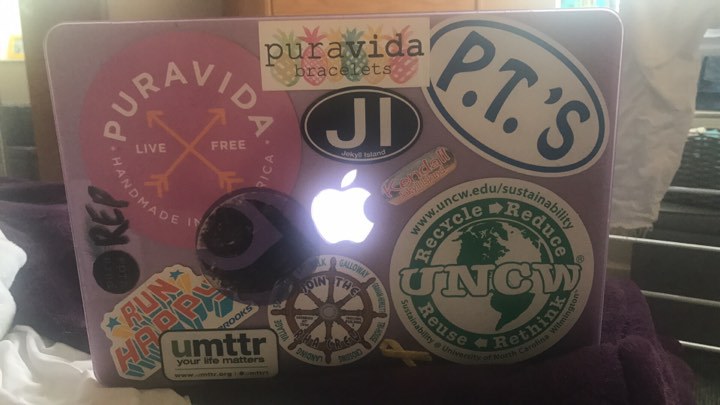 "The UMTTR sticker, as well as the yellow ribbon, both represent suicide awareness/prevention! UMTTR is an organization created by a college student and classmate/friend of mine named Justin Kay who created it in honor of a friend he personally lost to suicide. I recruited Justin for a suicide awareness program in my hall last year as an RA and received this sticker, flyers with the five signs of suicide to hang in my halls, as well as a magnet. It really gets the conversation going and sends out the incredibly important message that we all matter. My hope is that someone would see that message/sticker on my laptop and smile when they really need to, and walk away knowing they matter."
Kendall Thompson. UNC-Wilmington.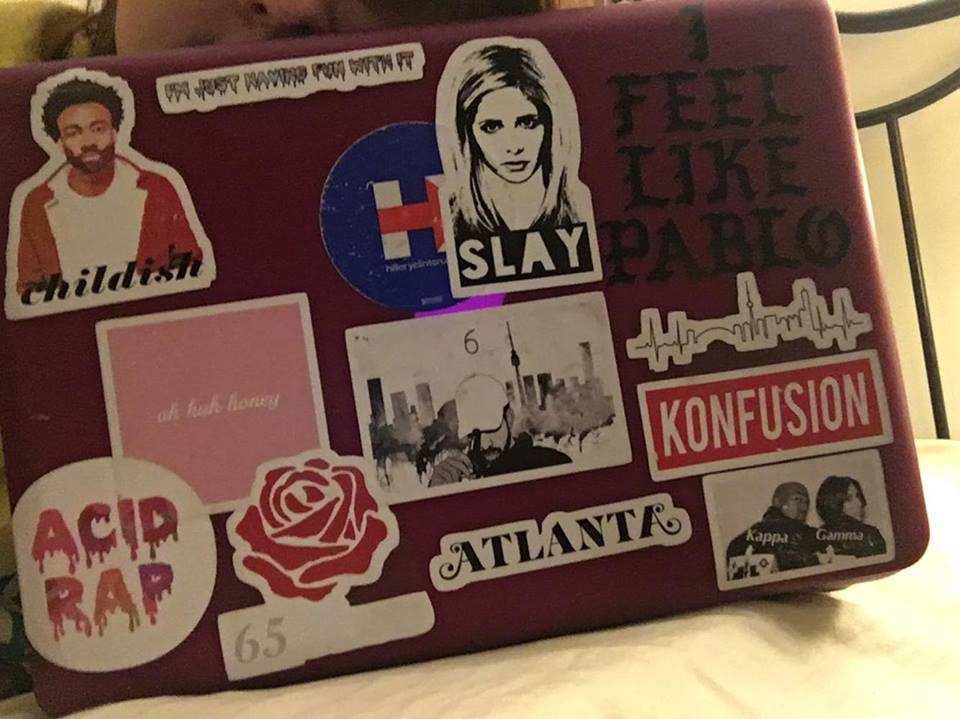 "Most of them are for music I like, a lot of rappers and stuff but my favorite is a toss up between the one that says 'Konfusion' because it's a really obscure reference to my favorite song and it makes me happy or the Buffy one that says 'Slay' because I just love that show and that character so much. To me, Buffy is the epitome of female empowerment and the kind of feminism I want to practice."
Kyra DeKoning. UNC-Chapel Hill.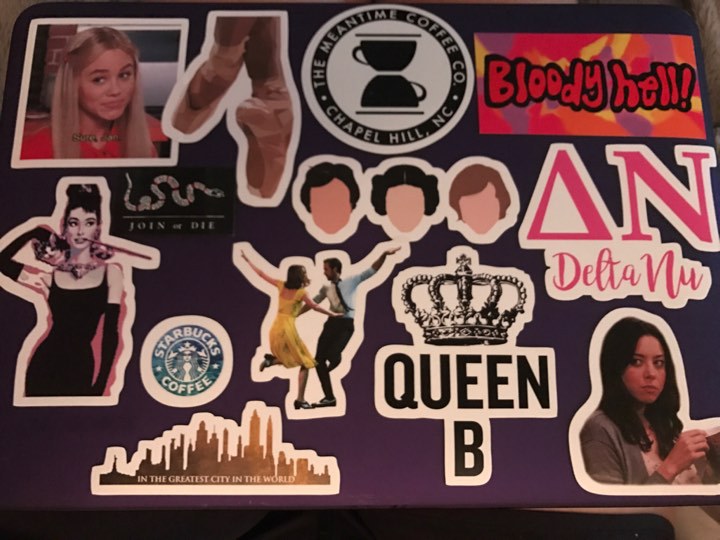 "The top left sticker is special to me. It's a meme from the Brady Brunch movie, which is a spoof on the original Tv show. It's the infamous 'Sure Jan' scene (if you don't know it, I would recommend looking it up!). I have the sticker because I can recite the whole scene by heart and a lot of people, no matter how well I know them, will ask me to do it because they think it's funny and say I have a perfect impersonation."
Brooke Smaltz. UNC-Chapel Hill.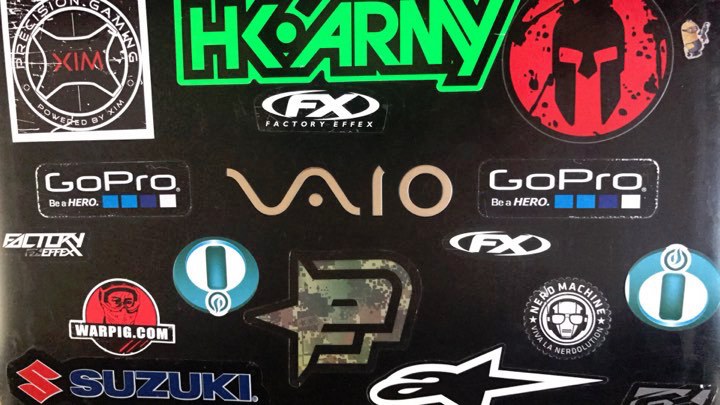 "And it's funny you tell me to choose my favorite because the Planet Eclipse 'E' sticker was actually in the box from the GEO your dad bought me for Christmas the year I started playing with the Cardinals. I still have that gun, it still has the original sticker on it, and in amazing condition. I will NEVER get rid of that gun!"
(For those unfamiliar with Planet Eclipse, it is a paintball gun brand!)
Dave Johnson. Fort Bragg, North Carolina.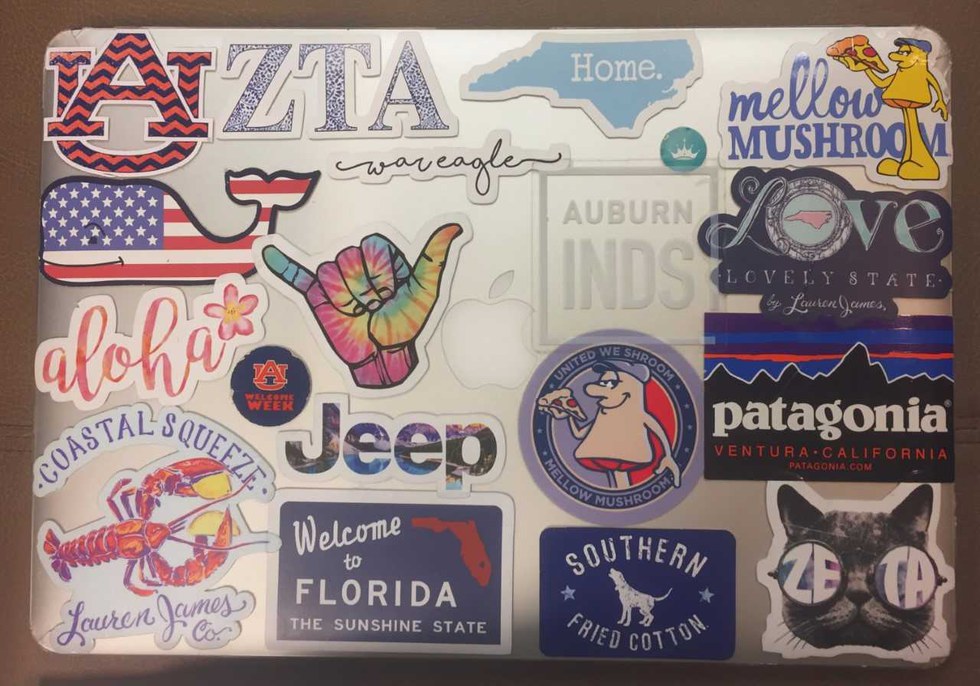 "Ahhh I don't know how to even pick a favorite because I literally had like a million stickers and it was hard to just decide which stickers to put on the laptop in the first place...I guess I'd have to say the little hipster cat with his glasses that say Zeta, because I love cats and Zeta Tau Alpha; or I would say the stickers that represent the states that I grew up in, Hawaii, Florida, and North Carolina."
Allison Elrod. Auburn University.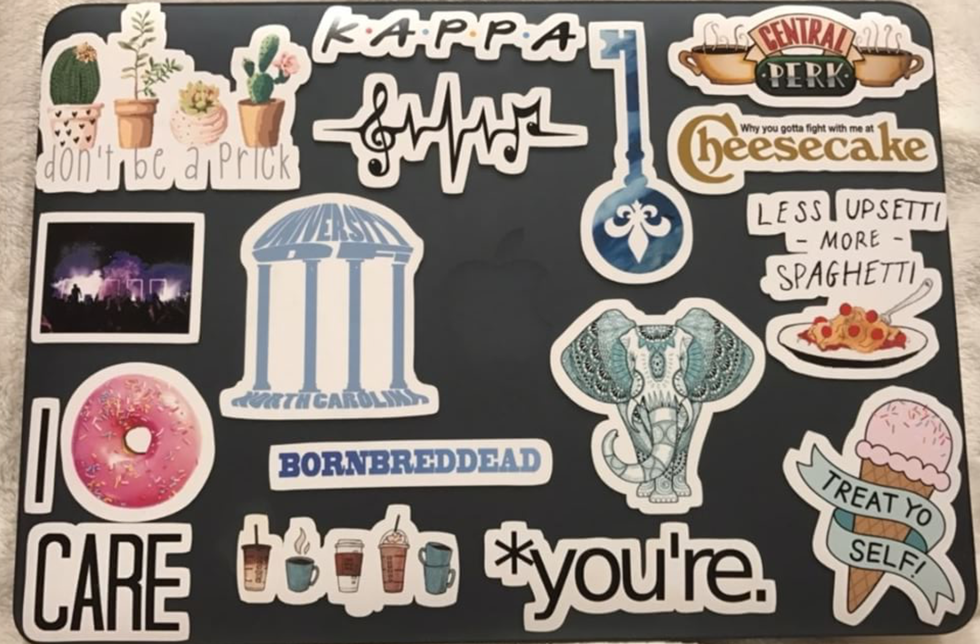 "My favorite one is the 'treat yo self' because 1. ice cream is my favorite food on the planet, 2. it's an allusion to one of my favorite Parks and Rec episodes, and 3. I feel like in school it reminds me it's OK to do some things for yourself in order to enjoy your time here and for your own happiness."
Lindsey Pope. UNC-Chapel Hill.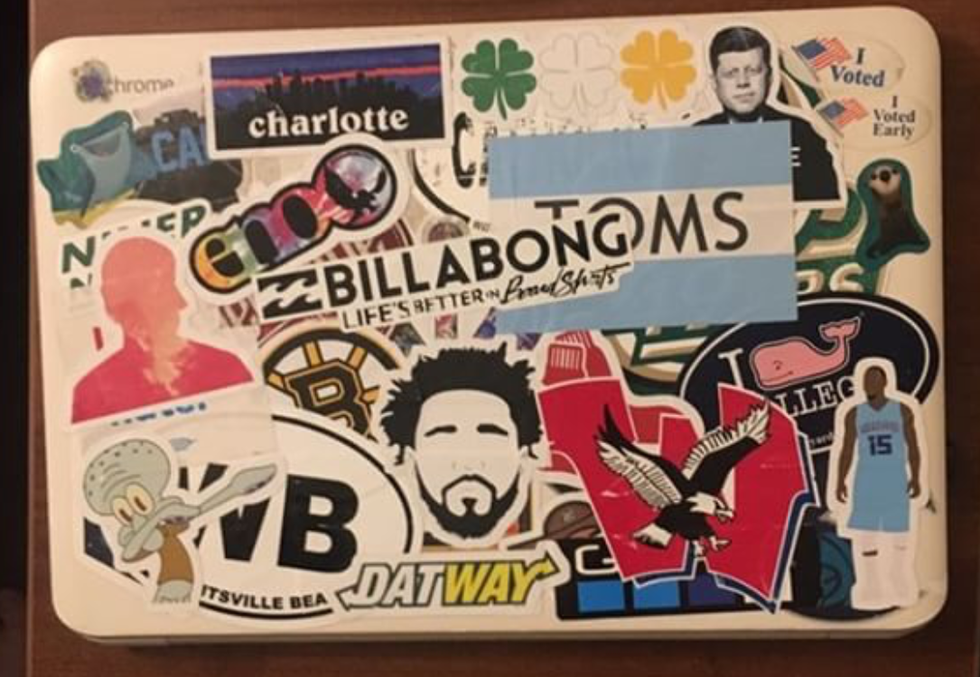 "I can't pick a favorite one so I'll just explain. I like to pull stickers from all aspects of my life. I have things like sports teams, brands, music, and also things and people who inspire me."
Ryan Graham. UNC-Charlotte.

---
I absolutely loved hearing the stories behind people's stickers and I hope you enjoyed reading them. If you see a laptop sticker that strikes your interest, ask the owner about it. Odds are they'd be excited to tell you more about what their passionate about.
Cover Image Credit: Faith Newsome