This past week, Ariana Grande ended up in the news again, but she didn't drop a new single. She suddenly wasn't dating Mac Miller, is casually dating SNL star Pete Davidson, and revealed why she and Miller didn't work.
Grande was called out by Elija Flint, a Twitter user who was definitely siding with Miller. He pulls out what seems to be the truth, only to be told that it was far from it.


Grande was sure to clap back with a statement on the matter, addressing the fans of both Mac Miller and her own. Sadly, no one buys the "we're still friends" schtick anymore, however true that ends up being.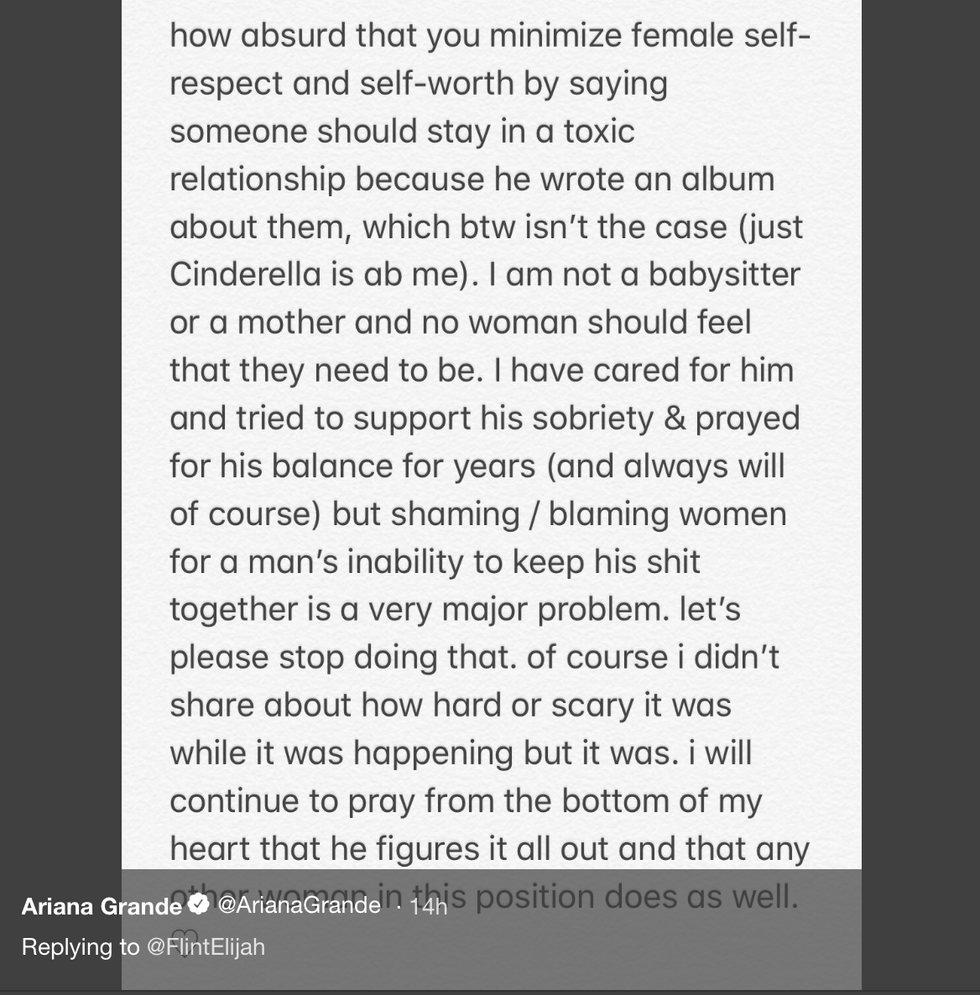 Grande stands up for herself, pushing her past toxic relationship into the limelight. In all honesty, this took some guts. I give it to her that she wasn't taking any crap from anyone when it came to how things were. A lot of celebrities ignore the flack, but she took a step forward and aired out her laundry. It's something she shouldn't have to do, but I'm proud that she felt comfortable enough to do just that.
Afterwards, Flint apologized, and all was forgiven from Grande: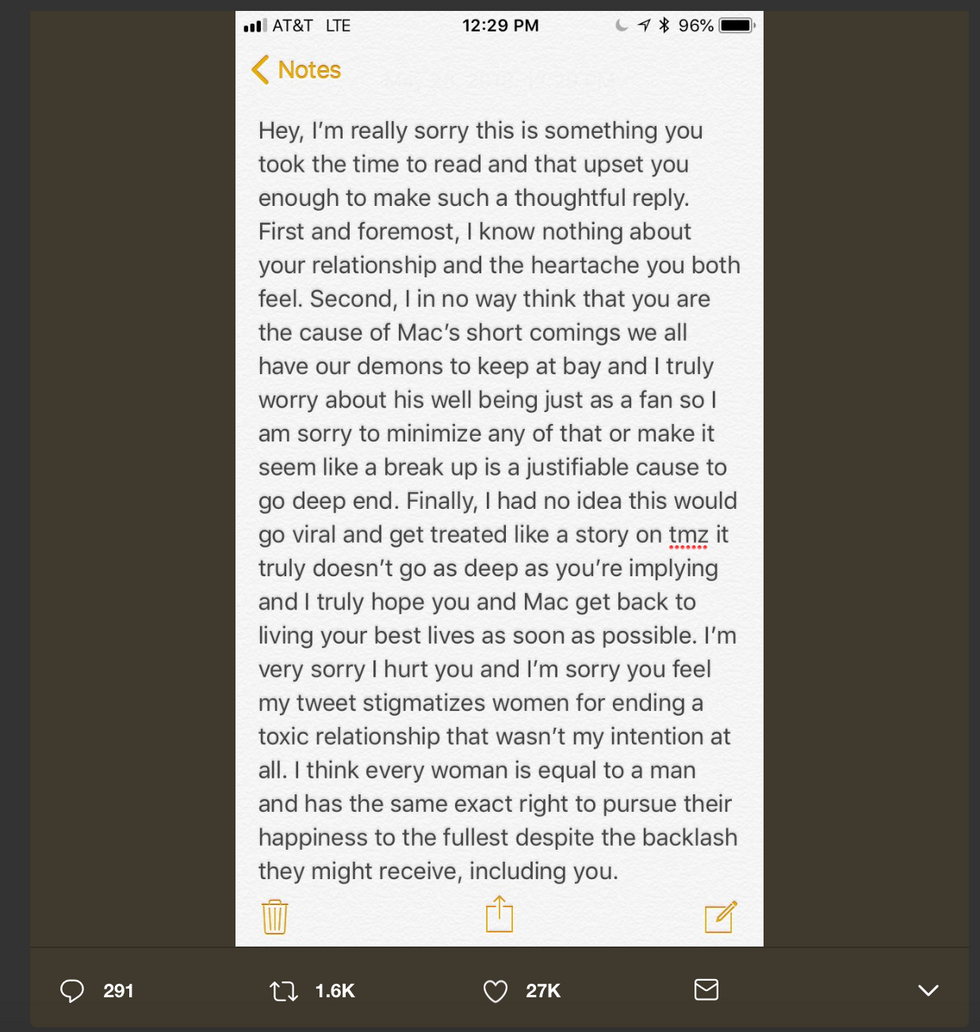 I'm also very proud of Flint for owning up to his mistake. That's something that a lot of people don't take credit for anymore, so claps to him.
However, I don't want to take away anything Ariana said.
You can only love someone so much before they become another bag to carry. Whether it's battling sobriety and addiction or other personal things, you can only do so much for a person before it starts to weigh on you. In some cases, it's like strapping cinderblocks to your ankles and letting someone drag you to the bottom of a river. And that's not fair.
Grande addressed something people don't talk enough about: Why do some people point fingers at the person who finally crawls out of a toxic relationship?
You're blaming a woman for not babying her man. Sure, you didn't know, but how many of these fans assumed the same thing? Your significant other is not your mother, is not your sponsor, and is most definitely not held accountable for the things you put yourself through. They can try to help you and aid you in your journey, but the less help you take, the more useless they feel.
You have to want the help.
Also, kudos to Ariana for still staying on Miller's side — praying for balance in his life and for his sobriety. She still supports him.
It's tough to leave someone like that — someone that you've invested so much time in and care for deeply. It's especially hard when all you want to do is help and they don't want it. I'm proud of her for taking that step to the side and hopefully, Mac Miller will grow and seek help.
Ariana Grande is a reminder to speak up in a toxic relationship. You can only do so much before you start getting hurt, too. Sure, we don't know the whole story, but we don't need to. It's none of our business.
However, I do feel the need to leave a number for those suffering from substance abuse and want to seek help. To those struggling with addiction and mental health, here is the number for SAMHSA (Substance Abuse and Mental Health Services Administration) if you need to talk to someone:

1-800-662-HELP (4357)
Get the help you need. Don't fall back into your old routine.
And never forget, you are not alone.