- I have fine, sparse, and thin hair due to PCOS, so I often heat style my hair to have lots of added volume.
- In the past several years, I've made a conscious effort to use less heat and harsh chemicals on my hair, which is why I started exploring extensions as a chemical-free way to keep my hair healthy.
- The Brit extensions in the color Espresso look completely natural, and were surprisingly easy to put in — they're my new go-to whenever I am having a bad hair day, can't be bothered to wash my hair, or just want to easily upgrade my look.
- The ponytail extensions are, admittedly, a bit heavy so I can't wear them for longer than a few hours without getting a headache, but they're great for a quick event, date, photoshoot, or video call.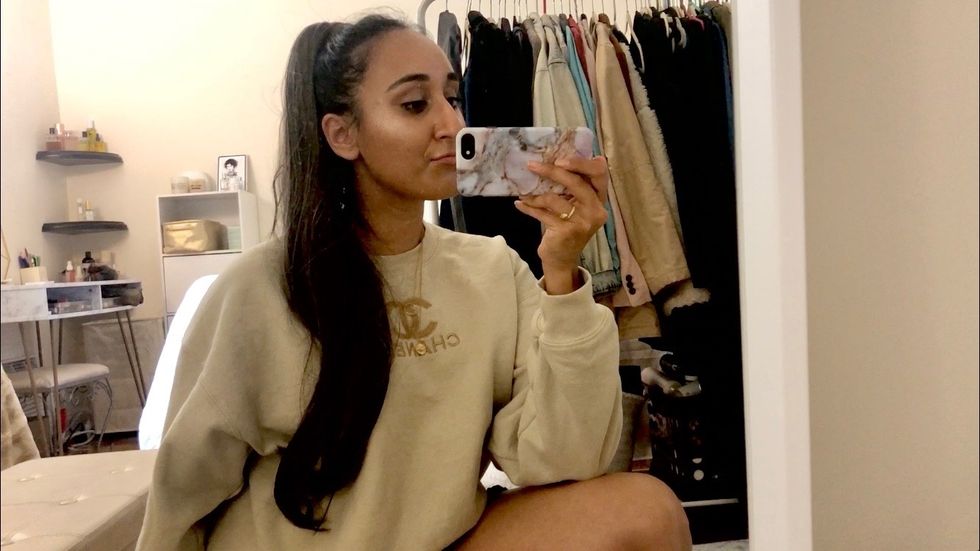 Neha Tandon
Till I was about 16 years old, my thick, luscious, silky soft hair was the envy of almost everyone. In my late teens, however, a PCOS diagnosis came with thinning, sparse locks that, even now in my late 20s, are extremely sensitive to heat damage and chemicals.
In the past several years, my curiosity for extensions was paired with a desire to do less heat damage and apply fewer chemicals to my hair. But I was skeptical — the good quality ones would likely be way too hard for me to be able to put in myself, and the bad quality ones would be unethically made, look completely obvious, and probably fall off immediately.
When I was sent the Brit ponytail extensions in the color Espresso by Insert Name Here, I was thrilled. I heard about the brand because Ariana Grande, Queen of the ponytail herself, had worn them in her "In My Head" music video. I could not wait to try it the second I received the package.
How I Use It
Honestly, when I first tried this out, it was a complete failure. It didn't stay in my hair at all, and it looked completely unnatural. My mistake was trying to use a silk scrunchie to hold up my ponytail.
That said, after watching the brand's Instagram tutorials, I found the ponytail extension surprisingly easy to put in — I tied a super-tight ponytail using two hair ties so it was extremely secure. I then brushed through the extensions with a gentle boar bristle brush, because anything else would be too aggressive and cause the extensions to shed.
I used the clip attachment to fasten the ponytail to the top of my head. It comes with a short piece of hair attached to the clip, made to be easily wrapped around the base of the ponytail and secured with a bobby pin for added volume and to cover up any gap that may be between my natural hair and the extension.
For ultimate Ariana vibes, I'll throw on some winged eyeliner and matte the hair on the sides of my head down with a bit of oil or a leave-in conditioner. This makes the ponytail look ultra-sleek, but that also gets the texture of my hair to match the shininess of the ponytail.
In total, the look took less than five minutes to put together — no chemicals, heat damage, or product required.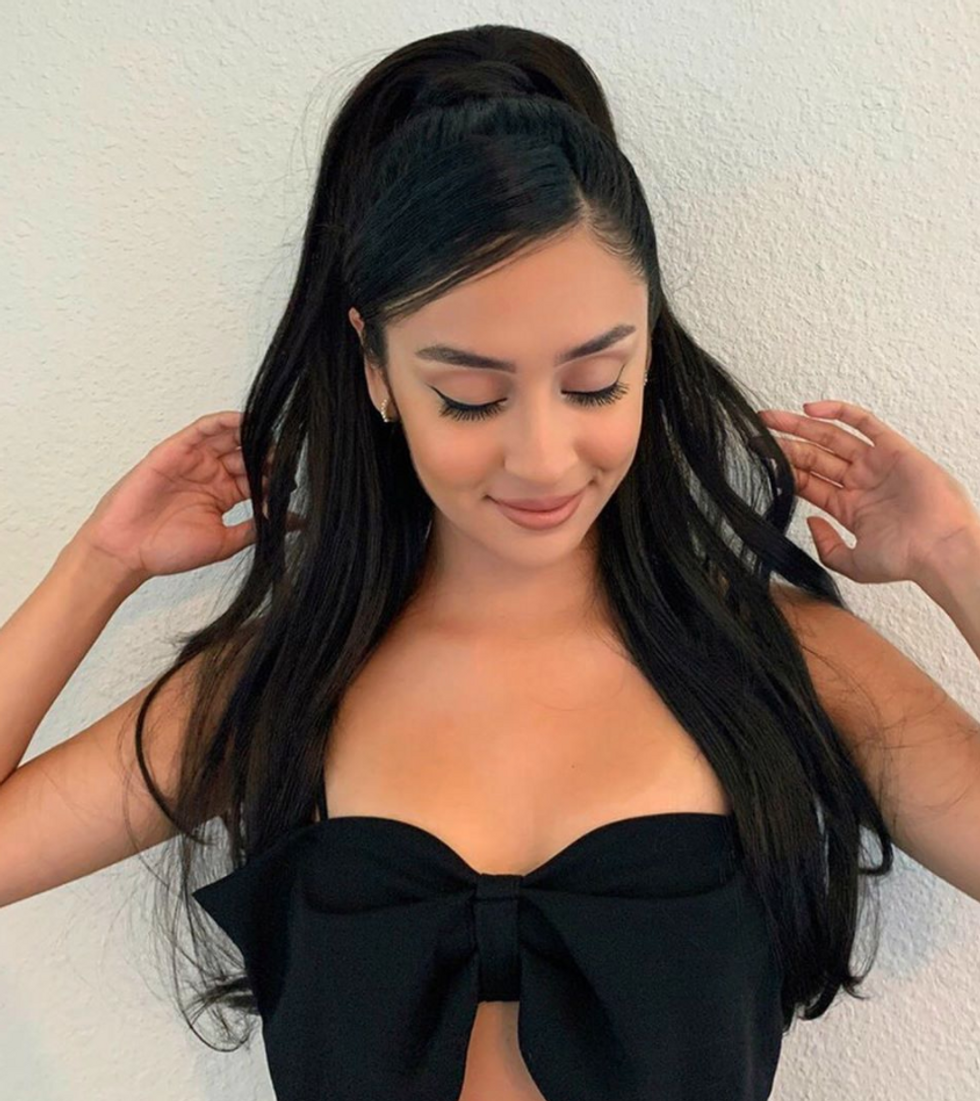 @insertnamehere
When I Use It

I use this if I need to look instantly done-up before an important video call or date when I'm not having a particularly good hair day, or if I simply want to add some oomph or impact to my look without much effort.
I haven't had the opportunity to do so yet, but I also envision myself using this if I'm ever going out for a formal dinner or gala type of event which won't require much movement. Even though this feels extremely comfortable in my hair, it is quite heavy, so I don't feel I could dance in it comfortably — not Bollywood style as I like to, anyway.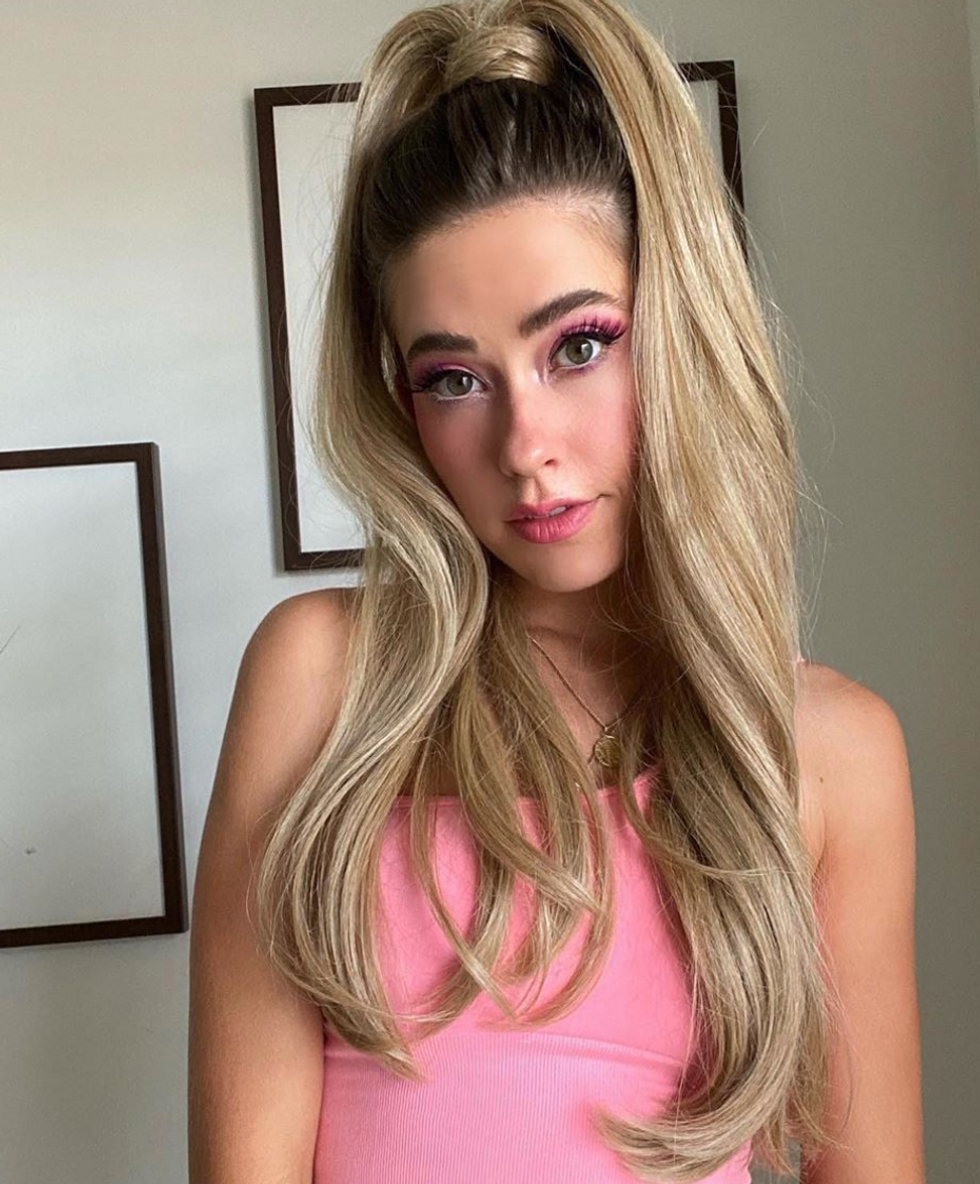 @insertnamehere
Conclusion

I feel extremely lucky that as an editor, I get a lot of products sent to me to be tested. Because of that, nothing really stands out or surprises me anymore — this ponytail extension is the ultimate exception, and the best part is that it's only $50. Yes, this one was sent to me, but I will undoubtedly be going back to the brand to order more hairpieces.
Since receiving these, I've tried some other expensive hair extension brands that cost up to hundreds of dollars, and this Insert Name Here ponytail feels almost exactly the same as those pricey ones. I've already recommended these to my sister for her upcoming wedding because that's how reliable these feel.
With Ariana's seal of approval, there's honestly nothing to lose here.