If you were a kid who grew up in the 90s, you probably remember the terrifying Nickelodeon horror show, Are You Afraid Of The Dark? The show is about a group of kids (who never really seem to get along) called the Midnight Society. Every weekend they gather around a campfire at midnight to tell scary ghost stories.
AYAOTD was filmed in Canada but aired in the U.S. from 1992 to 1996 and was brought back from 1999 to 2000. As a kid born in the 1990s, I watched the end of this show's run when I was around four, five, and six. It wasn't until many years later when my mother bought all of the seasons of the show for me to re-watch when I realized that the show was still scary to me when I was in middle school!

This show was smart because all the horror is supernatural and imagination-based instead of realistic scenarios that could actually happen. The episodes often involved monsters, demons, vampires, werewolves, ghosts, and the creepiest of them all, clowns. But the show also offered just enough characterization to 22 minute episodes for the audience to care. A lot of episodes followed the same formula: There's a good kid and a jerky kid. The jerky kid messes with something they shouldn't- only to have the supernatural world haunt them, while the good kid has to save the day so that we can all learn a valuable lesson about teamwork or whatever.
Each episode featured a different story, that had nothing to do with the previous episode and a different cast. It was like a Twilight Zone series for kids. However, there were two reoccurring characters, Sardo and Dr. Vink.
Sardo provided comedic relief for a kids' show so focused on scaring the crap out of you. He's a magic shop owner who never has any idea about the supernatural power his store commodities hold. His primary catchphrase was to correct the pronunciation of his name when characters would call him "Mr. Sardo" by replying, "That's Sardo! No 'Mr.', accent on the 'do'." In the episodes that feature Sardo, it's the items in his shop that are the catalyst for conflict. He'll pick an item in his shop at random and attempt to convince the customer that it is just what they're looking for, only to have it turn out to be something terrible. Sardo's only desire is to sell anything he can for whatever price he can force out of these kids. He'll often initially choose a high price, such as $50, only to succumb and sell it for $20 so he can say, "Sold! But I'm losing on the deal!" Sardo would always somehow later become involved in the story, as his customers would come back complaining that the item they purchased is causing them some sort of trouble.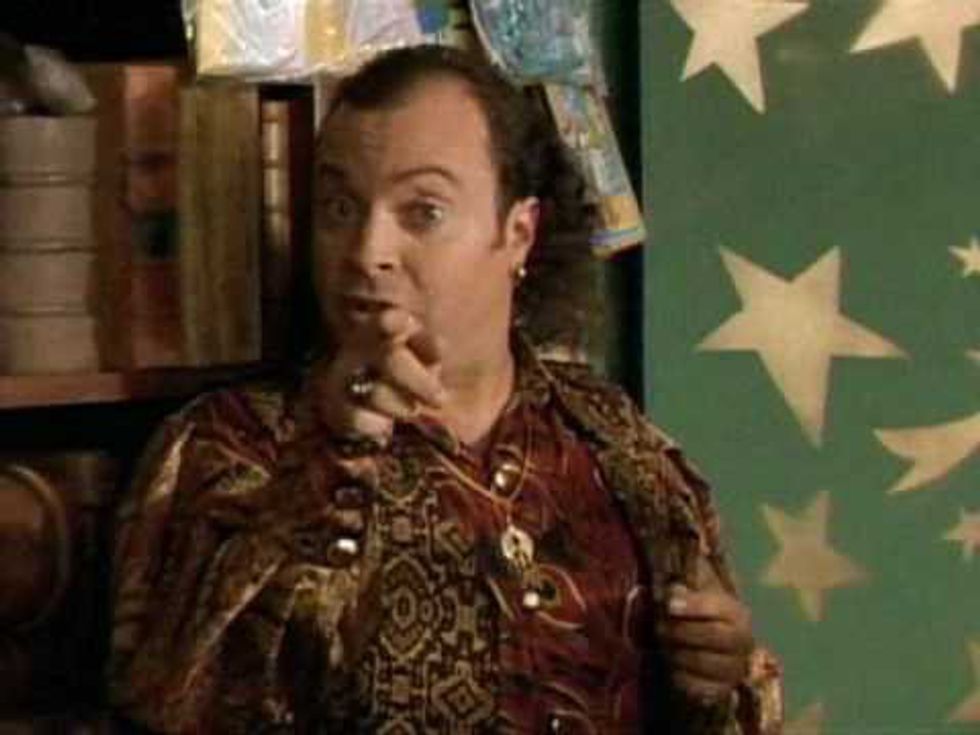 Dr. Vink was, more often than not, the villain in his episodes. His catchphrase is, "Vink's the name, Dr. Vink, with a v-v-v." He came across as cooky and creepy, an effective combination to scar children. His goal was usually to affect the real world by tainting it with something supernatural, and he was always in it for himself.
My sister and I knew that the moment we saw that clown in the AYAOTD intro, we were in for a horrifying treat.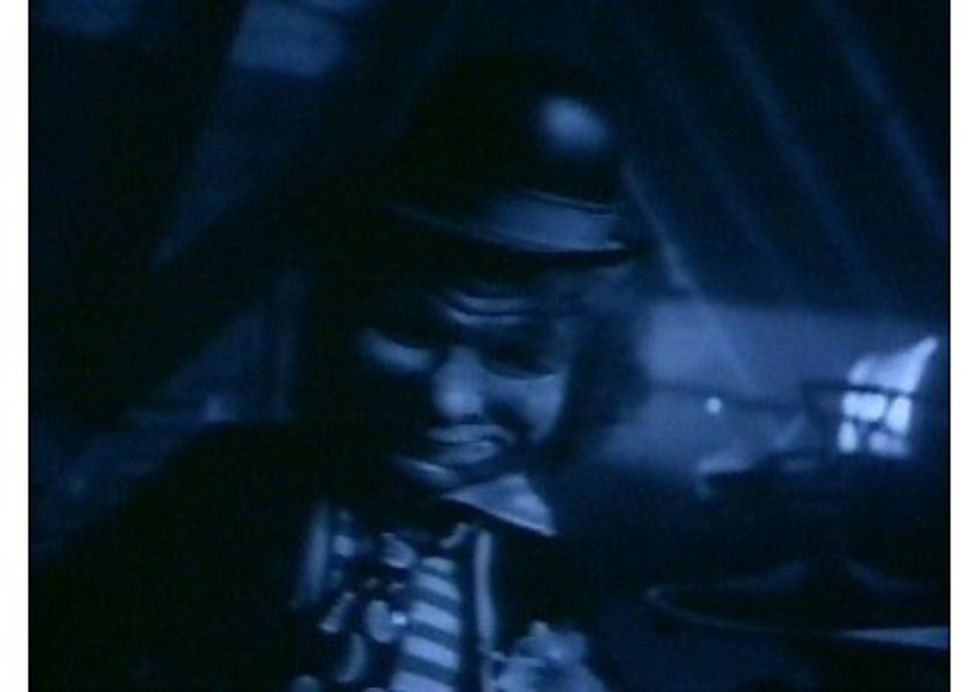 I don't remember all of the episodes and some are definitely better than others. The scariest episode for me was The Tale of the Night Shift, a story about a green, evil-looking vampire who slowly turned all the patients in a Hospital into other vampires one by one.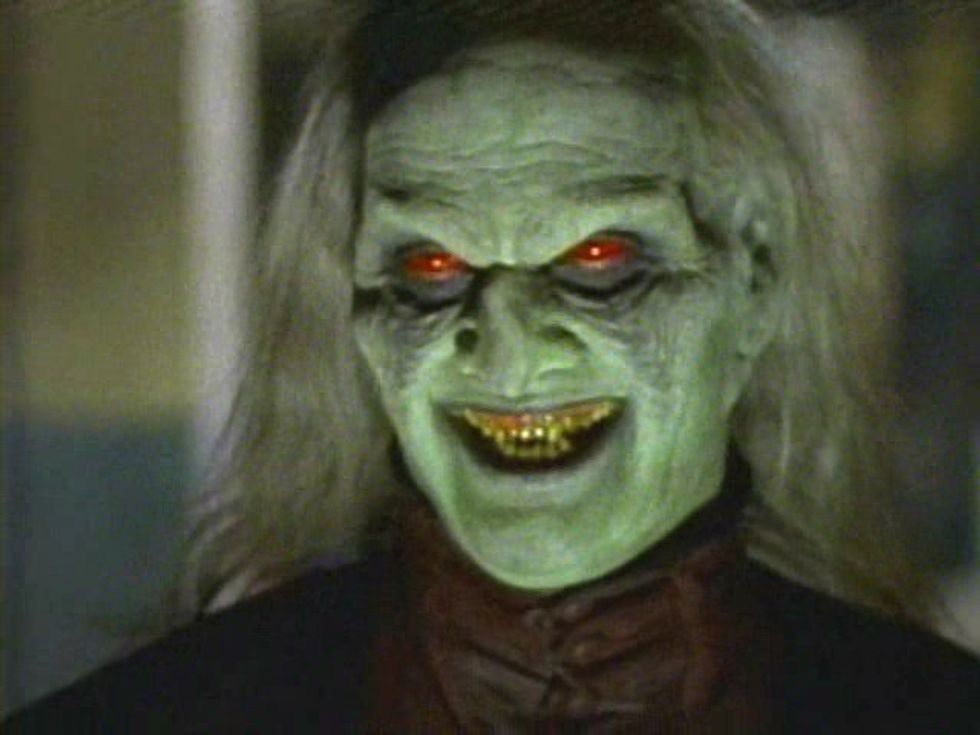 Another one that haunted me for years was The Tale of Laughing in the Dark, an episode about a fun house clown that wants revenge on this punk kid who stole his big red nose.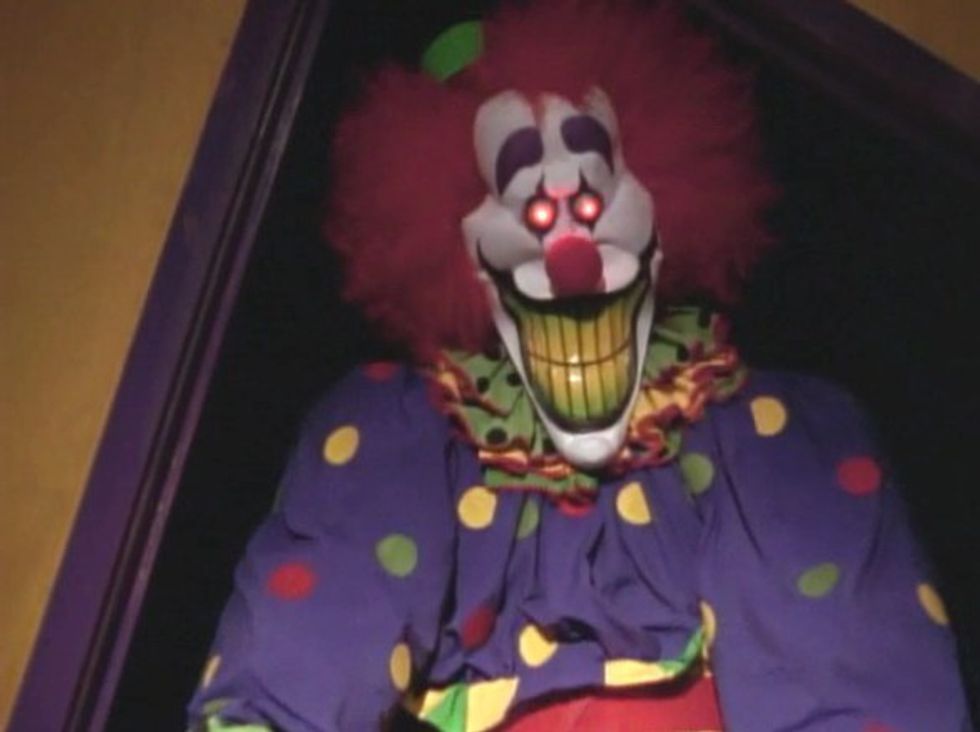 My favorite episode is actually much more sad than it is scary: The Tale of the Dream Girl. This one is sort of like "Ghost" meets "The Sixth Sense". The episode actually inspired the story of filmmaker M. Night Shyamalan's "The Sixth Sense." It's about a guy named Johnny who keeps seeing this girl he can't quite place in his memory. No one else can see her, and Johnny is ignored by everyone except his sister. It turns out that Johnny and the girl he keeps seeing died tragically in a car crash after prom. They're both ghosts and it ends with both of them leaving the world together as a couple. It's a very sad episode with a terrific story which is why I like it so much.
AYAOTD catapulted a lot of rising stars' careers such as Ryan Gosling (Remember The Titans, The Notebook, Drive), Neve Campbell (Scream), Jay Baruchel (Knocked Up, Tropic Thunder) and Hayden Christensen (Star Wars prequels, Jumper)
Other famous celebrities who made guest appearances on some episodes include Gilbert Gottfried, Charles S. Dutton, and Bobcat Goldthwait.
Are You Afraid Of The Dark? can be seen occasionally now on a Nickelodeon segment that only airs shows from the 90s and early 2000s called "The Splat." If nothing else, you can get a kick out of the painfully awkward kid acting and 90s slang, words such as "dweeb", "lame wad", and "cheese ball." The time to take a trip down memory lane has come!