Take a quick scroll through your Instagram explore page nowadays and you'll undoubtedly encounter your fair share of slime poking, soap cutting, and paint mixing videos. All of these fall into the "oddly satisfying" genre, AKA one of Instagram's biggest (and strangest) obsessions. Amidst this fascinating trend, artist Annette Labedzki began posting her own paint mixing videos. As time passed, her videos became increasingly creative and intricate. Each one is a short, detailed work of performance art. Now, she has amassed 900 thousand followers on Instagram and over 270 thousand subscribers on her YouTube channel. Odyssey talked to the artist and internet sensation about her background, inspiration, art, and newfound fame.
How did you become an artist?
"Early on in my childhood, I loved painting, drawing and making things all the time. I was fascinated by shiny objects and found objects, which I used to make collages. I loved knitting and sewing as well. I have always been creative and don't know any other way of life."

How did you come up with the idea to start posting paint mixing videos? Later on, how did you begin coming up with more elaborate and creative ideas for your videos?
"I saw someone mixing paint on Instagram, and realized that I would love to do that! I get bored very easily so I must try something new and experiment all the time in order to remain creative and excited."
Since developing a large audience from your paint mixing videos, has your art gained attention?
"Yes, my art has gained attention and I am very grateful!"
How did you develop your artistic style?
"I just keep on going all the time. If one thing bores me, I move on to the next thing. As long as I am always learning and growing."

Who are your biggest artistic influences? What inspires you?
"My biggest influences are all the great masters, men and women. I am inspired by artists who seek and speak or express their truth."
Out of all your artwork, is there a specific piece you're most proud of? If so, why?
"I am very proud of the videos with the frozen paint food. It is almost impossible to do and when a video turns out well, I am always very surprised and happy!"
Why do you think people are so fascinated by your paint mixing videos?
"I have no idea...perhaps the colors are very soothing. I am still very surprised that people like the videos so much!"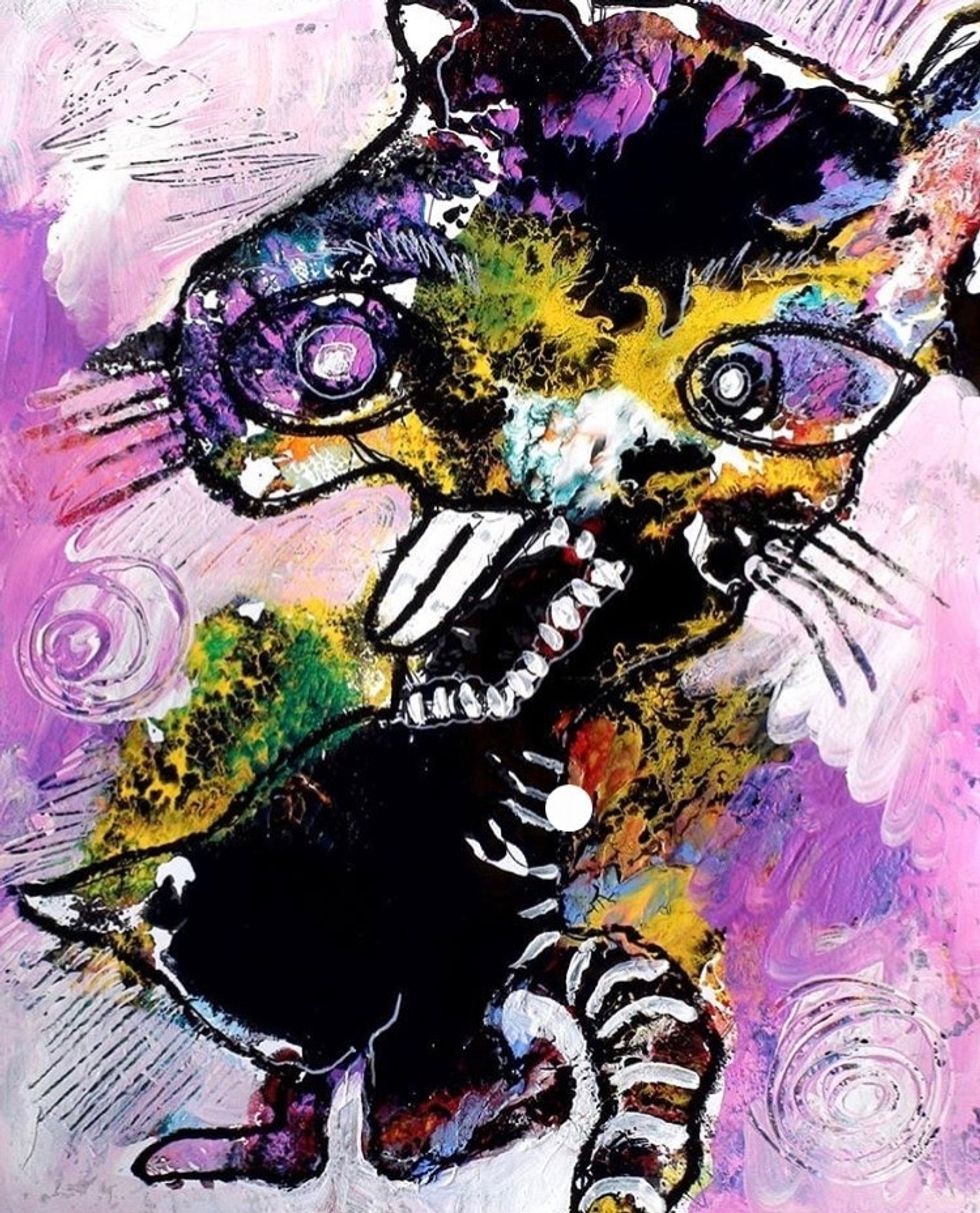 MEAN KITTY by Annette Labedzki
You can find Annette Labedzki's mesmerizing videos on her Instagram: @annettelabedzki. If you're interested in browsing or supporting her art, visit her website here!