Metro Detroit-based Alocito has announced the launch of its food ordering, reservation and payment app on iOS devices arriving late August. Alocito is an on-demand dining service that removes all wait times at restaurants by allowing customers to pre-order their meal and table in advance. This allows busy customers with short lunch breaks to get out of the office for lunch and still make it back on time for work. Alocito works through a three-step process.
Click.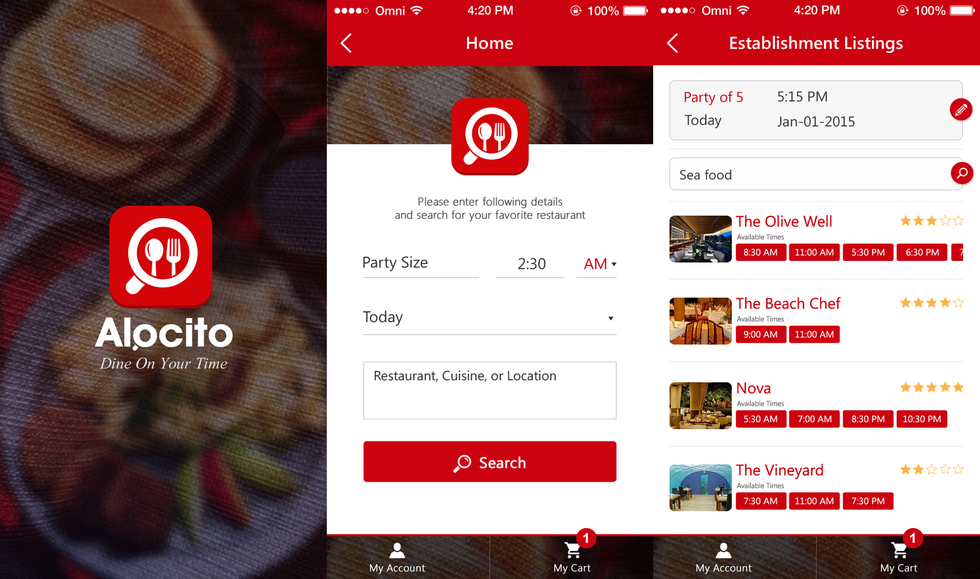 Using the app, you can specify your party size, arrival time and the restaurant you wish to dine at, as well as which items you would like off the menu. You will also be able to pay for your meal through the app.
Arrive.
Like normal, you'll be greeted by a host at the restaurant and will be brought to your table; however, you won't be stuck waiting outside or on an uncomfortable bench in the restaurant while glancing at your watch and listening to your stomach growl.
Eat.
Your meal is brought to your table within minutes and since you've already paid, you won't be stuck waiting on a check..
This fun video sums it up: Restaurants can really benefit from the Alocito web-based platform. Alocito can reach those busy consumers who don't have time to dine out, especially during their lunch break. Also, by streamlining the dining experience, Alocito promises increased table turnover. Alocito is free to use and offers a simple pricing structure without the need for a contract. Both the diner and the restaurant are charged $1 per order.
Alocito will be available to download for free on the iTunes App Store in late August. Restaurants are provided with an online profile and credentials upon signing up for the service. Restaurants interested in learning more about Alocito can do so on the Alocito website, www.alocito.com/restaurants.
Where the idea originated
Phil LaColla came up with the idea of Alocito while on his lunch break. "I was working downtown and I only had a 30-minute lunch break. I was sick and tired of the same meals every day -- Chinese take-out and submarine sandwiches. There were many restaurants around but I just didn't have enough time to get out of the office for lunch."
Alocito offers the most efficient restaurant experience. By leveraging technology, it allows people to enjoy only the best aspects of dining out. Founder and CEO LaColla says, "It's our goal to provide restaurants with new clientele as well as new services which will give them the competitive edge needed to ensure a strong, thriving business while providing the highest customer service possible."
Though the app will initially be available just in Detroit, it will be implemented in cities across the nation. Stay tuned for when Alocito comes to a city near you!
What you can do today
Though the app won't be released for another week, or so, you can sign up for early access. If you wish to follow the app's progress on social media, you can do so on Facebook, Twitter, Instagram and LinkedIn.